Wintrust FC's (NASDAQ:WTFC) 3Q numbers provided much encouragement for investors expecting some punchy volume and revenue data from US regional Fin Corps in H2'16.
There was notable strength in three areas: loan growth, both underlying and acquired, non-interest income and operating leverage.
Pipeline strength is emerging as a theme from the bottom up data and commentary, presaged as it has been by solid bank credit data from the Fed (of 9.4% growth YoY to end September). While we all worry about the low trajectory of growth, globally as well as for the U.S., it's worth noting the message from the banks is a little more buoyant with Bank of America noting a "good feeling" about the economy from the perspective of loan demand on its call yesterday. Students of credit multipliers will wonder whether this measured confidence from banks - after ears of deleveraging by households and a focus on capital adequacy within the banks themselves - might signal some credit driven support for growth in coming quarters. Watch this space.
Wintrust is certainly finding growth: new loans in 3Q totaled $927 million. Of this, $555 million, or 60% of the new volume, was acquired from an affiliate of GE Capital Franchise Finance. This leaves underlying QoQ loan growth at ~2%. This is a good runrate anyway and appropriate given the company's focus on the new books it was bringing in, which were supported by a secondary offering in June. Management noted "consistently strong" loan pipelines and seems confident of 4Q volume, a message we also heard from First National Horizon the other day. Deposit growth was also very healthy at $1.1bn of new volume: larger than loans added meaning that the loan/deposit ratio of Wintrust remained comfortable at 90%.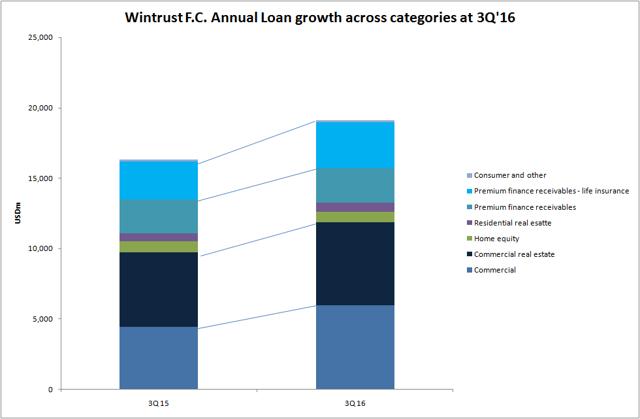 There was good news on credit quality with a marginal fall in non performing credit ($8m). Again, this chimes with other banks to have reported so far and is key to the confidence towards growing credit volumes. Wintrust states its reserve cover of non-performing assets at 142%. To my mind this verges on overly conservative but as the company grows its books its reserve strength gives reassurance to investors nonetheless.
I like revenue developments: total revenue grew 17.7% YoY vs. 10.4% growth in costs, meaning cost/income efficiency improved from 69% in 3Q'15 to 65% presently. Excluding a boost of $3bn in gains on investment securities in the quarter, the cost ratio would have been 65.8%, still a material improvement. Note too that the main cost driver, salaries, is a product of the company's growth.
Net interest income grew 11.5% YoY and overall non interest income growth was impressive - the breakdown is in the table below. The highlights are 6% wealth management growth and 8% deposit service growth. The other lines are apt to be more changeable QoQ although the trends are of course strongly positive. With 68% of total revenue still generated by net interest income, the income mix remains decent and is shielded from the potential volatility of some non interest items.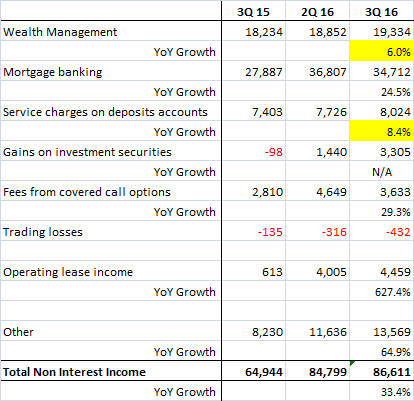 Conclusion
It is difficult to argue with the growth Wintrust FC is posting: it is measured and being conducted by acquisitions, both small community banks and portfolio as they come. The GE restaurant franchise portfolio Wintrust picked up in the quarter echoes FHN's purchase strategy and shows how banks in this size range ($20-30bn total assets) are positioned to benefit from exits by players higher up the food chain as the industry reshapes. The multiple is similar to that of FNH too. You pay around 15x current EPS with the upside defined by execution of the growth strategy going forward. My guess is 12% annual is easily plausible given the solid starting point in asset quality and underlying sector growth rates.
Disclosure: I/we have no positions in any stocks mentioned, and no plans to initiate any positions within the next 72 hours.
I wrote this article myself, and it expresses my own opinions. I am not receiving compensation for it (other than from Seeking Alpha). I have no business relationship with any company whose stock is mentioned in this article.