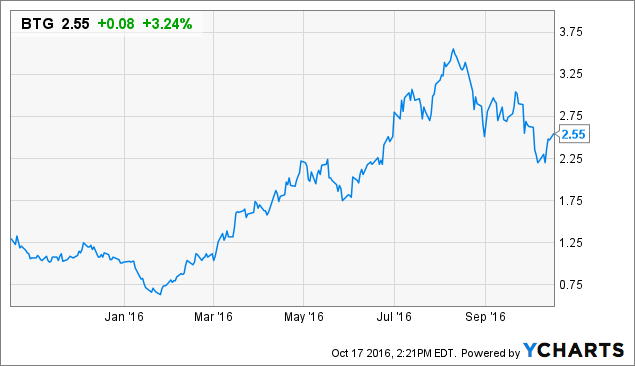 B2Gold (NYSEMKT:BTG) is yet another gold miner that continues to impress and exceed expectations, and the miner gives investors high leverage to gold prices. Here, I'll discuss the company's third-quarter 2016 production results before giving my thoughts on the current stock price.
As I wrote in an article on July 18, B2Gold continues to execute on its growth strategy, and the story hasn't changed in this regard. Last quarter, the company produced 135,242 ounces of gold, which was 4% above budget and 11% over last year, with gold prices averaging $1,260 per ounce.
This quarter, however, the results were even stronger: B2Gold says it produced 146,686 ounces, which is 6% above budget and 18% over last year. With gold prices averaging $1,331 per ounce in Q3, the company says it produced a record gold revenue of $194 million, a 39% increase from last year. What's more, B2 Gold's all-in sustaining costs are expected to be below or near the low end of the company's annual cost guidance range of between $895 and $925 per ounce. I expect really strong cash flow and earnings in Q3, to be announced in early November.
The strong results can mostly be attributed to outperformance at the company's Masbate mine in the Philippines - it produced 47,676 ounces of gold, 4% (or 1,806 ounces) above budget and 8% (or 7,308 ounces) higher than Q3 2015. Higher grades and higher recoveries (partially due to newly completed process plant upgrades) were the primary reasons for the strong production, according to the company.
For the full year 2016, Masbate is now forecasted to produce between 200,000 to 210,000 ounces of gold, which is up significantly from the previous forecast of 175,000-185,000 ounces of gold. This is B2Gold's lowest-cost mine, with AISC of just $556 per ounce in Q2. When combined with its three other operating mines, B2Gold now expects 535,000-575,000 ounces of gold production, up from the previous forecast of 510,000-550,000 ounces. This is certainly welcome news for shareholders.
Meanwhile, the Otjikoto Mine in Namibia produced a quarterly record 47,564 ounces of gold in the third quarter of 2016, which was 10% above budget and 24% higher than the third quarter of 2015 due to higher throughput rates. Production at La Libertad Mine in Nicaragua was also strong with 37,261 ounces, 9% above budget and 19% higher than last year. The increase was due to higher grades, according to the company.
The El Limon mine was the one underperforming asset in Q3, as it produced 14,185 ounces of gold, slightly below budget and in line with the prior-year quarter's production figure of 14,517 ounces. For the first half of 2016, El Limon produced 21,291 ounces of gold, which is 4,327 ounces below budget and 7,553 ounces lower than in H1 2015.
Finally, B2Gold gave an update on its most important development asset, Fekola. As a reminder, a feasibility study on this project says the mine will produce 350,000 ounces of gold per year at $418 cash operating costs over the first seven years and 276,000 average annual gold production over the mine life at $552 cash operating costs. All-in sustaining costs are expected to average just over $700 per ounce.
However, the company wisely constructed the mine to be expanded up to 5 million tons per year (up from 4 million tons) given the exploration upside (read more here) at Fekola; the company says it could potentially increase annual production by up to 20%, exceeding 350,000 ounces of annual gold production. The exploration budget was recently increased from $6.9 million to $11.4 million at the project for this reason.
B2Gold completed a number of important activities in Q3 at Fekola (including the near-completion of the primary crusher and earthworks and surface water control structures), and the project remains on schedule and on budget to commence production in the fourth quarter of 2017.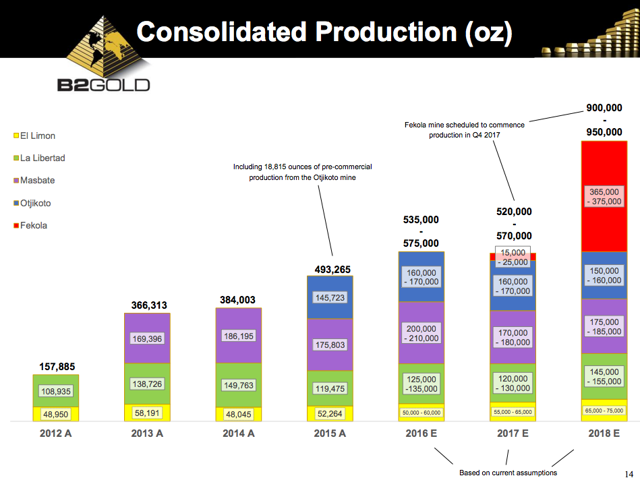 (Image Credit: B2Gold presentation)
B2Gold is one of the fastest-growing gold miners on the planet. Next year, it estimates steady production between 520,000 and 570,000 ounces, but once Fekola comes on-line in 2018, this is expected to increase significantly to 900,000-950,000 ounces, while also reducing the company's total all-in sustaining costs. Meanwhile, Fekola is fully funded to production.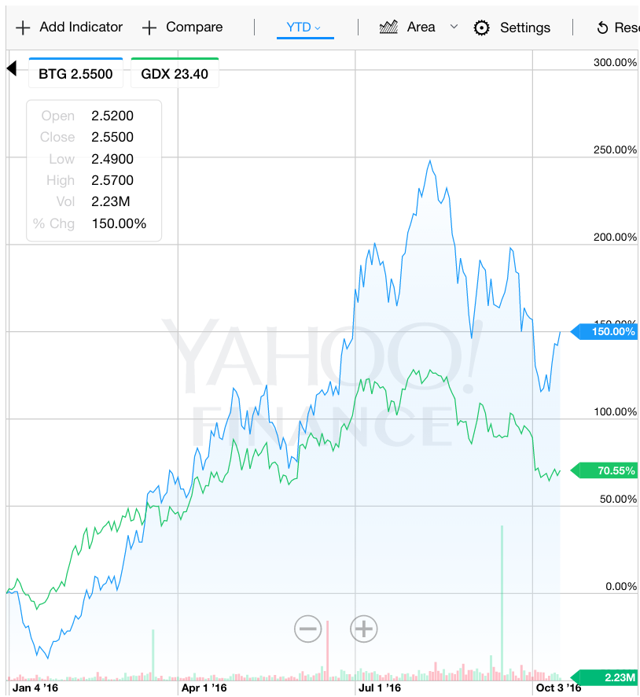 (Chart Credit: Yahoo Finance)
My bullishness on B2Gold has grown a little bit stronger following the release of Q3 2016 production results. It is being considered for inclusion in my upcoming list of the top gold stocks to own in 2017.
For investors seeking leverage to gold prices, I think B2Gold is an excellent pick. As you'll see in the above chart, the stock has easily outperformed the benchmark gold miners index (NYSEARCA:GDX) year to date, and I believe it will continue to do so given its strong growth. I think the current share price is a pretty solid entry point for new investors, but I would also caution that this is a highly volatile stock that fluctuates heavily with gold prices. I would recommend dollar-cost averaging a position as opposed to going all in at once.
Disclosure: I/we have no positions in any stocks mentioned, but may initiate a long position in BTG over the next 72 hours.
I wrote this article myself, and it expresses my own opinions. I am not receiving compensation for it (other than from Seeking Alpha). I have no business relationship with any company whose stock is mentioned in this article.