A few weeks ago I wrote an article titled Buyer Beware: RMR is a House of Cards. As I explained (in the article), RMR generates " substantially all of revenues from the provision of business and property management services to the client companies. The loss or failure of any of the Managed REITs or a decline in its business, assets or market capitalization could substantially reduce revenues."
The percentages of total revenues earned from each REIT and generated by RMR include: Government Properties Trust (NYSE:GOV) (15.0%), Hospitality Property Trust (NYSE:HPT) (21.2%), Select Income (NYSE:SIR) (16.7%), and Senior Housing (NYSE:SNH) (27.6%). In addition, RMR generates revenues from non-REITs including Five Star (NYSE:FVE) (4.7%), Sonesta (1.0%), Truckstops of America (NYSEMKT:TA) (7.4%), AIC (0.1%), RIF (1.2%), and RMR Trust (1.8%).
As I explained, "the ability for RMR to maintain and grow revenues depends upon the ability of the client companies to maintain and grow their respective businesses. Reduced business activities by, or failure of, any of the REITs or the termination of their management agreements could materially reduce revenues and profitability."
Most all of the client companies (TA, FVE, and Sonesta) have overlapping investment objectives, and some of these companies have material business relationships with each other that could give rise to conflicting interests.
Also, in addition to serving on RMR's (NASDAQ:RMR) Board of Directors and executive team, at least one of RMR's founders also serves on the boards of each of the client companies. Many of the executive officers of the client companies are also officers.
These multiple responsibilities and varying interests could create competition for the time and efforts of RMR and its founders, and actual, potential or perceived conflicts of interest may arise. Today I will provide you with specific example and one that could be the one torpedo to sink the RMR ship.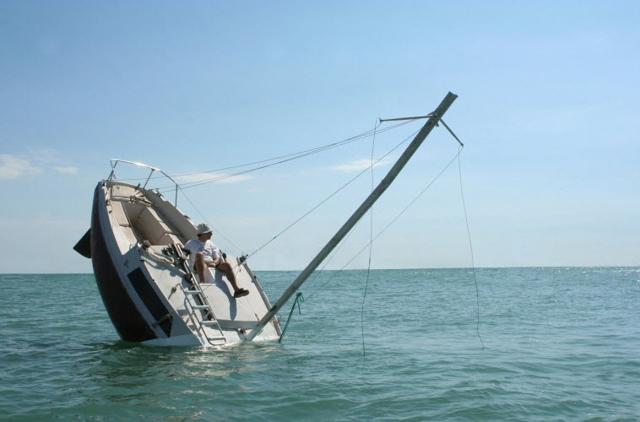 Senior Housing Property Trust
Back in April I wrote on SNH and I explained that the REIT "derives around 27% of its overall revenue from Five Star's 177 communities (and 19,691 units)." This exposure with one tenant is concerning to me, especially in light of the more recent move by HCP, Inc. (NYSE:HCP) to spin off its skilled nursing properties leased by ManorCare into a new REIT, Quality Care Properties (NYSE:QCP).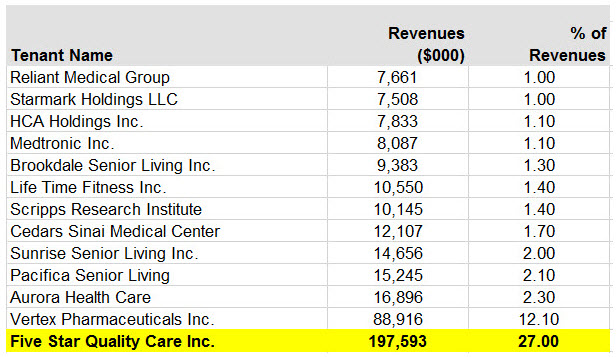 Keep in mind that SNH's concentration with FVE has decreased substantially since my previous article when FVE derived around 45% of revenue for SNH.
Last year, SNH acquired the CNL Lifestyle Portfolio, 38 high-quality senior living communities for $790 million, providing enhanced diversification to SNH's once one-tenant dominated business model. The CNL portfolio is predominantly private pay and SNH should benefit from its new operator relationships.
However, SNH still derives over a quarter of income from the FVE assets and the conflicts of interest are still relevant. Take a look at the major ownership chart (below) for FVE and SNH… see any similar owners?

Now let's take a deeper dive into FVE and its 274 living communities (31,417 units). As you can see, FVE leases 181 communities and 177 of them are leased to guess who? FVE also owns 33 communities and manages another 60.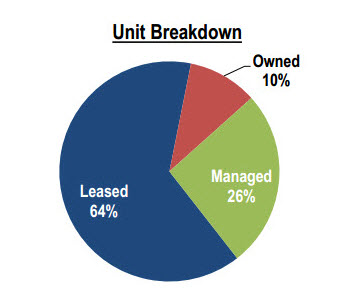 Enter Activist, Senior Star Management
In December 2015, William F. Thomas and Robert D. Thomas, co-founders of Senior Star Management, a Tulsa, Oklahoma-based senior housing owner and operator, met with FVE leadership to discuss a proposal to acquire FVE's 33 owned properties for $325 million.
The transaction would have allowed FVE to monetize these assets, which are deeply undervalued by the public markets, while providing an optimal source of capital for FVE to re-deploy in various strategic initiatives.
In a letter from the Thomas brothers (not related to me), FVE's Managing Director (Barry Portnoy) and the Board of Directors (through an SEC filing), declined the offer, and FVE "expressed no interest in discussing it further."
Despite favorable industry dynamics and an attractive, geographically diversified portfolio FVE has consistently underperformed. As shown below, since Q1-13, earnings per share has shown a steady downward trend, with negative EPS reported in each of the last seven quarters.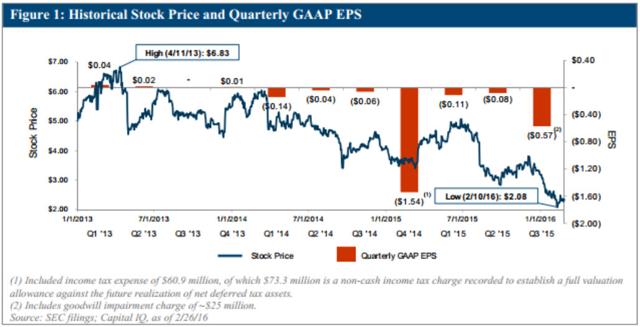 FVE's stock price has steadily declined, last trading above $4.00 per share on August 9, 2015, and most recently $2.88 per share. The one-year, three-year, and five-year total shareholder returns are all negative at (35.4%), (61.3%), and (65.4%), respectively. Over these same periods, the Russell 3000 index has provided returns of (9.0%), 26.6%, and 45.0%, respectively.
As illustrated below, FVE's three- and five-year returns are the worst in the selected peer group, significantly below Brookdale (NYSE:BKD) and Capital Senior Living (NYSE:CSU).

FVE's revenue growth has also declined in each of the past two years: 13.9%, 7.4%, and 2.4% for 2012, 2013, and 2014, respectively. FVE's rent coverage with SNH also has declined, dropping from 1.30x in Q1-13 to 1.23x in Q3-15, compared to Brookdale, whose rent coverage with SNH has improved from 2.48x to 2.77x.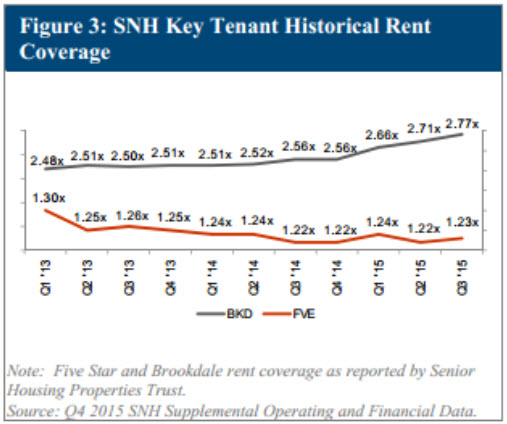 Since 2012 FVE has invested approximately $2,300 per unit annually, on average, in capex across its entire portfolio, which compares to the $3,290 per unit across the industry for 2014. Additionally, FVE continues to fund much of its capex through its primary landlord, SNH, resulting in rent increases that put further pressure on coverage.
The consistent operating underperformance is likely to continue into the future without a significant capital investment - that is, capital investment meaningfully more than what is being made today. As Senior Star Management writes,
The current underperformance has resulted in unrecognized asset value for the Company's owned assets. We believe the assets are worth $325 million, a value that is over 2.5x the current market value of the entire company (see chart below). The sale of these assets represents an opportunity to unlock the value of the owned assets, while providing an optimal source of capital for significant investment.

Senior Star said in a letter that in the meeting with FVE management, "Portnoy indicated that the FVE had easy access to additional capital through additional debt financing and the public equity markets."
Senior Star points out that "the issuance of additional equity, through a public follow-on offering or otherwise, would be significantly dilutive to existing shareholders who have already suffered long-term negative shareholder returns."
FVE maintains a very high leverage ratio. Based on the latest public filings, the company's lease-adjusted net debt to LTM EBITDAR is 7.1x. The addition of incremental debt would significantly impair future earnings through reduced cash flow and further restrict operational flexibility.
According to Senior Housing News,
Earlier this month, a company owned by Barry Portnoy made a tender offer for up to 10,000,000 shares of Five Star common stock at $3.00 per share. Five Star's directors waived certain ownership restrictions to allow the tender offer.
Senior Star has said it will make a competing offer in the coming days for up to 10,000,000 shares priced at $3.45 per share. The Thomas brothers and certain donor-advised charitable funds currently hold about 3.36 million FVE shares. Senior Star said in a statement,
Senior Star's interests are truly aligned with the interests of all shareholders in providing fair value for any shareholders who may be seeking liquidity for their investment, on the one hand, while continuing to seek to take steps to improve the company's corporate governance and strategic direction to drive shareholder value creation for long-term holders, on the other hand.
Senior Star said it expects "good faith" from FVE's directors in granting ownership waivers and other exceptions, as they did for Portnoy's tender offer. Senior Star also urged shareholders to take no action on the "inferior" $3.00 per share tender offer. As you can see below, FVE shares surged 48% following the tender offer on October 3rd.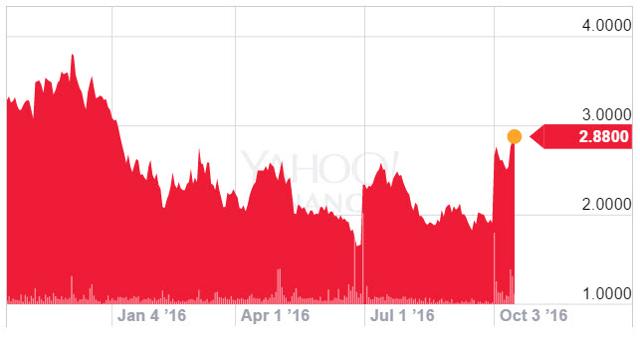 In conclusion, we will be watching the tender offer closely in hopes that FVE will "do the right thing". These conflicts with FVE and SNH are just one example of how conflicts of interest can harm investors, especially when management's interest is not aligned with investor interests. Here's a snapshot of SNH's performance: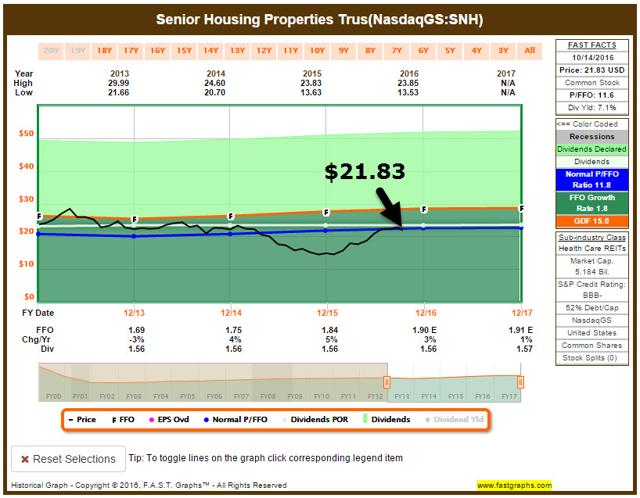 RMR has performed well over the last few months (+164% YTD), perhaps investors should take a closer look at the conflicts, and pay closer attention to the management team. After all, it only takes one torpedo to sink the ship!
Author's Note: Brad Thomas is a Wall Street writer and that means that he is not always right with his predictions or recommendations. That also applies to his grammar. Please excuse any typos and I assure you that he will do his best to correct any errors if they are overlooked.
Finally, this article is free, and the sole purpose for writing it is to assist with research (Thomas is the editor of a newsletter, Forbes Real Estate Investor) while also providing a forum for second-level thinking. If you have not followed him, please take five seconds and click his name above (top of the page).
Sources: FAST Graphs, RMR Filings, FVE Filings.
Disclaimer: This article is intended to provide information to interested parties. As I have no knowledge of individual investor circumstances, goals, and/or portfolio concentration or diversification, readers are expected to complete their own due diligence before purchasing any stocks mentioned or recommended.
Disclosure: I am/we are long O, DLR, VTR, HTA , STAG, GPT, ROIC, HCN, OHI, LXP, KIM, WPC, DOC, EXR, MYCC, TCO, SKT, UBA, STWD, CONE, BRX, CLDT, HST, APTS, FPI, CORR, NHI, CCP, CTRE, WPG, KRG, SNR, LADR, PEB, BXMT, IRM, CIO, LTC, DEA, NSA, HASI, LTC.
I wrote this article myself, and it expresses my own opinions. I am not receiving compensation for it (other than from Seeking Alpha). I have no business relationship with any company whose stock is mentioned in this article.