Kansas City Southern (NYSE:KSU) is the smallest of the North American Class 1 railroad companies. The company commands 6,500 miles of rail network serving southern US with seamless cross-border service to Mexico. The company serves 12 Gulf ports and 1 Pacific Ocean port. The following system map image demonstrates the scale and reach of Kansas City Southern.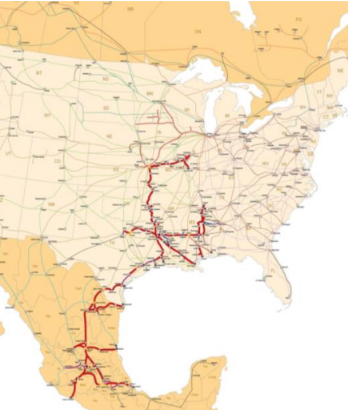 (Image Source: Kansas City Southern IR)
Kansas City Southern own 100% of subsidiary Kansas City Southern de México, S.A. de C.V. ("KCSM"), which has a 50-year concession from the Mexican government and could expire in 2047 unless extended - to operate the KCSM arm. The company directly competes with Ferrocarril Mexicano, aka FerroMex (which is partly owned by Union Pacific) inside Mexico.
The Railroad Industry
Railroads are considered a wide moat industry, as it entails immense capital requirements and new entrants in the industry are almost unheard of. Railroads are the pulse of the economy. Whether transporting crude, lumber, merchandise, agricultural or industrial products, railroads are what keeps the economy moving. Railroads are often closely observed by economists and analysts to get a sense of how the overall economy is doing. It is also considered a leading indicator for any recessions or slowdowns.
Since the railroads play such a crucial part of the economy and provide excellent long term capital appreciation, while providing investors with increased dividends year after year, the industry has attracted some of the biggest high-profile billionaire investors in the US. Warren Buffett's Berkshire Hathaway ( BRK.A)( BRK.B) tookover Burlington Northern Santa Fe (BNSF) in 2009; Bill Gates' Cascade Investments LLC own a 11.8% stake in Canadian National Railway ( CNI); and Bill Ackman's Pershing Square owned a 6.4% stake in Canadian Pacific ( CP) until recently, but has since sold the stake. Late last year, CP approached NSC for a $20B+ merger which would create an impressive network serving the continent, but the offer was terminated after a lukewarm response from NSC.
The following table provides an overview of the railroad industry comparing KSU with its competitors Union Pacific Corp (NYSE:UNP), Canadian National Railway , CSX Corp (NYSE:CSX), Norfolk Southern (NYSE:NSC), and Canadian Pacific Railway .

(Image Source: Created by author. Data from Google Finance & FinViz)
Current Trends
Railways have played a crucial part in transporting everyday goods such as crude, lumber, merchandise, agricultural or industrial products. Over the past decade, the highest growth has come from crude oil transportation. The rapid expansion of oil drills across the continent meant that fast and easy transportation of crude oil, whether from Canadian oil sands, or shale regions was necessary and railroads filled this need in the market quickly. However, with the current downturn in oil prices over the past two years, shipment volumes fell as the drill count reduced across the continent. More recently, with the uptick in the oil prices, shipments have increased steadily bringing some respite to the railroads.
Coal shipments, on the other hand, are seeing secular declines. As the world moves towards cleaner fuels and green alternatives, coal is being shunned by the market. Traditionally, coal has been the largest user of railroad service and this reduction in shipment volume has hurt most railroad operators. Coal has played a small part of revenues for KSU. Where KSU shines is taking advantage of the agricultural, industrial/automotive sector transportation. The company is well positioned to service the companies relocating their manufacturing plants to Mexico and goods transported to the US. The following chart shows the revenue mix for 2015.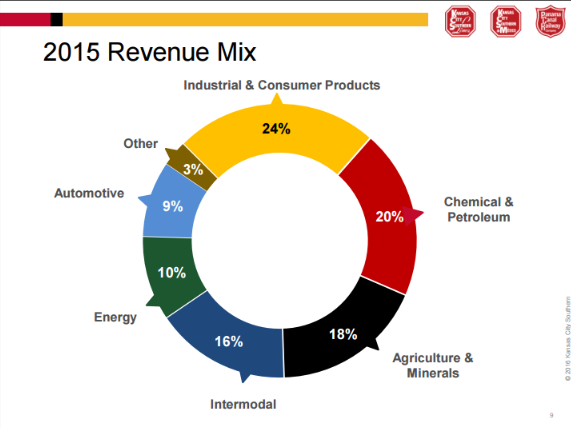 (Image Source: KCS IR)
The chart below shows the overall rail traffic in the US - and as can be seen, its been dismal so far in 2016. The shipments are finally picking up again for petroleum products, and there has been indication that grain shipments could also increase. How the rest of the season progresses remains to be seen.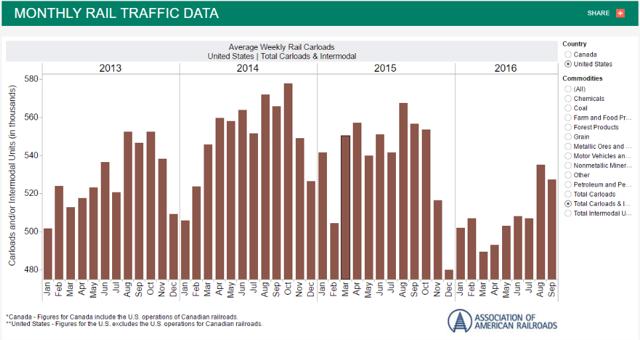 (Image Source: Association of American Railroads)
Dividend Stock Analysis
Financials
Expected: A growing revenue, earnings per share and free cash flow year over year looking at a 10-year trend. A manageable amount of debt that can be serviced without affecting future operations.

(Source: Created by author. Data from Morningstar)
Actual: Kansas City Southern is a very well run company that has seen decent revenue growth and increasing earnings year after year. As with other companies, the railroad faced pressure during the financial crisis, but was able to bounce back quickly and perform well for shareholders.
KSU's debt/equity is 0.64 and the company's balance sheet shows a current ratio of 1.10.
KSU's yield of maturity is as shown below. A few debt repayments are upcoming but overall, the schedule looks clear and better than peers going forward.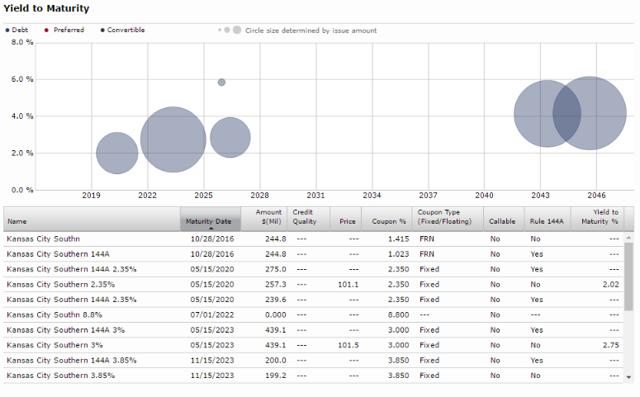 (Image Source: Morningstar)
Dividends and Payout Ratios
Expected: A growing dividend outpacing inflation rates, with a dividend rate not too high (which might signal an upcoming cut). Low/Manageable payout ratio to indicate that the dividends can be raised comfortably in the future.

(Source: Created by author. Data from Morningstar)
Actual: Kansas City Southern started issuing dividends in 2012 and has increased dividends since.
Note that the last dividend raise was announced in Jan 2015 and the company has issued the same $0.33 per quarter dividend for seven quarters in a row. KSU needs to raise its dividend soon if it wants to maintain its reputation as a dividend grower.
Outstanding Shares
Expected: Either constant or decreasing number of outstanding shares. An increase in share count might signal that the company is diluting its ownership and running into financial trouble.

(Source: Created by author. Data from Morningstar)
Actual: The number of shares have stayed constant over the past few years.
Book Value and Book Value Growth
Expected: Growing book value per share.

(Source: Created by author. Data from Morningstar)
Actual: The book value has increased steadily over the years.
Operating Margins
Expected: A healthy operating margin of over 30%.
Actual: The company has an operating margin of 35.50%.
Valuation
To determine the valuation, I use the Graham Number, average yield, average price-to-earnings, average price-to-sales, and discounted cash flow. For details on the methodology, click here.
The Graham Number for KSU with a book value per share of $37.17 and TTM EPS of $4.59 is $61.96.
KSU's 5-year average P/E is 27.40, and the 10-year average P/E is 29.27. Based on the analyst earnings estimate of $5.33, we get a fair value of $146.04 (based on 5-year average) and $156.01 (based on 10-year average).
The average 5-year P/S is 4.44 and average 10-year P/S is 3.17. Revenue estimates for next year stand at $22.84 per share, giving a fair value of $101.43 and $72.42 based on 5- and 10-year averages, respectively.
The consensus from analysts is that earnings will rise at 9.65% per year over the next five years. If we take a more conservative and achievable number of 8% and run the three-stage DCF analysis with a 10% discount rate (expected rate of return), we get a fair price of $82.18.
The following charts from Simply Wall St provide an overall perspective on the valuation of KSU. The snowflake provided by the service gives a quick visual representation on whether a company provides good value, dividend, while also showing past performance and future expectations (Read full review here).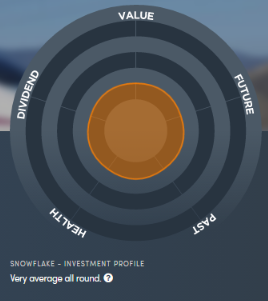 (Source: Simply Wall St)
The chart above shows that KSU does not provide good value. Digging deeper, the following charts show that KSU is overvalued.


(Source: Simply Wall St)
Conclusion
Railroads are the pulse of the economy, and Kansas City Southern operates an 6,500 miles of rail network serving southern US and Mexico. The company provides seamless cross-border transportation in a time when more companies shift their manufacturing base to Mexico. The company enjoys increased payload from agriculture, petroleum products, industrial and automotive sectors. The stock appears slightly overvalued currently. If we give equal weight to all valuation metrics used above, we get a fair value of $100.43 .
Full Disclosure: Long CNI. My full list of holdings is available here.
Disclosure: I am/we are long CNI.
I wrote this article myself, and it expresses my own opinions. I am not receiving compensation for it (other than from Seeking Alpha). I have no business relationship with any company whose stock is mentioned in this article.