Sony (NYSE:SNE) intends to release its first five or six mobile games before March 2018. This is a decisive and timely expansion move. Yes, Sony is already the second-biggest video games publisher this year. However, shareholders should be happier now that Sony wants to get involved in the fast-growing mobile games publishing industry.
Deloitte estimated that global revenue from mobile games this year will generate around $35 billion - up to 20% higher than last year's revenue. Deloitte expects 2016 sales from mobile games to be greater than PC games ($32 billion) and console games ($28 billion). Getting just 3% market share from mobile games revenue could already give Sony more than $1 billion in new sales.
Becoming a successful mobile games publisher could make up for its money-losing smartphone hardware business. Newzoo's Global Video Games Report 2016 also estimates that mobile games will generate $36.9 billion in global revenue. Revenue from tablet and smartphone gamers will account for 37% of the world's estimate video game sales of $99.6 billion.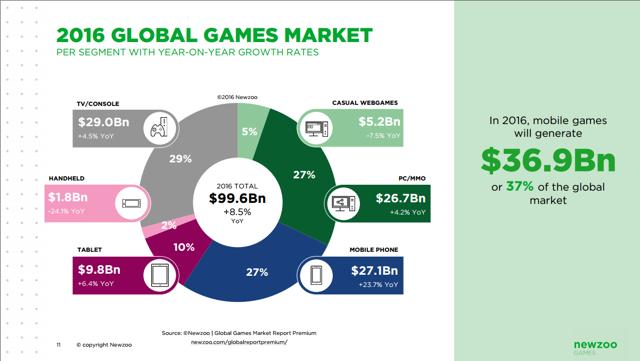 (Source: Newzoo)
Sony's new ambition to become a mobile games publisher is therefore commendable. The mobile games industry's revenue is almost as big as the estimated $38.3 billion global box office from movies. Sony's new subsidiary, ForwardWorks will be in-charged of distributing the new mobile games.
I hope ForwardWorks will heed the example set by Supercell and King Digital. Those two successful publishers spend hundreds of millions of dollars every year promoting their mobile games.
Mobile Gadgets For Anytime, Anywhere Gaming
Unlike PCs and consoles, smartphones and tablets are very portable. They are the perfect play anywhere, play anytime gadgets. Unfortunately, Sony's PS Vita hardware failed because of its niche market vibe. PS Vita games are a different breed from regular Android or iOS games. Sony is right to focus on mobile games now rather than continuing its unsuccessful PS Vita strategy.
The emergence of smartphones and tablets as the new growth drivers for video games require Sony to adapt or lose against its rivals. Sony should be jealous of Niantic and Nintendo's (OTCPK:NTDOY) massive success with their Pokemon Go mobile game. It was reported that Pokemon Go grossed more than $440 million during its first two months.
Sony Interactive Entertainment has a long history of publishing successful console games. It has dozens of hit PlayStation games that could be ported to Android and iOS devices. Sony Interactive can choose from the list of best-selling PlayStation games and port some of them to the Android and iOS platforms.
The millions of PlayStation players already represent a large pool of ready customers for Sony's upcoming mobile games. My assessment is that majority of PS4, PS3 owners also own smartphones and tablets. PlayStation owners will likely embrace mobile ports of their favorite PlayStation games.
Sony Should Consider Buying A Successful Mobile Game Developer
The massive opportunity in mobiles games has inspired other publishers to acquire leading mobile games developers. The world's top video games publisher, Tencent (OTCPK:TCEHY) paid $8.6 billion to acquire Clash of Clans and Clash Royale mobile games developer Supercell. Clash Royale is American's top-grossing iPhone game. American iPhone-using players of Clash Royale generate average daily sales of $1.9 million.
Global players of King Digital's Candy Crush Saga also spent $1.3 billion on in-app purchases in 2014. Activision Blizzard (NASDAQ:ATVI) bought King Digital last year for $5.9 billion. Vivendi (OTCPK:VIVHY) also bought British mobile game developer Gameloft (OTCPK:GLOFY) last June. I hope Sony will also consider buying a successful mobile games company.
Sony's mobile games strategy can get a serious boost if it could buy MZ (Machine Zone). MZ is the developer behind Game of War: Fire Age and Mobile Strike. Acquiring MZ will instantly make Sony the fifth top-grossing global mobile games publisher.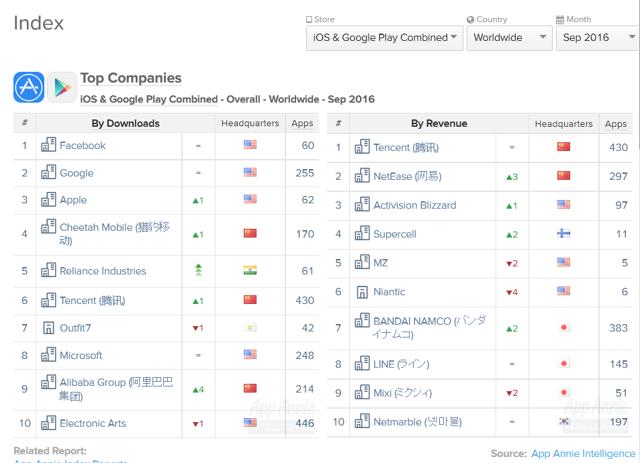 (Source: App Annie)
As per the estimates of ThinkGaming, MZ's Mobile Strike and Game of War mobile games generates combined average daily sales of almost $2 million just from U.S. iPhone-using players. It had only one mobile game published last year but MZ's estimated 2015 revenue was $1.1 billion.
It will take months or even years before Sony can make a game that could equal the cash generating powers of Mobile Strike and Game of War: Fire Age.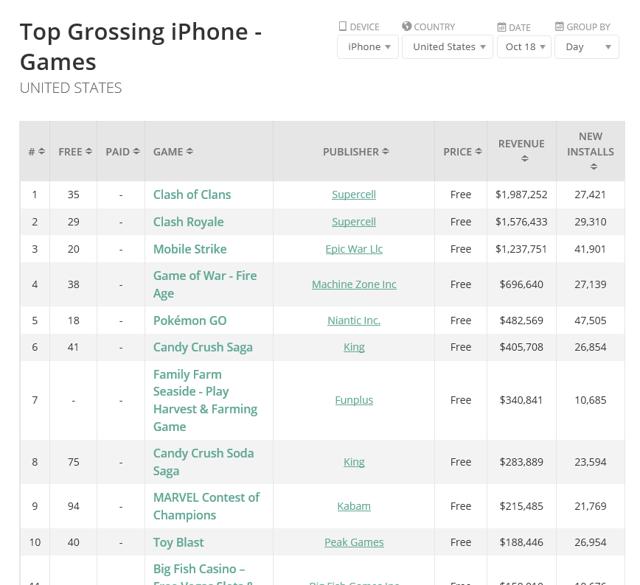 (Source: ThinkGaming)
Buying MZ won't be a problem. Sony has $8.75 billion in cash & equivalents. Privately-held, MZ's estimated market value was only$4 billion. Sony can offer $5 billion and MZ's founders and early stakeholders will probably consider it.
My Takeaway
I am still long SNE. The expansion to mobile games is a long-term tailwind for Sony. Just one hit mobile game from Sony could generate $300 million to $1 billion. Sony only needs to create a mobile game that could replicate the global success of Clash Royale and Pokemon Go. If it can't develop one, Sony should just buy developers like MZ which already have successful mobile games.
Sony will never be a major vendor of smartphones. However, I am highly confident that Sony could become a top mobile games publisher within the next three years. Sony Interactive Entertainment has a deep library of console games. If it can't buy successful mobile games firms, Sony could just build mobile versions of its hit PlayStation games.
Disclosure: I am/we are long SNE, ATVI, TCEHY.
I wrote this article myself, and it expresses my own opinions. I am not receiving compensation for it (other than from Seeking Alpha). I have no business relationship with any company whose stock is mentioned in this article.
Editor's Note: This article discusses one or more securities that do not trade on a major U.S. exchange. Please be aware of the risks associated with these stocks.