Since you have many attachments, you are only a little crazy. This is not crazy enough. You must become completely crazy before you can begin to understand.
- Seungsahn
The YMBC (You Must Be Crazy) High Yield Portfolio utilizes primarily UBS leveraged 2x ETNs and sector ETFs in order to formulate an easily managed, very high yield portfolio. It typically only does one transaction per quarter, re-investing dividends. The 2014 annual review article, includes an explanation of the goals, characteristics, and a risk analysis of the YMBC portfolio.
The YMBCi (You Must Be a Crazy - individual) Portfolio on the other hand primarily utilizes non-leveraged individual equity positions and usually has many more trades each quarter. It thus requires much more research and effort than the YMBC portfolio. That however does not mean it is the better portfolio. YMBCi represents how I have historically managed most of my assets. YMBC represents an alternative that I hope will allow me to generate similar returns with much less effort. The 2015 annual review article introduces the YMBC(i) portfolio and contains more information regarding risk and the downdraft experienced by pass-through securities during that year.
For this quarterly update to the two portfolio's it is assumed the reader is already familiar with the general goals and characteristics of these portfolios, and has a basic understanding of the inherent risk involved with these largely small-cap, high-yield positions. Last quarters article is located here.
Returns:
2016 has been good so far to both the YMBC and YMBC(i) portfolio's: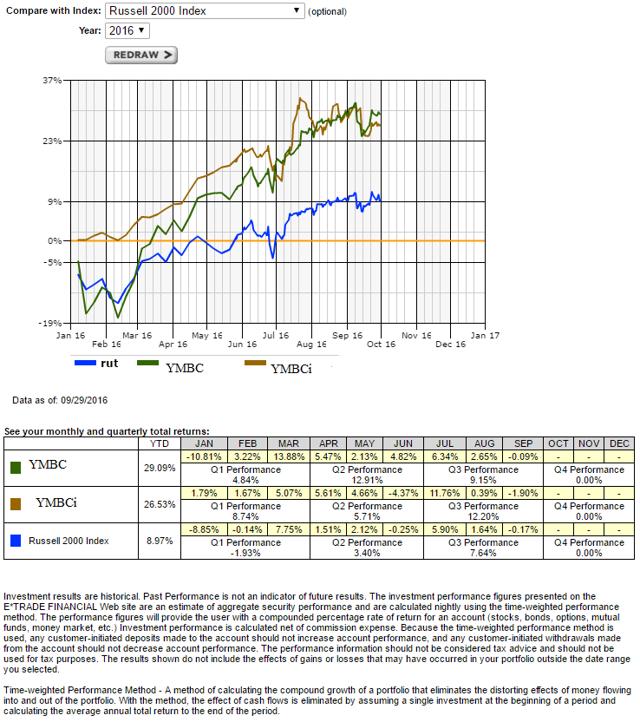 YMBC caught up to YMBCi in Q3 as the YMBCi portfolio mostly treaded water during the last two months of the quarter. Both portfolios however continue to significantly outpace the Russell 2000 year to date (YTD) with YMBC up 29% YTD and the YMBCi portfolio up 26.5% YTD (vs. a 9% gain for the Russell 2000). The will she or won't she gyrations over a potential ¼ of 1% rise in interest rates has caused market apoplexy most of the year so far. Recently however it seems to have been overshadowed in people's minds by the dirty politics prevalent in the presidential election. I know I am sick and disgusted with it.
My personally philosophy is we will always have something to worry about. If we don't have anything big to worry about, in our minds we will blow up whatever we do have to worry about into something big. When I was a child it was about whether mom would buy me that candy I really wanted in the checkout aisle. As a kid getting the skateboard with the really cool truck wheels for Christmas was all important. Then as a teen it became whether this girl or that agreed to go out with me. Now I guess it's ¼ point interest rates changes and presidential politics. In fact, all felt equally as important and potentially devastating at the time. I was every bit as upset about not getting that candy in the checkout stand aisle then, as I am about what one presidential candidate said to a buddy on the school, umh sorry campaign, bus, now. I suspect there is some wisdom hidden in that. I also suspect in the grand scheme of things, both will end up being about equally as important.
Meanwhile, the income flow produced by the YMBC portfolio continues to just keep chugging along:

Fundamentally, the underlying holdings of most YMBC components are spread businesses designed primarily to produce cash flow. Thus we expect the primary return to be generated by the yield, not price changes.
These carry trades are significantly hurt by the flattening of the yield curve Mrs. Yellen seems to have purposely fostered this year. Following Mrs. Yellen's congressional testimony in Q2, the curve had begun to base then rise; however, the Brexit vote and further worldwide uncertainty knocked it right back down.

So once again we are looking at record low spreads between 2 and 10 year treasuries. This should in fact be a poor environment for most spread bet investments; however, this year has been anything but. We can only hope future years end up as good as this one (but that is unfortunately highly unlikely).
So: Will she (Yellen) or won't she? Did you hear who candidate X hit on? Did you hear what candidate Y said about X, and what X said back? Candidate X called, candidate Y a liar. Does this all sound rather juvenile to you. Sounds just like what I used to hear at school when I was 13 - 17 years old, something to gossip and stress about for now. Yep, we will always be worried about something and when necessary will always tend to blow up whatever the current worry is until we think it important and potentially devastating.
I guess you can't help the worry. It seems to generate ratings so we are fed a steady and repeating diet of it every day on the evening "news". Whether that worry freezes you, causes you to not invest, or causes you to learn and understand the risk better makes all the difference. The latter reaction to worry and risk enables you to form an informed opinion and take advantage of opportunistic investments where appropriate. This in turn can greatly affect your returns. Buying the small and unknown, the unpopular and dare I say unloved, is one thing I try to do with both the YMBC and to a greater extent the YMBCi portfolios.
Changes:
During Q3 the YMBC portfolio changed as follows: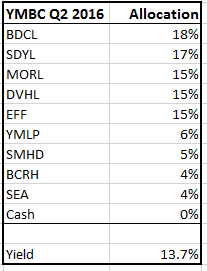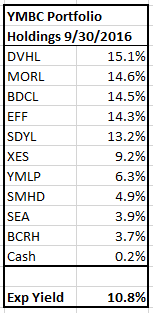 At the beginning of August, I purposely reduced the allocation to BDCL and SDYL as I felt they were becoming a bigger part of the portfolio than was warranted. Since then, including dividends, BDCL is up around 2% whereas SDYL is down about 8%. These funds plus dividends continued to accrue in cash until the very end of the quarter. At that time, I decided to reinvest essentially all cash into XES, the S&P Oil & Gas Equipment & Services ETF. From then until now 10/16/2016, XES is up about 6%. Overall reducing BDCL and SDYL a bit in order to take a XES position has worked out, at least so far.
Although I had intended to re-invest dividends from the YMBC portfolio in BCRH at the beginning of the quarter, and continue to wish to increase that allocation today, I couldn't resist XES. As you are probably well aware back in 2014 the House of Saud allowed the price of oil to fall, decimating the US oil sector. Immediately before the House of Saud took action, XES was trading at almost $50 per share. Today it is a little below $20, down about 60%. Back in 2014 I wrote this article, contending that the motivations of the House of Saud were more about power than money, and thus oil prices might go lower and last for longer than many thought.
…So when we investors consider how long oil prices are likely to stay at current levels, we should not just think about monetary influences. In this case, the maintenance of political power by the House of Saud is at least as big a driver. How low oil prices can go and for how long is still as dependent on the geopolitics of the Middle East as…
In that article and the comments that followed, I further surmised that three things could potentially indicate when the oil price war was over:
Bankruptcies in the fracking, offshore, and alternative energy production arena
Opec expansion and a reigning in of Opec cheaters
Investments by the House of Saud in alternative energy companies
I believe we have now seen at least the beginning of these three signs:
Bankruptcies: Though it took much longer than many expected, there have now been numerous bankruptcies in the fracking arena, alternative energy and offshore production companies are also on the ropes to say the least, with bankers attempting to salvage what they can from their lending positions, not increase them.
Opec Expansion & reigning in cheaters: Many of the most egregious cheaters-- Nigeria, Venezuela, etc. -- have been screaming bloody murder over lower prices for a while now. Nigeria, Venezuela, Brazil, etc. have even arguably been undergoing regime change in part because of it. Russia has already verbally said it would be willing to work with OPEC to stabilize oil prices and production. Now in the latest meeting in Algeria the most significant hold-out, Iran, seems to be on board for a deal freezing them at slightly above what they are currently putting out. While the proxy wars between Saudi Arabia and Iran in Syria and Yemen rage on, their does indeed appear to be the beginnings of an oil deal. Maybe a deal which the last couple of years of enforcement actions by the House of Saud, can make stick?
Investment by the House of Saud in alternative energy: According to Forbes, the House of Saud has been actively buying US based oil investments (mainly technology and midstream so far). Additionally, it is widely reported the House of Saud will be selling some of its Saudi Aramco holding, thereby diversifying its portfolio. As part of this diversification, they have for instance agreed to put $45 billion into a new Softbank Vision fund. Softbank, if you didn't know it, doesn't just invest in websites and telecom, it also has numerous alternative energy holdings (solar and wind energy production, Didi, etc.). The House of Saud has even made a few significant direct investments in such alternative energy related assets as Uber and Solar Power farms.
So to paraphrase Churchill, we may not be at the end of this particular oil price war, nor even at the beginning of the end, but perhaps we are at least at the end of the beginning. I think now is a good time to start buying US based alternative energy, shale, and oil field service names. Those that have both been very beaten down, but survived, and who have a balance sheet which should allow them to continue to survive at least through the next year. I have started to act on this belief with my purchase of the SPDR S&P Oil & Gas Equipment & Services ETF (NYSEARCA:XES), but am going to try to resist pointing out any additional specific names which may get added to the YMBCi portfolio until after I have fully filled out my anticipated holdings in those names.
XES now represents about 9% of the YMBC portfolio and is basically a call both that the sector is cheap in general, and we may be at the end of the beginning of this particular oil price war.
During Q3 the YMBCi portfolio changed as follows: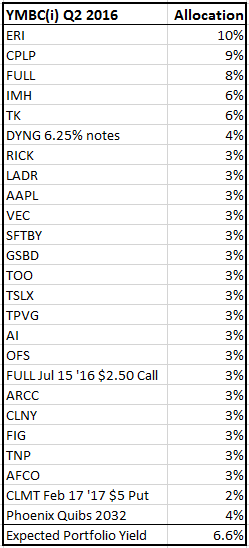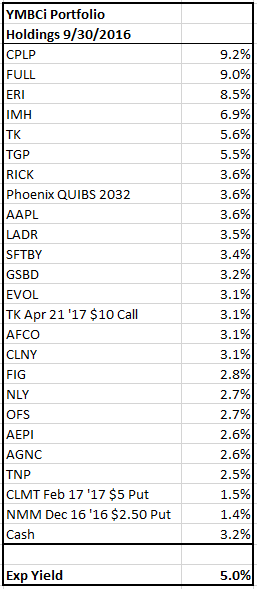 The top 5 holdings-Capital Product Partners L.P. (NASDAQ:CPLP), Eldorado Resorts, Inc. (NASDAQ:ERI), Full Circle Capital (FULL), Impac Mortgage Holdings, Inc. (NYSEMKT:IMH), Teekay Corporation (NYSE:TK)-remained the same in Q3, they just shifted around a bit. I continue to think all 5 of these positions are buys and suggest any readers using this portfolio as a starting point for their own further research begin with these names. I only ask that after having done your further due diligence, you post a comment to the article outlining your findings. I particularly encourage anyone who, after research, decided they were not good investments, to please post why. What I mainly get from these articles is feedback from other informed, knowledgeable investors of where I may be mistaken.
During Q3 the YMBCi portfolio sold: Dynagas (NYSE:DLNG) 6.25% notes, Arlington Asset Investment Corporation (NYSE:AI), Ares Capital (NASDAQ:ARCC), Teekay Offshore Partners L.P. (NYSE:TOO), and Vectrus (NYSE:VEC). It bought: AEP Industries Inc. (NASDAQ:AEPI), AGNC Investment Corp. (NASDAQ:AGNC), Evolving Systems, Inc. (NASDAQ:EVOL), Annaly Capital Management, Inc. (NYSE:NLY), Teekay LNG Partners (NYSE:TGP), Teekay Corporation calls, and NMM puts. Readers can look in the comments section of my last article for brief reasoning behind these sales and purchases. Probably the most significant sales during the quarter was the harvesting of gains on the Dynagas notes (trading at over 90% of par, they were getting close to fair value and I wanted to reposition the funds elsewhere) and the purchase of TGP and TK calls. Rather than try to cover the Teekay purchases here, I will direct you to this article which I think covers the Teekay story well. Shipping continues to be over-weighted in the YMBCi portfolio as I think many names in this sector are remarkably cheap. However, I have no special knowledge or love for shipping. It's just a sector that is underpriced. Looking forward, I think you can expect more upstream oil plays to start creeping back into the portfolio.
Conclusion:
Things are going fine. Political "news" and ads are mostly pretty silly. Buy low / sell high, starts with buying low.
As always, I look forward to your comments and criticisms. If you find this article interesting, and would like to get updates as well notification of, and some limited reasoning behind, the trades, please consider clicking the follow button above.
Disclosure: I am/we are long OR SHORT AS THE CASE MAY BE EVERY EQUITY MENTIONED IN THIS ARTICLE. I wrote this article myself, and it expresses my own opinions. I am not receiving compensation for it (other than from Seeking Alpha). I have no business relationship with any company whose stock is mentioned in this article.
Additional disclosure: I say right there in the name, if you follow this portfolio YOU MUST BE CRAZY! I don't know who you are much less your particular situation; so how can I recommend this portfolio or for that matter any investment to you? Don't follow a crazy person, do your own due diligence.