In the wake of the Enron debacle in 2001, many of the large accounting firms began to spin out their consulting arms. As a refresher, Enron's manipulative accounting practices had been allowed to proliferate under their accountants' watch. Enron's consulting fees paid to the Houston office of Arthur Anderson were becoming so large that the quality of their audit became compromised. This led to a flight of clients from Arthur Anderson, eventually leading to the demise of the entire accounting firm.
Resources Connection (NASDAQ:RECN) fortunately jumped the gun on the scandal, going public in December 2000 via a management buyout after four years as a division of Deloitte & Touche. RECN provides many services that other consulting groups do:

Source: Company website
It is a crowded landscape, with large competitors like Accenture (NYSE:ACN) having a tremendous level of scale with over 358,000 employees. RECN by comparison has just about 3,300 employees, and about 2,100 consultants. This size difference is reflected in their market capitalizations as well: RECN's is $474.8M while Accenture's is $73.35B.
The nature of the consulting industry is that when times get tough, it is one of the easiest costs to eliminate from most company's budgets. In RECN's case, it doesn't have a lot of recurring revenues either, as it bids on each job (though it likely has some ongoing relationships with clients). When we look at the 2007 to 2011 period, RECN definitely took it on the chin, with revenues dropping and a massive retrenchment in the number of consultants on its payroll: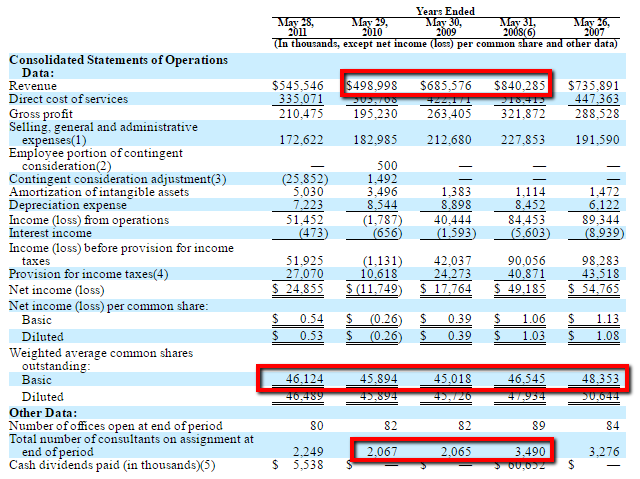 Source: 2011 Annual Report, Resources Connection
This period was not kind to Accenture either; however, its size, diversification and scale gives it a greater robustness against cyclical downturns. If we look at Accenture's high level results during this same time period, we can see that it was impacted, but not in the same manner as RECN:

Source: Accenture Annual Report 2011
This scale also lends itself to Accenture as well, with an operating income margin of 14.3% in the most recent fiscal year, which compares to RECN's 9.0%. This size allows Accenture to achieve better scale by spreading its SG&A costs over a larger revenue base. The risk is that expense bloat can set in, but Accenture has been able to avoid this so far.
RECN has shown a very strong upward trend to its margins over the last 3 years: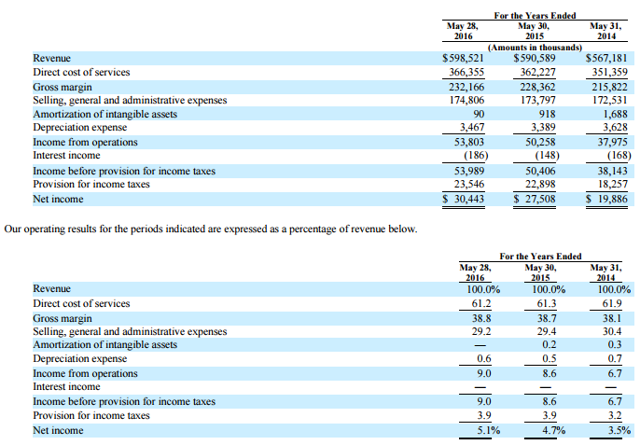 Source: RECN 2016 Annual Report
Revenue increased by 5.5% over this time period while its operating margin increased from 6.7% to 9.0%. Keeping its direct costs constant, we can see the benefit of scale here even at RECN's revenue levels. By comparison, Accenture's revenues increased 3% from 2014 to 2015, but its margins remain constant at 14.3%. This is by no means a bad thing, but we can see the benefits of scaling will be felt greater at RECN due to its smaller size, if it can maintain its expense discipline while growing revenues.
I believe the consulting industry is likely to face some headwinds, especially among the S&P 500 which has experienced declining earnings for six straight quarters. This will continue to pressure expense control at RECN's customers as they try to compensate for slowing growth. RECN may be able to compete on price and make up market share on its larger competitors, but past precedent indicates that it will not be immune to this challenge. This would also pressure margins.
Why should you care about RECN, if the macro set up is difficult to say the least? In two words, it is RECN's capital allocation.
Accenture has a current yield of 1.86% with a $2.20 annual dividend. Combined with its share buybacks (net of issuance), Accenture has a shareholder yield of 4.4%. This is by no means poor. However, RECN has had a sterling return to shareholders: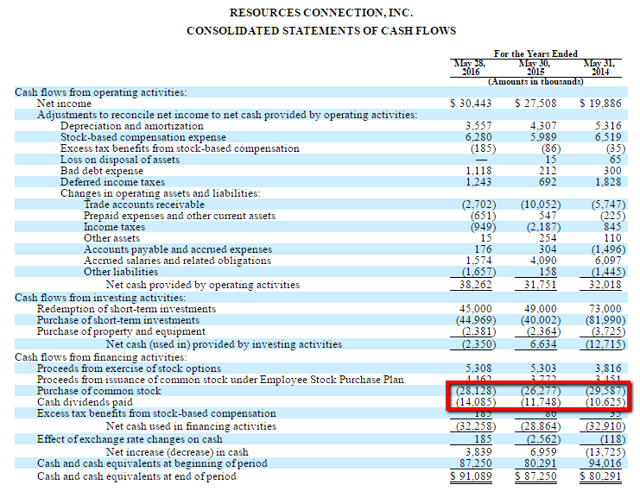 Source: RECN Annual Report 2016
RECN's current dividend of $0.44 per share gives a yield of 3.36% at these levels; as we see from the cash flows above, it is well covered with a 39% payout ratio from free cash flow in its last fiscal year. Even in its most recent quarter, its earnings of $0.16 exceed the dividend of $0.11 (cash flow is not a good measure in Q1 due to some one-time payouts in Q1). Management has increased its dividends over time from $0.16 per share in 2010 to today's $0.44 per share.
This has been augmented with a substantial buyback over and above the dividend over the last few years. Unlike many companies, RECN's buyback has been truly effective at reducing share count rather than to compensate for issued shares or stock options. At year-end 2012, RECN had 43.5M shares outstanding. As of year-end 2016, this had dropped to 37.0M shares, a 15.0% drop in shares outstanding. As of today, it sits at 36.1M shares outstanding. Accenture's share count has also dropped, from 645.5M in 2013 to 626.8M in 2015, but this is not near the pace that RECN has been able to accomplish. RECN's shareholder yield is pacing at 8.9%, over double that of Accenture's.
During the writing of this article, RECN announced on October 17, 2016, that it was obtaining a $120M credit facility with the purpose to conduct a Dutch Auction for up to 6.0M shares at between $13.50 and $16.00 per share. If fully executed, this would take up another 16.6% of the outstanding float of 36.1M shares as of this date. RECN has the cash on hand to do this, but it would leave it with no liquidity flexibility, especially if the auction takes place near the higher end of the price range. The line of credit gives it a contingent buffer should it need it.
RECN has built up a decent cash buffer. Accenture has $4.9B of net cash on its balance sheet (per Seeking Alpha's Key Data), representing 6.7% of its market cap. On an absolute basis, this is a tremendous level of cash in the wake of an economic downturn, litigation etc. RECN has built up a $102.9M in cash on its balance sheet. This represents 21.6% of its market cap. This gives it a very deep buffer to both maintain its operations through a downturn, but to also maintain its shareholder yield, either in dividends or buybacks in the event that its cash flows exceed inflows. This is highly unlikely, based on its very low payout ratio we saw before, but indicates how management has approached its business.
I believe this large cash balance has partly contributed to the valuation discount RECN has to Accenture: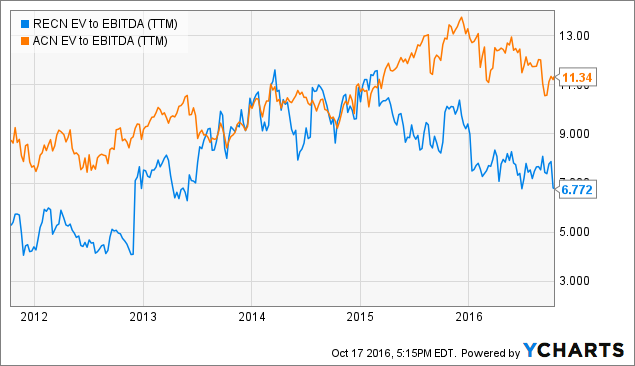 RECN EV to EBITDA (TTM) data by YCharts
We can see that despite its size, RECN has traded at similar valuations to Accenture in the recent past. I would argue some discount is warranted, given the scale and size of Accenture, as well as a more diverse client base, both operationally and geographically: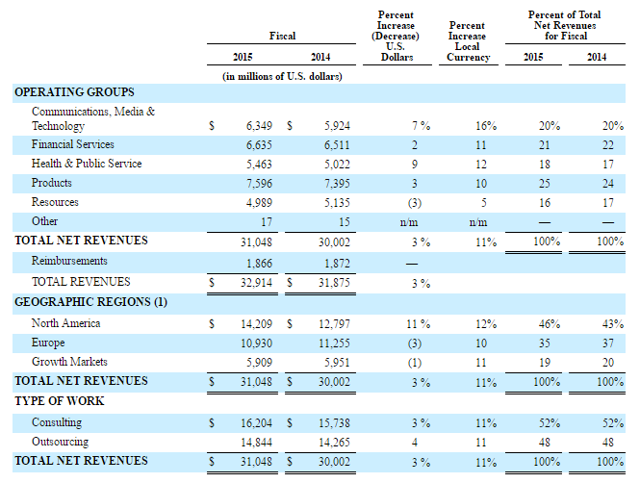 Source: Accenture 2015 Annual Report
Accenture has no more that 46% of its work in any geographic region, while it has a pretty diverse split of revenue sources as well. RECN doesn't break out its revenue by type but does by region:

Source: RECN 2016 Annual Report
RECN is more levered to the North American market, with 81.7% of its revenues. This makes RECN a more targeted play on the NA economy; it also may explain some of the valuation discount.
RECN is even cheaper when you see what multiple an acquirer would get should it acquire RECN's $598.5M annual revenues. With a bolt on acquisition of RECN, a larger acquiring company would be able to eliminate a lot of indirect costs as it can fold a lot of administrative tasks into its existing infrastructure. Some would remain (sales staff etc.) but a lot could go.
If we assume the cost of its consultants remains consistent at 61.2% of revenues, but apply Accenture's SG&A rate of $5.3B/$32.9B = 16.1% instead of RECN's rate of 29.2%, RECN's adjusted EBITDA for an acquiring company would be $598.5M x (100-61.2-16.1)% = $135.86M. Factoring out the cash on hand, this gives an acquiring multiple of 2.74x EV/Adjusted EBITDA. (Please note this excludes acquisition costs, severances etc). Even with these extra costs, this is immensely cheap for a strong, ongoing cash generating business.
One recent cause for this inexpensive valuation is the recent announcement of a CEO change. As detailed in the release, the CEO Anthony Cherbak had to step down due to medical reasons. However, he is continuing to stay on board as a director and advisor to the interim CEO to help provided continuity. Kate Duchene was appointed as interim CEO while the company conducts a search for a full-time one. Ms. Duchene has been with the company since 2000 so is well versed in the corporate culture and management direction, so I would not expect much of a sea change in management direction. However, the market saw it very differently: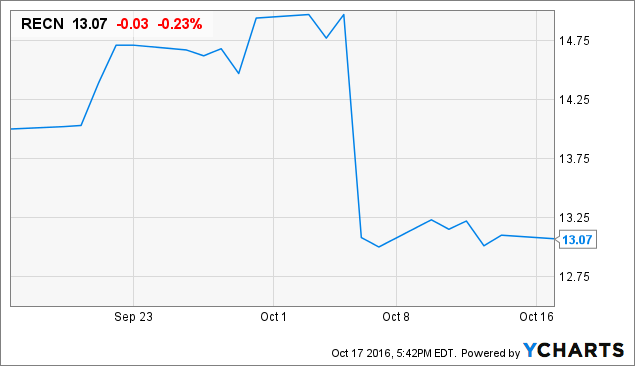 RECN also announced Q1 2017 earnings at the same time. Revenues were down QoQ 3.3%, including down 4.9% in the key North American market. Margins were down as well due to RECN's leverage to revenues. There is an annual cash draw in Q1 as bonuses are paid out (the same as in 2015), with cash balances at $102.9M, up from $101.1M in August 2015. While not strong, I don't believe these results were weak enough to justify this massive sell off, especially given in a tough macro environment for consulting.
The Takeaway
RECN is in a very cyclical industry which will move with the general performance of the economy. With earnings in a trough for the S&P 500, this is a bit of a difficult time for the consulting industry. RECN has been able to maintain positive performance during this time, while continuing to reward shareholders with a 3.36% yield while trading at a significant EV/EBITDA discount to its larger peer, Accenture. While there should be some discount due to size, RECN has traded alongside Accenture before and when considering how accretive its earnings would be to an acquirer, the gap is currently too large.
RECN's capital allocation also rewards shareholders well at 8.9% over the last year, over double that of Accenture. The Dutch Auction announcement continues to build on this, providing a good floor to the current share price. Early returns on this announcement are positive as the shares have jumped in after-hours trading. Even with this jump, RECN represents very good value with a strong cash balance (and now credit line) to provide some downside protection while securing its dividend.
If you found value in this article, please consider following me by hitting the follow button at the top of the page. If you hit the "real time" option, you will get immediate alerts each time I publish something. Thanks for reading!
Disclosure: I am/we are long RECN.
I wrote this article myself, and it expresses my own opinions. I am not receiving compensation for it (other than from Seeking Alpha). I have no business relationship with any company whose stock is mentioned in this article.