Harley-Davidson (NYSE:HOG) is about to release its third quarter earnings for fiscal 2016, and we know that the legendary company is not immune from the adversities affecting the whole American motorbike industry right now. Let's take a closer look at the important factors which are going to affect the company's performance this quarter and in the years to come.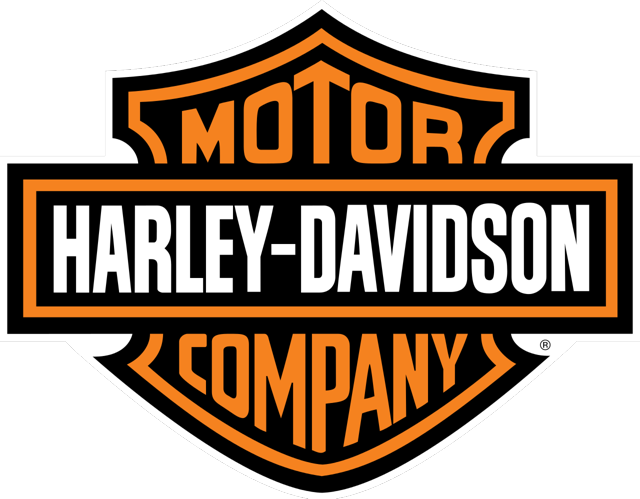 The most glaring problem with Harley-Davidson is going to continue to be its struggling motorcycle sales. Last quarter saw its motorcycle unit sales in the Americas region, which accounts for 70% of total worldwide sales, drop by 5% as the motorbike manufacturer suffered through a number of serious factors. Increasing competition from the likes of Polaris Industries (NYSE:PII) slowly stealing their market share through competitive pricing and a couple of grave marketing errors on Harley-Davidson's part. The Milwaukee-based motorbike manufacturer refuses to discount or reprice its bikes while the Polaris is taking advantage of the scenario by offering its bikes at a cheaper rate with pretty much the same experience. While it might make sense to maintain a premium pricing strategy to maintain the brand image of a bike as famous as the Harley-Davidson, the fact is that the market is not ready to accept bikes at these prices.
A lot of this has to do with the act that Harley-Davidson's demographic is changing (or has changed already). Your average Harley-Davidson rider has already bought his last bike, because he's probably in his 60s and does not need or cannot afford a new bike. On the other hand you have the new younger rider who can't afford a Harley even if he is interested, which means that he's probably going to go for the cheaper brand. Blame time, the rough economic times, or whatever you may like, the grim reality of the situation is that the company is facing declining demand in its Americas region and will continue to do so given its existing marketing model. And while its EMEA region might be experiencing healthy growth, the size of that region is not nearly enough to have an ample effect to offset any headwinds in the Americas region.
Another worrying aspect is the company's increasing provision for credit losses which has exploded to over $100 million as of last year's results from $17 million in 2011. While the figure itself is not shown in the quarterly report it ends up having a serious impact on the company's financials, both in terms of profitability and debt. What makes matters worse is that these write-offs are fueled by sub-prime loans being offered to potential customers, so the company ends up trying tooth and nail to improve sales figures by aggressively trying to capture customers by offering them more and more toxic loans which affects their profitability as well as their debt structure. So it's very likely that the company's financial services expenses will continue to increase at a greater rate than financial services revenues, and while it may have a fairly limited impact on the current overall profitability of Harley-Davidson it will eventually wreak havoc on its financials one way or another.
As far as the way the stock might react it might seem like in the short run we might see the stock move down fairly quickly, but it might adjust back to its current range of $48-$51 per share. A look at the 50-day moving average in relation with the 200-day moving average shows that the stock is currently trading inn bullish territory, indicating that there is some stability to its current price right now. HOG's RSI shows that the stock is trading near its lower level threshold, but not close enough to expect a big gain from it in the coming days.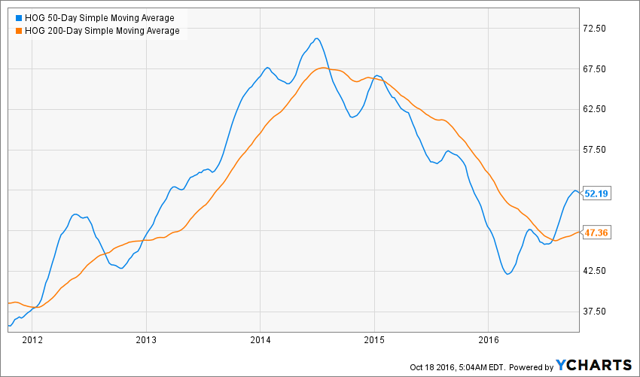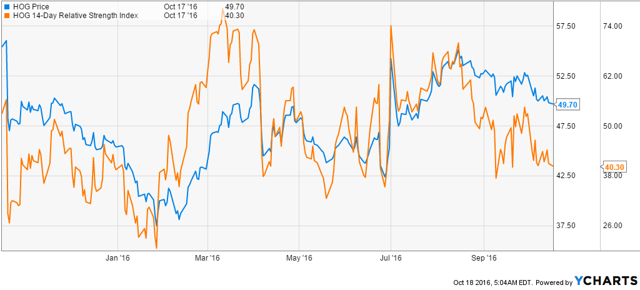 (Source:YChart)
Over the past many quarters the company stock has had a very mixed response to its quarterly results, and over the course of the whole year the stock has declined by more than 8%, having stayed below the $50 for most of the year while dipping to a 52-week low of $37.94 per share. Regardless of its results this quarter is most likely going to have little or no short-term impact on the stock price while having a relatively small chance of having a diminishing impact on the price. The long-term prospect of Harley-Davidson is a far more depressing story.
Disclosure: I/we have no positions in any stocks mentioned, and no plans to initiate any positions within the next 72 hours.
I wrote this article myself, and it expresses my own opinions. I am not receiving compensation for it (other than from Seeking Alpha). I have no business relationship with any company whose stock is mentioned in this article.