By Scott Tzu
The investment thesis on Netflix (NASDAQ:NFLX) is relatively simple right now. We actually think it is much simpler than the market gives it credit for. We shorted some NFLX in after hours trading yesterday and we wanted to talk about what our line of reasoning is after a report that the market apparently thinks was good enough to add 20% to the company's market cap.
Let's not be one-sided. The report definitely came in above expectations while both US and international subscriber numbers beat and the bottom line ($0.12 vs. $0.07 est) also beat for the company. Here's a quick rundown of the results. Seeking Alpha reported,
Netflix announces it brought in 370K net subscribers in the U.S. during Q3. The company guided for 300K U.S. and the consensus estimate from analysts was for a mark of 304K. Last quarter, Netflix added 160K domestic subs.
Net international subscribers growth came in at 3.2M vs. 2.0M consensus.
Total Netflix memberships at the end of the quarter were 86.74M
Q3 total streaming contribution margin rose 120 bps Q/Q to 18.8%. The contribution margin rate in the U.S. came in at 36.4% The company sees a Q4 U.S. contribution margin of 36.9%.
Guidance for Q4 is for 520K U.S. adds and 3.75M global. The combined mark is ahead of most estimates.
Netflix says it has now "un-grandfathered" 75% of its members.
With that in mind, analysts and investors need to remember that expectations were set incredibly low for Netflix heading into this quarter. Netflix had an anemic prior quarter, where they only added less than 200,000 domestic subscribers and that significantly lowered the mean when it came to establishing new estimates for this quarter.
To say that expectations were low heading into this quarter, we think, was an immense understatement. As it happens when this is the case, even the slightest of beats cause the stock to pop significantly. From that point, it is our job as investors to try and figure out whether or not the pop is warranted and continue to ride it higher or whether the pop is likely a fallacy and it will be short-lived.
For several reasons, we think this Netflix pop is going to be short-lived.
The first reason, and the most important reason, is aligning the new valuation with the company's results and the market environment that we are in. We wanted to take a second and actually run down Netflix's valuation at this point. Here are a couple of traditional valuation metrics for the company as it stands now near $120 per share.
NFLX now has a market cap near $50B
NFLX now trades at about 130x forward estimates and about 360x ttm earnings estimates
NFLX trades at about 6.5x sales and almost 20x book
Finally, its only decent looking metric, it's EV/sales is now about 6.2x
As you can see, all of the fundamental ways to value a company seem to be completely blown out of proportion when it comes to NFLX. We really only see this when a company has a very long trajectory of growth in its future and when it is assumed that the company will be growing very aggressively for years to come.
If Netflix was the only player in the "cutting the cable" sector, we would be inclined to believe that it may very well have an extremely long runway of growth ahead of it. However, with the environment now shifting to one where there is significant competition, we are not sure that Netflix is the crown jewel that it once was a few years ago.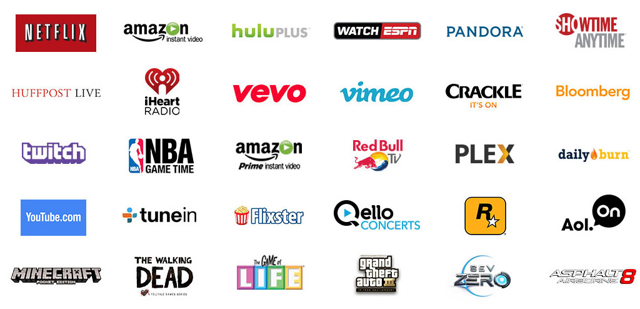 Yes, cutting the cable still has a long way to go. We are anticipating an enormous secular move away from traditional cable and traditional cable companies and we are predicting that a majority of this business will go to individual online streaming subscriptions for packages of online streaming subscriptions. Netflix used to have the advantage of being extremely cheap and being one of the only services available. Now, it touts that 75% of its user base is subject to price hikes and it has intense competition from Apple (NASDAQ:AAPL), Amazon (NASDAQ:AMZN), Hulu, and all of the major networks that are providing their content through various streaming services. Even Twitter (NYSE:TWTR) has now gotten into the streaming video sector.
The company also is indicating that China is going to be much more of a growth challenge than originally thought. This is a huge deal because China is obviously one of the most densely populated countries in the world and it is a haven for businesses to try and penetrate due to its large population. Unfortunately, businesses of all sectors sometimes find it difficult to get into China with regulatory constraints that the country has, and it looks like Netflix will be no different. Here's how QZ.com put it,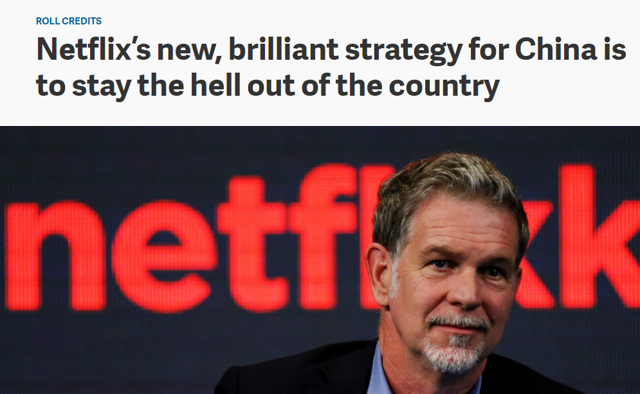 It doesn't look like China is going to be the cash cow that the company and investors once thought it was going to be as quickly as they thought it was going to be,
"The regulatory environment for foreign digital content services in China has become challenging. We now plan to license content to existing online service providers in China rather than operate our own service in China in the near term. We expect revenue from this licensing will be modest. We still have a long term desire to serve the Chinese people directly, and hope to launch our service in China eventually."
We have to remember, the fight in the future is going to be for content. Content is going to be the key that keeps people with or without certain services. Those that enjoy Netflix's original series will likely stick with the service in order to see the shows that they enjoy. There is going to be a war in the future over content, and a large problem not only for Netflix and other streaming subscribers that content costs a lot of money to either license or to generate internally. Netflix said yesterday they are going to load up on debt to fund content. Netflix seems to be hell-bent on spending as much as they need to in order to secure this content. Here's a couple of lines from the conference call transcript,
Yes, my comments at the Goldman Sachs conference about a 20% debt rate or a long-term optimization and cost to capital. I don't think we're talking about by the end of the year, getting to a 20% leverage ratio. So just to talk about sort of a shorter term or a medium-term, we would be looking to raise as needed in terms of funding our content expansion. So we've been pretty clear along the year that we would go-to-market sometime this year to add a modest amount of debt to the balance sheet. And then do that on a recurring basis as needed to fund our content expansion.
And then as you look to next year, $6 billion of content amortization is a 20% growth rate year-on-year versus 50% this year. So we're seeing the content cost grow slow, yet if we look at content obligation, which are over a billion sequentially or your free cash flow guidance, I think it used to be similar next year to this year. The gap seems to be widening between amortization and cash, so maybe just talk about what's driving that, if I have that right?
So we should be able to take more of that inside in terms of - and reduce our free cash flow. But I want to give some level room for the scale of the business. If we're successful and if we grow faster than we expect, then we could expand our content even more than what we consider we would do today. So there's a little bit of matching that to the scale growth of the business.
We don't have a magic target there that we're trying to hit. It's more about continued expansion and that mix of our content, being more of originals and less of licensing, but we're still expanding both licensing content is still expanding.
The question then simply remains whether or not Netflix is as well positioned of a company as it was a year or two ago when we think it started to peak out it's valuation. Does the small beat in subscribers really warrant a 20% addition to the companies $41 billion market cap? Should this company really be fairly valued at $50 billion coming out of this earnings report? We just can't make a case in our head that says that it is. When we take this valuation and we combine it with our overall broader picture of the market, we believe that Netflix may have hit its zenith in terms of its stock price and valuation.
Content is going to be the fight going forward. Streaming video isn't a stock market darling any longer. At some point, NFLX's valuation will have to face the reality that the future relies on content, and content is expensive. With a collapsing runway for growth and a growing number of competitors while the company sits at an aggressive valuation in a market that we think is going to pull back, we believe Netflix is a good short here.
Disclosure: I am/we are short NFLX.
I wrote this article myself, and it expresses my own opinions. I am not receiving compensation for it (other than from Seeking Alpha). I have no business relationship with any company whose stock is mentioned in this article.