Nevsun Resources: Have You Ever Seen Drill Results Like This?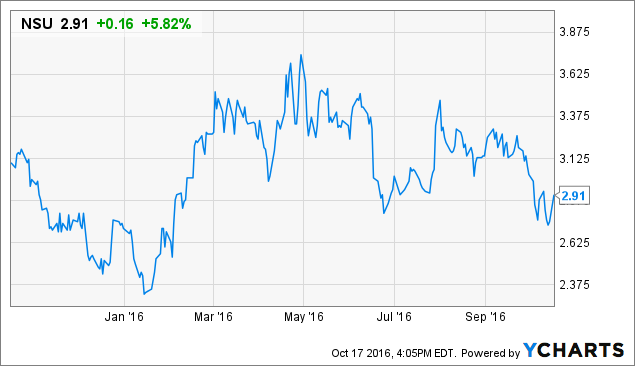 Nevsun Resources (NYSEMKT:NSU), which is one of my top picks and one of my largest real-life holdings, recently released some news which took me by surprise. The company reported new assay results from drilling of its newly acquired Timok copper-gold project. These results were actually from drill holes completed by the mine's previous owner, Reservoir Minerals, and the holes were assayed following the acquisition by Nevsun. The company expects these holes and 30,000 meters of ongoing drilling to generate a new resource for a pre-feasibility study, due in September of 2017.
Look, I knew the Timok project had big exploration upside, and so did Nevsun when the company paid $365 million in shares to acquire Reservoir, not counting an additional $75 million cash sweetener. According to a preliminary economic assessment, the project carries a current post-tax net present value of $965 million based on current gold and copper prices, which is much more than what Nevsun paid for Reservoir. But I had no idea these kind of drill results would occur. The market also looks pleased by this news, as shares are up close to 6% today.
Nevsun says drilling has intersected new massive and semi-massive sulphide intersections at the Upper Zone of Timok. Here are the highlights of the drill results - check out the huge widths and high copper and gold grades in particular.
248.0m @ 6.37% Cu, 3.19g/t Au, including 87.0m @ 11.95% Cu, 5.35g/t Au
300.0m @ 5.50% Cu, 3.32g/t Au, including 40.0m @ 18.83% Cu, 10.61g/t Au
220.0m @ 3.12% Cu, 3.83g/t Au, including 42.0m @ 11.11% Cu, 16.70g/t Au
188.0m @ 4.03% Cu, 4.24g/t Au, including 27.0m @ 12.21% Cu, 15.26g/t Au
Copper grades over 3% are pretty impressive, as well as gold grades north of 5 g/t - especially over such wide intersections. For example, 300 meters of 5.5% copper and 3.32 g/t gold. In fact, in my 8 or so years covering gold, silver and various other mining stocks, I don't think I've ever seen drill results as impressive as these. The only other results that come to mind are the exceptionally high gold grades encountered by Pretium Resource's (NYSE:PVG) at its Brucejack gold deposit.
It's important to drive this point home: the PEA results do not factor in any of these newly released assays, which should substantially increase the resource base at Timok. And an additional 30,000 meters of drilling is ongoing at this deposit, with the goal of improving confidence in the resource (in other words, upgrading inferred resources to higher confidence categories, measured and indicated). So, while the Upper Zone already contains 2.5 million gold equivalent ounces in resources, an expansion of this resource appears highly likely.
But, it's also likely we'll see an increase in average gold and copper grades at the Upper Zone. The current inferred resource of 35 million tons carries copper grades of just 2.9% and gold grades of 1.7%, but the drill results carry far greater grades.
I was previously somewhat critical of Nevsun's acquisition of Reservoir, especially after the sweetened offer. I pointed towards the large inferred resource base and a speculative preliminary economic assessment as two risks, as well as the fact that Timok's Upper Zone likely won't get to production for several years. But these drill results are a real eye-opener and could lead to a much larger, more defined resource base, which would lessen some of my previous concerns.
Meanwhile, Nevsun also recently announced first commercial zinc production at its Bisha mine, and it couldn't have come at a better time as zinc prices have rallied to prices north of $1 per pound, the highest levels seen in several years. The zinc expansion cost also came in $23 million under budget, with a total cost of $77 million. The company expects to produce up to 100 million pounds of zinc in H2 2016, which, at current zinc prices, is equal to a little over $100 million in revenue.
Nevsun is in a great position here. The company has $220 million cash on hand (as of the end of last quarter), owns a profitable copper-zinc mine in Bisha, pays a sustainable quarterly dividend of $.04 per share, and is quickly developing the Timok project in Serbia.
With initial capital requirements of $213 million (according to the PEA), the company has just enough cash to advance Timok's Upper Zone to initial production, but with zero debt and the option of selling a royalty or gold stream on the project, I don't think the company will run into any financing issues. These drill results at the Upper Zone are definitely an eye opener, and investors need to keep a close eye out for future drill results. Nevsun will remain one of my top holdings for the foreseeable future.
Disclosure: I am/we are long NSU.
I wrote this article myself, and it expresses my own opinions. I am not receiving compensation for it (other than from Seeking Alpha). I have no business relationship with any company whose stock is mentioned in this article.