"Despite having spent a lot of time learning about superstring theory, I have never been impressed by it as something I would describe as beautiful. The quantum field theory of the standard model contains physical and mathematical ideas that are strikingly beautiful, the likes of which superstring theory cannot approach." - Peter Woit, Not Even Wrong
Treasury yield rates have been going up as pharmaceutical and biotech stocks sold off through recent weeks. Omeros Corporation's (NASDAQ:OMER) shares were no different. However, it had recently obtained funds that were close to sufficient to carry on its activities over the long term. It followed up with data that must be encouraging to everyone from the medical community to patients to investors.
I have discussed the unmet need, including some comments from management, of a kidney disease known as IgA (Immunoglobulin A) nephropathy here. Its prevalence is relatively high for a rare disease. There is an undeniable opportunity, and there may now be ground for OMS721 to obtain breakthrough designation from the FDA.
The corporate stock's recent decent has not been easy to explain. Government bond yields can affect a discount rate used to value the worth of long term projects - such as developing medicine or acquiring property to drill for natural gas. So far this month, the 10 year treasury has gone from 1.63% to 1.8% and the 20 year from 2.01 to 2.22%. The NASDAQ Biotechnology Index (NASDAQ:IBB) has correlated inversely with an increase in treasury rates.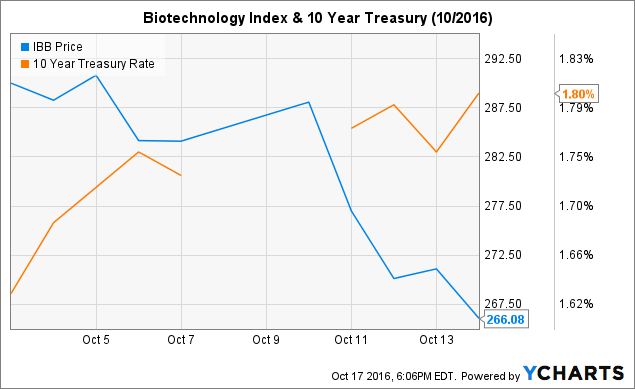 Also, Hillary Clinton supports an initiative to shorten the exclusivity of biologic drugs to seven years. OMS721 is a biologic. Clinton is enjoying success at debating. Omeros Corporation's press release specifies that it is working on small molecule versions of its experimental MASP (2 & 3) inhibitors. These would be much cheaper for patients and reduce costs to health care systems. They probably would not be as lucrative for investors, with the price of any successful product only a fraction of a biologic's.
When inputting the following assumptions in a model of OMS721 as a treatment for IgA Nephropathy:
15% penetration in 2020 and climbing as high as 40% into 2027
a 35% chance of success
an annual price of $280,000
an 11.77% discount rate
lower prevalence than cited in Omeros Corporation's press release (1.75 / 100,000 vs. 2.5 / 100,000 persons)
a Net Present Value ("NPV") of $22.30 per diluted share is output.
Some might put the phase 2 indication's odds of success higher, as no serious toxicities have been reported and there is clinical showing of benefit. Validation by the FDA through awarding breakthrough status would further help perception and perhaps increase the probability of success closer to 50%. Until then, the drug's path might still be uphill to investors.
But let's not forget that there are signs of a successful treatment for a disease that does not have one! Other drug companies' efforts and resources have had no avail and they must be taking notice. Relevant firms include BioMarin (NASDAQ:BMRN) and Shire (NASDAQ:SHPG), as mentioned in the article referenced previously.
And there are still possibilities apart from IgA nephropathy. Other findings are positive, though not statistically significant. However, "After additional OMS721 data have been collected in membranous nephropathy patients, Omeros may also pursue breakthrough therapy designation for that indication."
Separately, the company says "No patients with steroid-dependent C3 glomerulopathy, an extremely rare disorder, have yet been enrolled." Any future commentary here would be captivating. Per available information, Alexion Pharmaceuticals' (NASDAQ:ALXN) Soliris is an effective treatment for dense deposit disease, sub-grouped under C3 glomerulopathy. Persons familiar with Soliris know how it works and how prohibitively expensive it is.
Omeros Corporation has put forth an overwhelmingly positive news release. The next catalyst for the company and stock should be the FDA's decision on breakthrough designation for an illness that really has no effective treatment. If investors think it has a 50% chance of success at approval as a new drug, the stock can appreciate rapidly toward a valuation that would be even higher.
Disclosure: I am/we are long OMER.
I wrote this article myself, and it expresses my own opinions. I am not receiving compensation for it (other than from Seeking Alpha). I have no business relationship with any company whose stock is mentioned in this article.
Additional disclosure: I may initiate a short position in ALXN over the next 72 hours.