Sizing up the Entire Market
A famous trader once said:
I think it was a long step forward in my trading education when I realized at last that when old Mr. Partridge kept on telling other customers, "Well, you know this is a bull market!" he really meant to tell them that the big money was not in the individual fluctuations but in the main movements that is, not in reading the tape but in sizing up the entire market and its trend.
- Jesse Livermore
The world's major central banks have engaged in unprecedented, coordinated credit growth in their hopes to fuel a recovery from the 2008 Financial Crisis. The early stage of the recovery was greeted with robust uptrends in global risk assets, but these uptrends have now transitioned into a range-bound market that looks increasingly vulnerable. The most important question for investors going forward is- are we still in a bull market, or are we possibly on the verge of a transition to bear market? This article reviews fundamental, financial and technical considerations to help answer that question.
The Recent Range
Following the historic bull market from 2009 through 2013, the S&P 500 spent two years oscillating within an approximate 15% range between 1820 and 2120. During this period, stocks incurred four major bouts of volatility (October 2014, August 2015, January 2016, and June 2016), driven by deteriorating earnings and economic data. Following each of these declines, one or more central banks came to the rescue with unexpected stimulus measures- punishing the shorts and rewarding the dip buyers, as detailed below.
Central Banks to the Rescue
The following collection of articles and quotations serve to illuminate the catalyst for each of the four major sell-offs in risk assets since the bull market began to plateau in 2014.
September 19 - October 16, 2014: Seven reasons the world's stock markets are falling
(The chart below shows the S&P 500 (red) rebound starting in mid-October overlapping with an inverse chart of the Japanese Yen ((blue)) starting in mid-October).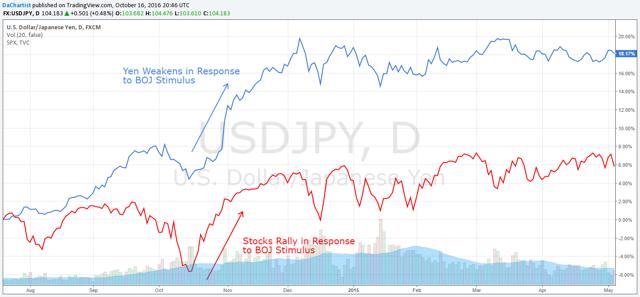 August 19-24, 2015: After historic 1,000-point plunge, Dow dives 588 points at close
January 1 - February 11, 2016: What's behind the global stock market selloff?
June 24-27, 2016: Brexit crash wiped out a record $3 trillion. Now what?
Fundamental Strength, or Delayed Demise?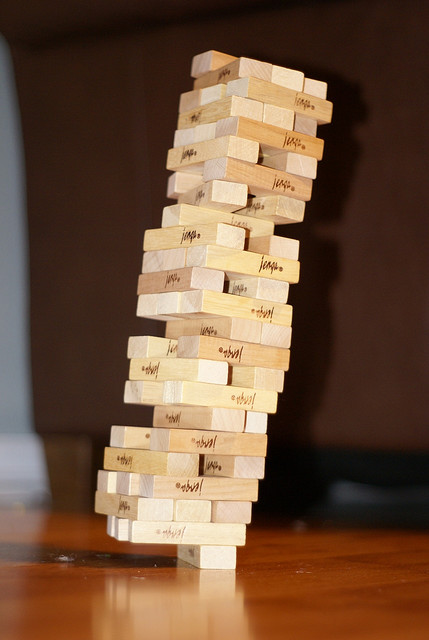 Source
The bulls continue to argue that this apparent resilience in financial markets is further evidence of strength in the current rally. They argue what doesn't kill you only makes you stronger. Of course, one could also argue that what doesn't kill you might just make you weaker, and increasingly vulnerable to your inevitable demise. A Jenga stack provides the perfect analogy- the successful removal of each wooden block might, on the surface, indicate how strong and resilient the core structure is. In reality, the foundation is growing increasingly fragile. Eventually, it may only take a single nudge to take down the entire structure.
I believe today's financial markets are looking more and more like leaning Jenga stacks, which continue to get propped up with can-kicking measures by the world's central banks. The objective data clearly shows that the fundamental proximate causes for weakness in financial markets have not improved, and indeed many have gotten worse in recent months.
I won't get into the details here because I recently released an article discussing why economic growth based on credit creation and artificially low interest rates (as opposed to legitimate savings based on a market-determined interest rate) only generate unsustainable credit cycles- not organic, sustainable growth. But for completeness, a brief review of the data can be summarized with:
The evidence suggests that the current credit cycle began turning in late 2014- when the Fed stopped expanding its balance sheet. In the U.S., we've experienced declining corporate sales and earnings, and slower economic growth across a variety of metrics, including GDP, industrial production, and ISM manufacturing since that time. Globally, the stronger dollar and commodities weakness has pressured emerging markets around the globe. We've also seen a stunning drop-off in trade, growing stress in the European and Chinese banking systems, and the ongoing devaluation of the Chinese currency to name a few.
The following chart provides a great visual for the deterioration in U.S. Tax receipts are one indicator that cannot be fudged with hedonic or seasonal adjustments, or with non-GAAP accounting metrics, and thus can be consistently relied upon to gauge underlying economic growth is. The chart below shows corporate tax receipts taking a nose dive since peaking in late 2014.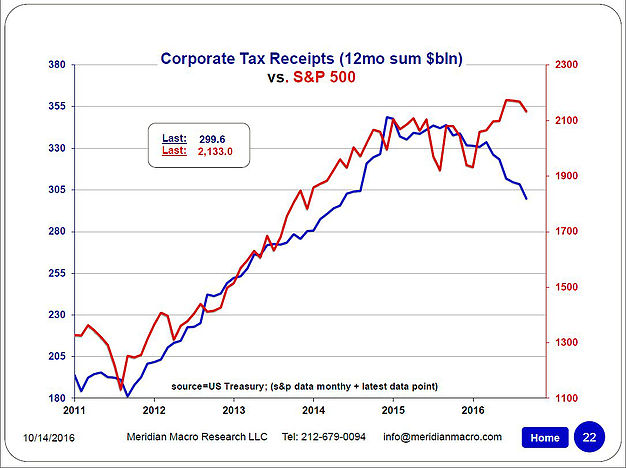 There are many other fundamental developments that I covered in a previous article. For now, the bottom line is that once a credit cycle is set in motion, a recession is the inevitable and necessary process required to correct the imbalances created during the preceding boom phase. The magnitude of the bust is proportional to the amount of credit (i.e. debt) created during the boom. Based on the unprecedented scope and scale of global credit creation since 2008, we're likely in for a doozy that will make 2008 a warm-up to the main event. Given that fundamental backdrop, the key in the coming weeks and months will be to watch for confirmation of a turn in financial markets based on technical price developments.
Charting the Technicals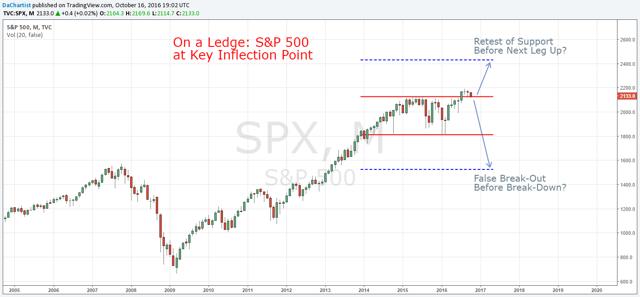 After a market consolidates within a two year trading range, this typically sets up for a powerful and sustained move when prices break through that range. In many cases, the initial move turns out to be a false break out, followed by a powerful reversal in the other direction. The S&P 500 price action following the post-Brexit rally appears to indicate a growing possibility of a false upside breakout. The initial upside break only lasted several weeks, followed by narrow trading, and then recent weakness that temporarily pierced through support at the upper band of the previous range. Of course, we'll need to see further price development to confirm this possibility, but the shorter term patterns indicate weakness rather than strength.
The medium term picture shows an increasingly compressed wedge pattern developing off the mid-February lows. The market briefly broke down through the wedge last week, and is currently sitting at the confluence of the wedge and at the top of the previous trading range.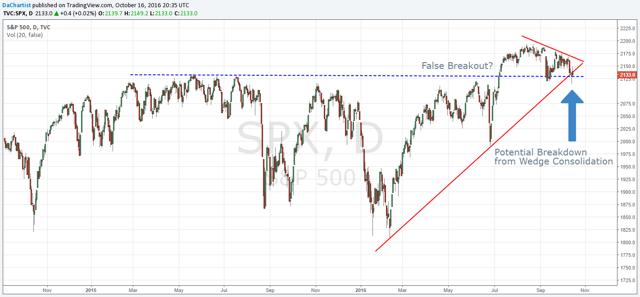 On a shorter term basis, a rounded top head and shoulders pattern appears to be emerging. Neckline support at 2115 was tested and held last week, but the market looks to be possibly setting up for another run at this key level in the coming days. A break through 2115 could catalyze a break of the key levels previously identified on a medium and longer term basis.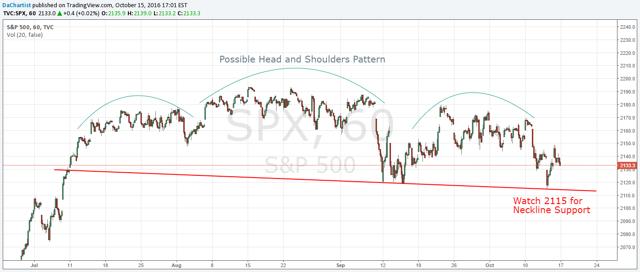 Finally, there's the China situation. I expect China to take center stage during the next credit cycle downturn, simply based on their unprecedented credit growth and mal-investments in recent years. You can essentially throw out any of the reported GDP or manufacturing numbers released by the Chinese Communist Party. Instead, if you're looking for signs of stress in China, simply follow the currency. Two of the major downturns in recent years, August 2015 and February 2016, were preceded by a weakening Chinese Yuan. Once again in recent weeks, there's been something of a stealth Yuan devaluation that has received very little coverage in the financial media. The Chinese currency is now lower than each of the levels that helped catalyze two previous sell-offs, and has diverged significantly from the rise in the S&P 500 post-Brexit. This will be an important indicator to watch going forward, because China's debt/currency situation is far from fixed, and has the potential to create significant systemic risk.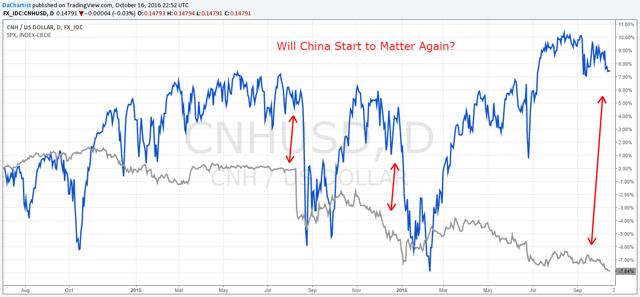 Conclusion
Technical considerations on a long, medium and short term basis appear to be indicating a growing possibility for a downside break in the S&P 500. These technical developments coincide with deteriorating fundamental conditions, which have only been temporarily alleviated from increasing central bank interventions in recent years.
The constant efforts by central banks to step in at the first site of volatility has reinforced a "buy the dip" mentality for traders and active managers. It has also caused average, unsophisticated investors to increasingly favor passive strategies, because they see no need to pay someone to manage risk in an environment where stocks and bonds never incur any meaningful declines. Taken together, the combination of deteriorating fundamentals, increasingly one-sided positioning, and the shorter-term breakdown in technical formations indicate an increasingly fragile foundation for current price levels. Investors will be well-advised to watch for signs of further stress in the weeks ahead.
Disclosure: I/we have no positions in any stocks mentioned, and no plans to initiate any positions within the next 72 hours.
I wrote this article myself, and it expresses my own opinions. I am not receiving compensation for it (other than from Seeking Alpha). I have no business relationship with any company whose stock is mentioned in this article.