If there is one worry I have regarding Apple (NASDAQ:AAPL) and the December ending fiscal Q1 period, it is not in regards to the iPhone. The company launched the iPhone 7 and Samsung's (OTC:SSNLF) troubles will certainly help keep Apple's smartphone on the minds of the consumer. I'm a little concerned about the company's other two main product lines, however, given the lack of news. Apple needs a refresh for both the Mac and iPad to drive overall numbers and hopefully share price.
A little over a year ago, Apple launched some new Macs at an October 13th event. The company also launched some new peripherals (keyboard, mouse, etc.) as a way to drive accessory sales. As MacRumors points out, however, it has been almost 600 days since the current MacBook Air has been updated. There are rumors that this line will be folded into the MacBook Pro, but those also suggested that we would see a late October launch. We're more than halfway through the month, and next week will be dominated by the company's earnings report. That being said, perhaps a launch in November should be expected.
Perhaps though the iPad is the more important device given it was this quarter just two years ago where the tablet sold more than 26 million units and accounted for almost $11.5 billion in revenue. Sales have obviously declined since then, but the iPad still can be a solid number two product for Apple. Unfortunately, many of the line's current units are a bit outdated, as seen in the table below.

(Source: iPad Wikipedia page)
While the Mini 2 does allow for a lower level entry point at $269, the device uses the A7 chipset, which is three generations old for Apple. Some of these current tablets even have just 1GB or 2GB of RAM, and camera specs are very poor compared to where we are now. In terms of technology, these iPads are complete dinosaurs and need to be updated.
I'd like to see a major iPad refresh this year, although MacRumors suggests that new Pro models are not likely until sometime in 2017 (perhaps March). A new Mini model is definitely needed, which would allow the Mini 2 to be completely eliminated. I'd really like to see a new Air model, although there are those that believe the Air will be scrapped and folded into the Pro line.
If that is the case, Apple will not have a new mid to large size screen tablet for this holiday season. That's a mistake in my opinion. The company doesn't need to go all-in with a potential new Air 3 for instance, just throw some upgraded hardware in and let it sell until you are ready to launch a new Pro 9.7 inch version and then just discount the Air model a little.
I bring up these product refresh concerns because of the impact it could have on the current quarter. In last year's period, Mac and iPad sales accounted for 18.23% of the company's total. That figure doesn't include extras like headphones, tablet cases or other hardware, add-on services like Music, etc., so the true number could be north of 20%. To neglect a piece of your business of that size, or at least launch a bit later than a year ago, could definitely hurt results. That's especially true given the extra week Apple is expected to have in fiscal Q1.
One week from today, Apple will report its fiscal Q4 results and give guidance for its fiscal Q1 period. A key part of these numbers will be the Mac and iPad lines, which represent about 1/5th of the company's revenues. We haven't seen any major refreshes of these products lately, and that's especially troubling given the importance of the holiday quarter. The iPad used to be a major driver of Apple's results, but now many of its lines are extremely outdated. With analyst revenue estimates rising as seen below, I'd like to see the company deliver some new products before it's too late.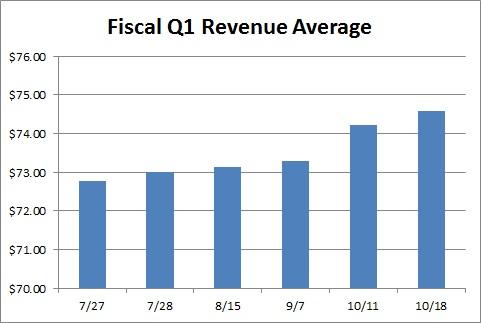 Disclosure: I/we have no positions in any stocks mentioned, and no plans to initiate any positions within the next 72 hours.
I wrote this article myself, and it expresses my own opinions. I am not receiving compensation for it (other than from Seeking Alpha). I have no business relationship with any company whose stock is mentioned in this article.
Additional disclosure: Investors are always reminded that before making any investment, you should do your own proper due diligence on any name directly or indirectly mentioned in this article. Investors should also consider seeking advice from a broker or financial adviser before making any investment decisions. Any material in this article should be considered general information, and not relied on as a formal investment recommendation.