Non-seasonally adjusted inflation rose 1.38% from March to September 2016, which means that US Savings I Bonds will get new variable interest rate of 2.76% beginning on November 1.
I Bonds pay a composite rate of interest based on the fixed rate (currently 0.1%) and a variable, inflation-adjusted rate (currently 0.16%). We now know what the variable rate will be at the November 1 reset, because September's CPI-U inflation number was just released by the U.S. Bureau of Labor Statistics.

Non-seasonally adjusted inflation rose to an index of 241.428 in September, an increase of 0.24% over the August number. The March to September increase was 1.38%, which is doubled to set the I Bond's new variable rate of 2.76%.
This will be the highest I Bond variable rate in five years.
What this means. The variable rate of 2.76% is annualized, but is actually paid for six months. This rate will change again on May 1, 2017. All I Bonds - no matter when they were purchased - will get this 2.76% rate for six months. When you get the new rate depends on the month you bought the I Bond.
For example, if you bought an I Bond today, you would get a fixed rate of 0.1% - which continues with that I Bond forever - and the current variable rate of 0.16% for six months. Then you'd get 2.76% for six months. That's about 1.46% over 12 months.
Why would you buy an I Bond today? Because the Treasury will reset the fixed rate on Nov. 1. The most likely scenario, in my opinion, is that the fixed rate will hold at 0.1%. But it could drop to 0.0% for the life of I Bonds purchased from November 2016 to April 2017. I think it is highly unlikely that the Treasury will raise the fixed rate above 0.1%.
The Treasury limits I Bond purchases to $10,000 per person per year, through Treasury Direct. It's also possible to get paper I Bonds if you pay excess income taxes.
I suspect that most people who haven't already bought I Bonds in 2016 are going to wait until November 1, opting to get the 2.76% variable rate immediately. It is an extremely attractive rate for a super-safe investment.
I will be writing more about I Bonds in the coming days. It's going to be an interesting two weeks leading up to the fixed-rate reset.
The September inflation report
The Consumer Price Index for All Urban Consumers (CPI-U) increased 0.3% in September on a seasonally adjusted basis, the BLS reported today. Over the last 12 months, headline inflation rose 1.5%.
The 0.3% number was the consensus estimate, so it wasn't a surprise, but it continues a trend of mildly increasing inflation, after years of deflation or near-deflation. Will this trend be enough to force the Federal Reserve to raise short-term interest rates later this year? Wait and see. I am still doubtful.
Gasoline prices rose a sharp 5.8% in September and are now down just 6.5% over the last 12 months. The energy index overall was up 2.9%, but food prices held flat. Apparel prices dropped a sharp 0.7% - higher gas prices could have contributed to that. Shelter costs were up 0.4% and medical care commodities, up 0.6%.
Core inflation - which strips out food and energy - increased a more moderate 0.1% in September and is up 2.2% over the last 12 months.
Investors in Treasury Inflation-Protected Securities are also interested in non-seasonally adjusted inflation, which is used to adjust principal balances on TIPS. The September increase of 0.24% will be reflected in TIPS balances in November.
Here is the 12-month trend for core and headline inflation, showing a trend of gradually rising inflation. (FYI, numbers for non-seasonal and seasonal inflation are always the same when calculated for 12 months.)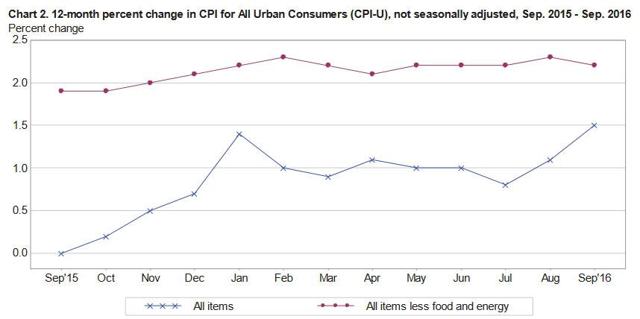 Disclosure: I/we have no positions in any stocks mentioned, and no plans to initiate any positions within the next 72 hours.
I wrote this article myself, and it expresses my own opinions. I am not receiving compensation for it (other than from Seeking Alpha). I have no business relationship with any company whose stock is mentioned in this article.