The last meeting at the Federal Reserve did not end in a conclusive support of the prevailing policy stance (with the benchmark interest rate not being changed). This has created price moves that could be viewed as market distortions when we are looking at an asset like the SPDR S&P 500 ETF (NYSEARCA:SPY), which has yet to feel the brunt of the true policy outlook that is developing within the Fed. This could result in much lower market valuations if he majority of long investors are not properly positioned for medium-term declines.
The language used at the last meeting was telling, and there was a good deal of debate over how much more economic data is further needed before the Fed will feel confident enough to start changing its dovish stance. The FOMC has already forewarned markets that the decision to increase interest rates might be taken soon if the labor market continues to strengthen. But the real question could be seen in relation to the topic of inflation, which has much greater potential to become erratic and contribute negative effects within the broader economy.
Chart View: US Inflation Rate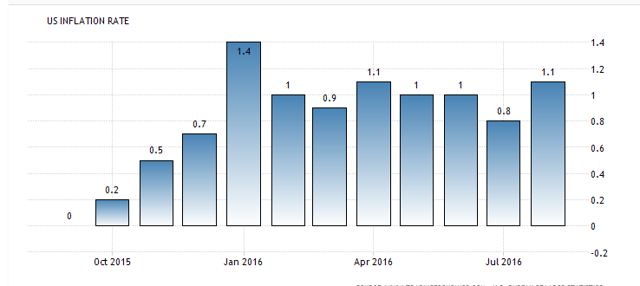 Chart Source: Gold-Investors.org
In the chart above, we can see that the US economy is experiencing some significant differences when we compare the deflationary environment seen last April with the consumer price trend that are being seen currently. These are substantial changes for such a short period of time, and if this continues the Fed could find itself in an environment of stagflation that could put financial markets in a very precarious situation.
Overall, the rate of consumer inflation rate is below the Fed's target of 2% but the dovish policy stance is having little effect with annualized GDP numbers showing growth rates of 1% during the first half of the year. Household spending has been one of the main factors when calculating GDP growth over the last few years, and until now it has been clear to most that the Fed wants to see more consumption and employment gains before they increase the benchmark interest rate. What is looking less likely at this stage, however, is whether or not the Fed will actually be able to maintain these requirements.
There is clearly arising concern that the Fed's hand will be force and that interest rates will need to be increased sooner than might be comfortable. This is now causing the US Dollar (NYSEARCA:USD) to rally against many of its major counterparts,and the momentum buying has only been exacerbated by the extreme weakness in the British Pound (GBP) in international markets. Most of the commentary we have seen from Janet Yellen is supportive of the economic outlook but the overall weakness we have seen in the non-farm payrolls figures suggests that she might be wearing a pair of rose-colored glasses.
Chart View: US Unemployment Rate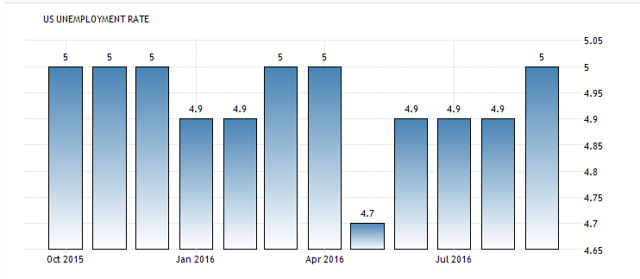 Chart Source: Gold-Investors.org
This has already been evidenced by the fact that the Fed has reduced its expected growth rate three times this year, with the latest expectations showing a reduction to 1.8% from 2%. It has been argued that the US labor market is technically close to full employment but this is very tepid growth for a full labor force and the unemployment rate is still around the 5% mark. This all makes it much less likely that the Fed's current outlook is an accurate outlook.
Chart Perspective: SPY 1-Year Performance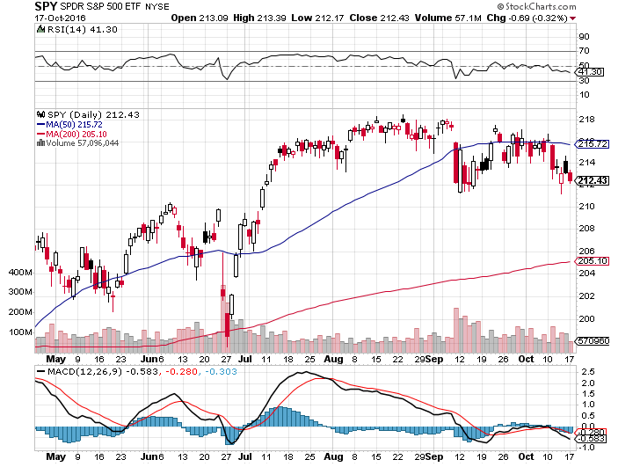 The bond market seems to have anticipated the decision to increase interest rate later this year, as Treasury bill prices fell in September while investors have been selling bonds because of the current expectation rates increases later this year. All of this has weighed heavily on SPY and this has created a very troublesome price structure that should be dissuading bullish investors. The lower highs in September suggest that a top is now firmly in place for the market activity that was seen during the summer and this ultimately suggests that PUTS can be bought near current levels. Further upside remains possible from here but when investors take position stances using options, there is a greater level of protection offered given the current environment of the market.
Disclosure: I/we have no positions in any stocks mentioned, and no plans to initiate any positions within the next 72 hours.
I wrote this article myself, and it expresses my own opinions. I am not receiving compensation for it (other than from Seeking Alpha). I have no business relationship with any company whose stock is mentioned in this article.