Beat and Beat!
International Business Machines (NYSE:IBM) just posted a solid earnings beat, beating revenue with $19.23 billion compared to estimates of $19.0 billion. Earnings per share of $3.29 also bested estimates of $3.23/share. My recent article proposed that the company would improve its quarterly cloud revenue and cloud-as-a-service annual run rate by about 10 and 11% each. If IBM had beaten by exactly these margins, the company would have posted cloud revenue along the lines of $3.7 billion, with an annual run rate of $7.4 billion for cloud-as-a-service. In reality, the company posted roughly $3.5 billion in cloud revenues, and an ARR of $7.5 billion. This was growth of about 3% quarter over quarter in cloud revenue, but 12% ARR growth. IBM fell slightly short on my estimate of cloud revenue, although still posting some good growth. Year over year, IBM's cloud growth was even more impressive, with growth of 44% year over year. This cloud revenue growth brings IBM's twelve-month trailing cloud revenue to $12.7 billion. In terms of my ARR estimate, IBM's growth of 12% boosted the cloud ARR of $7.5 billion solidly past my estimate. IBM's Q3 cloud ARR grew a massive 67% year over year from Q3 2015's ARR of $4.5 billion. This cloud growth alone makes me a happy shareholder, but there were even more goodies that IBM presented.
Strategic Imperatives, Strategic Success
While cloud revenues are certainly important to IBM, and part of its turnaround story, they are only about 1/3 of the strategic imperatives on which IBM is heavily focusing. And Q3 2016 brought about a significant milestone in IBM's strategic imperative segment (cloud, analytics, security and social engagement). Over the past 12 months, strategic imperatives have been responsible for $31.8 billion in IBM's revenue. This brings strategic imperatives to 40% of IBM's revenues, a milestone that the company had set a goal to cross by 2018. IBM's beating this projection by over a year marks the ability of this large company with over a century of history, to even now change with the times. IBM has become one of the largest cloud solutions providers in just a couple years. From Q3 2013, the first quarter that IBM's cloud revenues were greater than $1 billion, IBM's cloud revenues have grown significantly to the Q3 2016 cloud revenues of $3.5 billion.
Stemming the Losses?
While IBM's strategic imperatives have been taking a larger portion of the company's revenues, the company has been divesting some of its lower-margin segments. This has helped the company's margins, but has also negatively impacted its revenues. Over the past 5 years, IBM's quarterly revenues have shown a steady declining trend.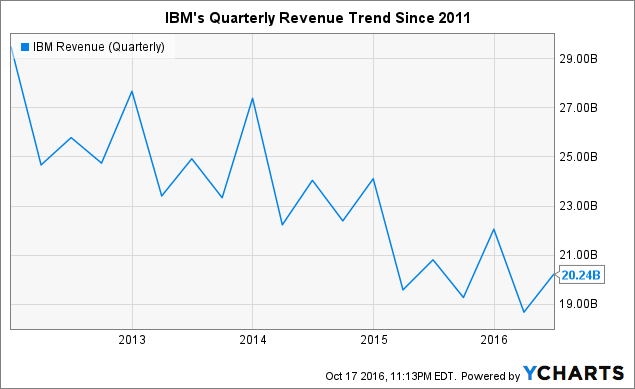 IBM Revenue (Quarterly) data by YCharts
However, Q3's revenue of $19.24 billion is roughly on par with Q3 2015's revenue. Previous quarters over the past 5 years have shown more significant year/year declines. But there is a good chance that IBM's declining revenue trend may be reversing, or at least slowing. With the growing strategic imperatives and cloud revenue, it would make sense that IBM's overall revenues begin increasing again.
Based on IBM's strategic imperatives growth and various partnerships, including United Technology's (NYSE:UTX) Pratt & Whitney division, it won't be long before this declining trend is definitively reversed.
Final Thoughts
From my perspective, IBM had one of its best quarters in several years. Beating earnings, revenue, and even own strategic imperatives milestones, IBM also might have even slowed its revenue decline. But even after these great accomplishments by the company, Wall Street has sent shares down nearly 3% after hours, down to just over $150/share.
Source: Wikimedia.org
As a shareholder already pleased by IBM's progress, if the negative sentiment continues and shares revisit sub-$150 levels, I'll be ready to gobble down some more shares of Big Blue.
Author's Note:
I am on the lookout for high yet sustainable dividends or value opportunities with a significant margin of safety. If you're looking for the same, please hit the "Follow" button by my name at the top of the article, and hopefully you'll get some good ideas for value and income stocks.
Disclosure: I am/we are long IBM.
I wrote this article myself, and it expresses my own opinions. I am not receiving compensation for it (other than from Seeking Alpha). I have no business relationship with any company whose stock is mentioned in this article.
Additional disclosure: I am neither a certified investment advisor nor a certified tax professional, and do not claim to be either. The data presented here is for informational purposes only and is not meant to serve as a buy or sell recommendation. Investors and potential investors should do their own research and make their own decisions. In the event that an investor or potential investor does not feel qualified to make such a buy or sell decision on their own, they should consult a certified advisor that they trust or feel comfortable with. Investing may involve losses, including potential loss of principal. The author relies on external links for some information that may have appeared on this perspective. These external links, although believed to be accurate, have not been verified independently. Therefore the author is unable to guarantee their accuracy.