Great Elm Capital Group, Inc. (NYSE:GEC), is a former patent troll turned NOL shell in the process of launching an asset management business. With a $42 million market cap, $35 million in debt, and $80 million in cash, investors are paying slightly less than zero for the enterprise value of the future asset management business. So the price is low, but is it cheap?
As one might expect, a scenario like this is very nuanced. The upcoming rights offering allows current investors to purchase additional shares at a steep discount to cash. However, the rights offering will increase shares outstanding significantly, resulting in a pro forma enterprise value above zero. Further, the controversial pending transaction to take over management of a publicly traded BDC will also drive income for GEC investors, but investors must also be careful of the motives of the largest shareholder over the long term.
Exercise All Rights?
GEC has Net Operating Loss carryforwards of $1.69 billion, or about 38x its market cap. A large amount of the NOLs start expiring in 2020, although 54% expire between 2022 and 2036.
| | |
| --- | --- |
| Fiscal Year of Expiration | Federal NOL carryforwards |
| 2017 | $ 6,958 |
| 2018 | 26,624 |
| 2019 | 59,062 |
| 2020 | 491,683 |
| 2021 | 187,755 |
| 2022 through 2036 | 939,748 |
| Total | $ 1,711,830 |

It will be difficult to use most of these NOLS without significantly increasing its liquidity. Therefore, in order to fully utilize these NOLs, GEC is moving forward with its planned rights offering. The record date for the rights offering passed on October 13, and it provides current shareholders an opportunity to purchase additional shares at $3.67, which is a discount to the post rights offering NAV per share of $3.84 (ignoring any potential value from a note receivable from the sale of the IP business).
After the rights offering, GEC will have $73 million in cash and no debt. The shares outstanding will increase 130%, implying a market cap of about $98 million based on the recent stock price. Therefore, the enterprise value at the current market price is about ~$15 million with the full impact of the rights offering.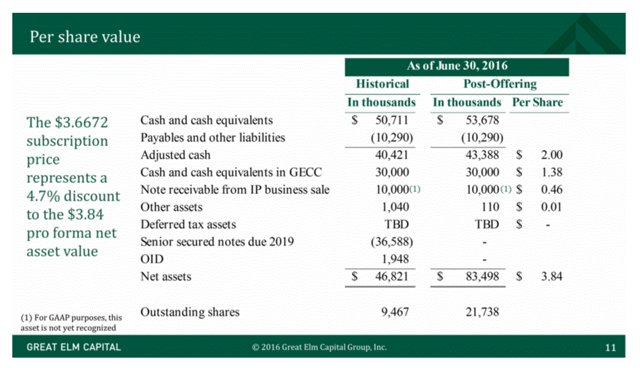 The rights offering is fully backstopped, and includes an over subscription option for investors. Mast Capital Management, the largest shareholder in GEC, intends to participate to the full extent they are allowed. The cash from the rights offering will be used to retire debt held by Mast. The debt being retired is PIK at an interest rate exceeding 12%. Retiring this debt and adding more to an equity investment hints at Mast's long-term views on the company.
Smaller investors who can buy more stock without interfering with change of control provisions related to NOLs are more likely to be able to use the over-subscription option. Current investors that don't participate in the rights offering will be diluted.
GEC will pursue opportunities involving BDCs trading below NAV, and real estate transactions, among other options. It intends to focus on the asset management space, but could also make acquisitions in other sectors. Given current market conditions, this is likely to be a rich opportunity set.
FULL Transaction
GEC's initial foray into asset management has been highly contentious.
GEC created Great Elm Capital Corp. (future ticker: GECC), which will elect to be taxed as a BDC. As of the end of the fiscal year ended June 30, GECC was a wholly owned subsidiary of GEC with $30 million in cash. Subsequently, Mast is contributing $90 million worth of messy debt assets in exchange for 75% of GECC.
On June 23, GECC entered into a merger agreement with Full Circle Capital (FULL). This transaction will merger FULL into GECC, leaving FULL shareholders with 38% of the new BDC (GEC will own 15%, and the Mast Funds will own 47%), and GECC will list on NASDAQ. My initial thoughts on this transaction from FULL's perspective are in a prior article. Additionally, FULL's shareholder presentation is available here.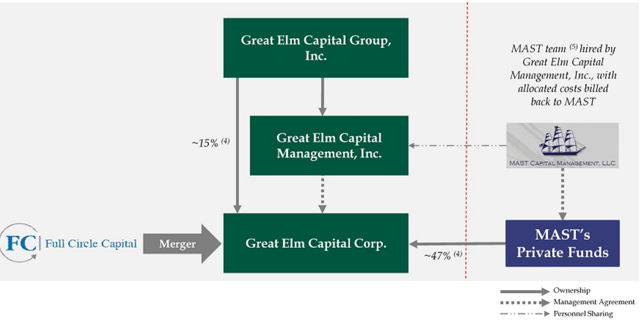 If the merger agreement receives FULL shareholder approval, Great Elm Capital Management (GECM), a wholly owned subsidiary of GEC will become external manager to GECC earning management fee of 1.5% of gross assets (about $225 million initially), income incentive fee of 20% over a 7.0% hurdle with catch-up provision, and 20% of capital gains. The income incentive fee is to be deferred unless the GECC earns a 7.0% return on a rolling three-year basis. Additionally, $30 million out of GEC's cash pile will become ownership in GECC, which will be a mixture of FULL's portfolio and the MAST Assets. Targeted yield on GECC will be 9.0%.
Looking at just the base management fee, and the targeted yield on the BDC stake, ignoring any potential incentive fees it may collect, the transaction with FULL leads to $6 million in recurring annual revenue for GEC.
It's still not guaranteed that the transaction with FULL will be completed. Shareholders have concerns. SIMS Capital Management has been highly critical. Other 13D holders have been silent, but were cc'ed on letters from SIMS. At least three lawsuits have been filed, one of which names GEC and GECC as defendants. There are indeed several problems with the transaction.
First, the assets contributed by Mast seem like a bit of a garbage barge. The largest holding in the MAST assets is debt of highly troubled Avanti Communications, which accounts for over 60% of the total value. Avanti Communications is facing liquidity problems, but Mast believes that the collateral covers the debt that will go into GECC. Of course, Mast Capital owns over 10% of the equity in Avanti via various funds as well so they have a conflict of interest.
The lawsuits are all highly critical of the sales process. However, it was shopped to over fifteen parties, eleven of whom signed confidentiality agreements to look further. Only four firms eventually bid on parts of FULL's portfolio, offering to pay combinations of cash and stock, and at least one bid was at a discount to NAV. Not only was FULL's portfolio a mess, but the external manager of FULL was going through financial difficulty, which decreased its bargaining power.
Perhaps the most significant problem with the merger is the massive consulting fees paid to FULL management after the transaction. It's not clear what they have done or can do to earn those high paid roles.
These controversies do not change the fact that the merger agreement is pretty tight. Under the merger agreement, FULL agreed to a no solicit clause, severely limiting its ability to solicit new bidders. If FULL ends up receiving a superior proposal anyways, it will be required to pay GECC $3 million. If FULL shareholders vote against the offering, then FULL needs to reimburse GECC up to $1 million in costs. As BDC Activist pointed out, FULL's board doesn't really have a plan B.
Although far from optimal for investors that have held FULL a long time, it's possible they won't get anything better. This has all been public since July, but no one has come in to try to bid over the top of GEC, or even offer the same price in the form of more agreeable consideration. Liquidation is another option, but I'm not yet convinced investors will be better off liquidating the assets in the current market environment.
Of course, GECC could still increase its offer for FULL, and be able to reap significant profits. Investors will probably end up receiving more than the current price of FULL either way. FULL investors vote on October 31 (one day before GEC shareholders must make a final decision on whether or not to exercise their rights). The merger was originally targeted for an early November close, but this has been extended.
However, if the merger agreement is terminated, The subscription agreement by which the MAST assets are contributed to GECC, will be also terminated automatically leaving GECC as just a subsidiary of GEC with the $30 million in cash contributed to it upon the initial execution of the subscription agreement. However, it's possible that MAST will find another way to contribute $90 million in assets to GECC. Additionally, GECC will receive the termination fee and any cost reimbursements applicable depending on how the deal breaks.
Overall, if the FULL deal goes through, it will be beneficial to GEC shareholders, even if the GECC stake is valued at a discount. If the deal breaks, it is a lost opportunity, but won't actually hurt GEC significantly.
Tied to the Mast
The FULL Transaction is just the potential first transaction of many in the future. Whether or not the FULL transaction succeeds, GEC will still pursue other potentially accretive transactions. Outside passive minority investors are dependent on management to identify accretive transactions that will generate income and actually take advantage of the NOLs.
Mast Capital, which owns about 19% of the stock, and has been the largest, will effectively control GEC. Peter Reed is the CEO of GECC, and will be CIO of GECM, which may also serve as external manager to other funds in the future. Personnel at Mast Capital Management will become personnel of GECM, and will have an outside influence on investments going forward. Employee compensation will be allocated pro rata between management of GECC, and other Mast Funds. The involvement of Jess Ravich, known for his role in ALJ Regional Holdings (OTC:ALJJ) is a positive, but investors will be most dependent on Mast.
Mast has been playing an extremely long game with GEC. In 2015, it acquired loans and director designation rights from another investor, and by August 2015, it had acquired enough stock to file a 13D. Mast was involved in getting the company to abandon its failed patent troll (err I mean IP licensing) strategy, sell the patent portfolio, and pursue the current strategy.
According to its form ADV, Mast Capital Management has about $1 billion in AUM. Most of this AUM is in private funds with a $1 million minimum initial investment. Dyal Capital, subsidiary of Neuberger Berman has a minority stake in Mast, which it purchased from a retiring co-founder. Institutional Investor reported that Dyal Capital seeks permanent partnerships with hedge funds.
Mast Capital focuses on leveraged lending in the lower middle market space. Most of its experience is in smaller companies, primarily below $1 billion in enterprise value, and especially below $500 million. It has been involved in at least 15 restructurings.
Given the FULL transaction, and the recent Avanti revelations, one could cynically argue that Mast's whole purpose has been to offload problem legacy assets into new funds. However, there is certainly more upside in building a tax sheltered syndication platform from which to collect multiple streams of fees. Further, if it was all just a garbage barge, why would they switch out of 12% notes, and buy more equity? Several board members and executives have made significant investments, and are adding more in the rights offering.
Sims Capital pointed out the recent horrendous performance of Mast's investments in publicly quoted securities. However, these investments are a very small portion of Mast's AUM. Additionally, Mast often invests in multiple parts of the capital structure of the same company, some of which are publicly quoted, others which are not. Further, Mast often invests with an eye to restructuring, which can result in extremely volatility in mark to market performance regardless of the quality of the underlying assets.
Additionally, several of the holdings, such as Nebraska Book Holdings (OTCPK:NEEB) are non-reporting and so thinly traded that they are practically private equity investments. Subsequent to the date of the Sims letter, NEEB conducted an exchange offer with a private placement offering for NEEB debt, in which Mast participated. From public information, it's difficult to ascertain what the overall performance has been for MAST funds.
It's unlikely (although not impossible!) that Mast would operate for 14 years and raise over $1 billion from sophisticated investors if it had consistently dismal performance. However, more disclosure of Mast's prior performance, and the specific investments of its funds might be helpful for public investors to make a decision.
Mast clearly stands to gain from increasing GEC's stock price. However, it only owns about 19% of the stock, meaning the rest of the costs are effectively spread to OPMI shareholders. Probably the most significant "principal-principal" risk, is that Mast will capture disproportional gains by taking out abnormally large compensation and other costs.
Heavy payments can be tolerable if it is matched by excellent performance over the long term; however, this risk impacts the position sizing and heightens the need for OPMI to monitor the investment carefully.
Disclosure: I am/we are long GEC, FULL, ALJJ.
I wrote this article myself, and it expresses my own opinions. I am not receiving compensation for it (other than from Seeking Alpha). I have no business relationship with any company whose stock is mentioned in this article.
Editor's Note: This article covers one or more stocks trading at less than $1 per share and/or with less than a $100 million market cap. Please be aware of the risks associated with these stocks.