As I have stated since selling Facebook (NASDAQ:FB) stock at $107 late last year, I am bearish on Facebook. I have shorted it for trades, taking profits a few times. I am currently short it now. In this article, I will review some reasons to be bearish. My main reason I am bearish is because of overall economic weakness. While recessions and market corrections affect all stocks, they hurt the darlings of the market the most as firms with the highest valuations have the most to fall.
Valuation
In Seeking Alpha contributor Hadi Orabi's article he comes up with a valuation of $91 per share. The analysis is great, but I would like to add to it. He uses Snapchat's (CHAT) valuation per monthly active user to come up with an estimate valuation for Instagram. He states Snapchat has 150 million monthly average users and a market cap of $25 billion, which gets him to value each user at $166. Using this valuation multiplied by Instagram's 500 million monthly active users gives it an $84 billion valuation. However, the most updated information shows Snapchat has 235 million users. Using this metric cuts the value per monthly active user down from $166 to $106. This gives Instagram a $53 billion valuation.
There are two more things to consider. The first is that Snapchat is more expensive than past IPOs in terms of its revenue multiple. As you can see below, Snapchat's 25X forward revenue multiple is much higher than Facebook's 19.4X and Twitter's (NYSE:TWTR) 13.0X. If you valued Snapchat at the average of those two IPOs instead of what it is currently at, it would be valued at $16.2 billion. Using that number to value Instagram lowers its valuation to $34 billion.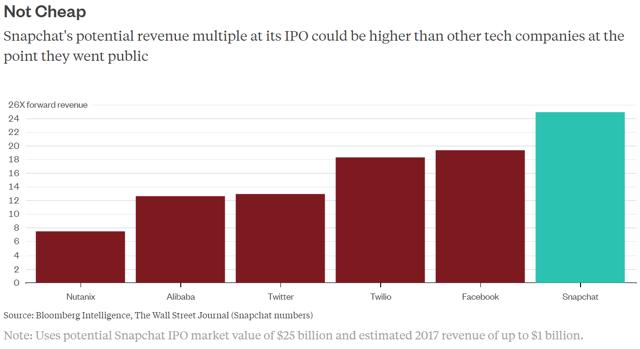 Valuing Instagram in relation to Snapchat is also aggressive because each Snapchat user spends a couple more minutes than each Instagram user per day. The latest information I can find is shown below from August. The graph was meant to show how Instagram Stories hasn't caused users to spend less time on Snapchat and more on Instagram, but serves to show Snapchat users could be worth more if they spend more time on the platform. Snapchat is still in the early innings of its monetization efforts, but it has faster user growth than Instagram.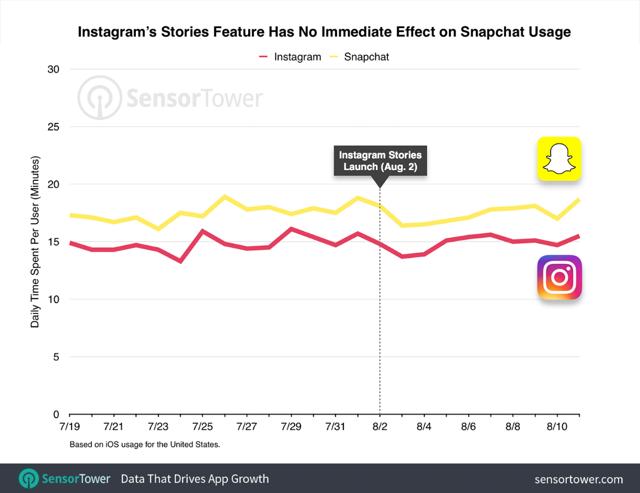 I would also like to improve Hadi Orabi's valuation of WhatsApp. He comes up with a valuation of $61 billion by simply valuing its users at the same rate as when the acquisition took place. He then uses the most recent estimate for the number of monthly active users on the app, which is about 1.1 billion. Instead of doing that, I will use Line's valuation per user to come up with a valuation for WhatsApp. Line has 220 million monthly active users and a market cap of $10.28 billion. This values each user at about $47. Using this metric, WhatsApp is valued at about $51 billion.
There are two issues with comparing Line with WhatsApp which counteract. The first is WhatsApp has had faster user growth than Line, which should give it a higher valuation. Line reported 4.1% year-over-year user growth in Q2. From January 2015 to February 2016, WhatsApp grew from 700 million to 1 billion. While this growth rate is higher than Line's, WhatsApp will soon hit a similar limit that Facebook is hitting in terms of penetration. While WhatsApp is legal in China (unlike Facebook), which gives it higher potential than Facebook, there are still only about 3.5 billion internet users, so the growth rate will slow in the future. Therefore WhatsApp's growth over the next 12 months won't be as high in relation to Line as it has been in the past 12 months.
On the other hand, comparing Line to WhatsApp is generous to WhatsApp because Line is profitable through the earnings from games, stickers, and advertisements. Line earned $29.75 million in Q2 and had $324 million in revenues, which were up 21% from last year. As you can see, Line has an established business model, while WhatsApp has yet to be monetized. I'm not saying WhatsApp can't be monetized, but 'a bird in the hand is worth two in the bush.'
Another benefit Line has over WhatsApp is it has a high percentage of its users in Japan while WhatsApp is more diversified. This is a benefit because Japanese users are more loyal to these types of technological products as you can see with their continual usage of Yahoo while western countries have left Yahoo for greener pastures. This why Yahoo Japan was valued at $8.5 billion and its core business was worth less than zero.
By being more specific with my valuation of Instagram and WhatsApp, I cut $60 billion off of Hadi Orabi's Facebook valuation. This gives Facebook a market cap of $193 billion or share price of $67.
Popularity
When Facebook did its IPO, investors were worried about it losing popularity among young people, but those concerns were quelled by Instagram's popularity with young people as it battles Snapchat for supremacy. However, this isn't a good trade-off for Facebook because Instagram users spend less time on the app and Facebook earns less profit per Instagram user than main app user. Therefore, when looking at the chart below, the decline in relevancy of Facebook is more concerning than whether Snapchat or Instagram is in first place. The chart is a Piper Jaffray survey of 10,000 teens with the average age of 16. Only 13% said Facebook was their favorite platform and only 52% said they used Facebook once per month.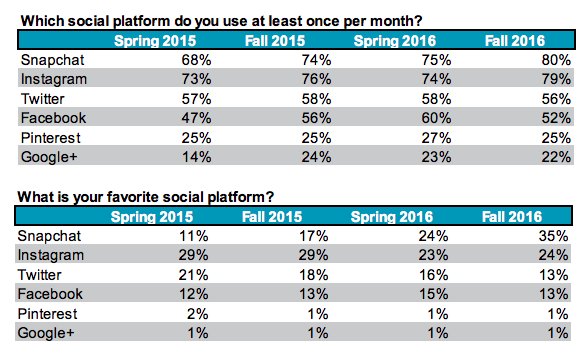 Facebook is even behind Twitter in usage among teens. There are two possible explanations for this. It could either be that Twitter, Instagram, and Snapchat are more appealing to younger users, but when they grow up they will spend more time on Facebook. The other possibility is they will never become big Facebook users because the reasons they don't find it appealing won't change.
Facebook is worried teens won't leave Snapchat when they get older because it has copied Snapchat's stories feature by integrating it in both Instagram and Messenger. The two options for Facebook to keep up its popularity with young people are acquire popular apps or copy them. Of course, the best-case scenario would be if it could innovate on its own, but this hasn't seemed to work for Twitter or Facebook. The two risks to the acquiring route are if Facebook doesn't pick the right firms and, as in the case of Snapchat, the firm doesn't want to sell. Because of how social apps are able to reach mass scale at faster and faster speeds, the ability to foresee the next Snapchat is almost impossible. This means copying may be the only direction for Facebook.
Personally, I look at the concept of copying the products of smaller social apps as a way for Facebook to maintain its relevancy opposed to a way of gaining new ground and growing its user base. Facebook wants to stop the trend of teens ignoring it and keep the teens it has. Facebook will have to innovate on its own to actually grow its relevancy. As of now, it looks like Facebook's usage will decline as these teens become adults and as the new generation of teens use it even less than the current batch of teens. As you can see from the chart below, Facebook's mobile and web usage has been declining over the past couple of months, so the problem may be closer than you think.

Transparency
Another issue Facebook has is transparency with its products. It was found that Facebook was manipulating the average watch time of videos by 60% to 80% for two years. It did this by including views of three seconds or less, but not including them when calculating the average watch time. This type of disregard for advertisers' dollars may hurt spending on Facebook ads. If this happened over two years, then who knows if there are other issues with the way Facebook charges customers.
We know that global brands waste $7.2 billion per year because of bots which commit fraud by clicking on their ads and acting like a human user. Facebook along with Google will need to consider giving more open access to its data by third party auditors to ensure more transparency. Facebook already has auditors such as comScore and Nielsen, but more can be done. While I would chalk up these problems to the fact that the industry is young, there is a risk that some advertisers balk at spending with Facebook because of this transparency issue.
Recession Near
I have made this point in a previous article and it still remains my viewpoint. Advertisers will spend less on Facebook ads if their profits erode and the economy weakens. Judging based on the last recession, marketing spending is a late cycle indicator as some businesses may actually ramp up their ad spending as a last ditch effort to make declining sales look better. 2009 was the year where the brunt of the marketing spending declines were seen even as the recession officially ended in June of 2009, meaning only half of the year was in recession while 2008 was entirely in a recession.
The first chart I have shows economic weakness is corporate tax receipts. As margins and profits peak, the corporate tax receipts are declining. Less profits eventually means marketing budgets will be cut.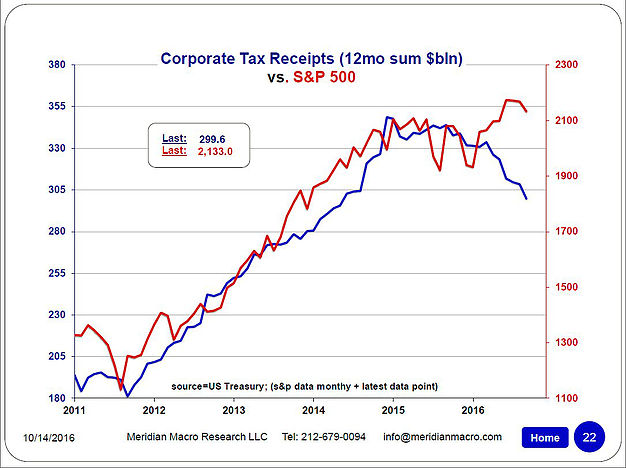 The second chart below shows the index for consumer expectations. It appears to have made a peak for this economic cycle as the index declined 7.4% month over month in September. Less consumer spending means less advertising on Facebook as sentiment weakens right into the holiday season. It's difficult to predict when Facebook will start to see weakness caused by macroeconomic factors, but I expect it to happen in the next two or three quarters. The stock will decline the moment this is stated as it is highly valued.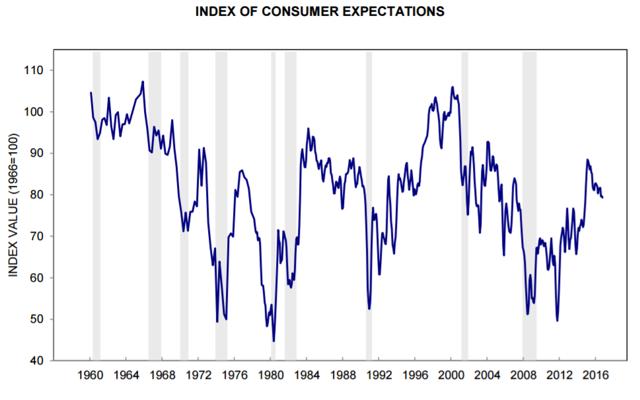 Conclusion
Facebook stock is worth about $67 per share in a sum-of-the-parts analysis. You can read Hadi Orabi's article to see the details of how he valued Facebook originally and then compare it to the additions I made to the analysis. The headwinds facing Facebook in the future are issues with popularity, transparency, and the macroeconomic weakness, which is coming.
Disclosure: I am/we are short FB.
I wrote this article myself, and it expresses my own opinions. I am not receiving compensation for it (other than from Seeking Alpha). I have no business relationship with any company whose stock is mentioned in this article.