Since the end of the second quarter, economic fundamentals have improved somewhat, with the shock of Brexit not causing the catastrophe some had feared and decent Chinese data looking more sustainable.
I think these upgrades to the environment, while modest, support a more pro-risk stance. At the same time, the second quarter brought steepening yield curves across the developed world, as markets seemed to question whether central banks still have the ability and desire to push long-term yields downward. Long-term yields rose 20-30 basis points[1] (0.20%-0.30%) in developed markets, and interest-rate-sensitive stocks suffered. Interestingly, credit spreads did not widen much, perhaps because valuations were more reasonable. Yields have since retraced much of the rise, but long-end rates could still rise if long-dated central bank asset purchases wane, fiscal policy loosens, and inflation rises. That said, even if interest rates rise modestly, I think demographics, high debt, and slow growth will help keep them at historically low levels in the developed world.
Balancing these forces, I favor equities over government bonds but still think credit is attractive. Within equities, I favor exposure to US and Japanese equities. I also recommend reducing exposure to US low-volatility dividend-yielding stocks and adding to value-oriented sectors such as US financials and global industrials. I continue to like energy-related sectors and favor an allocation to gold via gold-mining equities.
BETTER FUNDAMENTALS SUPPORT INCREASING EQUITY EXPOSURE
Financial conditions remain loose around the world as credit spreads are tight and short-term interest rates are low. However, the picture is not perfect. Manufacturing is still sluggish and economic-surprise indexes have fallen in the last few months. Thus, I expect a muddle-through environment, but one in which concerns about two of the biggest sources of risk, Brexit and China, have subsided to the point where I am comfortable recommending that investors consider adding more risk to portfolios. This includes upgrading my European equity exposure to neutral and my Japanese equity exposure to overweight. I maintain my US equity overweight recommendation.
US
I view the US economy as an area of relative stability. US consumers have benefited from continued strong employment gains, modest wage growth, low mortgage rates, and rising wealth (a result of high home prices and a buoyant stock market). The manufacturing side of the US economy remains challenged by the lagged impact of a strong dollar, sluggish global growth, a stubborn inventory overhang, and election-related uncertainty, which has hampered capital expenditure (CAPEX).
This modest-growth picture supports my view that the US Federal Reserve (Fed) will hike rates once this year, most likely after election uncertainty dissipates, but that the path of Fed hikes will be shallow enough to avoid a detrimental impact on the US economy.
Europe
I am less optimistic about economic fundamentals in Europe, where the consumer is on shakier footing with unemployment still around 10% and businesses likely to face Brexit headwinds, even if they aren't as stiff as originally feared. The initial economic shock from Brexit was felt sharply in the UK as purchasing managers' indexes (PMIs)[2] fell to recessionary levels and business confidence plunged. The reaction from the rest of Europe was much more muted, and even in the UK data has recovered as quickly as it fell (Figure 1).
FIGURE 1
Brexit fears came and went
Composite PMIs, January 2016 - August 2016
Sources: Haver, Markit, Wellington Management
Still, I expect investment to slow, primarily in the UK and, to a lesser extent, throughout Europe. Exports to the UK are equal to more than 2% of European gross domestic product (GDP)[3], so any reduction in trade could be painful (Figure 2). On the positive side, Europe has close trading ties to China and will benefit if recent improvements in China's economy are sustained into 2017, as I expect.
anti-trade policy could be a drag on us and emerging market growth
FIGURE 2
Brexit repercussions still a risk
Exports as % Percent of GDP, 2015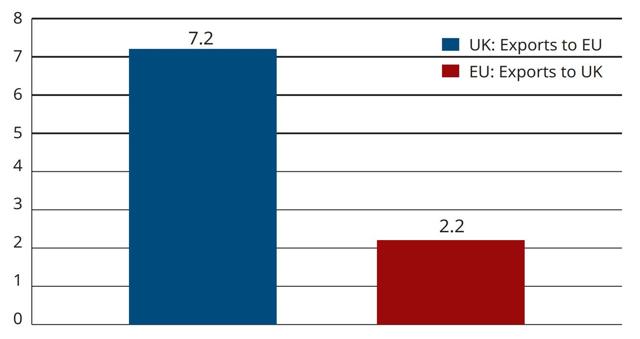 Sources: Haver, IMF, Wellington Management
European markets also face political risks, including the refugee crisis, Italy's senate reform vote early this winter, and general elections in Germany and France. Despite these risks, economic data has been resilient and, as a result, the European Central Bank (ECB) left its policy mix unchanged at its September meeting. By not discussing a possible extension of its quantitative easing program beyond March 2017, the ECB left some market participants fearing that the central bank is facing practical challenges in executing the program, which could lead to a rise in long-term interest rates.
Japan
I think the Japanese economy has shown stability, but that it is being held back by an aging population and a rising yen. The economy is moving away from manufacturing and toward services as the nation's population ages, a shift reflected in soft manufacturing and export data and reasonably healthy services and consumer data.
Additionally, the Bank of Japan (BOJ) recently announced a new policy framework in which it steepens the yield curve, keeps the 10-year yield at around 0%, and commits to expanding the monetary base until inflation is stable above its target of 2%. I think these measures could help the stock market (financial companies benefit from a steeper yield curve), boost inflation expectations at the margin, and reassure the Abe administration that fiscal expansion won't threaten to increase long-term interest rates (given the BOJ plan to keep the 10-year yield at 0%).
China
Economic growth in China has exceeded my expectations as interest rates have stayed low, credit growth has continued, and the construction cycle has remained strong (Figure 3). Construction is a key sector in China, and I expect it to help elevate broader economic data going into the first half of 2017.
FIGURE 3
China's low rates keep the cycle going
China, property prices, and rates, November 2006 - August 2016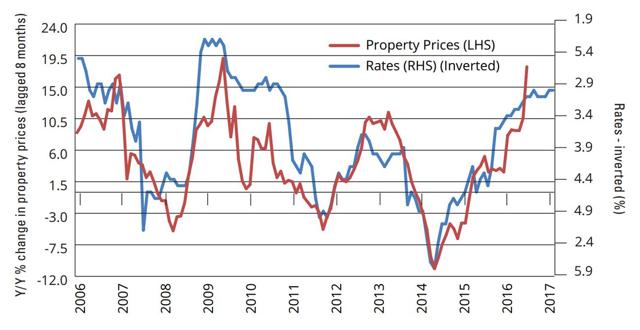 Sources: NBS, PBC, Wind, CEIC, Bloomberg, Wellington Management
UPSIDE RISKS FOR LONG-DATED YIELDS
As I noted earlier, a number of factors could pressure long-dated yields higher:
Central bank limitations
The BOJ and ECB are facing technical constraints on their asset-purchase programs. Given that the BOJ already owns about one-third of outstanding Japanese government bonds (JGBs), it's not surprising that the new measures discussed earlier will likely involve fewer long-dated JBG purchases. The ECB's program sets a 33% issuer limit and the yield must be above the deposit rate-both of which will continue to become practical limitations on further bond-buying unless the ECB alters the structure of its program.
Global fiscal loosening
The rise of populism is a global theme that I think is likely to lead to more government spending. Increased spending could negatively impact national budgets and boost nominal growth, both of which could lead to higher long-term yields. Governments have been paring back spending in the past few years, so there is scope to loosen fiscal policy now (Figure 4).
FIGURE 4
Government spending-from headwind to tailwind?
Government spending as a % of GDP, 1980 - 2015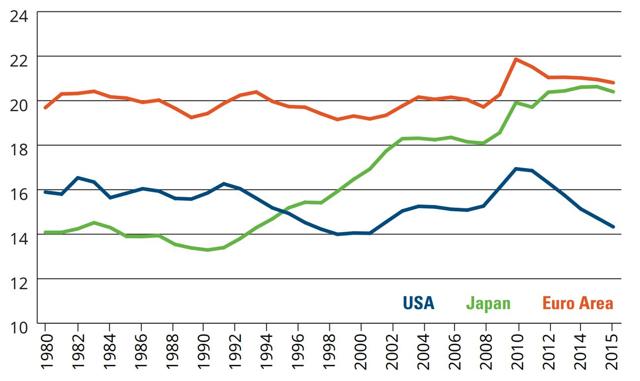 Sources: Haver, World Bank
THE BOTTOM LINE MAY BE PREDICTABILITY
Rising inflation
US headline inflation has been held down by low energy prices, but the year-over-year consumer price index (CPI)[4] should begin to rise at the end of this year as current oil prices are compared to lower prices of a year ago. Core CPI is already above the Fed's target of 2% due to rising prices of shelter and medical services.
Weaker global demand for US Treasuries
A technical factor that could weaken demand for US Treasuries and contribute to rising yields is the growing cost of hedging US dollars into the home currency. Until recently, investors outside the US could invest in higher-yielding US assets, hedge the currency risk, and earn most of the yield advantage in US government bonds. But as currency-hedging costs have risen and the spread between US Treasuries and other government bonds has narrowed, the appeal of this trade has declined.
Political winds blowing toward populism
As British Prime Minister Theresa May has said repeatedly, "Brexit means Brexit." In other words, at this stage, there seems to be little chance of avoiding this fate.
I view Brexit as a symptom of broader nationalist and anti-establishment forces at play throughout the developed world. Decades of rising inequality and declining purchasing power have left the middle classes disaffected and angry at a political establishment they view as beholden to the wealthy and to political and corporate interests. The response to the global financial crisis, namely quantitative easing, boosted asset prices and benefited asset owners, who tend to be wealthy, but did little to benefit middle-class voters. Populist and anti-EU parties are growing throughout Europe and will influence the political debate and policies, but they are unlikely to win governing majorities. I view the odds of success of populist political candidates to be highest in the US, where Donald Trump is the nominee of the Republican Party.
I think a Hillary Clinton presidency is more likely as she enjoys a large demographic advantage and the US Electoral College is tilted in favor of Democrats. I expect increased volatility in the run-up to the election. Markets would prefer a Clinton presidency, given that she is more in favor of immigration and global trade. In the event of a Trump presidency, I would expect US government bonds and the US dollar to underperform, since his proposed tax and spending plans would greatly increase the budget deficit. However, the prospect of less regulation and lower taxes could be an offset.
Risks
What could go wrong? China's high debt levels hang over markets as a potential threat to global financial stability. Uncertainty related to a Trump presidency could also prove destabilizing. Given the dependence on central banks, a policy mistake is a persistent worry. A much stronger US dollar is also a risk for emerging market exposure. Still, significant fears have been overcome and there have been marginal positive changes. Preserving safe, liquid[5] fixed income exposures as well as having an allocation to gold should help manage risk if the environment becomes rocky again.
IMPLICATIONS
INVESTMENT IMPLICATIONS
Favor equities over bonds - Equities are likely to outperform bonds as central banks and fiscal policy steepen yield curves. Among developed equity markets, I continue to favor the US, and I now view Japan more favorably as economic fundamentals seem stable, China's outlook has stabilized, the BOJ is supportive, and valuations are relatively attractive.
Shift equity exposure from dividend-paying to value-oriented sectors - A less benign interest-rate environment means shifting some exposure out of low-volatility and interest-rate-sensitive stocks, such as consumer staples, utilities, and real estate investment trusts (REITs), and into more value-oriented sectors. Multiples of low-volatility stocks have been boosted by low bond yields, which may no longer be a tailwind.
Maintain exposure to oil-related assets - While supply is a concern as new efficiencies in the US shale industry make production economic at lower prices, I think demand, especially in China and India, remains firm and that deep capex cuts will slow production and cause oil prices to rise. OPEC recently agreed in principle to cut crude output, which will also likely set a floor for oil prices.
Equity value sectors look attractive - Steeper yield curves are likely to help financials by increasing their net interest margins. Valuations in this sector are also depressed. I also see some industrial companies benefiting from increased fiscal spending on infrastructure.
Consider gold exposure as a hedge in uncertain times - While the overall environment is better, it is not without legitimate concerns, including negative interest rates, reflationary policies, and central banks' bloated balance sheets. All of this supports gold prices at current or higher levels.
Consider emerging market exposure in local debt - Reduced risk of a hard landing in China and better emerging market fundamentals remove two major hurdles for emerging market performance. I favor expressing this view through emerging local debt, where I see upside for emerging market currencies, attractive carry relative to government bonds, and the potential for lower interest rates in countries where inflation is falling.
More challenges for bonds - Bond returns may be challenged by constrained bond supply for central-bank asset-purchases and a shift toward fiscal expansion. Longer-dated government bond yields are most vulnerable. I favor long-dated credit spreads (duration-hedged)[6] and bank loans, which have lower interest-rate sensitivity and have lagged the performance of high-yield bonds.
---
1 A basis point a unit that is equal to 1/100th of 1%, and is used to denote the change in a financial instrument. The basis point is commonly used for calculating changes in interest rates, equity indexes and the yield of a fixed-income security.
2 Purchasing Managers' Index (PMI) is an indicator of the health of the economy. Readings over 50 suggest economic growth should rise from its current pace, while readings under 50 suggest economic growth should fall from its current pace.
3 Gross Domestic Product (GDP) is the monetary value of all the finished goods and services produced within a country's borders in a specific time period.
4 The Consumer Price Indexes program produces monthly data on changes in the prices paid by urban consumers for a representative basket of goods and services.
5 Liquidity describes the degree to which an asset or security can be quickly bought or sold in the market without affecting the asset's price.
6 Duration is a measure of the sensitivity of an investment's price to nominal interest-rate movement.
Investors should carefully consider the investment objectives, risks, charges, and expenses of Hartford Funds before investing. This and other information can be found in the prospectus and summary prospectus, which can be obtained by calling 888-843-7824 (retail) or 800-279-1541 (institutional). Investors should read them carefully before they invest.
All investments are subject to risk, including the possible loss of principal. Fixed income risks include credit, liquidity, call, duration, and interest-rate risk. Value investing may go out of favor, which may cause these investments to underperform the broader stock market. Investments in high-yield ("junk") bonds involve greater risk of price volatility, illiquidity, and default than higher-rated debt securities. As interest rates rise, bond prices generally fall; these risks are currently heightened due to the historically low interest rate environment. U.S. Treasury securities are backed by the full faith and credit of the U.S. government as to the timely payment of principal and interest. Foreign investments can be riskier than U.S. investments due to the adverse effects of currency exchange rates, differences in market structure and liquidity, as well as political and economic developments in foreign countries and regions. These risks are generally greater for investments in emerging markets. Commodities may be more volatile than investments in traditional securities. Risks of focusing investments on the utilities and industrials sectors include regulatory and legal developments, competitive pressures, pricing and rate pressures (utilities), rapid technological changes, potential product obsolescence, and liquidity risk. Bank loans can be difficult to value and highly illiquid; they are subject to credit risk, bankruptcy risk, and insolvency. For dividend-paying stocks, dividends are not guaranteed and may decrease without notice. The main risk of real estate related securities is that the value of the underlying real estate may decrease in value.
The views expressed here are those of Nanette Abuhoff Jacobson. They should not be construed as investment advice. They are based on available information and are subject to change without notice. Portfolio positioning is at the discretion of the individual portfolio management teams; individual portfolio management teams and different fund sub-advisers may hold different views and may make different investment decisions for different clients or portfolios. This material and/or its contents are current as of the time of writing and may not be reproduced or distributed in whole or in part, for any purpose, without the express written consent of Wellington Management or Hartford Funds.
Disclosure: I/we have no positions in any stocks mentioned, and no plans to initiate any positions within the next 72 hours.
I wrote this article myself, and it expresses my own opinions. I am not receiving compensation for it. I have no business relationship with any company whose stock is mentioned in this article.