Company Introduction
Seadrill Ltd (NYSE:SDRL) is an offshore drilling services company. Much like its competitors, the company has suffered tremendously during the oil market downturn that started in 2014. The company's most pressing issue is that it has outstanding debt, in which $2.4 billion is due before June 2017, eight months from now. Comparatively, the company only has $1.3 billion in cash on hand available to service its liabilities, which total over $4.3 billion including its debt due.
Fortunately, the company has recently received a boost as there has been news that its largest shareholder is willing to lend the company $1.2 billion. Since then, the company's shares have received a boost. In this article, I will try to dissect the news and analyze how it will affect Seadrill going forward.


Company Key Facts
Share price: $2.29
Market cap: $1.19B
Current portion of long term debt: $2.4 billion
Total current liabilities: $4.3 billion
Total cash on hand: $1.3 billion (expected to shrink in the 3rd quarter)
The Rumor and Short Term Finances
Seadrill's largest shareholder, John Fredriksen, is rumored to be willing to lend the offshore driller as much as $1.2 billion ($800 million to $1.2 billion) as part of a deal with the bank and bond holders to restructure the company's debt load. Of course, this sudden injection of capital will help with the company's short term finances. However, this injection of capital is still enough to whether the storm, as almost $4.3 billion in liabilities are due in about eight months! (June 2017) Refer to the chart below for details on the company's short term finances:
| | |
| --- | --- |
| Current Assets | Current Liabilities |
| $1.29B cash | $2.35B current debt due |
| $1.2B total receivables | $1.7B other current liabilities |
| $400M other current assets | |
| $3B Total Current Assets | $4.3B Total Current Liabilities |
As can be seen from the chart above, there is a ~$1.3B shortfall in liabilities that needs to be financed within eight months. However, the company is not expected to break even operationally for the next eight months as more contracts expire.
Long Term Prospects, Contracts and The Oil Environment
Generally speaking, offshore drillers need around $65 Brent to see significant contracting demand from oil producers, as offshore drilling recovers later in the cycle than other oil producers. However, the economics behind oil is just not ready to break through to that point. In fact, most analysts (Goldman Sachs, Bloomberg) predict oil to stall around $55, mostly due to weak demand and incoming shale supply at that level. The futures market and IEA's Short Term Energy Outlook (STEO) also agrees with this argument, predicting that oil will not even reach $60 by the end of 2017. Refer to the image below for details.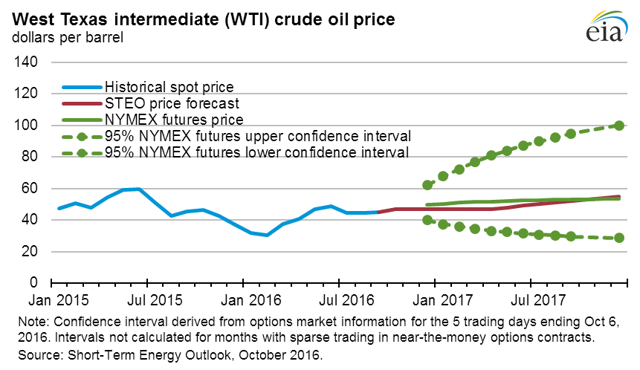 Source: Short Term Energy Outlook
In terms of the contract backlog, Seadrill will have 25% of its contracts expiring within one year, while the rest are long term contracts capable of delivering more contract revenue to the company. Refer to the chart below for a summary:
| | |
| --- | --- |
| Total Current Contracts | 46 |
| Expiring Contracts (Before 09/17) | 12 |
| Long Term Contracts | 34 |
As these contracts expire, Seadrill's cash flow will slowly turn negative, and the company will not be able to break even operationally.
As discussed above, Seadrill will have little chance of survival in the long term without Mr. Fredriksen's capital injection and influence with the banks. In any terms, investing Seadrill is extremely speculative at best, and the author recommends investors to stay away from Seadrill.
Conclusion
In conclusion, it is fantastic that JF is willing to inject capital into the company, and this will solve most of Seadrill's financing problems. However, the oil markets probably will not recover for another two years or even longer, Seadrill may not have the resources or contract revenue left to survive that long. As a result, the author recommends investors to stay away from Seadrill.
Disclosure: I/we have no positions in any stocks mentioned, and no plans to initiate any positions within the next 72 hours.
I wrote this article myself, and it expresses my own opinions. I am not receiving compensation for it (other than from Seeking Alpha). I have no business relationship with any company whose stock is mentioned in this article.