Last week Bristol-Myers (NYSE:BMY) came out with more disappointing information from its Checkmate 26 trial, for its upcoming flagship drug Opdivo. This particular release involved Opdivo as a monotherapy for late stage, Non-Small Cell Lung Cancer with 5% or less expression of the 'programmed death ligand' cluster encoded in human genes. Monotherapy, in this case, basically means no accompanying chemotherapy. In a nutshell, the result of the trial was that Opdivo gave somewhat less favorable result for patients than did chemotherapy.
Back in August, Opdivo failed to reach its goal with those with the same disease, but were PD-L1 negative. The information released earlier this month was also disappointing. And on both occasions the drop has been stark.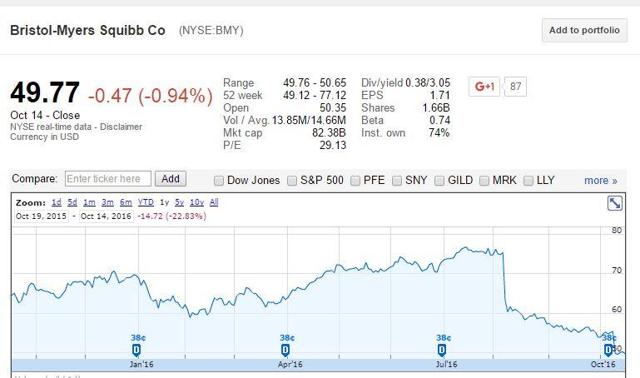 The drops have been swift and brutal. Courtesy of Google Finance.
On an absolute basis, Bristol-Myers is now as low as it's been since mid-2014. The big question is, of course, how much these disappointments will effect revenue and earnings over the long run, and also whether Bristol-Myers is worth buying down here. That is what this article intends to look at.
Still a great drug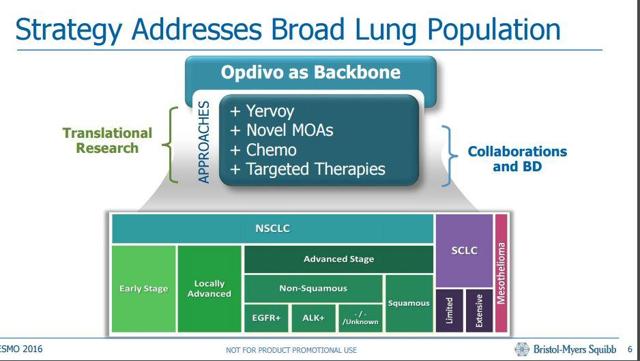 Courtesy of Bristol-Myers Investor Relations.
The thing investors have to understand about Opdivo is that, even with these two disappointing test results, Opdivo still has about 80 global approvals in total, and still works very well in combination with chemotherapy to treat other forms of lung cancer, and also types of Carcinoma and Melanoma. Even though these two particular tests didn't go so well for Opdivo, it will still be a breakthrough drug for Bristol-Myers, and will be delivering some very good profits for quite some time.
For example, Seeking Alpha author 'EP Vantage' said in his article that a consensus forecast by EvaluatePharma estimated $13 billion of sales for Opdivo in 2022. Afterwards, another buyside survey from Evercore ISI had expected sales peaking at "only" $8 billion. Yes, that is a big difference, but most pharmaceuticals would kill to have a product generating that much in sales.
To give an idea of how great an impact Opdivo will deliver, trailing twelve-month revenue is $17.6 billion, so another $8 billion would be substantial growth for Bristol-Myers.
Valuation continues dropping
Shares of Bristol-Myers are way down. There's no denying that. Forward price to earnings is down to 16.59 times, which is quite good for a growth stock like Bristol-Myers (and yes, this is still a growth stock).
To look at things another way, according to data from FAST Graphs, Bristol-Myers has averaged an operating P/E of 19.8 times. Since 2013 Bristol-Myers has traded well above that average, reaching a peak of well over 30 times operating P/E. After these two test results, however, Bristol-Myers is back down to its ten-year average, at 19.9 times. So, on a basis of relative valuation, Bristol-Myers is as cheap as it has ever been in over three-and-a-half years. I believe that is an opportunity.
What to expect next?
Opdivo still has trials coming up, particularly tests of use with Yervoy, another immuno-oncological drug from Bristol-Myers. The two of these drugs have worked well together in applications to melanoma. The biggest concern seems to be possible toxicity of using both drugs simultaneously. There are also plans to test Rova-T, a drug from AbbVie (NYSE:ABBV), as an add-on to Opdivo. We will see what happens over the course of the next few months as tests come in.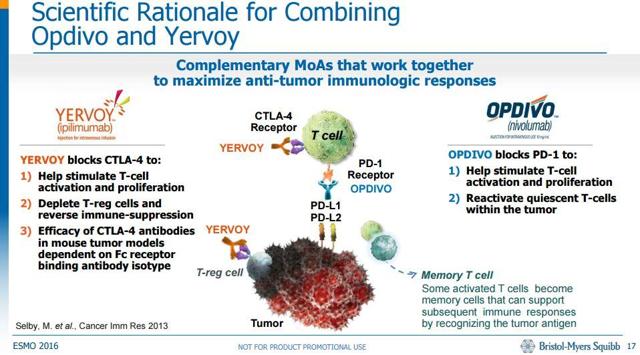 Courtesy of Bristol-Myers Investor Relations.
Is Bristol-Myers still a buy?
I think Bristol-Myers is actually quite a good buy for income investors right here. As of this morning, shares yield a nice 3.05%. With average dividend growth of just 3%, annually, over the last ten years, the stock hasn't been a great income grower. I suspect the trend of minimal dividend increases will continue, and probably won't accelerate until Opdivo and Yervoy sales really kick into high gear.
It's also important to remember that Bristol-Myers still has a well-diversified portfolio. Other assets include key cardiovascular drug, Eliquis, a Fibrosis drug in development, an adult Reheumatoid Arthritis drug still growing by double-digits, a chronic myeloid Leukemia drug with growing revenue, and many other products. Bristol-Myers has a large stable of pharmaceuticals, and that dissipates a lot of the inherent risk in disappointing results similar to what we've seen.
Conclusion
Overall, I still like Bristol-Myers, although it turns out my initial recommendation on September 19th ended up being quite early to the party. As a layman, I am not sure which direction future Opdivo tests will go, but even as things are, I do believe Bristol-Myers has significant earnings growth ahead of it, and is trading at a pretty reasonable price right now. Therefore, Bristol-Myers remains a very good candidate for "growth at a reasonable price."
If you're interested in Bristol-Myers, feel free to follow me on Seeking Alpha. I continue to watch this company, and will write update articles when doing so is material and relevant.
Disclosure: I am/we are long BMY.
I wrote this article myself, and it expresses my own opinions. I am not receiving compensation for it (other than from Seeking Alpha). I have no business relationship with any company whose stock is mentioned in this article.