The business messaging app Slack (Private:SLACK) had an ambitious target - to revolutionize the way employees communicate internally to reduce time spent on emails and increase company efficiency. To execute this lucrative goal, Slack launched a messaging platform for teams to transform the internal endless emails into an easy-to-use messaging interaction that allows users to send direct messages, share files, and maintain open and private discussion channels, and also includes a powerful search engine, multiple integrations options, and even a recently launched app store.
For corporations and corporate employees, Slack's idea to reduce time spent on emails and communicate in a more efficient way seems like the holy grail of work communication. In our personal lives, communications were revolutionized a long time ago with VoIP apps, IM apps, social media platforms, and many other forms of communicating that are more casual and time-efficient. However, corporations had been more conservative and could not imagine the existence of office communication without emails.
The value proposition that Slack brings to organizations proved itself when the company crossed the 2.7M daily active users, of which, 800K are paid users. As shown in the chart below, the 2.7M/800K level is an incredible growth of 168x/20x in the last two years, and the company has an impressive client list that includes Samsung (OTC:SSNLF), eBay (NASDAQ:EBAY), LinkedIn (LNKD), NASA, Harvard University and more. Unlike many other streaming unicorns, Slack incorporated value-added tools that increase efficiency, which saves time and money for corporates and allows them to keep their employees focused on the target, with a minimal waste of time.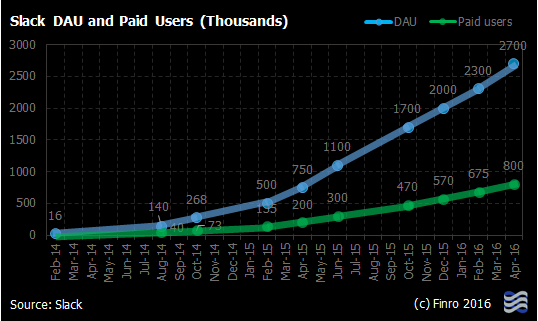 Slack could grow its platform in many other directions that will strengthen its prominent position among its users, which means that it could become irreplaceable in the future. Slack's app store is one example of this growth potential - by allowing third-party apps into the Slack platform, the company is offering greater capabilities and added-value features for its customers, which are accessible on the platform and do not require them to leave the app. Another step would be to enhance its collaboration tools for third-party apps in a way that could compete with Box (NYSE:BOX), for example. To explore further options, Slack also launched its small VC fund that will be the source for such added-value features that could expand the capabilities offered on the platform to make it irreplaceable.
As mentioned above, the idea behind Slack is attractive to customers, and as the number of DAU and paid users grow, the company becomes more attractive for investors that already poured in $550M, mostly in the last two years. Another impressive point in Slack's growth is that while the valuation of many other unicorns is challenged and has decreased lately, Slack does not only maintain its valuation but also increased it by $1B in one year. In its latest series F equity funding round, Slack raised around $200M at a $3.8B valuation, which reflects a steep price-to-sales of 61 that is too high for a public offering.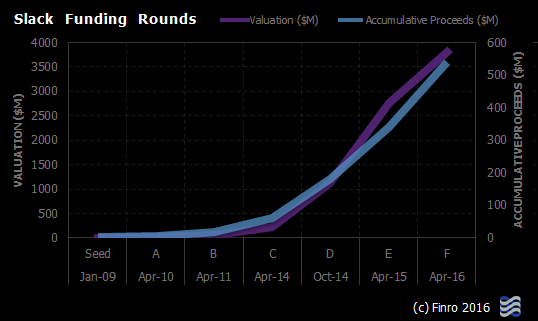 The $200M that the company secured earlier this year allows it to continue growing the business without worrying about an IPO in the immediate term. The new VC fund, the app store, and Salesforce (NYSE:CRM) integration are the first steps towards expanding and strengthening the company's business. However, while Slack is striving to add new features and expand its customer base, the business messaging market is getting more crowded after Facebook (NASDAQ:FB) Workplace joined Atlassian (NASDAQ:TEAM) HipChat, Microsoft (NASDAQ:MSFT) Yammer, Teamchat, and many other players.
Among the very long list of players in the business messaging apps market, I believe that Facebook and Microsoft are the biggest threats to Slack. Facebook launched its Workplace app recently to compete directly with Slack after an extended period of quiet testing with selected customers. Facebook Workplace has an incredible potential to leverage Facebook's broad network, leading software development positioning and huge engineering resource pool and gain substantial market share in its first attempt to penetrate the enterprise market. Facebook acknowledged its limits in the enterprise software market and collected feedback for an extended period before launching the product - this is a smart move that makes Workplace a better product that it could be otherwise. If Facebook focuses on the enterprise market as it focused on mobile a few years ago and now focused on video, I believe the company will succeed.
Microsoft is another big threat to Slack not just because of the Yammer success but also because of the potential collaboration that the company could yield from the LinkedIn acquisition. Offering an enterprise messaging app that incorporates LinkedIn features seems like the next reasonable move by Microsoft. Moreover, Microsoft could add simple integrations to Microsoft 365/Office, Skype, and other Microsoft ecosystem apps that the company could prevent Slack from using in the future.
When Slack is still not ready to go public, and Facebook and Microsoft-LinkedIn are well positioned to increase their business in this market, Slack might face problems down the road. The private market is pouring less money into startups than before, and in case Slack will not be able to raise funds quickly next time it needs it, the IPO market might be equally tough to join according to its extremely steep P/S ratio.
The way I see it, Slack has two alternatives in front of it. The first option is to leverage its current leadership position to expand its customer base within existing accounts and generate new accounts. To do that, Slack will need to accelerate the current expansion process it started and introduce new high-profile partnerships and integrations, new collaboration features, and other capabilities that will make Slack the communication and collaboration hub of its client. That way, Slack will become a software tool that is very hard to replace and increase its revenues gradually.
The second alternative is to strengthen its presence in a niche segment of the IT community, for example. This might decrease the company's TAM significantly but will allow it to focus its resources wisely and not get dragged into hopeless wars with Facebook and Microsoft-LinkedIn, where the success probability is low.
Amid the intensifying competition and unrealistic P/S ratio, I don't believe Slack will go public soon; however, in case Slack goes full power after the first alternative I presented above, the company could be ready in late 2017 or early 2018.
Disclosure: I am/we are long FB, LNKD.
I wrote this article myself, and it expresses my own opinions. I am not receiving compensation for it (other than from Seeking Alpha). I have no business relationship with any company whose stock is mentioned in this article.
Additional disclosure: The information provided in this article is for informational purposes only and should not be regarded as investment advice or a recommendation regarding any particular security or course of action. This information is the writer's opinion about the companies mentioned in the article. Investors should conduct their due diligence and consult with a registered financial adviser before making any investment decision. Lior Ronen and Finro are not registered financial advisers and shall not have any liability for any damages of any kind whatsoever relating to this material. By accepting this material, you acknowledge, understand and accept the foregoing.