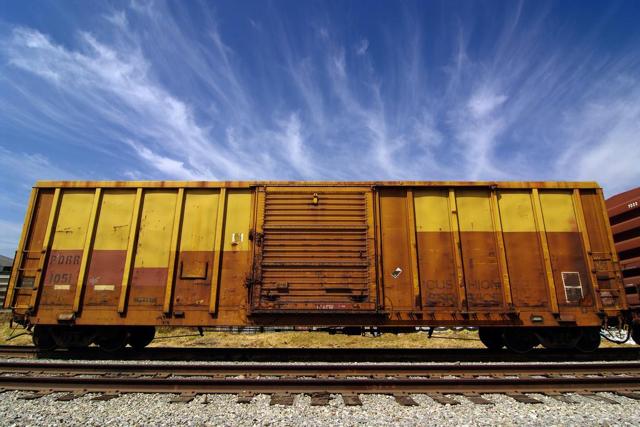 Source: Flickr.
If you want to have a better performance than the crowd, you must do things differently from the crowd.
- John Templeton

If you are not willing to own a stock for 10 years, do not even think about owning it for 10 minutes.
- Warren Buffett
FreightCar America (NASDAQ: RAIL) is a diversified manufacturer of railcars and railroad components. The company and its predecessors are building railcars since 1901. It has been the leader in the Coal Car industry for many years and its aluminum bodied railcars, which are lighter and higher yielding than a car constructed from steel, give them a small, yet durable advantage.
In the last years, its three main public competitors, Trinity Industries (NYSE: TRN), The Greenbrier Companies (NYSE: GBX) and American Railcar Industries (NASDAQ:ARII) have made huge amount of money with the growing Crude By Rail phenomenon. As the shale oil boom went to bust, all four companies saw their stock price drop a lot, even if FreightCar doesn't sell pressurized tank cars.
My thesis is that as railroad is a cyclical industry, any downturn is temporary and if a company has a sound balance sheet and can be bought for a discount, a patient investor can get good results.
FreightCar America has no debt and has a Price to Tangible Book Value ratio of less than 0.75. It's Net Current Asset Value per share stands at $12.34, slightly below actual price, and this is a solid floor. Its EV/EBITDA ratio is below 2. Cash per share is over $6.10. The company is close to be worth more dead than alive.
Too much negativity
With consolidated revenues down from $236 million in Q2-2015 to $126 million in Q2-2016 and backlog down from 14,075 units to 6,207 units for the same period, Mr. Market is hyper-negative and this is why RAIL's valuation is so low.
But do you know what? I like it this way! John Templeton used to say: "Invest at the point of maximum pessimism". I believe we are not that far from that point. The whole sector is depressed and the company's three main competitors suffer from the same problems. I like this negativity because I buy when others are selling. I buy assets at a discount when others are selling because they believe earnings will be lower. I buy potential productivity and I think long-term where others are selling short-term earnings. I try to buy low, and I try to sell high. I buy fear, and I sell greed.
Even if I am a small private investor, I try to think as if I were buying the whole company. When buying FreightCar, I am not buying earnings. I am buying assets. I pay $13 to $14 a share for assets that are worth $19 per share. Those assets exist. They are real. And they'll make money for me somewhere down the road.
Valuation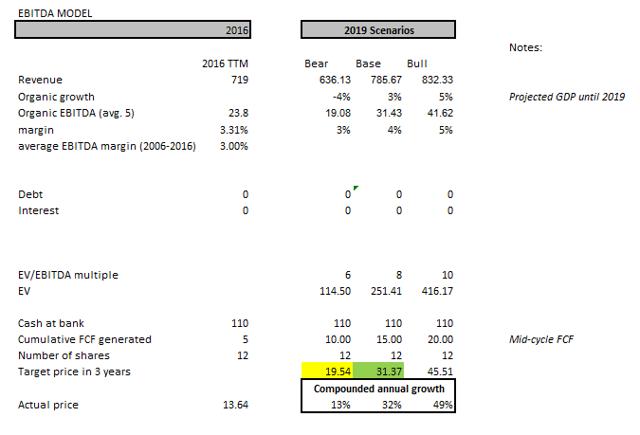 Source: Author's spreadsheet using data from Morningstar.
This simple valuation model shows what could be a mid-cycle price target for FreightCar. The bear case considers a light recession, the base case low growth and the bull case some stronger growth. Concerning Free Cash Flow, I give some credit to the company for its current cost reduction plan which should reduce the annual operating costs by approximately $5 million once fully implemented. Using conservative multiples, I believe the fair valuation for the company's stock price is around $31, a 32% CAGR for the next three years.
I believe a likely catalyst would be a buyout from GBX or TRN (or some of the privately-held companies in the same industry). Even if this doesn't happen, I can sit on the (very safe) 2.6% dividend yield while I wait.
Buying FreightCar is a time-horizon arbitrage. The patient investor is buying when it looks bad because he knows it will eventually recover. Most investors can't wait long enough or buy when others are selling. They prefer to follow the herd. And this is why they get average results.
Disclosure: I am/we are long RAIL.
I wrote this article myself, and it expresses my own opinions. I am not receiving compensation for it (other than from Seeking Alpha). I have no business relationship with any company whose stock is mentioned in this article.