Manulife Financial Corporation (NYSE:MFC) is Canada's most widely recognizable provider of insurance, and a leader in many other categories of financial services.
With their worldwide footprint, the Global Financial Crisis did not treat Manulife nicely. Long-term investors will recall a 50% dividend cut, and painfully recognize that the company is still trading at less than half of it's pre-crisis high.
Recent history aside, Manulife has made smart moves in recent history that leave them well-poised for future growth. At today's attractive valuations, they are a buy in my books. Here's why.
Business Overview
As with my other stock analyses, I will start with an overview of Manulife's business operations. For these business overviews, I like to quote the companies themselves so there is no room for mis-representation on my part. From their website:
"Manulife Financial is a leading Canada-based financial services group with principal operations in Asia, Canada and the United States. In 2012, we celebrate 125 years of providing clients strong, reliable, trustworthy and forward-thinking solutions for their most significant financial decisions. Our international network of employees, agents and distribution partners offers financial protection and wealth management products and services. These products and services include individual life insurance, group life and health insurance, long-term care services, pension products, annuities, mutual funds and banking products. We provide asset management services to institutional customers worldwide and offer reinsurance solutions, specializing in property and casualty retrocession.
The Company operates in Canada and Asia through the brand name "Manulife Financial" and in the United States primarily through the brand name "John Hancock".
Manulife is one of many Canadian stocks that trade on both the Toronto Stock Exchange and the New York Stock Exchange.
The company operates in an oligopoly, sharing the majority of the market with other insurance heavyweights Sun Life Financial and Great-West Life. Sun Life Financial (NYSE:SLF) trades on the TSX and the NYSE, and Great-West Lifeco (NYSEARCA:GWO) trades on the TSX, but is controlled via majority ownership by the Power Financial Corporation (PWF).
Key Stats
Stock Price: $19.16
Dividend Yield: 3.86%
5-Year Average Dividend Yield: 3.43%
Price-to-Earnings Ratio: 15.19
Book Value Per Common Share (MRQ): 14.81
Price-to-Book Ratio (MRQ): 0.98
52-Week High: $17.17
52-Week Low: $10.99
Earnings Volatility
When I first began to inspect Manulife as an investment opportunity, the thing that struck out to me the most was Manulife's incredible level of net income volatility. Consider the following chart.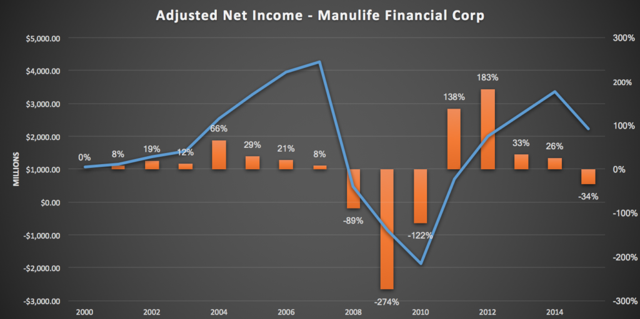 Source: Publicly Available Financial Statements
Looking at per-share earnings, we see the same sort of general trends as when looking at net income.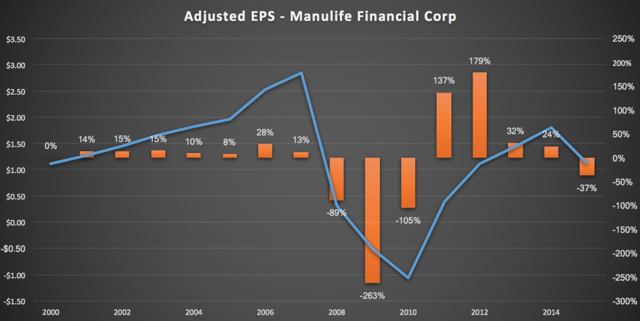 Source: Publicly Available Financial Statements
The dramatic drop in earnings during the Global Financial Crisis of 2008 does not surprise me. What does surprise me, however, is the 34% drop in net income in 2015 accompanied by a 37% drop in adjusted EPS. Ouch.
In their 2015 Annual Report, Manulife's CEO explains their earnings volatility as follows:
When reviewing Manulife's net income, it is important to remember that in order to meet our long-term obligations, we invest for the very long term across a variety of asset classes, much as a pension plan would do. Despite the fact that we benefit by taking this long-term view, our investments are marked to market on a quarterly basis - and this can produce significant swings in net income in the short term.
Over the past five years, investment experience has been highly positive, leading to an almost linear increase in net income. Some of you may even recall my past warnings that while this has been very positive for the Company, it would be overly optimistic to assume this trajectory would continue unabated. In 2015, that came to happen: the drastic decline in energy prices led to fair value adjustment charges of $876 million. Although other assets in our portfolio performed well, recording investment-related gains of $346 million, this led to a year-over-year decline of 37% in net income, to $2.2 billion - clearly a disappointing result.
In terms of energy prices, we expect that volatility will likely persist into 2016, and it would be reasonable to expect that continued weakness or any further declines in oil and gas prices would have an adverse impact on our investment experience and earnings. Over the long term, which is the horizon for which we manage the Company, we expect positive results from the range of assets we invest in - real estate, energy, timber, agriculture and equities - in order to meet our long-term obligations, and deliver shareholder return.
So while on the surface it looks like Manulife's earnings are experiencing scary amounts of fluctuations, we will see later that they are delivering on more controllable metrics like asset growth and sales.
Valuation
In the key stats section of my investment thesis, I mentioned that Manulife has a current dividend yield of 3.86%. This is higher than their long-term average and may indicate a potential value investment opportunity.
How do their other valuation metrics stack up in comparison? Not as nice as their dividend yield, but still attractive when compared to the market as a whole.
On an earnings basis, Manulife trades at a P/E of 15.13. This does not compare favorably to it's immediate peers: Great-West Lifeco trades at 12.19, Power Financial Corporation trades at 11.69, and Sun Life Financial trades at 13.13. Given that the S&P 500 is currently trading at a P/E Ratio of nearly 25, none of these stocks appear to be a bad value on an absolute basis.
On a book value basis, Manulife trades at a P/B of 0.98, which compares very favorably to it's peers. Great-West Lifeco trades at 1.74, Power Financial Corporation trades at 1.36, and Sun Life Financial trades at 1.42.
I have just shown that Manulife is expensive when valued against earnings and cheap when valued against book value. My hypothesis is this is because of Manulife's recent earnings troubles due to the recent downturn in commodity prices. Once oil prices rises, so will Manulife's earnings, reducing their P/E ratio to be in line with their book value.
So all things considered, Manulife's valuation is attractive.
Massive Operational Scope and Geographic Diversity
Manulife's sheer size is quite impressive. At the end of 2015, they managed and administered $935B in assets. When their second quarter results were released on August 4th, 2016, this number had remained fairly flat at $934B (though this represents a 5% increase from 2Q2015).
Similar to Brookfield Asset Management, a company I've also recently covered, Manulife's size and scope allows them to invest in capital-intensive deals that few others have access to. They also have a proven record of growing assets under management and administration (AUMA) over time, with 2Q2016 representing the 26th consecutive quarter of positive net flows over time.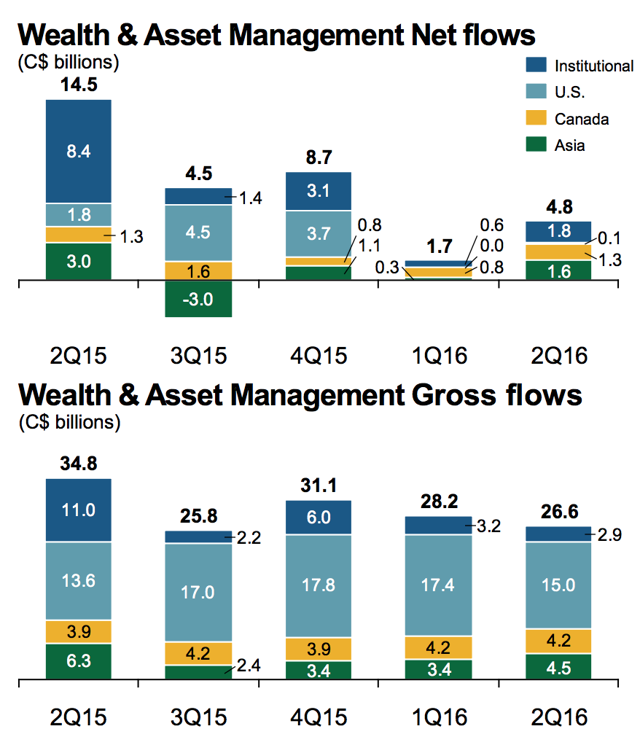 Source: Manulife Second Quarter Investor Document
Geographically, Manulife's diversification is also quite attractive. The last image demonstrated how their growth in AUMA is well-diversified across their operating regions.
In their 2015 annual report, they also announced well-diversified core earnings broken down as follows:
Asia: 32%
Canada: 31%
United States: 37%
When I see such a high proportion of both AUMA growth and core earnings coming from Asia, my immediate thoughts go to Japan and the stagnant economic growth that country has been experiencing.
Fortunately, this concern was addressed in Manulife's 2015 Annual Report, where in the CEO's remarks it says, "Manulife's insurance sales in Japan have grown by an average of 23% per year over the last decade." Impressive growth given the economy they are operating in.
I view Manulife's sheer size and economic clout as a huge positive for this company. They are a big player in an industry with a high barrier to entry, which gives them a distinct competitive advantage.
Growth in Book Value Per Common Share
Book value per common share is my favorite metric for estimating intrinsic value.
While most companies trade at either a premium to book value or a discount to book value, this difference (as measured by the P/B Ratio) tends to remain relatively constant over time. That is, companies who consistently grow their book value per common share also experience consistent shareholder returns.
So let's take a look at the growth in Manulife's book value per common share.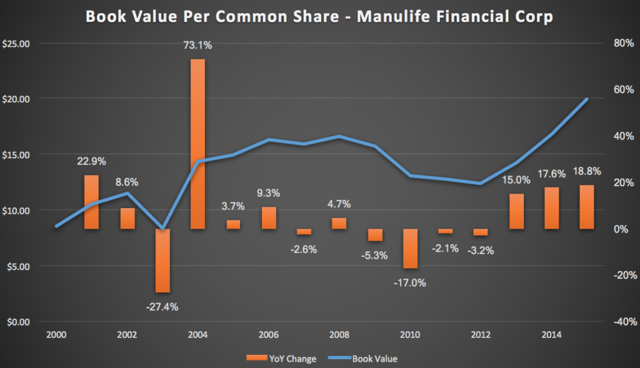 Source: Publicly available financial statements
This growth, while not as impressive as some of the Big 5 Canadian banks, is still solid - particularly in recent years. Since there has been no consistent growth, though, I view this as neutral to my investment thesis.
Dividend Yield, Growth, and Safety
As mentioned previously, Manulife was notorious for slashing their dividend by ~50% during the Global Financial Crisis and leaving the dividend unchanged for three years afterwards. While management has raised the dividend significantly in the past few calendar years, it will take awhile for the dividend to reach pre-crisis levels.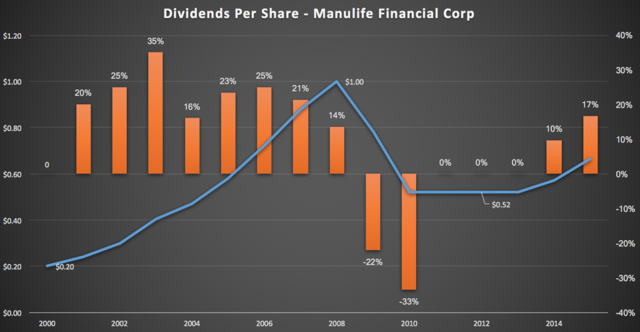 Source: Publicly available financial statements
The 2008/2009 dividend cut led many investors to question the safety of Manulife's dividend. This is understandable, unless there has been some significant strategy-level changes in Manulife's dividend payout policies.
To evaluate whether this has occurred, let's consider Manulife's payout ratio before the financial crisis and compare it to their payout ratio after the financial crisis.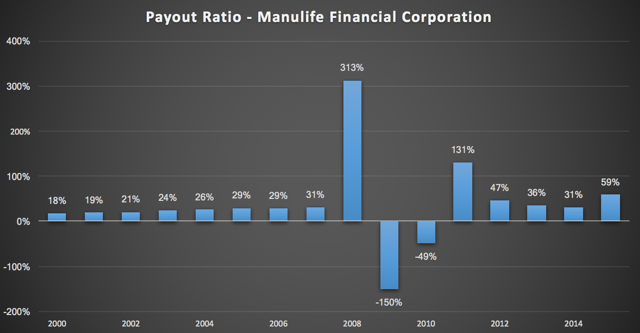 Source: Publicly available financial statements
Since Manulife's payout ratio is actually higher NOW than it was BEFORE the financial crisis, I really hope that the company's risk management has improved. This is something I will be looking into.
That being said, I don't think we will encounter a financial environment anything like 2008 in the near future. So I appreciate Manulife's recent dividend increases, and rate their dividend as a neutral in my investment thesis.
Industry Dynamics
As most of you know, last September the Federal Reserve increased the Fed Funds rate for the first time in years. Many experts are expecting that more rate hikes are coming, and that investors should be preparing accordingly.
Potential rate increases south of the border would be beneficial for financial companies as a group. As mentioned, Manulife has significant operations in the United States (due to their John Hancock franchise) that would be directly effected by these changes in interest rates. Here's why.
Manulife's insurance operations take in premiums which must be paid, eventually, to policyholders as claims. In the interim this money (called "insurance float") is invested by their wealth and asset management business.
Generally speaking, insurance companies invest a large portion of their portfolios in fixed income securities because they are very risk-sensitive. It is unknown when exactly that insurance companies will have to pay out claims, so insurers like Manulife cannot stomach the volatility of equity investments. As of Q2 2016, Manulife's fixed income investments represented ~85% of their total portfolio, with 97% of debt investments being of investment-grade credit quality.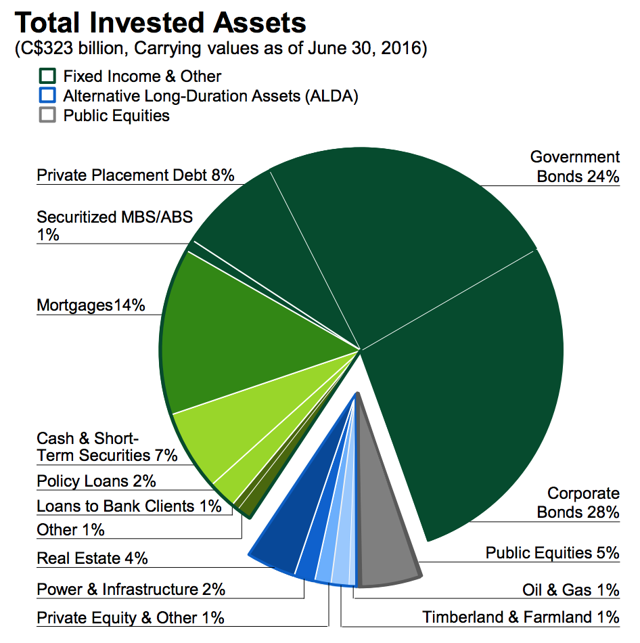 Source: Manulife Q2 Investor Presentation
Fortunately for Manulife, interest rates appear to be on the rise. This presents a short-term headwind, since bond prices and interest rates have an inverse relationship. Interest rate increases would be a positive over the long run as eventually Manulife would be able to invest their fixed income portfolio at a higher rate of return.
Growth Prospects
In my eyes, Manulife is investing in three key areas to propel their growth in the future. These are acquisitions, technology, and product.
Growth By Acquisition
In 2014, Manulife announced their acquisition of Standard Life's Canadian operations and the New York Life Retirement Plan Services business. In their 2015 Annual Report, I was happy to read that Manulife had made "significant and successful progress toward integration of those businesses." I'll highlight a few key points of each of these acquisitions here.
In September of 2014 Manulife announced it's acquisition of Standard Life Canada for $4 billion. Standard Life's strength in Quebec (historically Manulife's weakest Canadian market) and their pension assets (which made Manulife the second-largest group pension provider in Canada) were seen as driving factors behind the transaction. In the original press release, Manulife cited Standard Life as the 5th largest life insurer in Canada, with 2000 employees, 1.4 million customers, and $52 billion of assets under management. So clearly a big acquisition. Manulife management forecasted that the acquisition would take between 18 and 24 months, so the integration should be nearly complete by this point.
The New York Life Retirement Plan Services acquisition, announced in December of 2014 and finalized in the first half of 2015, saw Manulife increase their assets under administration by approximately US$50 billion. In addition, New York Life agreed to reinsure (which means to underwrite insurance policies on insurance policies) 60% of a subset of John Hancock life insurance policies.
As you can see, the trend in Manulife's recent acquisitions has been to scoop up smaller insurance companies, increasing Manulife's number of policies and rapidly growing their wealth and asset management businesses around the world. A positive trend for Manulife shareholders.
Growth Through Technology
Manulife has developed a number of fascinating technology platforms that I believe will help both their customers and their shareholders. This is headlined by their talent acquisition of Tim Ramza, who became the Chief Innovation Officer of Manulife/John Hancock in November 2015.
You will notice that much of the technology being developed by Manulife is centered around rewarding customer fitness through reductions in insurance premiums. Manulife's actuaries must have determined that, on average, the reduction in health insurance premiums collected from these discounts is more than offset by a corresponding (but larger) reduction in claims - which is why I've said that these technology investments benefit both customers (by encouraging a healthy lifestyle) and shareholders (by reducing insurance claims).
Management has highlighted three major technology breakthroughs in recent communications to shareholders.
Their first is ManulifeMOVE, introduced to customers of Manulife's Asian operations in 2015. This software connects to wearable fitness technology and rewards users by granting a discount on health insurance premiums once a certain amount of daily physical activity has been achieved.
Similar to ManulifeMOVE, their U.S. operations have introduced the John Hancock Vitality program. After completing an initial questionnaire, policyholders are given personalized health tips and a free FitBit device. Then Vitality Points are earned by exercising regularly and having periodic medical checkups. A Vitality Status (Bronze, Silver, Gold, or Platinum) for each year is achieved based on the number of Vitality Points collected, resulting in savings as high as 15% in the next policy year.
The third technology advance is also in the U.S. - the John Hancock LifeTrack program. This program adjusts insurance premiums based on a wide variety of factors to ensure that policyholders maintain the precise level of coverage that they require. LifeTrack also is complimentary with the Vitality program - that is, policyholders can use their Vitality Status to save on insurance premiums with the LifeTrack program. Since LifeTrack is a bit more complicated than the other two technologies introduced recently, I'll let anyone who is curious about it read the John Hancock page about it here.
Growth Through Product
While much of the previous technology achievement were product-like in nature, here I want to highlight one of Manulife's advancements that is low-tech in comparison.
I'm referring to their entrance into the exchange-traded fund (ETF) market. While Manulife itself does not manage any ETFs, their U.S. subsidiary John Hancock does. Their ETF family is called the John Hancock Multifactor ETFs, and the lineup includes:
Large Cap ETF
Mid Cap ETF
Consumer Discretionary ETF
Consumer Staples ETF
Energy ETF
Financials ETF
Healthcare ETF
Industrials ETF
Materials ETF
Technology ETF
Utilities ETF
As you can see, Manulife offers a full suite of ETF products and with the recent trend of outflows from actively-managed funds to passively-managed funds, this should help Manulife to maintain and grow AUMA going forward.
Management
Lastly, a thorough common stock analysis is not complete with talking about the management team.
Manulife is led by CEO Donald A. Guloien, who assumed the role in 2009 in the heat of the global financial crisis. Prior to his appointment as CEO, Guloien served as Manulife's Senior Executive Vice President and Chief Investment Officer. I personally appreciate that he previously held the Chief Investment Officer role, as it means that he must have a strong understanding of the Wealth and Asset Management that Manulife is working so hard to grow.
From a corporate governance perspective, this company has policies in place to make sure Guloien's interests are aligned with his shareholders'. Manulife's CEO is required to own at least 7x his base salary in shares of the company. According to Manulife's 2015 proxy circular, he currently owns nearly $25 million of the stock, which easily satisfies the 7x requirement by placing him around 13x.
In terms of overall compensation, Manulife's board of directors attempts to relate Guloien's total compensation package to the Total Shareholder Return of Manulife's owners, as demonstrated in the following diagram.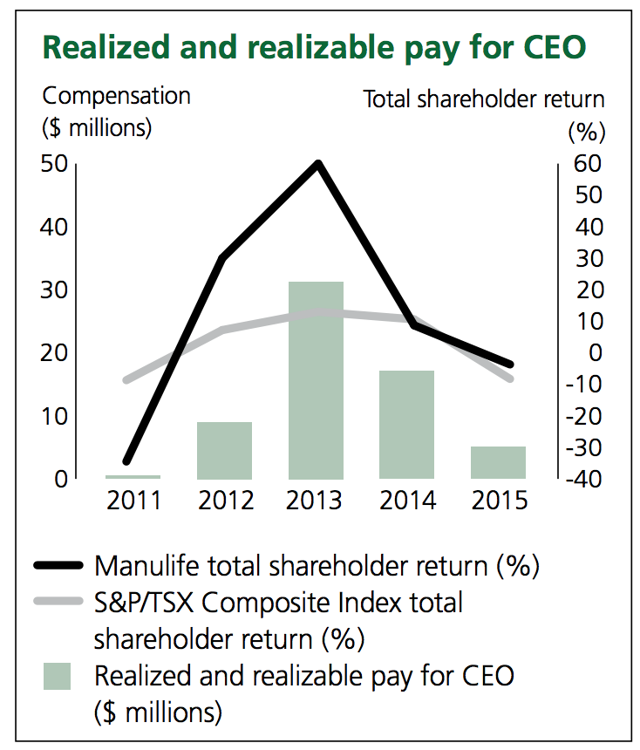 Source: Manulife 2015 Proxy Circular
While I agree that the earnings of all corporate executives should be tied to the performance of their company's common stock, I would argue that Guloien is rather overpaid. Take a look at his exact compensation over the past few years:

Source: Manulife 2015 Proxy Circular
Compare this for a moment to the pay of David McKay, the CEO of RBC (a MUCH larger company). In 2015 McKay received total compensation of $10.875 million and in 2014, $7.528 million. Both years he received less compensation than Guloien despite running a much larger financial services company.
Unlike that of the CEO, board compensation is very reasonable and comparable to other companies in the industry. Directors are paid an annual retainer of US$150k while the Chairman's equivalent is US$400k. Members of the board are also required to own 3x the company, which translates to US$450k for directors and US$1.2 million for the chairman.
All in all, I think Manulife is satisfying the two major requirements of corporate governance. First of all, their executive compensation strategies are tied to the creation of value for shareholders. Secondly, equity ownership requirements for key company executives and board members are aligning management's interests with those of Manulife's shareholders.
The Bottom Line
Manulife represents a fantastic opportunity to gain global exposure in an individual investors portfolio. Valuations are attractive, particularly when considering their Price-to-Book ratio.
With major investments in technology and acquisitions of smaller insurers, I think Manulife is well-poised for future growth. And with a dividend yield of nearly 4%, why not get paid to wait?
Disclosure: I/we have no positions in any stocks mentioned, but may initiate a long position in MFC over the next 72 hours.
I wrote this article myself, and it expresses my own opinions. I am not receiving compensation for it (other than from Seeking Alpha). I have no business relationship with any company whose stock is mentioned in this article.