Canadian intermediate oil producer Baytex Energy Corp. (NYSE:BTE) continues to attract considerable interest from investors because many are speculating that the one-time dividend darling will rebound quite strongly as the price of crude rises.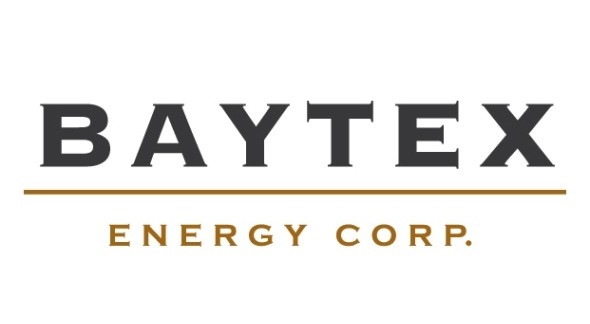 For some time now, I have been concerned by Baytex's considerable debt and its lack of investment in exploration and development, which has caused production to deteriorate markedly.
Nonetheless, there are clear indicators that Baytex is heavily undervalued by the market even when accounting for sharply weaker oil prices and offers investors considerable potential upside. Baytex possesses a number of attributes that make it an attractive levered play on crude, meaning it offers considerable potential upside even if there is only a moderate increase in the price of crude.
#1 Long-life reserves are worth more than its current market cap.
As at the end of 2015, according to the independently prepared reserves report, Baytex has 274.8 million barrels of 1P reserves and 416.6 million barrels of 2P reserves.
Of these 109 million barrels are classified as developed and producing. These reserves give it a productive life of around 10 years at the current pace of production.
Baytex's 2P reserves have an NPV of $3,500 million before tax and after applying a 10% discount rate, which equates to $16.59 per share, using an assumed average price for WTI of $45 per barrel in 2016, $60 in 2017 and then steadily rising to $81.20 per barrel by 2020. This NPV also factors in the price differentials for Canadian heavy and light crude, which trade at a considerable discount to WTI.
Despite appearing somewhat optimistic, this pricing deck appears realistic in the current operating environment, particularly in light of OPEC's planned production cuts and desire to lift oil prices to a more sustainable level.
After subtracting net debt of $1,500 million, its reserves are worth $2,000 million, which comes to $9.48 per share. With Baytex trading at $4.11 per share, or less than half of its NPV-10 less net debt per share, indicating that it is heavily undervalued.
#2 High quality Eagle Ford acreage has been a lifesaver
Baytex's acquisition of Aurora Oil and Gas Ltd. for $1.6 billion was a game changer for the company, giving it some of the best acreage in the Eagle Ford Shale. This gave the company's light oil production a much needed boost, adding over 15,000 barrels daily of light oil to its total crude output.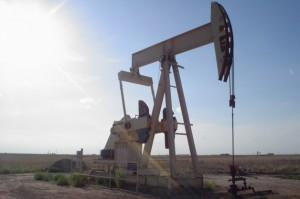 Baytex well in the Eagle Ford Shale.
The light oil and condensate produced typically obtains a premium to WTI, which for the first six months of 2016 has seen it sold at an average price that is 13% higher than the average for WTI over the same period. This acquisition has been Baytex's salvation during the prolonged downturn in crude.
You see, much of its Canadian heavy oil production is uneconomic with WTI below $40 per barrel.
When WTI fell sharply at the end of 2015 and into 2016, it shut down 7,500 barrels daily of conventional heavy oil production in the Peace River and Lloydminster regions in western Canada.
In sharp contrast to its loss-making heavy oil operations, Baytex's Eagle Ford production provides the highest rate of return for the company in the current harsh operating environment. The acreage totals 20,200 net acres, is located in the prolific Sugarkane Field and has net reserves of 149,413,000 barrels of oil equivalent.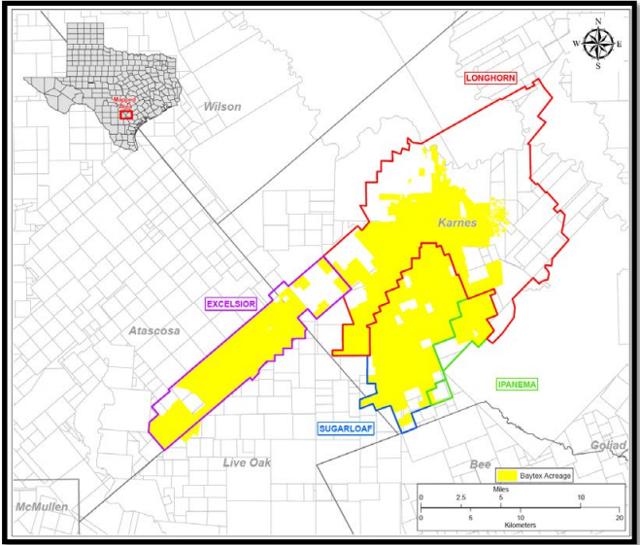 Source: company filings.
It has an average well cost of around $5.2 million which is below the 2015 average for the Eagle Ford of $6.5 million, highlighting how Baytex has been able to drive further efficiencies. These growing efficiencies are also reflected in Baytex's falling operational expenses in the Eagle For,d which for the second quarter 2016 fell by an impressive 7% year over year.
Baytex's Eagle Ford wells have an average IP30 rate of 1,000-1,200 barrels daily, which is higher than many of the other operators in the formation, further highlighting the quality of its acreage and supporting claims that it is drilling in the sweet spot of the Eagle Ford.
However, it is not without its risks.
For the second quarter 2016, Baytex's Eagle Ford acreage produced 38,309 BOEPD of which 76% was liquids and the remainder natural gas. This represents a 3% decline year over year with liquids output falling by a worrying 7% compared to a year earlier.
The sharp decline in liquids production can be attributed to Baytex significantly reducing its investment in drilling because of its need to preserve cash flows and shore-up its highly levered balance sheet.
For 2016, it has planned exploration and development expenditures of $225 million to $265 million, which is 53% lower than 2015 and less than a third of what Baytex invested in developing its oil assets in 2014. Despite committing to spending 90% of this budget on its Eagle Ford acreage, it is of considerable concern because of the high decline rates associated with light tight crude.
Already, Baytex's reserve replacement rate has fallen significantly and there are signs that this level of investment is insufficient to replace production lost through natural decline rates and current operations. These reasons make it feasible to expect Baytex's production to continue declining for some time yet.
Any further deterioration in production is not good news for a company that needs to boost cash flow in order to manage its precarious debt situation.
However, with signs that WTI will remain at around $50 for the remainder of 2016 and average as high as $60 to $65 per barrel over 2017, Baytex's cash flow will receive a healthy bump allowing it to boost capex.
#3 Market concern over its huge pile of debt is overblown
The biggest concern weighing on Baytex is the state of its balance sheet, or more specifically that pile of debt which even after deducting cash comes to $1.4 billion or roughly seven times expected 2016 funds flow from operations.
The majority of this debt was incurred for the Aurora deal.
It is this which has weighed heavily on market sentiment and Baytex's share price causing it to plunge by 87% over the last two years. In order to manage the risks posed by its debt, Baytex renegotiated its financial covenants with its lenders.
This saw it trim its credit facility by $575 million and grant its banking syndicate over its assets, meaning that in the event of breaching its financial covenants or for bankruptcy leading to a restructuring, in all likelihood there would be nothing left over for shareholders.
In exchange for these concessions, Baytex was able to amend its financial covenants as follows:
Senior Debt to Bank EBITDA ratio of 5.00:1 for a period up to and including the quarter ending June 30, 2018; stepping down to 4.50:1 including quarter ending 30 September 2018; stepping down to 4.00:1 for the quarter ending 31 December 2018 and then 3.50:1 thereafter;
Senior Debt to Book Capitalization ratio of 0.65:1 for a period up to and including the quarter ending December 31, 2017; stepping down to 0.55:1 thereafter; and
Total Debt to Bank EBITDA ratio of 5.25:1 for a period up to and including the quarter ending December 31, 2017; stepping down to 4.00:1 thereafter.
This has given the company considerable breathing space, especially with the covenants not reverting to their original levels until the end of 2017 at the earliest, when it is likely that oil prices will have recovered further.
According to the EIA, WTI is expected to average $50 per barrel over the course of 2017, while energy consultants McDaniels and Associates expect it to be $53.50 compared to Raymond James $80 per barrel by the end of 2017, whereas the consensus estimate is $54 per barrel. If WTI remains over $50 per barrel over the next year Baytex will experience and uptick in cash flows and the majority of its heavy crude production becomes cash flow positive.
It should also be considered that the majority of Baytex's debt does not fall due until 2019 giving it further breathing space in which to wait for the price of oil to rise. The revolving credit facility of $575 million does not mature until June 2019 and there are no payments due on that facility until maturity.
Meanwhile, the first of the long-term notes do not fall due until 2020, with the majority falling due in 2021 and the remainder between then and 2024 as the chart shows.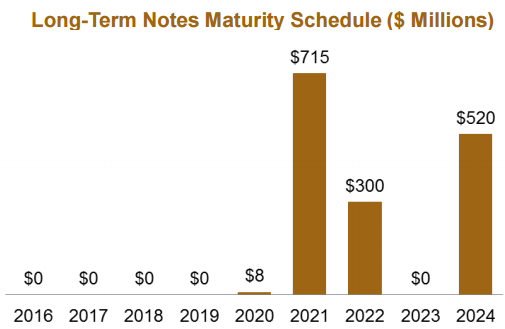 Source: company filings.
As a result of the laddered repayment schedule for its monster pile of debt, I believe that it is manageable even in the harsh operating environment now being witnessed.
There is sufficient time for oil prices to recover and along with signs that oil markets are in the midst or rebalancing they could rise higher than currently forecast.
How does Baytex compare to its peers?
Clearly, there are signs that Baytex's valuation at this time is far less than what the company is really worth, with fears over its debt and ability to sustain production in the current harsh operating environment overblown.
In order to get a feel as to what Baytex's fair value is in the current market environment, I have compared it to three peers:
Penn West Petroleum (PWE) which until recently was facing similar but more severe issues, Pengrowth Energy (NYSE:PGH) which itself is heavily indebted and is experiencing issues relating to the economic extraction of its heavy oil reserves, and Whitecap Resources (OTCPK:SPGYF).
The table below sets out key industry metrics and compared to Baytex's.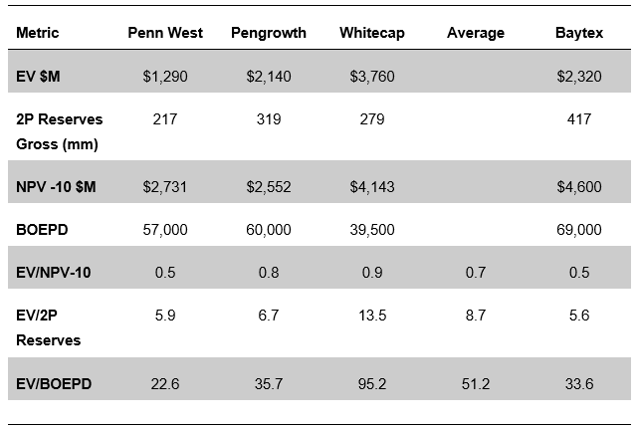 Source: company filings and author's own calculations.
*All data is as at 17 October 2016.
Despite trading at an eighth of its price two years ago, Baytex appears attractively priced in comparison to its peers. Only Penn West appears cheaper on the industry specific metrics used, whereas Pengrowth and Whitecap appear far more expensive.
In order to find Baytex's fair value per share, I have multiplied the average EV/NPV-10 for its peer group by its EV.
This is: 0.7 x $2,320 million = $3,220 million.
After deducting net debt of $1,500 million, this gives a market-cap of $1,720, which if divided by the 211 million outstanding shares, gives Baytex a fair value on a comparative basis of $8.15 per share.
When using the average EV/2P reserves of 8.7 Baytex has an EV of $3,628 million. After deducting net-debt it has a market-cap of $2,128 million, giving it an indicative fair-value of $10.08 per share.
Based on this range of $8.15 to $10.08 per share Baytex is undervalued by between 98% and 145% per share, indicating that it trading at half its indicative fair-value and offers investors considerable upside.
Key takeaways
Despite the harsh operating environment, Baytex is significantly undervalued by the market when using two different valuation methodologies. When taking its NPV-10 per share and subtracting net debt, it has an indicative fair value of $9.48 per share.
On the basis of a peer comparison it should be trading at between $8.15 and $10.08 per share.
Clearly, its tremendous pile of debt is weighing heavily on its valuation. There are however, a range of factors indicating that the fears regarding its debt are disproportionately overblown.
You see, the majority of that debt falls due between 2019 and 2021, providing plenty of time for oil prices to recover and boost Baytex's cash flows.
The other major concern is its deteriorating production.
Oil output remain in terminal decline because it has been forced to savagely slash exploration and development capex in order to preserve its weak balance sheet and declining cash flows. Sharply weaker oil prices have forced Baytex to shutter its uneconomic heavy oil production further affecting output. This along with the higher decline rates of light tight crude wells when compared to conventional oil wells does not bode well for any sudden uptick in production.
Nevertheless, the majority of its heavy oil wells are now back on line and with WTI hovering at around $50 per barrel they are cash flow positive. Furthermore, with WTI at $55 per barrel, it becomes viable for Baytex to boost its exploration and development budget, which will help production to grow.
For all of these reasons Baytex is mispriced by the market, being heavily undervalued offering investors upside of between 98% and 145%.
Disclosure: I/we have no positions in any stocks mentioned, and no plans to initiate any positions within the next 72 hours.
I wrote this article myself, and it expresses my own opinions. I am not receiving compensation for it (other than from Seeking Alpha). I have no business relationship with any company whose stock is mentioned in this article.
Editor's Note: This article discusses one or more securities that do not trade on a major U.S. exchange. Please be aware of the risks associated with these stocks.