Last week, Coca-Cola (NYSE:KO) exercised its right to acquire Anheuser-Busch Inbev's (NYSE:BUD) stake in its own African Beverages operation (known as Coca-Cola Beverages Africa, or CCBA). The purchase followed AB InBev's $103 billion acquisition of SABMiller plc (OTCPK:SBMRF) approved by shareholders on September 28. The move was fully expected, given Coke had first-mover rights with respect to any prospective acquisition of AB InBev's share of CCBA. Failing to keep these assets under the company's control could have potentially caused a major disruption to its bottling operations in a high-growth market.
The CCBA deal is expected to be financed with part of the company's offshore cash balance, which constitutes the majority of its reported $24.1 billion (as of Q2 2016) due to the company's sizable overseas operations. The value of the assets itself is around $4 billion. The deal could possibly close sometime in Q3 or Q4 2017, pending regulatory approval and customary closing conditions. The company will report the stake as a discontinued operation on its financial statements.
For Coke, the acquisition looks to be a buy-and-flip type of purchase and management will negotiate with potential buying partners alongside negotiating the final contract terms with AB InBev. Coke would be most likely to sell CCBA to another bottling partner to keep the operation within its network. If Coke were to sell CCBA to a bottler outside of its own network, the company's debt load and core operations would likely remain unchanged. In the likely event that the company were to keep CCBA within its overall bottling system by selling to another partner, the company's leverage would likely remain elevated at around a 3.0x net debt/(unadjusted) EBITDA ratio, up from 2.85x from end of Q2 2016.
Leverage-wise the company is in a safe position. In an article on Coke back in late-July, I estimated that Coke is optimally levered with debt at around 25% of its capital structure. It's currently levered in the lower-20% range.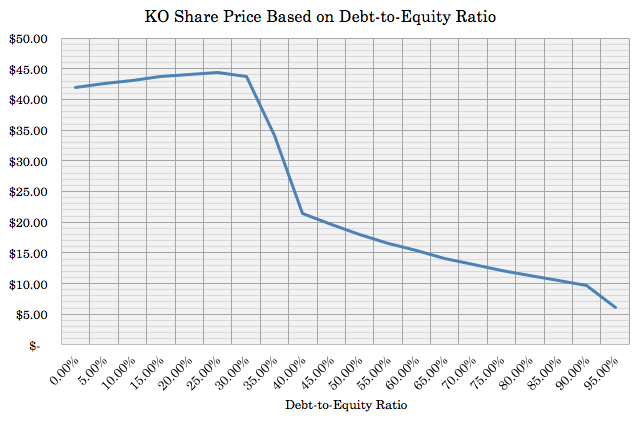 (Source: author)
SABMiller is already a key bottling partner with Coke in the company's efforts to streamline and consolidate its bottling operations in Africa. The two jointly established CCBA in 2014. The conundrum facing Coke is that AB InBev - a large bottling partner of major rival PepsiCo (NYSE:PEP) in Latin America - now represents SABMiller's parent company after the deal's September shareholder approval. Naturally, a merger between the two may represent conflicts of business interests for both Coke and Pepsi, as the combined company serves as a bottler for both parties. CCBA represents a key business interest in Coke's overseas operations and forced a fairly easy decision from company management.
Coke's other bottling partners will very likely be interested in buying the CCBA stake, given the assets under its control. CCBA represents the largest bottler in Africa, owning approximately 40% of Coke's soft-drink volumes on the continent. The deal should ultimately work to stabilize the African bottling system by helping consolidate the pre-existing network of upwards of 30 bottlers. The move is similar to Coke's consolidation of the fragmented German bottling system, which was ultimately sold to Coca-Cola European Partners. Should it improve the overall efficiency of the market, this should provide a boost to the company's African operations long-term. The actual short-term financial benefit to the company will likely be limited, as Coke is likely to merely slightly increase its offshore cash balance, assuming a successful acquisition and subsequent sale.
As a serial acquirer, AB InBev represents a powerful wild card in the beverages industry. AB InBev has a market cap 23.4% higher than that of Coke, and has been rumored to have interest in acquiring America's 19th-most valuable company outright. Over the past four years, Coke's stock has returned just 2.7% annually versus 10.4% for the S&P 500 (NYSEARCA:SPY) (excluding dividends) and is now trading at a lower price point than it was two years ago. The only way such a merger could feasibly happen is if AB InBev agreed to discontinue its distribution of Pepsi products. It currently distributes Pepsi in Latin America and key South American markets. AB InBev's Brazilian-based subsidiary Ambev is one of the largest Pepsi bottlers in the world and distributes to other countries within the continent. The company also has its own soft-drink business in the regions. If AB InBev were inclined to expand its market share in the non-alcoholic beverages, PepsiCo ($153.2 billion market cap) remains a viable acquisition target as well.
Disclosure: I/we have no positions in any stocks mentioned, and no plans to initiate any positions within the next 72 hours.
I wrote this article myself, and it expresses my own opinions. I am not receiving compensation for it (other than from Seeking Alpha). I have no business relationship with any company whose stock is mentioned in this article.
Editor's Note: This article discusses one or more securities that do not trade on a major U.S. exchange. Please be aware of the risks associated with these stocks.