Expectations as to the path of monetary policy in the United States is a driving theme in global markets. Fed fund futures are pricing in a 64% chance of a December hike and only a 27% chance of two by September of 2017. Fed chair, Janet Yellen is speaking about letting the economy "run high pressure". Other members and economists are proposing secular stagnation scenarios and lower for longer interest rates. This is leading to markets pricing out rate hikes essentially all through 2017 ignoring a clear risk, that is an improving U.S. economy and subsequent rate hikes. Improving data could force the Fed's hand in raising rates quicker than markets are currently discounting. A 27% chance of two rate hikes by September 2017 is too dovish in my opinion.
A central theme in my forecast is an appreciating U.S. dollar in foreign exchange markets. The Fed being on hold through 2017 is providing an artificial boost to inflationary expectations, emerging markets and commodity prices. I think it's unsustainable. Another phase higher in the U.S. dollar is more likely. The reasons are the ECB will extend QE, Japan can push rate further into negative territory with their new yield curve targeting monetary policy, China (NYSEARCA:FXI) will be forced to lower rates and depreciate the yuan, and many other central banks will lower rates. This is all bearish for the yen, renimbi (NYSEARCA:CYB), euro (NYSEARCA:FXE) and commodity currencies. Policy easing leads to depreciation while less accommodative policy is a driver of currency appreciation (NYSEARCA:USDU).
I believe China concerns will resurface and this will contribute to either a decline or lack of rise in inflationary expectations which could in turn affect commodity prices, bond yields (NYSEARCA:TLT) (NYSEARCA:TMV) (NYSEARCA:TBT), and the USD. There are many headwinds facing China. Some of these are slowing GDP growth, weak exports, non performing loans, fairly depressed commodity prices, overcapacity, a recent stock market rout, high dollar denominated corporate debt and a growth model transition. I don't expect a recession in China but the slowing could continue or worsen.
China is needing to rebalance towards a high technology, consumer based growth model rather than Solow type investment demand driven model as overcapacity is an issue. The Chinese authorities also need to allow the renimbi to depreciate to a degree in order to boost exports. The Chinese government could also lower taxes providing a boost to disposable incomes and consumption. Their government debt to GDP ratio is relatively low so this is a real option. The Chinese household debt to income ratio is also comparatively low and this supports the idea that their rebalancing will be successful in the long run. The short term, though could be rough for China.
A recapitalization of the Chinese banking system is on the table as well if there is a downturn or further slowing for the Chinese economy. The PBOC could use foreign exchange reserves for this purpose but this could put downward pressure on the renimbi. Managing the renimbi/U.S. dollar exchange rate is vitally important to monetary policy in China and it is a delicate balancing act. The PBOC largely wants a stable currency though a moderate depreciation wouldn't be discouraged as it would increase export growth and Chinese corporate competitiveness in export markets. Too much of a depreciation is a risk as there is high speculative interest in shorting the renimbi and potential for capital outflows.
A large or sudden decline in the RMB exchange rate could be a shock that causes major capital outflows and defaults/downgrades on USD denominated corporate debt in China. The PBOC has approximately 3.2 trillion in forex reserves down from 4 trillion in early 2014. They have used these reserves to buy yuan providing support and demand for the Chinese currency. Chinese forex reserves can be used to defend their exchange rates from a speculative run though there is some doubt that 4 trillion will be enough. Kyle Bass, a known yuan bear, estimates the real number of foreign exchange reserves is around 2 trillion.
An appreciating U.S. dollar is a risk for certain Chinese and emerging market corporations given a high level of dollar denominated debt. If the renimbi and other EM currencies depreciate while the USD rises, a likely scenario, this make this USD debt more difficult to service. The IMF has voiced concerns over this scenario.
In short, regarding China, it will likely get worse before it gets better. Chinese authorities will come through with easing and stimulative economic policies to counter any downturn until their growth rebalancing proves successful. I think the PBOC will be forced to lower rates though not all the way to zero and this will depreciate the yuan. China and emerging market concerns will resurface and this will be negative for commodity prices including oil and inflationary expectations.
Oil inventories are still elevated and there is absolutely no shortage right now that would drive oil prices significantly higher in the near term. An appreciating U.S. dollar would also be a headwind to oil prices as these assets typically trade inversely. This points to no further near term rebound in oil and potentially a retreat back into the low $40's or even $30's. China concerns and data deterioration there would be a factor in this.
Long term, I am very optimistic on oil prices driving a rebound in U.S. and global inflation. Global investment in oil production has slowed since the price decline starting in mid 2014. This will lead to supply constraints in the future as demand accelerates and the global economic outlook improves long term. I would say this reflation trade will happen potentially during late 2018 or 2019.
A key factor to this 2017 investment outlook is the U.S. economy maintaining or improving with inflationary pressures staying moderate. A U.S. recession or a near term surge in U.S. inflation are two risks that would cause scenarios and asset prices in this outlook to change. I don't anticipate a U.S. recession in the near term. Household debt to income ratio has come down, balance sheets are repaired, and the Fed is still being accommodative. I don't buy into the secular stagnation idea for the United States. The U.S. is not Japan based on cumulative wage growth and rates of private sector credit growth. I expect unemployment to fall into the lower 4% range for the United States and GDP growth to accelerate. This type of improvement would alter the FOMC's outlook and their estimation of the natural rate of interest used to set policy. It would encourage a quicker rise in rates than currently discounted by the FFR futures market which is pricing in a rather negative economic scenario in the United States. An improving U.S. economy allows the normalization of monetary policy. The U.S. economy in my opinion has reached escape velocity and will lead the rest of world from this low growth environment.
Inflationary expectations, and inflation are likely to stay muted in the near term as the Fed raises rates, oil prices decline, emerging markets underperform and the USD appreciates. I don't expect any kind of major increase in inflation or inflationary expectations in the near term and a decline is possible. Long term, I think inflation will overshoot the 2% rate, but it would be driven by an increase in oil prices. Again, excessive inflation and a rebound in oil is not a 2017 event in my opinion.
Oil inventories haven't shown a clear downtrend. Commercial crude inventories are near record highs around 500 million barrels compared with 333 million in January 2009. This points to oil prices potentially pulling back as there is clearly no shortage in the near term. Macro factors will likely drive a decline in oil prices especially if growth concerns return in emerging markets (NYSEARCA:EEM) particularly China and the U.S. dollar appreciates.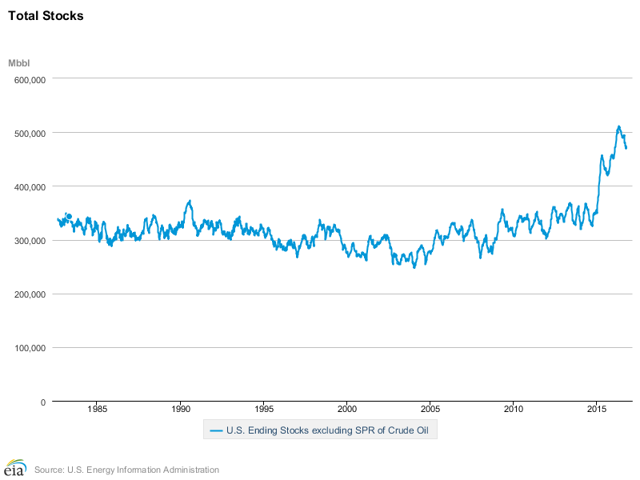 I'm indifferent toward U.S. stocks (NYSEARCA:SPY) (NASDAQ:QQQ). I think there will be a currency headwind for multinational earnings, but I expect the economy to improve and domestic earnings could make up for that. A pull back in energy could also negatively affect S&P earnings. I'm more optimistic on U.S. financials (NYSEARCA:XLF) (NYSE:JPM) (NYSE:WFC) (NYSE:BAC) and biotech (NASDAQ:IBB) as well as Japanese equities (NYSEARCA:DXJ). I expect the yen to depreciate because of increased use of negative rates from the Bank of Japan supporting Japanese corporate export competitiveness. I think Europe (NYSEARCA:HEDJ) (NYSEARCA:VGK) should recapitalize its banking system, extend QE and possibly push rates further into negative territory.
Metals prices (NYSEARCA:GLD) (NYSEARCA:SLV) and gold miners (NYSEARCA:GDX) (NYSEARCA:GDXJ) (NYSEARCA:DUST) are particularly vulnerable to declines in my opinion. Gold prices are largely a function of real interest rates in addition to a U.S. dollar currency factor. Expected real interest rates are the difference between inflationary expectations and bond yields. Falling real rates are gold price positive while rising real rates are negative for gold prices. My forecast is the Fed will move quicker than currently discounted by the market as the U.S. economy improves while inflation expectations fall or stay muted because of declines in the price of oil and global growth worries. This would lead to expected rising real rates. Global economic and monetary policy divergence between the U.S. and most of the world will drive the U.S. dollar index higher which is also negative for gold. I expect the 10 year yield to increase to around 2.5% based on rising short term rates, higher 2 year yields and a less accommodative Fed policy. There is going to be a fairly major reaction in the treasury as the Fed normalizes short term rates over the course of 2017. Foreign demand for U.S. bonds because of higher yield spreads and muted inflationary expectations (NYSEARCA:TIP) will prevent an excessive rise in yields.
Disclosure: I am/we are long DUST.
I wrote this article myself, and it expresses my own opinions. I am not receiving compensation for it (other than from Seeking Alpha). I have no business relationship with any company whose stock is mentioned in this article.
Additional disclosure: May initiate position in TBT.