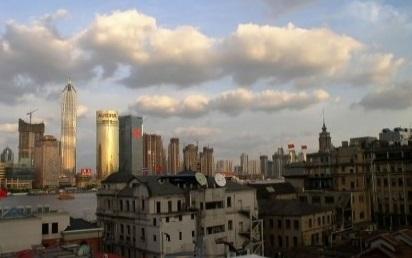 China just announced a drop in exports of 10% in US$ terms, (different in Yuan).
It feels like deja vu, and the Fall of 2015 again, with twittering about the increasing likelihood of a possible December rate hike, the Banks and USD running a bull leg, gold and silver correcting in a seasonal stock market reversal. Then the Fed hiked anyway, and in January the market corrected deeply afterwards, in expectations of a deepening global recession.
(Shanghai Image source: all-free-download.com)
So trade weakness in China, raises the prospect of maintaining the same, low US interest rates (which didn't as a matter of fact change the Feds opinion one iota last year), along with the possibility of a further slowing of the global economy if the arguments of last year still stand.
Bearing that in mind, it's probably worth taking a look at some of the following salient points in the Chinese economy.
1- The Shanghai Stock Market
The Shanghai stock exchange (SSEC) was hit hard last year about this same time, along with the same epithet that a fall in China's exports is an indicator of bad things happening in the global economy. This lasted as long as a correction, (linked to exports), and until the Shanghai chart experienced a technical break out, and this year has seen both rising local inflation and other economic indicators, along with improving consumer sentiment.

As you can see from this very long term chart, the 2007 parabola wave high resulted in an equally grand crash, followed by a smaller bullish reversal lasting into 2010, a continual slide into 2014, whereupon another parabola wave broke out, and corrected. This (spike and correction) is usually a sign of extreme confidence or irrational exuberance', similar to the 2000 Nasdaq bubble, and last year there was a lot of talk about a Chinese bubble developing that wasn't sustainable by growth.
Historically China's growth has revolved around export, so naturally speculators reacted badly to news of a slow down in China's exports, with expectation that it's a reflection of a worsening global economy, but how realistic is that position now? As noted earlier, the Fed raised anyway in December 2015 although by only a fraction of a percent, and there is certainly no sign of a Chinese bubble now.
Economic Trends (Data from Trading Economics.com)
There are a number of trends to take account of, not just exports.
GDP June 2016 1.8%, previous 1.2% (June 16)
GDP per capita $6416 $6033 (Dec 2015)
Inflation rate 1.9% 1.3% (Sep 16)
Balance of Trade 420 520 US$
Consumer sentiment : Significantly higher than April when food inflation ran high
Export Data from Trading Economics.com
| Actual | Previous | | | Dates | Unit | Frequency | |
| --- | --- | --- | --- | --- | --- | --- | --- |
| 1845.08 | 1905.92 | | | Sep 2016 | USD HML | Monthly | Current Prices, NSA |
Export growth has been a major component supporting China's rapid economic expansion. In the last 2 years, the exports declined due to weaker global demand but China's proportion of global exports rose to 13.8 percent in 2015 from 12.3 percent in 2014.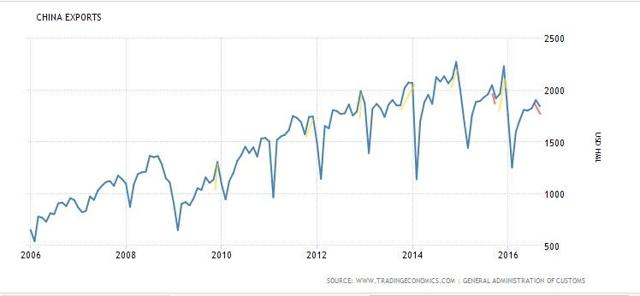 Based on the chart above, it's easy to see why there's concern about China's exports, but every year there has been a seasonal drop since 2008, resumed later and continuing higher. Having found a lower low, in 2016 the subsequent rise is about the same as the rise off the low in 2015, i.e. could be no more than a reflection of the drop in commodity prices in January 2016.
Each rise off the yearly low in the chart has an initial peak followed by a small correction (red), followed by a further peak (yellow), into the end of the year. The end of year peak in 2015 was more advanced than in 2014, and the prior correction was also more severe in 2015 than 2014. The recent results may be no more than a seasonal aberration rising from the last annual low.
2 - Commodities and Exchange Rates
Analysts interviewed by CNBC had the following to say : (equally weak of course being the same as equally strong).
'"Domestic demand is equally weak as global demand," Yifan Hu, chief investment officer and chief China economist at UBS Wealth Management, told CNBC's "Street Signs" on Thursday.
in September, the yuan was around 5 percent weaker than a year earlier. A small depreciation does not help China's exports, especially for this low-value-added exports," she noted'.
Analysts weren't certain that the weak trade figures were a signal for slower economic growth ahead.
"The data we have so far suggests that a drop (in) import volumes of a number of key commodities, including iron ore and copper, are partly responsible. This could be an early sign that the recent recovery in economic activity is losing momentum," Julian Evans-Pritchard, a China economist at Capital Economics, said in a note Thursday.
But he cautioned against reading too much into the trade data, which tend to be volatile.
"Unless there is evidence of a renewed slowdown in the broader economic data, we still expect resilient activity to result in some upside to import growth in the coming months, not least given that the sharp drop in global commodity prices at the end of last year should provide a more flattering base for comparison," he said.
Commodity Index CRB and copper are charted for comparison below, the CRB (with it's oil component) having experienced since 2014, a much deeper correction and 2016 bullish reversal. There's no shortage of bullish copper growth expectations either, with China still expected to command strong consumption to support their export growth of electronic and IT equipment, as well as significant local housing and infrastructure growth into 2025 and beyond.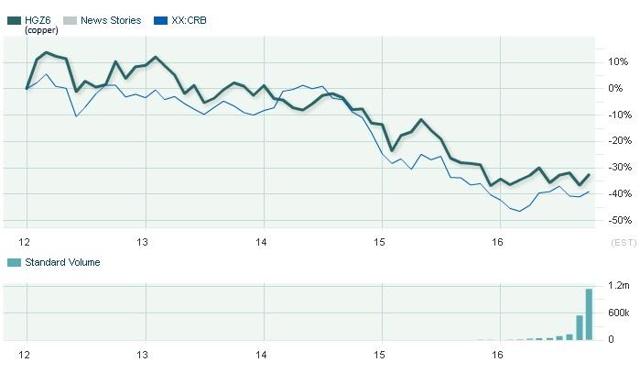 One issue here, is that in China, copper is often used as a tangible asset to back business deals, and the demand for copper has been falling in China since 2014, due to 'deleveraging' that situation. At the same time the Chinese government is trying to rebalance the 'misallocation of capital'.
CNBC quote that The WorldTrade Organization has projected that global trade would register its fifth straight year of sub -3 percent growth in China, citing shifting exchange rates and falls in commodity prices. Actual performance seems to be exceeding that already.
The average growth rate between 2011 and 2014 was about 8%, the Chinese government officially lowered its growth target to 7% for 2015, significantly lower than the 10% average recorded in the previous three decades. This has led to concern that China could be experiencing the 'middle income trap'.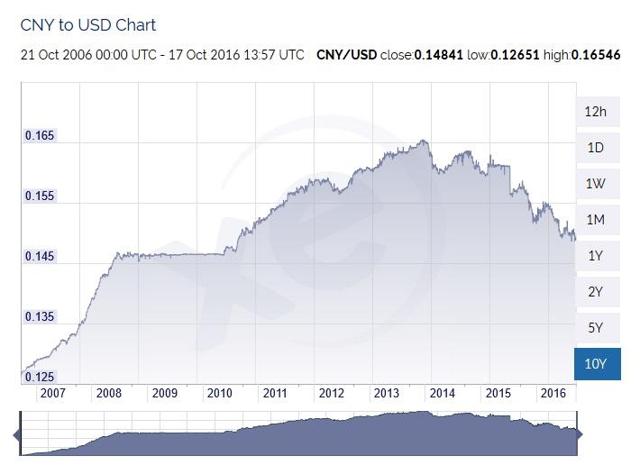 The strengthening dollar has also had a weakening impact on the Yuan over the last few years, but a factor which supports exports rather than impeding them.
3- Financial Refocus
In 2015 the San Francisco Fed reflected on China's growth in an economic release, commenting on the need for it to develop it's domestic economy rather than reliance on export. The financial landscape has a been a focus for change as China moves to alleviate what is described as the 'middle income' trap. The Feds Zheng Liu referenced "Eichengreen, Park, and Shin 2011", noting that "historically, fast-growing countries have often fallen into such a trap, in which growth slows sharply as income reaches a threshold level and wages rise sufficiently to erode a country's comparative advantage".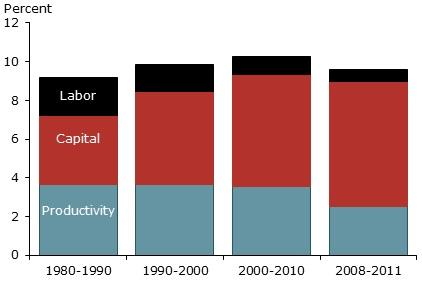 However China's neighbors Japan and South Korea successfully avoided this trap. If China maintains a growth rate of 6-7% (lower than the Chinese governments 2015 target), it could also move into high income status in the not too far distant future. If it slowed to growth of 3% by 2020s, it would still mirror that of its neighbors, with a potential per capita income rise to $25,000.00, further supporting domestic consumption.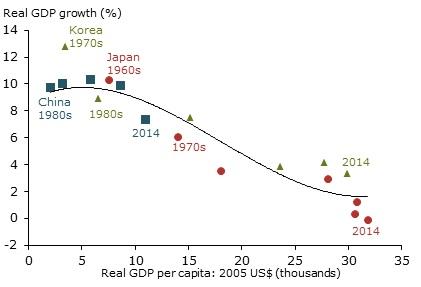 Liu also comments that "the banking sector is largely state-controlled, and bank loans disproportionately favor state-owned enterprises (SOEs) at the expense of more productive private firms. According to one estimate, the misallocation of capital has significantly depressed productivity in China.
Issues include:
financial repression
lack of a social safety net
export-oriented growth strategy
capital account restrictions
A high 30% savings rate has boosted domestic investment, but allocations of credit and capital remain highly inefficient
If efficiency of capital allocations could be improved to a level similar to that in the United States, then China's total factor productivity could be increased 30-50% (Hsieh and Klenow 2009).
Reforms announced in 2013 include:
liberalizing interest rates, establishing deposit insurance, and strengthening financial supervision and regulation
strengthening social safety nets, introducing more efficient and redistributive taxes, and improving health insurance and pension coverage
reforming the Hukou system (which restrains employees to working in their city of origin), further opening up markets
liberalizing exchange rate and capital account control
4 - Growth
The IMF projects growth to slow further to 6.3% in 2016 and 6% by 2017, but there is reason for optimism owing to the potential for increases in efficiency in capital. The World Banks forecast in June was 6.7% growth for 2016, after 6.9% last year with steady progress towards structural reforms. Computer hardware China's top export product to the US, is expected to carry moderate US growth in 2016.
Trading Economics forecast for China 2016- 2020 illustrates this well, with a consolidating growth curve suggested to plateau in 2017.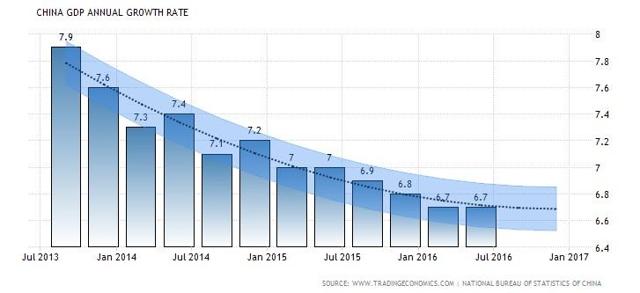 So really there's no surprise that the Fed raised interest rates a fraction of a percent last December, regardless of a drop in exports from China. They fully expect growth to develop from their domestic economy with an expansion in consumption which mirrors Japan and Korea over the same period in their development. Alterations from their former 10% growth pattern, to current expectations of 6-7% may be only an aberration during the process of liberating capital for expanding domestic investment, with the intention of reducing their reliance on export.
Disclosure: I/we have no positions in any stocks mentioned, and no plans to initiate any positions within the next 72 hours.
I wrote this article myself, and it expresses my own opinions. I am not receiving compensation for it (other than from Seeking Alpha). I have no business relationship with any company whose stock is mentioned in this article.