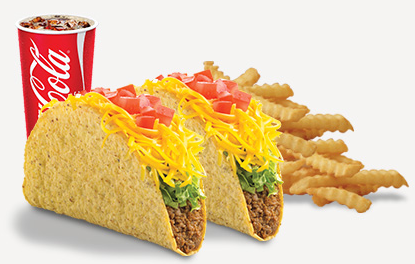 Del Taco (NASDAQ:TACO) is a name I've been bearish and bullish on at different times in the past, but most recently the former. I've thought TACO has underperformed the lofty valuation it has been assigned by investors that seem to think growth is coming. But to my eye, that growth simply hasn't materialized and thus, I see an average business at an above average price. Off of the Q3 earnings report that came out yesterday, shares are flying and it seems that investors are once again furiously bidding up TACO; are they right this time?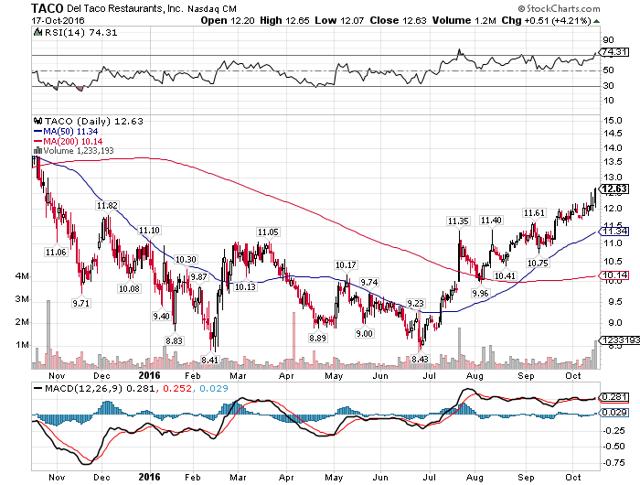 To begin, TACO's revenue growth in Q3 was astounding. It produced system-wide comp sales growth of 6.7% and company-owned sales growth of better than 7%. That blew away what I was expecting for TACO to produce in Q3 and I must say that I'm eating a little humble pie. While I was pretty confident comps would be solidly positive, I certainly didn't expect anything of that sort.
The gains were comprised of almost 5% of average check growth from menu mix and price increases and the remainder was due to a better than 2% bump in traffic. That is an enormous increase over what we saw in this year's Q2 and while I'd prefer that more of the gains come from traffic instead of price increases, this was a really terrific quarter any way you look at it. That is step one for TACO to earn its valuation and it certainly did just that in Q3.
On the margin front, TACO's prodigious comp sales gains helped it produce significant margin expansion as well. Its unit-level margins rose 120bps Y/Y to 20.9%. The gains came from much lower food and paper costs as well as leverage on occupancy and operating expenses. Predictably, however, the 90bps of occupancy/operating expense gain was offset by the same amount of higher labor costs. TACO and just about every other restaurant chain is seeing higher Y/Y labor costs as the impact of rising wages for the lowest income workers makes its way through the system. This is particularly true for TACO due to its high concentration in California. This company is going to see permanently higher labor costs but the good news is that growth in labor costs should be relatively minimal next year. At any rate, margins look very strong for TACO and in concert with its high comp sales production, it looks very strong heading into Q4.
TACO has also set out to retire a significant portion of the float via a warrant and share repurchase program. The company has thus far spent $15M of the $50M it set aside to reduce the float and it has done so at very low prices. The average buyback price was under $10 - in comparison to better than $13 today - and it is down to 6.4M warrants outstanding. TACO has proven it is willing and able to reduce the float and if it can continue its revenue and margin growth, a lower share count will compound its gains from an EPS perspective.
TACO updated its guidance for this year on the strong Q3 results and optimism regarding its new menu initiatives. They certainly seem to be driving traffic and if that momentum carries through the remainder of the year, TACO could still move higher from here. But given where shares are now, a lot would have to go right for that to happen.
Shares are going for $13.69 as I write this off of the strong earnings report, so that means the multiple on this year's earnings is up to 25. That is very steep considering that unit growth is slow for TACO but to its credit, margin and comp sales growth have been tremendous, particularly in this past quarter. I've been turned off of TACO in the past due to its valuation and while the stock becoming more expensive isn't ideal, I am forced to recognize the terrific results this company produced, which are well in excess of what I thought we were going to see.
At the same time, one must exercise a bit of caution considering that TACO has now made a run from $8 to almost $14 in a straight line with no material pullbacks. Sure, results have been great but that is an enormous run for any stock regardless of how good it is. TACO is performing better on a fundamental basis than I thought it would, but is that enough to keep buying this rally? The stock was nearing the overbought territory yesterday and with a $1+ move higher today, it is sure to enter overbought territory. That is bullish over the medium term but for now, I think TACO needs a breather. This company is firing on all cylinders and credit is due here, but I just can't see this rally continuing on forever. At some point, we need a pullback or at least a sideways period for TACO, so I won't be chasing it higher.
Disclosure: I/we have no positions in any stocks mentioned, and no plans to initiate any positions within the next 72 hours.
I wrote this article myself, and it expresses my own opinions. I am not receiving compensation for it (other than from Seeking Alpha). I have no business relationship with any company whose stock is mentioned in this article.