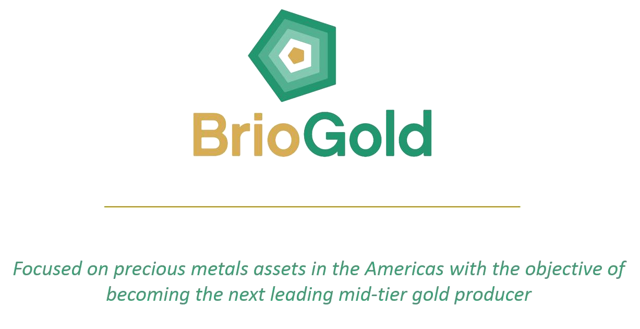 Courtesy Yamana Gold.
Yamana Gold (NYSE: AUY)
This article is an update of my preceding article on Yamana Gold published on August 2, 2016.
On October 17, 2016, Yamana Gold announced the following:
Is pleased to announce that its wholly owned subsidiary, Brio Gold Inc. ("Brio Gold"), has filed a preliminary prospectus with the securities regulatory authorities in each of the provinces and territories of Canada in connection with qualifying a secondary offering (the "Offering") of Brio Gold common shares held by Yamana (the "Brio Shares"), which will be transferred to purchasers through and subject to the exercise of purchase rights (the "Purchase Rights"). Yamana intends to distribute the Purchase Rights to its shareholders (the "Yamana Shareholders") as a dividend in-kind. The Purchase Rights shall provide Yamana Shareholders with an opportunity to purchase from Yamana a portion of its Brio Shares. The exercise price will be determined in the context of the market prior to the filing of a final prospectus. The effect of the Offering will be to spin-off Brio Gold as a standalone public company on the closing of the Offering (the "Spin-Off").

The Spin-Off is being undertaken for the benefit of Yamana Shareholders and is the final stage of a plan that the Company implemented beginning in 2014 to surface value from certain non-core properties in Brazil. Completion of the Spin-Off will also enable Yamana to better focus on its portfolio of six, soon to be seven, producing mines in top mining jurisdictions and on its organic growth pipeline. In particular, Yamana will be better positioned to focus on recent exploration success, optimization initiatives, and on advancing Canadian exploration and near-term development opportunities.

Yamana will maintain exposure to Brio Gold through a retained equity interest following completion of the Spin-Off. The Purchase Rights allow Yamana Shareholders who choose to exercise their Purchase Rights to have more direct exposure to Brio Gold, while allowing those Yamana Shareholders that do not exercise their Purchase Rights to benefit through the sale of the Purchase Rights and through exposure to Brio Gold via Yamana's retained interest...
A little history:
On November 23, 2015, Yamana announced the following:
(NYSE:H)as commenced a private placement of Brio Gold common shares, consisting of a primary offering by Brio Gold and a secondary offering by Yamana. The implied initial post-money valuation of Brio Gold based on the private placement is approximately $369.3 million.

The primary offering as currently planned will fully fund the near-term business plan for Brio Gold with the majority of proceeds expected to be applied towards the re-commissioning plan for C1 Santa Luz. C1 Santa Luz is expected to contribute approximately 100,000 ounces of gold per year when in full production and represents the potential for further value creation for Yamana's residual interest going forward.

The private placement also provides for the sale of a substantial portion of Yamana's interest in Brio Gold through a secondary offering of its shares from which Yamana expects to receive aggregate proceeds before commissions and placement fees of approximately $208.5 million. Pro forma the financing, Yamana will hold approximately 20.9% of the issued and outstanding Brio Gold common shares, or 19.9% on a fully diluted basis with an initial implied value for this residual interest of approximately $73.5 million.
Yamana Gold planned to spin off a new entity called Brio Gold, comprising its non-core Brazilian mines and indicated that Brio will be spun off in 2015. Brio Gold was initially a fully owned subsidiary.
AUY indicated that Brio Gold will be led by M. Gil Glausen, who was in charge to evaluate "various strategic alternatives" for the entity.
At the time, P. Peter Marrone, Chairman and CEO, said:
This approach segregates our portfolios, better focuses our efforts, reduces our overall costs and allows us in the fullness of time to evaluate how to best maximize value for our non-core portfolio,
Brio Gold holds the Fazenda Brasileiro, Pilar and C1 Santa Luz (idle) mines as well as some related concessions.
Note: C1 Santa Luz and Pilar are both newly built mines which have disappointed, and Yamana said September 10, 2014, it would temporarily suspend work at C1 Santa Luz.
At the time, the proposal was not considered as a large success.
The proposal got a mild thumbs up from TD Securities analyst Steven Green. He noted that these mines are not material in terms of value, but spinning them off at least makes them self-funding and gives them a dedicated management team. His combined net asset value (NYSE:NAV) estimate for the three assets is $97-million, or just 2.1% of Yamana's overall NAV.
In December 22, 2015, Yamana Gold decided to suspend efforts to sell most of its stake in the subsidiary Brio Gold.
Nearly a month ago, Yamana said it was beginning a private placement of Brio shares, reducing its stake to 20.9%. Now, however, Yamana is shelving those plans, citing "current market conditions" and "recent positive operational developments" at Brio. Yamana will continue to hold the Brio Gold assets and manage Brio as a separate division. "Current market conditions are not supportive of that marketed private placement on terms we would find acceptable and, further, are not reflective of true value for these assets, particularly in light of recent positive operational developments," says Yamana's chairman and chief executive officer, Peter Marrone. Yamana adds that Brio Gold expects to achieve its previously upwardly revised 2015 production guidance of 140,000 ounces of gold.
On February 17, 2016, Brio Gold entered into an Assignment and Assumption Agreement and a Restructuring Agreement pursuant to which it would acquire all right, title and interests in the Riachos dos Machados gold mine ("RDM") in Minas Gerais State from Macquarie Bank and Carpathian Gold, for $51 million. Final close expected in May 2016.
RDM is a producing open-pit mine with a production capacity of approximately 100K Oz of gold per year at an estimated average AISC of less than $800/ Oz over a seven year mine life based on current mineral reserves.
What represents Brio Gold production compared to AUY total gold production?
1 - Important links.
On May 4, 2016, Yamana Gold provided the Second-quarter 2016 results.
Conference call transcript 2Q'16, click here.
2 - Total Yamana Gold Production for the last 6 Quarters:
| | | | | | | |
| --- | --- | --- | --- | --- | --- | --- |
| Yamana Gold Mine | 2Q'16 | 1Q'16 | 4Q'15 | 3Q'15 | 2Q'15 | 1Q'15 |
| Chapada | 17 299 | 21 039 | 34 498 | 32 029 | 30 172 | 22 360 |
| El penon | 54 123 | 56 448 | 59 375 | 51 983 | 55 404 | 60 527 |
| Canadian Malartic | 72 502 | 73 613 | 72 872 | 76 603 | 68 440 | 67 894 |
| Gualcamayo | 40 264 | 36 603 | 52 864 | 44 076 | 37 558 | 46 176 |
| Mercedes | 22 948 | 24 304 | 20 407 | 20 155 | 19 306 | 24 270 |
| Minera Florida | 24 211 | 25 712 | 29 180 | 28 989 | 26 298 | 28 113 |
| Jacobina | 29 002 | 29 971 | 28 728 | 28 080 | 21 318 | 18 590 |
| Brio Gold | 52 740 | 40 371 | 39 279 | 38 430 | 35 211 | 31 177 |
| | | | | | | |
| Pilar (Brio) | 22 806 | 21 847 | 21 326 | 21 326~ | 21 237 | 19 153 |
| Fazenda Brazileiro (Brio) | 16 876 | 18 524 | 17 953 | 17 104~ | 13 974 | 12 024 |
| RDM (Brio - See above) | 13 058 | - | - | - | - | - |
| | 313 086 | 308 061 | 329 688 | 325 897 | 293 708 | 299 108 |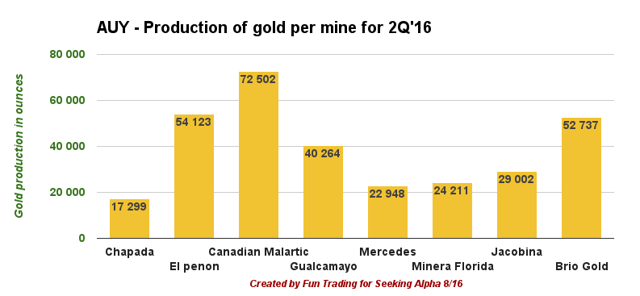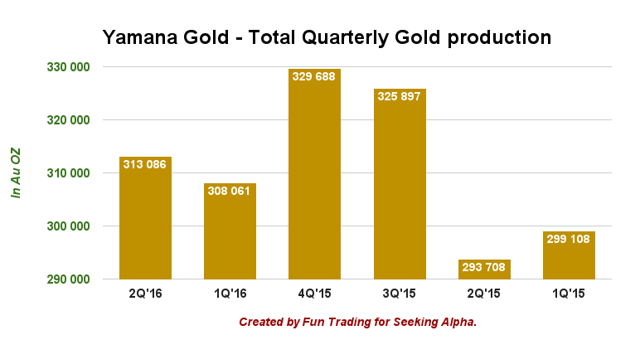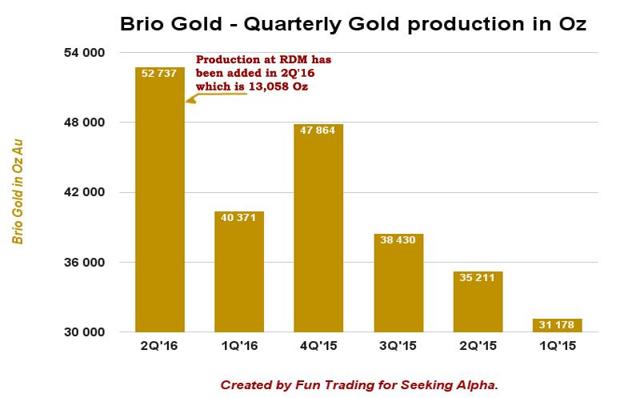 According to the graph above, Production for Brio -- including RDM -- was 52,737 Oz or 16.8% of the total gold production of the company.
M. Peter Marrone announced in the conference call a new guidance for 2016 with a few minor changes.
We continue to expect between 1.26 million ounces and 1.34 million ounces of gold and 6.9 to 7.2 million ounces of silver that was our original guidance at the beginning of the year modified to include RDM that continues to be our guidance today. We are also expecting over 110 million pounds of copper from Chapada this year. We've updated our full-year consolidated cash costs and all-in sustaining costs guidance for this year... We are now expecting cash costs of $635 to $675 per gold ounce and all-in sustaining costs of $880 to $920 per ounce.
On July 28, 2016, Yamana sold its Mercedes mine.
Yamana Gold Inc. has entered into a definitive share purchase agreement to sell 100 per cent of its interest in the Mercedes mine in Sonora, Mexico, to Premier Gold Mines Ltd. (All amounts are expressed in U.S. dollars unless otherwise indicated.) Pursuant to the agreement, Yamana will receive consideration in the form of cash and equity securities, the value of which was $140-million at the time of negotiations. Total cash and equity securities consideration is summarized as follows:

1. Cash consideration of $122.5 million;

2. Approximately six million Premier common shares;

3. Approximately three million Premier common share purchase warrants (exercisable at $4.75 per common share for 24 months from the closing of the transaction). The company expects to use the proceeds from the transaction to reduce the company's net debt position.
The cash proceeds was supposed to finance the recommissioning of its C1 Santa Luz project which is part of the Brio Gold. Capex is estimated at $84.2 million and production is expected in 2018.
What represent this deal from a shareholder's perspective?
Basically, the company is selling new shares of Brio Gold to its own shareholders through "purchase rights" called also "dividend-in-kind". The purchase price is not known yet.
Under the proposed Offering, Yamana Shareholders will be distributed Purchase Rights on the basis of a fraction of a Purchase Right for each Yamana common share held. Each whole Purchase Right will entitle the holder to purchase one (1) Brio Share upon payment of an exercise price. The Purchase Rights entitlement, exchange basis and exercise price will all be determined in the context of the market.
Brio Gold will be spun off as a stand-alone producer, and AUY will retain exposure to currently fully-owned subsidiary Brio Gold Inc. through a retained equity interest to be specified.
Yamana Shareholders who fully exercise their Purchase Rights will be entitled to purchase additional Brio Shares, if available, as a result of any unexercised portion of Purchase Rights prior to the expiry of the exercise period, subject to certain limitations set out in Brio Gold's preliminary prospectus.
According to a Credit Suisse research report, Yamana anticipates Brio producing 225k to 245k Oz in 2017 from three Brazilian mines, with this growing to more than 400k Oz from four assets by 2018. Excluding Brio, Yamana would still have a "relatively stable" production platform of 1 million Oz, Credit Suisse added in its report. We should add production of RDM now.
Credit Suisse added that Yamana's chief executive last month suggested that the consensus Brio value was around $550 million, although with a wide range of estimates up to $1 billion.
Conclusion:
Wait just a minute. As a shareholder, I truly do not get it?
Brio Gold shares are not free for shareholders, and they you will have to pay the fair price, right. Where is the "dividend-in-kind"?
If we read the definition of a "dividend-in-kind", I really do not see how a "purchase right" -- which has no value really -- can be considered as dividend-in-kind? It is truly misleading, in my opinion.
However, I believe that a Yamana shareholder should be the rightful owner of the Brio Gold subsidiary, and hence should not pay for the shares full price again?
The only "opportunity" that I can see is that AUY shareholders will have the "privilege" to buy Brio Gold shares, first and at no discount -- Shares that they should have owned in the first place -- Is it some kind of April fool in October?
A more logical outcome should have been a normal spin-off of Brio Gold with Yamana retaining 20% and resale the remaining to retail investors. Yamana could use the proceeds to reduce debt, invest in CapEx or distribute the cash to its shareholders, as a special dividend.
Another possible alternative is to give a purchase right to purchase 1 share of Brio at 65% discount to fair value, for every 4 shares of AUY owned. The company gets some cash and shareholders get a dividend that can be sold immediately or kept long-term.
I see this deal as a good move for the company, because it is the right time to monetize non-core assets such as Brio Gold. However, I see it as a very poor outcome for shareholders, who will be forced to buy the Brio Gold shares at no discount, in order to benefit from this promising asset.
Important note: Do not forget to follow me on AUY and other gold miners, Thank you.
Disclosure: I/we have no positions in any stocks mentioned, and no plans to initiate any positions within the next 72 hours.
I wrote this article myself, and it expresses my own opinions. I am not receiving compensation for it (other than from Seeking Alpha). I have no business relationship with any company whose stock is mentioned in this article.