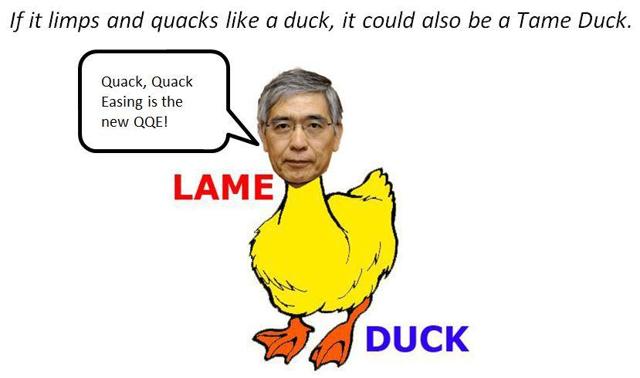 Like this confused author, many Japan watchers are trying to put the BOJ's latest decision into a rational context. The growing consensus is that it has abandoned all hope of hitting its inflation target in Kuroda's initial target phase. The rising probability is that it will miss it in all of Kuroda's tenure as governor. The insertion of a commitment to maintain an expanded monetary base indefinitely until the target is hit suggests that this policy will be his legacy that is inherited by his unfortunate successor. Kuroda has to some extent made himself a lame duck, which is an unenviable position for a central bank governor to be in when faced with the current economic conditions. Since his term in office runs until April 2018, the lame duck period could become intolerable for him and the government as patience over the failure to hit the inflation target wears thin.
Speculation about Kuroda's longevity was kicked off by Abe's adviser Nobuyuki Nakahara who believes that Kuroda will not get a second term. He likened Kuroda's tinkering with the yield curve at the last BOJ meeting decision and the process of the comprehensive assessment as defeatist. It is therefore time to get someone bolder at the helm. Responding to the questions over his second term, Kuroda naively gave them greater credibility. When he said that this was up to the government to decide.
Prime Minister Abe's longevity is also in question since he is officially supposed to step down in 2018 as well. The recent leaking of Prime Minister Abe's alleged intention to call for a snap election puts their entwined lives into focus. Abe has the edge over Kuroda because he can call for an election whereas Kuroda must serve his time. A reinvigorated Abe with a new mandate from voters could force Kuroda to adopt a more aggressive monetary policy stance. Kuroda's refusal could then possibly trigger a demand for his resignation. Maximum pressure will be exerted on the BOJ because Japan's fiscal position does not permit an aggressive stimulus from that economic lever. In Japan populism is already in the executive office, so it has the initiative and the ability to force its hand compared to other developed economies where it remains in the streets.
Signaling that the insidious game between the two men has reached a new all-time low, Prime Minister Abe saw to it that his real feelings about the BOJ became public knowledge. In a Japanese version of a kiss and tell, Abe poured out his heart to the Japanese people. He is attributed as saying that: "whenever economic activity picked up, the BOJ seemed to be acting as a drag" and that "I turned to Abenomics because I don't trust the Ministry of Finance (MOF) or the BOJ." Abe has thus exploited populist feelings to support his policies. That will ultimately force the BOJ and the MOF to capitulate to the purported democratic political will of the people.
Economy Minister Nobuteru Ishihara recently warned that the current sales tax increase, from 8 to 10 percent, will be insufficient to address the widening fiscal deficit. The BOJ will therefore be obliged to monetize this deficit and provide a monetary stimulus to cover for the lack of fiscal stimulus. This double-dipping into the BOJ's balance sheet will require a more compliant BOJ Governor. There is however nothing to suggest that Kuroda has not done and currently is not doing his best to enable Abe's policies. Ben Bernanke evidently seems to think that there is collusion between the two despite their pretence of independence which is portrayed in the media as verging on antipathy.
Bernanke feigned surprise at the BOJ's recent yield curve targeting moves, but he is probably just preparing his own cover story. While he is preparing the power point presentation for his next visit to Japan to discuss the BOJ's comprehensive assessment findings. His cover story came in an apocryphal warning that the BOJ may be construed as in his own words of following "a policy of keeping the government's borrowing rate at zero indefinitely has some elements of monetary finance." It seems more likely that Bernanke does not wish to be seen to be involved in a direct case of monetary finance by a central bank despite his best efforts in this regard while chair of the Fed.
The affirmation of the commitment of the BOJ to press on with a monetary base expansion until the 2% inflation target is breached evinced Kuroda's real intentions and capabilities. He is indeed going to do what Bernanke warns against doing. Since he has been vilified by the banking system for eating its lunch with negative interest rates, Kuroda presumably had to throw them a bone by dragging JGB yields up to a level at which they can play the buy and hold game to roll down the yield curve to support their profits. Yield curve targeting was such a bone. The problem is however that the bank-owned JGB's are ultimately destined for the BOJ's balance sheet as it transfers wealth to the government with negative interest rates. The banks have therefore temporarily been given a breathing space in which they can either lend to customers or find some other assets to buy instead of JGBs.
There is however no real demand for bank loans other than by those who wish to borrow to hunt for financial assets that yield more than their borrowing cost. Any bank lending is therefore going to create a bubble in asset classes that this herd is storming into. If this asset class requires revenue streams from the real economy to sustain its valuation, rather than expected capital gains, there will be trouble in store because real economic activity is not commensurate with this speculative asset valuation activity. In fact, this speculative activity may lead to the creation of real assets such as real estate for which there is no economic strength to pay the rents that create the attractive yields.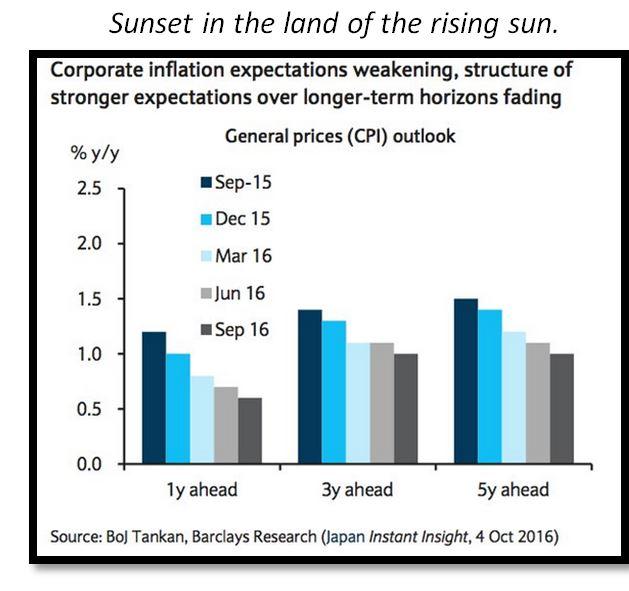 (Source: The Daily Shot)
The messages from Japan Inc. are that Kuroda has failed and the BOJ may not achieve its inflation target. The longer term inflation expectations are converging lower on the current inflation rate. The growing feeling among the analyst community is that, although the BOJ will be successful in targeting yields through the yield curve, this success will not trigger the recovery in real economy that will boost growth and inflation. These analysts see the value of the Yen as the indicator that will show this latter failure. Many observers therefore see the BOJ's recent moves as a tapering.
Mr Yen Eisuke Sakakibara is totally unimpressed with the BOJ's recent actions. Rather than seeing them as the baby steps toward something more radical, he sees the actions as a signal that the BOJ has run out of credible policy tools. For him the Yen will now strengthen to 90 versus the US dollar at which point something more radical may be forced upon the BOJ. Abe's adviser Etsuro Honda demanded a further easing in November to counter fiscal restraint which is holding the economy back.
To counter the growing mood of skepticism, the IMF jumped in with its own positive spin on the BOJ's recent decisions. The IMF welcomed the moves and also qualified its approval by saying that the BOJ could still do more with its guidance to make observers understand (believe!!!) that it has more policy tools ready to go. The IMF then nearly undermined all the positive spin when it then said that the BOJ cannot be successful on its own and that a fiscal stimulus with the appropriate structural reforms is needed. It begs the question of whether the BOJ could thus successfully hit its 2% inflation target without any fiscal support.
Former Japanese Economy Minister Heizo Takenaka sprang to Governor Kuroda's defense, highlighting that inflation has turned positive on his watch even if it has not hit the elusive 2% target yet. Takenaka expects the BOJ to push interest rates even more negative in the future.
The position adopted by BOJ board member and affirmed reflationist Yutaka Harada was curiously dissonant and deserves close attention. Harada said that there may be no need to ease monetary policy further at the moment. In other remarks he also said that:
· He is aware of opposition to the BOJ's negative-rate policy.
· The positive effects of current policy on the economy as a whole outweigh the negatives.
· Japan is far from reaching the limits of monetary policy.
Harada's words suggest that there is division within the board and that the governor does not have strong consensus support to press ahead with aggressive monetary policy easing, even if he wishes to do so. If a reflationist is backing off, things must be getting bad.
Taking note of the reactions to his latest policy moves, Kuroda responded with words rather than actions. His words sought to provide greater clarity on what his latest policy decisions mean. According to him, his words do not mean that the BOJ is tapering. He is still committed to achieving the 2% inflation target, and he may still make interest rates more negative, boost JGB purchases and cut his JGB yield target if required to do so. Interest rates will only rise when the 2% target has been hit. He still believes that he has control of both the long and short end of the yield curve, so that he can reduce interest rates at either end or both ends of the curve if needed. While confident in his own abilities, he did however suggest that some fiscal stimulus support would also be a big help. Nobody seemed to care about what he had to say unfortunately until he dropped the bombshell that exploded all his previous cheerleading by suggesting that the 2% target will not get hit until 2018. Kuroda thus joined the ranks of central bank governors, alongside Mario Draghi, who are trying to frame failure as delayed success.
The latest fiscal measures taken by the Abe government provided greater insight into how the double act of Abe and Kuroda is working. No doubt chastened by what Bernanke had to say about monetary financing, both players need to tread carefully. Kuroda's careful tinkering with the yield curve, while leaving the balance sheet to expand in perpetuity, was followed by a small $32 billion supplementary fiscal stimulus from Abe's government. This was decried as being too small, however some noted that it in fact represents a gradualist approach to taking advantage of the free money on offer from the BOJ. Abe's adviser Etsuro Honda brazenly wishes to promote the monetary financing perception outlined by Bernanke in order to weaken the Yen. According to him: "If the BOJ buys all of them, it will effectively amount to monetization, which will be very powerful."
Since the BOJ is now buyer of JGBs of first and last resort, monetary and fiscal policy are directly correlated. In fact they are now one and the same. A fiscal easing is enabled by an easing of monetary policy on the BOJ's balance sheet. A rise in taxes or reduction in fiscal spending would lead to the reciprocal shrinking of the BOJ's balance sheet. Governor Kuroda is not in fact a lame duck, he is a tame duck by default.
Faced with the questions over his career longevity Governor Kuroda maintained his stock response that the BOJ will act if required to do so while in the meantime inflation and growth remain subdued but growing nonetheless. His circumspect language was perceived as reluctance to expand monetary policy further, and hence a confirmation that he can no longer be trusted by the prime minister. He must now demonstrate whether he is either the eponymous lame or the willing tame duck. He can no longer pretend to be both. The correlation of fiscal and monetary policy means that he has no choice other than to be a tame duck. The question is whether he will go along with this.
Disclosure: I/we have no positions in any stocks mentioned, and no plans to initiate any positions within the next 72 hours.
I wrote this article myself, and it expresses my own opinions. I am not receiving compensation for it (other than from Seeking Alpha). I have no business relationship with any company whose stock is mentioned in this article.