The last few weeks have been great for oil producers. The SPDR S&P Oil & Gas Exploration & Production ETF (NYSEARCA:XOP), the benchmark fund for oil producers, has climbed 6% since the end of last month when the Organization of the Petroleum Exporting Countries announced its preliminary agreement to cut oil production. OPEC has played major role in pushing crude to near $50 a barrel from $40s in late September, which has fueled the rally in oil stocks. But I believe the strength in oil prices isn't solely driven by the cartel. The crude market's fundamentals have also been improving.

XOP, US Oil Fund (USO) as a proxy for WTI crude, US Brent Oil Fund (BNO) as a proxy for Brent crude in last four weeks. Source: Google Finance
The rout in oil prices has been caused by excess supply of crude oil. But following the slump in oil prices from more than $100 a barrel in mid-2014 to less than $35 by the end 2015, virtually all US oil producers scaled back drilling activity. That has led to a sharp decline in total US production. A recent report from the US Energy Information Administration predicted another drop in US oil production by 30,000 barrels per day from October and 820,000 bpd from November-2015 to 4.43 million bpd in November-2016. That could mark the 12th consecutive monthly drop in oil production and would take the country's output to its lowest level since March 2014.
The decline in US production is being led by lower output from Bakken Shale in North Dakota and Eagle Ford in Texas, two key oil producing regions. The combined oil production from these two regions for the month of November is projected to decline by almost 55,000 bpd from October and 760,000 bpd from November last year. Output from Permian Basin, the most prolific and lowest cost oil producing region in the US, however, has been climbing. In fact, it is the only major shale oil play where production has been going higher in the downturn. In November, the government agency believes that Permian Basin operators could pump an incredible 2.01 million bpd of oil, showing an increase of almost 30,500 bpd from October and 64,000 bpd a year earlier. The impact of this increase, however, is completely offset by decline in production from all other regions.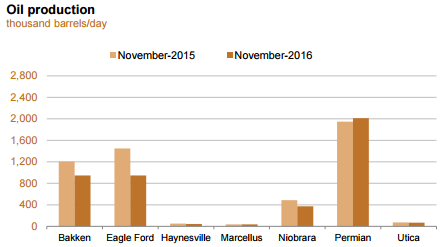 Image source: US Energy Information Administration, Drilling Productivity Report Oct 2016.
Interestingly, drilling activity in the US has been largely increasing for the last four months. According to the latest rig count report from Baker Hughes, there were 432 oil rigs operating in the US at the end of last week, showing a gain of 4 units. The oil rig count has not fallen for the last 16 consecutive weeks and has now reached the highest level since February. But despite the growth in rig count, the US oil production continues to decline. That's because the gains in rig count have been modest. There are still significantly fewer rigs operating in the US as compared to last year's level of 595 units and record high of 1,609 units witnessed two years ago.
Investors have also been concerned about the rise in crude inventories all over the world, but a recent analyst report suggests that the fears may have been overblown. According to Bernstein Energy, global oil inventories climbed 17 million barrels in the third quarter of 2016 to 5.618 billion barrels. That was the smallest increase since the fourth quarter of 2014. This shows that the growth in crude oil stockpiles is slowing and implies that the inventory levels aren't as oversupplied as the International Energy Agency initially thought (200mmbpd vs. IEA implied guidance of 300mmbpd).
However, at Cushing, Oklahoma, which is home to the world's largest crude oil storage facility, the inventory levels have gained recently. As per the latest report from US EIA, crude stocks for the week ended October 7 rose by 4.9 million barrels from the previous week to 474 million barrels. But that's not alarming because firstly, the latest increase comes after six consecutive weeks of declines. Secondly, the refiners, who are the major buyers of crude oil, are doing the seasonal maintenance work. The refineries have cut back on crude consumption, which has led to the increase in inventory builds. But as the maintenance season wraps up in the coming weeks, the demand will likely pick up and could begin to see inventory drawdowns.
In short, the US oil production has been consistently declining, despite uptake in drilling activity, and the global crude oil stockpiles aren't climbing as fast as many investors feared. These factors, in addition to the anticipated cut in OPEC production, have also played a big role in pushing oil prices higher.
Meanwhile, representatives of some key OPEC members have expressed support for production cuts. Anas Al Saleh, Kuwait's finance minister who is also currently the country's acting oil minister has recently said that the cartel may at least reach on an "understanding" on restraining oil production when the group meets next month. This comes a day after Iran's oil minister Bijan Zanganeh also expressed "hope" that OPEC members would agree to limit volumes. But there is still a chance that the group might not be able to actually sign and then implement any production freeze agreement. If the deal falls through, then oil prices could come under pressure again. But due to the above-mentioned improvement in oil market's fundamentals, the prices might not come crashing down and could find some support in $40s.
Note from author: Thank you for reading. If you like this article, then please follow me by clicking the " Follow" link at the top of this page.
Disclosure: I/we have no positions in any stocks mentioned, and no plans to initiate any positions within the next 72 hours.
I wrote this article myself, and it expresses my own opinions. I am not receiving compensation for it (other than from Seeking Alpha). I have no business relationship with any company whose stock is mentioned in this article.