General Electric (NYSE: GE) will report Q3 earnings this Friday. Investors and analysts eagerly look forward to the company's results and outlook since they are also a reflection of the broader economy, just like Caterpillar Inc. (NYSE: CAT).
For Q3, analysts are expecting earnings per share of $0.30. Analysts have been lowering their Q3 EPS expectations for the past three months now when they first stood at $0.35. A month ago, the expectation was of $0.33 in per share earnings.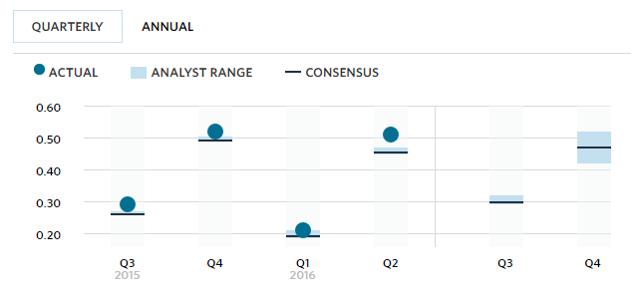 Source: WSJ
General Electric tends to exceed or at least meet EPS expectations thanks to these lowered estimates. This is a common practice on Wall Street which helps companies in surpassing street expectations. To understand how rigged the game actually is, read this article which has several examples to support its case.
In this article, I attempt to analyze GE from both technical and fundamental perspectives in the simplest manner possible.
Technical Analysis of General Electric
We will discuss three different types of technical price charts - daily, weekly and monthly - to figure out if GE is attractively priced going into earnings and for the long term as well.
First, the daily GE price chart has been presented, spanning the period from Oct 2015-to-date. As one can see, GE had embarked on an upward journey in October last year which culminated in September. The stock had entered into a strong uptrend, rising from a low of nearly $24 to hit a high of $33.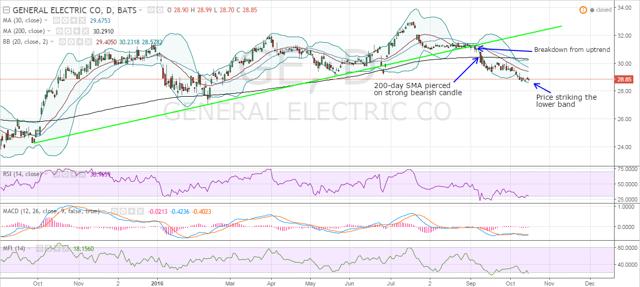 Source: TradingView
But the stock eventually broke the uptrend, and with the sell-off intensifying, even pierced the 200-day SMA - a strong technical support - with an extremely bearish candle. Please see the chart above.
As of now, there are several indications in the daily chart which point us to oversold conditions.
Primarily, the most widely used 14-day RSI reading has a value of 30.9659. 30 or below represents oversold territory.
The 14-day Money Flow Index has a value of 18.1560, which further confirms the oversold theory. For MFI, levels 20 and below are considered oversold levels while 80 and above are considered overbought.
That the oversold condition can give rise to a bump in the stock price is also indicated by MACD attempting to cross over the Signal Line on the upside. MACD has a value of -0.4236 while Signal Line has a value of -0.4023.
Another reason why I believe that the stock may witness a rebound is because the price has been sustaining near the lower range of the Bollinger Bands, which often acts as a support.
So, the daily chart has confirmed that the stock is currently oversold and may witness a relief rally.
Now, let's check out the weekly GE price chart, spanning a bigger time period from 2011-to-date. Even in this chart, one can see several parameters screaming oversold.
The 14-week MFI value has been recorded at 11.8121. Generally, levels closer to 10 and below represent grossly oversold conditions and that a strong technical rebound is in the offing.
On the weekly time frame too the price is near the lower range of the Bollinger Bands. The weekly chart below confirms that whenever this stock has been this close to the lower band, a strong recovery has followed.
The 14-week RSI value is also in close vicinity of the oversold territory with a current value (declining) of 37.70.
Source: TradingView
So both daily and weekly price charts have confirmed that GE is oversold and warrants a pullback. Let's finally take a look at the monthly price chart which reinforces the faith in the long-term return potential of this stock.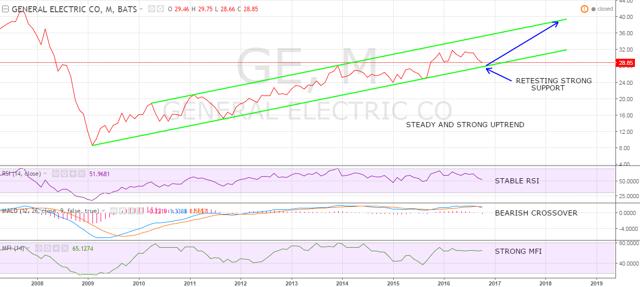 Source: TradingView
The monthly GE price chart shows that the ticker has been in a strong uptrend ever since it recovered from the 2008 blow. Even now, the stock is simply retesting the long-term support trendline, buying near which has provided hefty returns for the investors. If investors were waiting for a dip to add, now might be a good time. The support level comes in around $28. Unless and until this trend is violated on a monthly closing basis, there is no reason to worry for investors.

Additionally, I think that in the next 2-3 years the stock can easily go to $38-$40 levels following this trend and barring a recession. The stock has a strong monthly MFI value of 65.1274 and a stable RSI of 51.9681. The MACD is on the verge of recording a bearish crossover with Signal Line but I wouldn't pay too much attention to it unless the uptrend is violated.
Technically, by studying all the three charts, we can clearly infer that GE is a solid investment opportunity right now and given its oversold state, a relief rally may be witnessed soon.
Fundamental Analysis Of General Electric
Fundamentally, there are some concerns. To explain them, I will use the data from YCharts.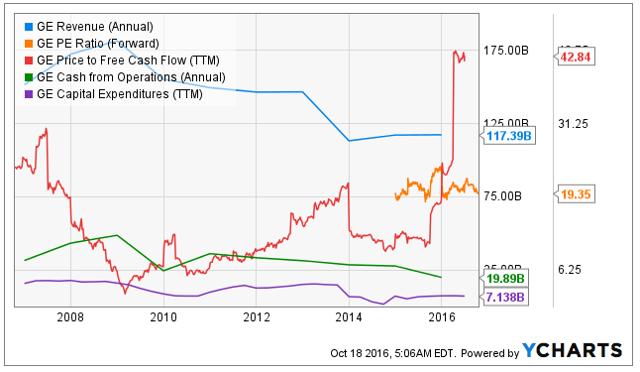 The company's revenue growth has been negative for three consecutive years. In 2013, the company's revenue growth was -0.44% while in 2014 it dropped a staggering 18.39%. 2015 recorded further deterioration with sales dropping by another 1.59%.
Since 2011 to 2015, the topline has cratered from $141,721,000 to $115,874,000. A 2% decrease in new orders also was reported during Q2 along with a decline in order pricing. The management had then said that they expect to see strong organic growth in H2 and the market is now waiting to see if the optimistic expectations have met reality or not. The outlook for next year will also be crucial to the market. GE's Chairman and CEO Jeff Immelt has recognized that the current slow growth and volatile environment is a bit challenging.
The cash flow from operations also is consistently declining since 2011. This limits the company's ability to generate higher free cash flows, thereby pushing the price/FCF ratio higher.

Source: WSJ
From a forward looking basis, the stock is priced at 19.35x earnings, which is not overly expensive considering that GE is a high-quality business with strong management. It would only be merrier if the stock dropped further but as we discussed in the technical analysis above the downside is limited.
Last but not the least, glance through the latest short interest data. GE now has 146.64 million shares shorted, increasing by 29.7 million or 25.4 percent. This is equal to 1.6 percent of the total outstanding float and the days to cover are 4. I'm expecting a big shift in this data post earnings announcement.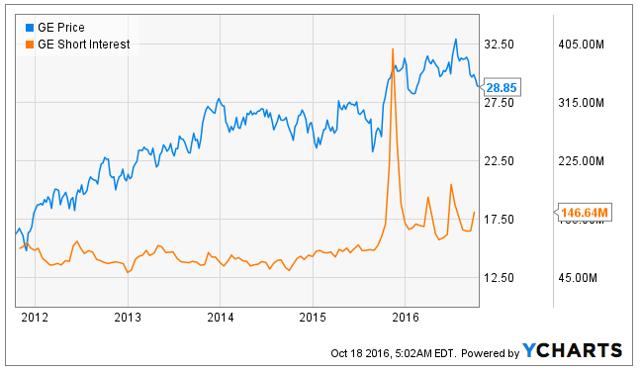 Conclusion
While fundamentally things need to improve for GE, the market isn't really worried about the long-term prospects of the conglomerate as can be seen from the sustained uptrend in the monthly price chart.
At present levels, GE offers investors another safe entry point for the medium term as well as for the long term. I'm expecting GE to trade closer to $38-$40 in the next two to three years, barring a recession.
In the short term, the stock should witness a technical relief rally, which if sustained would lower the dividend yield of 3.19%.
Disclosure: I/we have no positions in any stocks mentioned, but may initiate a long position in GE over the next 72 hours.
I wrote this article myself, and it expresses my own opinions. I am not receiving compensation for it (other than from Seeking Alpha). I have no business relationship with any company whose stock is mentioned in this article.