On December 15, 2015 I presented my top precious metals picks for 2016. In this article I want to summarize the results delivered by these picks in 3Q 2016 and comment on the 3Q 2016 production results.
Firstly, to remind my readers - my picks were based on the following main assumptions:
Silver - during bull markets in precious metals, silver is outperforming gold. Therefore two of my picks are producers with a big silver share (Fresnillo plc and Fortuna Silver)
Only producers - my picks do not include any exploring company. Simply put, explorers are riskier than producers and I want to limit risks as much as possible. What is more, these producers must hold at least two operating mines
Debt free - debt is also risky so my top companies hold either very small debt or even no debt at all (with one small exception - B2 Gold)
Low costs of production - my picks are low-cost producers
Catalysts - looking for the best stocks I was trying to find companies with some near-term catalysts, defined as a big chance for a relevant increase in production.
Keeping these assumptions in mind, I have chosen the following companies: Fresnillo plc (OTCPK:FNLPF), Claude Resources, Newmarket Gold (OTCQX:NMKTF), Richmont Mines (NYSEMKT:RIC) and Fortuna Silver (NYSE:FSM). In May 2016 Claude Resources was taken over by Silver Standard (NASDAQ:SSRI). Due to some reasons, I did not want to keep Silver Standard stocks in my portfolio so Claude was exchanged for B2 Gold (NYSEMKT:BTG).
3Q 2016 results.
In 3Q 2016 the broad precious metals stock market was trading in a narrow range. For example, Market Vectors Gold Miners ETF (NYSEARCA:GDX) got stuck between $25.5 and $31.3 a share and, finally, returned a quarterly loss of 4.5%. Contrary to that poor performance, my Top Five Picks portfolio returned a profit of 10.5%.
The best performing stock was Newmarket Gold (up 22.3%) and the worst one was Fortuna (an increase of 3.7%):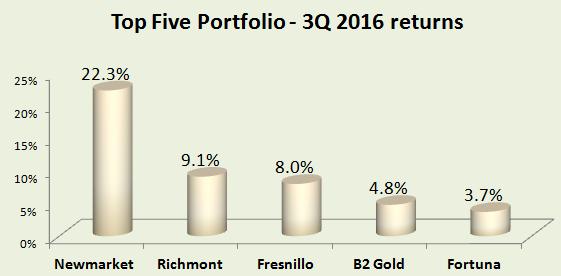 Source: Simple Digressions
It is hard to say what factors drive stock prices. I can only guess but Newmarket Gold, the best performer, delivered excellent financial results in 2Q 2016 and increased its 2016 production guidance. What is more, the company delivered a number of positive drill results from its main properties: Fosterville (a flagship operation) and Cosmo. Finally, at the end of September Newmarket announced its merger with Kirkland Lake Gold, another excellent mining company. Since this announcement the situation has changed - now both stocks are very volatile. It looks like the investors are a little bit confused and try to find some equilibrium in prices. As a result, Newmarket and Kirkland stock prices are in a steady decline and underperforming against the broad precious metals stock market. By the way - in my opinion, now is an excellent buying opportunity for both companies.
The worst performer, Fortuna, delivered mixed financial results in 2Q 2016. In one of my articles I criticized the company for a significant surge in share-based payments, which resulted in a lower operating profit. Then, the company acquired Goldrock with its flagship property, called Lindero. In an article on this acquisition I noted that Fortuna overpaid a little bit decreasing the potential internal rate of return from an attractive level of 26.5% to just 9.7%. However, despite these negatives, I consider Fortuna as a decent long - term silver play and…the stock is still in my portfolio.
Well, now let me go from history (3Q 2016 performance) to the future. All in all, it is the future that counts. A few days ago all companies included in my Top Five Picks portfolio published their 3Q 2016 production reports. Let me comment on these results.
Newmarket Gold
Newmarket is becoming a one-mine-company (at least for a while; soon it will merge with Kirkland Lake and a new company will hold a number of very decent mines). In other words, it stands on its flagship property, the Fosterville mine. The other two mines, Cosmo and Stawell, are lagging behind Fosterville. The table below presents the compounded results:

Source: Simple Digressions
As the table shows, in the first three quarters of 2016 the total production went up 3.3%, compared to last year. Grades and recovery ratios also went up, which is indicative of the improving operating measures. However, as I mentioned earlier, this improvement is due to the excellent performance of Fosterville:

Source: Simple Digressions
Despite lower throughput, Fosterville increased its gold production year-to-date by 17.2%, compared to last year. According to the last 2016 guidance, this year Fosterville should deliver as many as 130,000 - 140,000 ounces of gold. In 3Q 2016 this flagship property delivered 36,967 ounces of gold and to meet the upper limit of the guidance only 32,650 ounces should be produced in 4Q 2016. I believe that this estimate should be easily met or even surpassed by a few thousand ounces.
As I mentioned earlier, the other mines are lagging: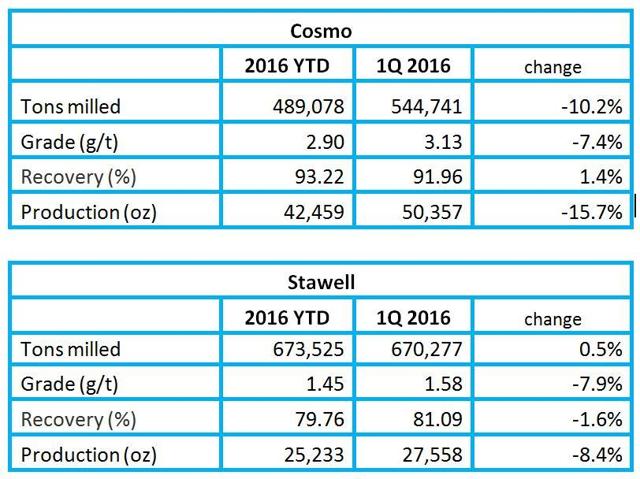 Source: Simple Digressions
Lastly, Eric Sprott, one of the biggest shareholders of Newmarket, supports the merger with Kirkland Lake Gold (an announcement dated October 14).
Fresnillo plc
In my opinion, Fresnillo's production results were in line with expectations but a few fans of this giant silver producer may feel a little bit disappointed. In 3Q 2016 three mines - Fresnillo, Saucito and Noche Buena - produced less metals than in 2Q 2016. On the other hand, Herradura and Cienega increased their production. However, what is more important, year to date the company increased its production:

Source: Simple Digressions
Next, I think that Fresnillo should easily meet its 2016 production guidance. To do it, in the fourth quarter of 2016 it should produce 11.6M ounces of silver (in 3Q 2016 it produced 10.6M ounces) and 183 thousand ounces of gold (220 thousand in 3Q).
Note: in 4Q 2016 Fresnillo plc will be additionally supported by the newest mine in the company's portfolio - San Julian (in 3Q this mine delivered only marginal amounts of metals)
Now, let me show the breakdown of 2016 year-to-date Fresnillo's production, calculated in silver equivalents: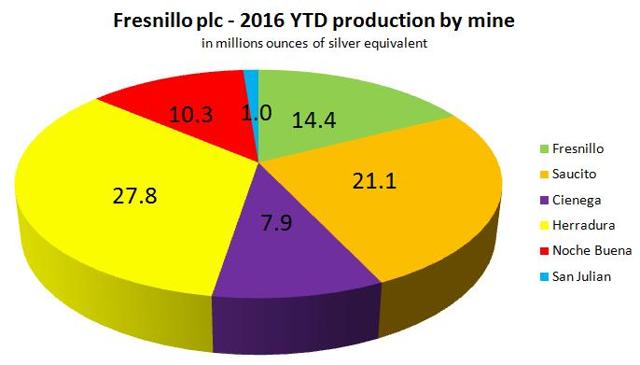 Source: Simple Digressions
I think some investors may be surprised to see that the biggest producer is the Herradura gold mine (with year-to-date production of 27.8M ounces of silver equivalent). At the end of 2015 the company commissioned the second Merrill Crowe processing plant at Herradura, which enabled to process the higher-grade ore (for example the grades reported in 3Q 2016 were substantially higher than those reported in 3Q 2015: 0.78 g/t vs. 0.73 g/t). This, plus higher throughput (18.8M tons in 2016 YTD vs. 16.3M tons in 2015 YTD), were the main factors standing behind a large increase in production. The table below shows the production breakdown, calculated in millions of ounces of silver equivalent: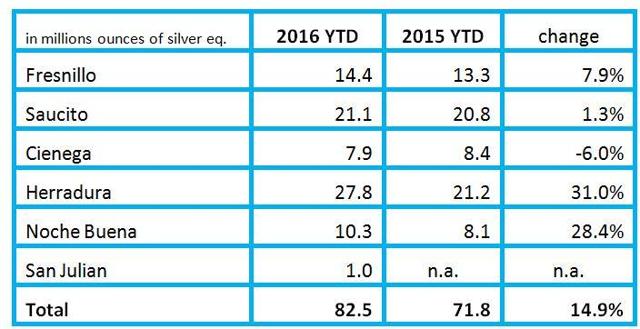 Source: Simple Digressions
Note: in the calculation of the silver equivalent I am taking into account only gold and silver, with silver to gold ratio of 73.5 (the average for 2016 YTD); lead and zinc are not included in these calculations
Last but not least. Due to the following factors:
"unusually high rainfall (up 90-100% vs. 2015);
a high rotation of construction contractor personnel due to the project's remote location and security incidents
delays in the delivery of certain equipment
The construction of the flotation plant (phase 2) at the newest mine, San Julian, is delayed. Hence, the commissioning of San Julian is expected in 2Q 2017, instead of 4Q 2016. Well, this is the mining business - you never know what problems you may encounter during the construction phase.
Richmont Mines
I was expecting that in the second half of 2016 Richmont would deliver weaker results than in the first half. 3Q 2016 production results are the best evidence of it: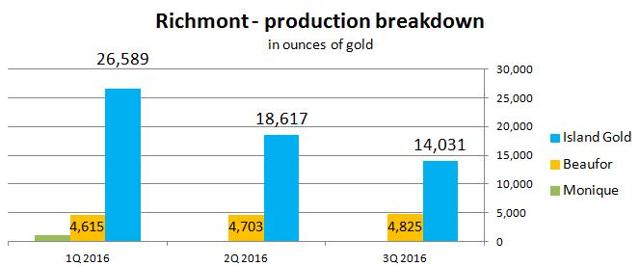 Source: Simple Digressions
As the chart shows, in 3Q 2016 the flagship property, Island Gold, delivered only 14,031 ounces of gold (the lowest production level in 2016).
To remind my readers, Richmont is now in a transition period - the company is shifting its operations to deeper parts of the Island Gold mine. This shift requires a lot of additional work, as, for example, electrical upgrade (completed in 3Q). What is more, Island Gold may encounter some disruptions to the ongoing operations while the construction of the new mine is in progress. Hence, lower production and, as I expect, poorer results in 2H 2016. But Richmont investors should remember that in the coming years Island Gold is going to be delivering much higher amounts of gold than before (around 78 thousand ounces of gold in annual production in the years 2017 - 2022, compared to 55 thousand ounces in 2015).
On the other hand, a few days ago the company increased its 2016 production guidance for Island Gold to 75 - 80 thousand ounces of gold (previously 62 - 67 thousand ounces) and decreased the guidance for the Beaufor mine to 23 - 26 thousand ounces of gold (previously 25 - 30 thousand ounces). The total 2016 production should stand at 98 - 106 ounces of gold (11 thousand ounces up, compared to the previous guidance).
B2 Gold
Most recently the company encountered some environmental problems related to its Masbate mine, located in Philippines. Together with 20 other miners B2 Gold is endangered with suspension of its flagship property. I am monitoring the situation but, unfortunately, it looks like the new secretary of DENR (Department of Environment and Natural Resources) wants to turn the Philippines resource sector upside down. In my opinion, Masbate is in serious danger and, due to the fact that this mine delivers the highest amount of gold for the company, its suspension would have a significant, negative impact on B2 Gold performance: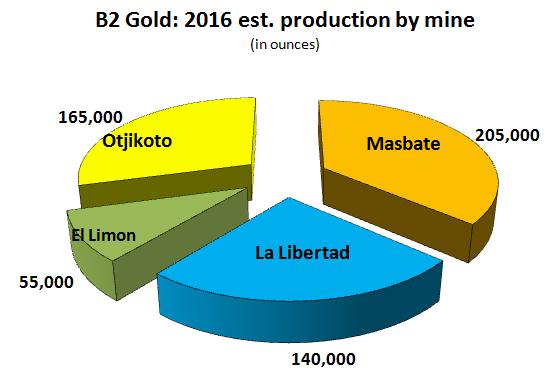 Source: Simple Digressions
On the other hand, the company is building its fifth, largest mine in Mali. The mine, called Fekola, should be delivering as many as 350 thousand ounces of gold in annual production, starting from 2018. So, in the medium - term, the potential problems at Masbate should be covered by this new mine.
In 3Q 2016 B2 Gold delivered very decent production results:

Source: Simple Digressions
Total year-to-date production went up by 13.3%, compared to last year. The highest increase, 23.3%, was attributable to Masbate (despite environmental problems the mine is going smoothly). The other mines, except for Limon (the smallest operation), also increased their output. What is more, B2 Gold increased its 2016 production guidance once again. This time the company expects to produce 535 - 585 thousand ounces of gold (versus 510 - 550 thousand ounces, forecasted before). The funny thing is that it is Masbate that is responsible for this increase in production…
Well, I think that B2 Gold is one of the world's best miners and is the core element of my Top Five Picks portfolio.
Fortuna
In 3Q 2016 Fortuna increased its production. However, the entire growth was attributable to the San Jose mine (the second mine, Caylloma, was lagging behind):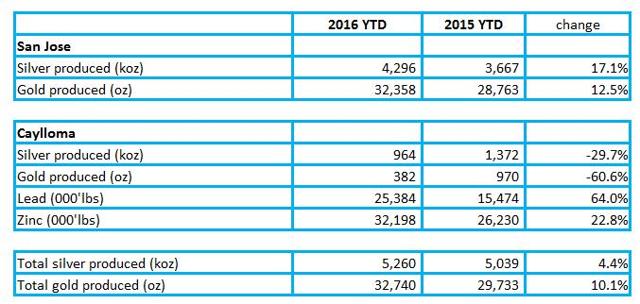 Source: Simple Digressions
As the chart shows, Caylloma is showing the signs of depletion. As a rule, when base metals perform better than precious metals it is an indication that a mine is close to its end. Caylloma is such a case:
production of lead and zinc goes up
production of silver and gold goes down
lead and zinc grades are improving (for example, lead grades were 1.70%, 2.47% and 3.24% in 2014, 2015 and 2016YTD, respectively)
silver reserves go down (from 20.6M ounces in 2010 to 7.7M at the end of 2015)
Fortunately, apart from the excellent San Jose mine, there is the Lindero deposit (holding 1.7M ounces of gold, classified as reserves).
Summarizing - despite a few critical articles I wrote on Fortuna this year, I still consider it as one of the best silver plays (although the silver segment, due to Lindero's large gold mineral base, is relatively shrinking).
Summary
Despite a weakness in precious metals stock prices, in 3Q 2016 my Top Five Picks portfolio performed quite well. All picks delivered positive returns and the best performing stock, leading the entire portfolio up, was B2 Gold. Of course, some people might say I was lucky. Yes, I was. However, the stocks I picked last year were selected very cautiously. To find these picks I have made a negative selection where many miners were rejected due to a number of reasons.
As I suggested in the first article on my top five precious metals plays - I intend to hold these picks till the year end. Then I will decide what to do next.
Last but not least. The readers should note that the only change I made in my portfolio (Claude Resources was replaced by B2 Gold) was the effect of an acquisition (no fundamental reasons were against Claude - if it were not acquired by Standard Silver I would definitely hold it). Simply put, holding excellent businesses for a long time should deliver the above-average returns. Is it the main idea Seeking Alpha is for?
Note:I strongly encourage my readers to visit my blog. Most recently I have started a new service called "The Simple Digressions Newsletter". Details in the section "Newsletter".
Disclosure: I am/we are long BTG, FNLPF, RIC, FSM, NMKTF, GDXJ, TGD.
I wrote this article myself, and it expresses my own opinions. I am not receiving compensation for it (other than from Seeking Alpha). I have no business relationship with any company whose stock is mentioned in this article.
Editor's Note: This article discusses one or more securities that do not trade on a major U.S. exchange. Please be aware of the risks associated with these stocks.