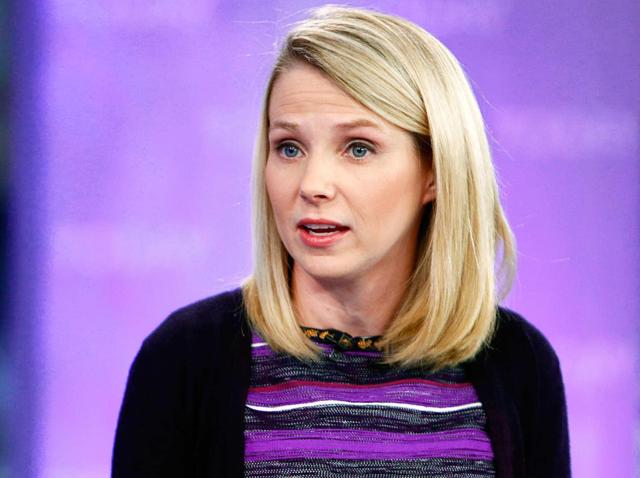 Yahoo CEO Marissa Mayer
Yahoo (NASDAQ:YHOO) is set to report Q3 earnings after-hours today. Analysts expect revenue of $1.31 billion and EPS of $0.14. Revenue estimates imply flat growth vis-a-vis the $1.31 billion reported last quarter. About 90% of its revenue is derived from display and search revenue. The company generates revenue from guaranteed or display ads by delivering advertisements according to clients' specified criteria; it also earns revenue on non-guaranteed ads where the ad may or may not appear.
Yahoo's core business has been in a steady state of decline. Q2 total revenue grew 5% Y/Y, but revenue ex-TAC fell 19%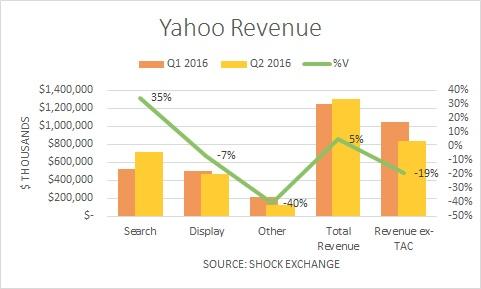 Total revenue grew 5% due to an increase in search revenue, partially offset by declines in display and other revenue. The company's goal was to attract more mobile users. That strategy might not be panning out given the dismal top line growth. Margins on revenue from Yahoo Properties are higher than revenue from advertising on affiliate sites as the company has to pay transaction acquisition costs ("TAC") to affiliates. Revenue ex-TAC fell 19% Y/Y, compounding Yahoo's loss from operations, consistent with an 18% decline in Q1. Loss from operations (excluding one-time items) increased from $34 million in Q2 2015 to $108 million last quarter.
Is Sale Of Core Business In Limbo?
Yahoo previously announced the sale of its core business to Verizon (NYSE:VZ) for $4.8 billion. I previously valued the sum-of-the-parts of Yahoo's core business, intellectual property, and its stakes in Alibaba (NYSE:BABA) and Yahoo Japan (OTCPK:YAHOF) (OTCPK:YAHOY) at $51 per share or 21% above YHOO's current price of $42.26: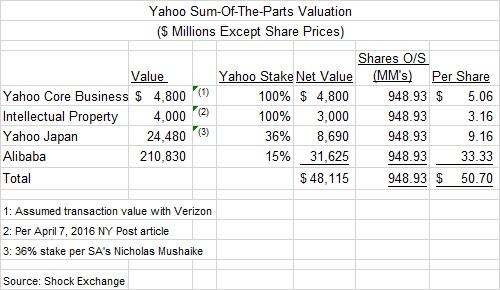 However, Yahoo recently confirmed a data breach that could have affected some 500 million user accounts. The company believes the breach occurred two years ago and hackers could have stolen names, email addresses and telephone numbers, amongst other things.
Verizon wants Yahoo to prove the hack was immaterial:
"I think we have a reasonable basis to believe right now that the impact is material and we're looking to Yahoo to demonstrate to us the full impact," he said. "If they believe that it's not, then they'll need to show us that."
Whether [i] the value of the core business has been diminished due to the breach, [ii] if Verizon will ask for a purchase price adjustment or walk away from the deal altogether remains to be seen.
Conclusion
I would advise investors to avoid YHOO on the potential that Verizon adjusts its purchase price for the core business or that it walks away from the deal.
Disclosure: I/we have no positions in any stocks mentioned, and no plans to initiate any positions within the next 72 hours.
I wrote this article myself, and it expresses my own opinions. I am not receiving compensation for it. I have no business relationship with any company whose stock is mentioned in this article.
Editor's Note: This article discusses one or more securities that do not trade on a major U.S. exchange. Please be aware of the risks associated with these stocks.