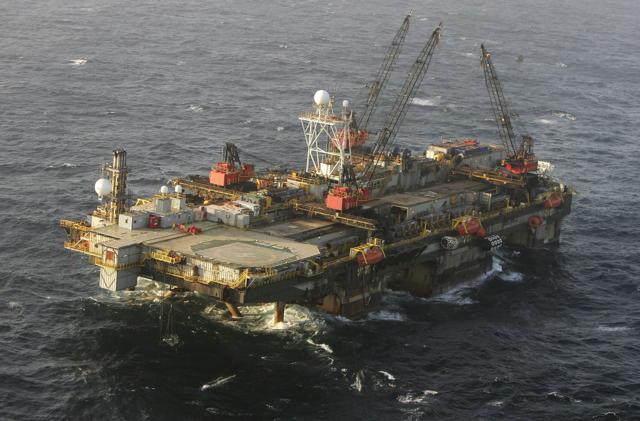 source: Breaking Energy
Talking at the annual Oil & Money Conference in London, BP CEO Bob Dudley addressed a number of issues concerning BP (NYSE:BP) specifically, and the energy sector generally.
Dudley pointed out the key benefit of the shale revolution, which while pushing down the price of oil, has also forced serious competitors to quickly adapt to the new scenario, which has made the industry as a whole, much more competitive at a lower price. In my view that's bad for OPEC, which has been losing influence for the last couple of years, and will continue to do so in the years ahead. U.S. shale producers are the new sheriff in town, and within a relatively short period of time, they'll further flex their muscles and fully take over the direction of the industry.
The good news for BP investors is it has participated in adapting to the new market conditions, and as it moves away from the various consequences associated with the Gulf oil spill, it is becoming much more attractive as a long-term holding.
With a steadying ship and a dividend yield of about 6.7 percent at this time, the future looks strong for BP as it moves ahead with a "strong pipeline of new projects" heading into 2017.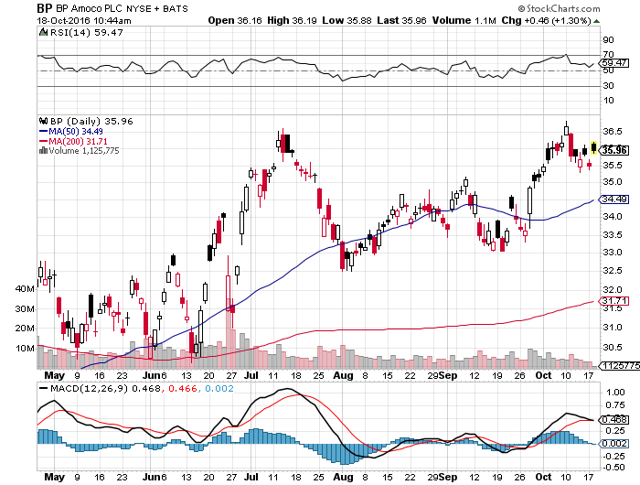 source: StockCharts.com
Growth outlook for BP
Dudley gave a very clear view of the ability of BP to invest in growth in an ongoing low price oil environment.
He said the company has improved over 2015 where it need oil to be at about $60 per barrel in order to attain a balance of costs and income. BP has improved that number to below $55 per barrel.
Dudley said, "... we can operate in the $50 dollar range if we have to going forward and still invest in growth."
With the price of oil remaining at about $50 per barrel over the last month or so, it points to the probability of more investment from BP if it is able to sustainably maintain that level. With the global pace of demand slowing down and a recession sure to hit sometime in the next several years, it's not a certainty this will be how it plays out, even if OPEC and Russia decide to slightly cut production levels.
There is of course the increase in rigs and wells being completed by U.S. shale producers which will gradually increase supply from the current levels. We are in the midst of a transition period where a growing number of premium wells will be brought to market. Once the wells are completed, it should generate significant supply. Since the oil market in particular has never experienced this, we have no idea of knowing how much more supply will be brought to market. We do know it'll be at a far lower cost than in the past.
As EOG Resources (NYSE:EOG) noted, it should have almost all its well portfolio made up of premium wells in 2018.
Oil demand going forward
Concerning oil demand, Dudley said he think "demand will fall off a cliff. The issue is more of oversupply. Our industry has been impacted by our own success, particularly by the shale revolution. But the long term demand will keep growing."
I agree with Dudley on the long-term outlook for oil demand. Over time there is no doubt demand will over will eventually overcome supply and drive down inventory levels, which at that time will provide price support for oil. The question is how quickly U.S. shale producers can ramp up production in conjunction with growing demand. Again, we simply don't know at this time how that will all balance out and how long it'll take.
In the shorter term, I see this as a temporary transitional period where shale producers add rigs and complete wells, all of which because of targeted premium locations and improved technology and methodology, don't need as many in the past to generate significant supply.
During this time OPEC does have a short-term window to impact the price of oil, but once shale producers complete the wells, that influence will wane and they'll take the full lead as the swing producer. At this time I consider shale producers as the swing producers, but the confusion can come from moments like we're in now, where OPEC asserts a production cut that many believe will have the same impact as in the past, when in fact those days have been over for about two years.
The market is acting like a weak production cut will have meaning, but it's really the idea of a cut that has been driving the price of oil up, not the actual impact it'll really have on supply and demand. In other words, it's verbal intervention, not the reality of the market driving oil. That's going to change as more shale oil comes to market.
As for oil demand itself, it is slowing down along with the global economy, and I see it slowing down much further over the next several years. The market has not priced this in yet, and that's going to surprise a lot of investors going forward. Those that move in and out of the market will enjoy the volatility, but long-term investors are going to go through some pain. That'll be especially true for those that had plans to move out of the oil sector into something more safe. Those wanting to do so will either have to be willing to take a big hit, or hold their positions much longer than they wanted to.
BP's pipeline of projects
In regard to resetting its capital programs, in July 2016 BP said it was progressing nicely in that area.
Looking ahead to 2017, costs should come in at $47 billion below what it was a couple of years ago, while capital expenditures for full-year 2016 are estimated to be under $17 billion. In the first half of 2016 BP spent approximately $7.9 billion.
As for the results of the spending, Dudley stated he sees another 500,000 barrels of oil equivalent in new production being added in 2017 on the high end of the estimate.
The value of that will be determined by the price of oil, which has no guarantee of being sustainably at $50 or higher over the next year, as many believe. It of course could find support there, but it will be determined by how robust new shale supply is, the pace of global oil demand growth, oil stockpiles, and if the global economy slides closer toward recession.
This is one of the reason many producers are moving more incrementally. They don't know if the price of oil has found long-term support of if it's a feint at this time. Oil demand, shale production, and the accompanying inventory level are the most important metrics to watch at the macro level.
If the price of oil finds support in 2017, BP, as many others, will do very well.
Conclusion
The oil industry is in flux at this time, and there are many elements pushing against one another during this season of oversupply and disruption which has come from the shale industry.
What is very positive to me is it has forced all serious competitors to seriously explore and find ways to lower costs in a market that may be oversupplied for some time to come. Eventually it'll balance out as global demand for oil grows and the top end of the supply cycle is reached. But with the global economy slowing down, we have no idea of the time frame it'll take to achieve that.
BP has positioned itself to compete in a $50 to $55 price range for oil, while still being able to invest in growth. With up to 500,000 barrels of oil coming on line in 2017, it could surprise nicely to the upside.
The company is leaner, continues to thoughtfully invest, and should be able to pay out its dividend for some time to come. All of this is good news to shareholders looking for a safer bet in an industry that will continue to be in turmoil for at least a couple more years.
Disclosure: I/we have no positions in any stocks mentioned, and no plans to initiate any positions within the next 72 hours.
I wrote this article myself, and it expresses my own opinions. I am not receiving compensation for it (other than from Seeking Alpha). I have no business relationship with any company whose stock is mentioned in this article.