So far the month of October has been disappointing for U.S. equity investors . The S&P 500 Index fell for two consecutive weeks and closed below its 100-day moving average on Friday, a line in the sand that is perceived critical for many market participants. Plenty of bearish commentaries surfaced in the recent weeks calling for imminent market corrections, but we disagree as several of our indicators are suggesting stronger investor sentiments and growing risk appetite for equities.
Investors Continue to Chase Cyclical Sectors
We track daily money flows in and out of U.S. equity Exchange-traded Funds (ETFs), (total assets of $1.3 trillion). These ETFs received a net inflow of $47.1 billion in Q3, '16. In the first two weeks of Q4, investors in U.S. equity ETFs remained net buyers of Energy, Technology and Financials sectors while being net sellers of defensive sectors such as Consumer Staples, Telecom, and Utilities.
As shown below, the newly created Real Estate sector had outsized outflows. This seemed to reflect the rising expectation of a rate hike in December. The ETF flow data in October paints a very different picture from the data we saw in January and February. In those two months, U.S. equity ETFs sold a huge amount of shares in Technology, Financials, Consumer Discretionary, and Health Care companies, and they bought heavily into Utilities and Consumer Staples. The current trend of ETF flow still points to a risk-on sentiment among U.S. equity investors, not the bearish sentiment many suggest.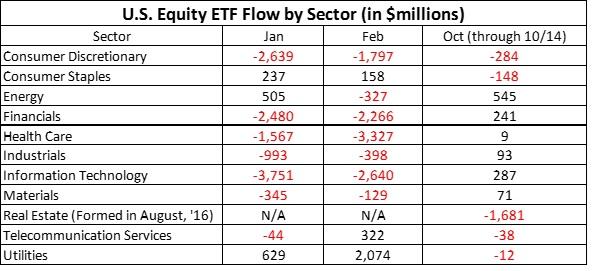 Source: Qubed Capital
Short Interest Grows in September
According to the short interest report released by New York Stock Exchange on October 11, the number of shares sold short on NYSE increased by 3.66% in September. Not only do we consider it a big number as the market closed flat in that month, but we also believe it marked an important turning point after NYSE short interest plunged 13.48% in the prior six months. Traditional wisdom says that more people shorting the market is bearish, but we are more inclined to take it as a contrarian indicator.
A significant decline in short interest in a bear market, as we saw in 2008, was a sign that investors were turning risk off and it didn't bode well for stock prices. The rising short interest suggests investors are willing to take larger equity exposure, as shown between 2012 and 2015. However, short interest can't keep rising without taking a break, as investors will receive margin calls or close their short books voluntarily as prices move higher. The interesting point is that the plunge of short interest this year is the first time short interest fell more than 10% since 2011. The level of short interest in February exceeded the peak in 2008, showing little room for more risk taking by investors. Therefore, we believe that the 13.48% fall between March and August was a rare window when leveraged traders adjusted their short positions and it created conditions for the bull market to run further as those traders get ready to dial up risk exposure again.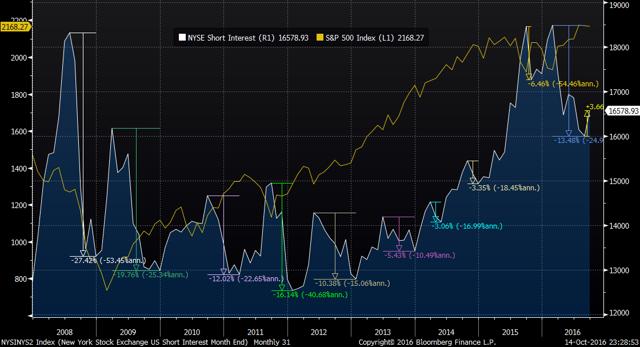 Source: Bloomberg
Cash on the Sideline
We can at least count on two sources of 'cash on the sideline' to step in if stock prices drop further. First, companies pulled back 21% on stock buybacks in Q2, '16. Meanwhile, cash and equivalent again set a record at $1.374 trillion, up 2.0% from the prior record set in Q1, '16. In the past few years, U.S. public companies have showed increasing willingness to use stock buybacks to cushion share prices as a result of the combination of low interest rates and record cash levels.
This was most recently demonstrated in Q1, '16 when companies spent $161.39 billion on buybacks, up 10.63% from Q4, '15 and the most since Q3, '07. It is quite reasonable to expect if yield on bonds continues to rise in the face of a rate hike in December, some of the money leaving bonds will go to equities. In 2013 the yield on 10-year Treasury rose 140 bps, at the same time when S&P 500 Index recorded its largest gain since 1997.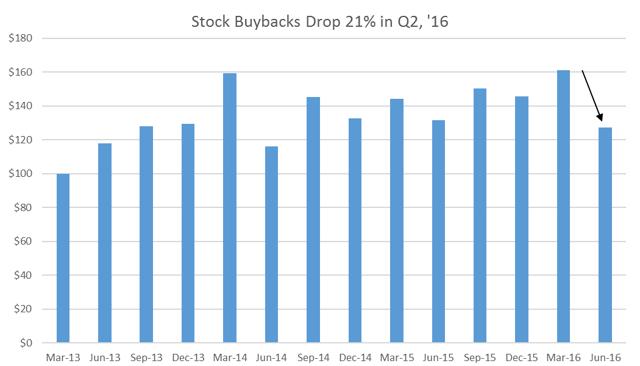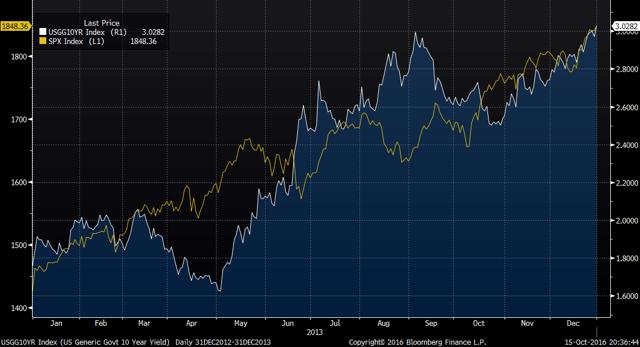 Source: S&P Dow Jones Indices, Bloomberg
Overall, we see limited downside risk in the U.S. equity market, as most of the sentiment and money flow indicators we monitor are much more bullish compared to where they were in the end of 2015. Investors in passive index funds like SPY should keep invested. In fact, we believe given the current underlying sentiment conditions, it's appropriate to apply leverage for those who can tolerate such risk (the ProShares Ultra S&P 500 ETF (SSO) is one of the many options to get that type of leveraged exposure). Technology has been receiving a great amount of fund flows since July. It's our favorite sector as tech companies continue to demonstrate strong profitability and momentum. Financial companies are good picks too. However, if investors choose to get exposure to the financial sector through ETFs or mutual funds, they should check if those funds include the new real estate sector or not (for example, the Financial Select Sector SPDR ETF (XLF) has removed real estate companies from it holdings into the Real Estate Select Sector SPDR ETF (XLRE)). In addition, it will be a downside risk to that sector if the Fed don't raise interest rates by the end of December.
What could possibly spoil the party? Of course, we have a presidential election in three weeks and two Fed meetings in the next two months. If the results of those two events turn out to be a surprise, like the Brexit vote in June, we may have to wait a bit longer to see the next new high for the stock market.
Disclosure: I am/we are long SPY, SSO.
I wrote this article myself, and it expresses my own opinions. I am not receiving compensation for it (other than from Seeking Alpha). I have no business relationship with any company whose stock is mentioned in this article.