In this article, I want to talk about the consumer price index. I will show you a few graphs that give a good picture about important price factors facing the US consumer. I added the average CPI to every graph to see in which industries the prices are rising the fastest.
First of all, we see that the all item consumer price index is rising at the fastest pace since the economic growth peak of 2014. This is a problem if we consider the slow economic growth at the moment.
Food & beverages are currently in a stage of deflation. Prices have fallen consistently since the 2014 growth peak. This puts more pressure on the food business but is not bad for the US consumer.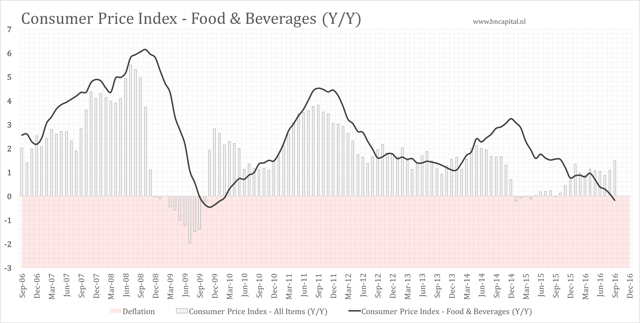 Apparel prices fell about 2% after the growth peak and are currently at 0%. This is no surprise since apparel & accessories business sentiment is extremely weak. Of course, I am talking about the ISM Manufacturing Index for the apparel industry. Falling prices and falling sales are demolishing for weak apparel retailers in this highly competitive industry.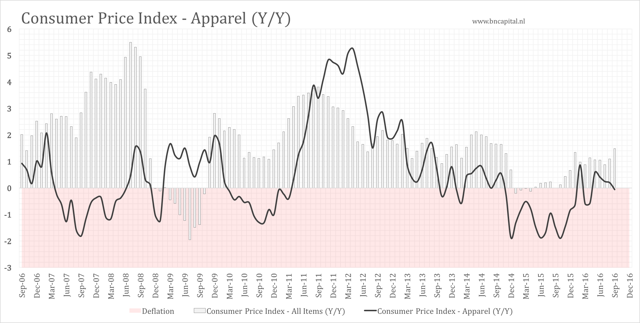 New vehicle prices show the same picture. A slowdown after the first quarter of 2015 and no price growth in 2016 (so far).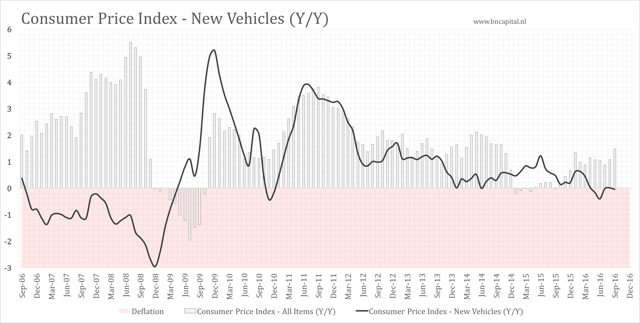 Housing is giving us some reasons of why the cost of living is rising. Housing inflation has been on the rise since 2015 and is currently at 3%. This is one of the highest levels since the crisis of 2008.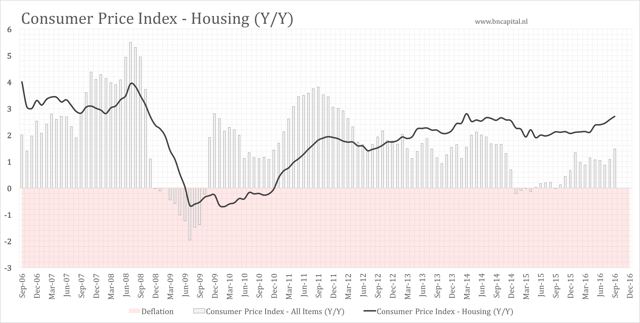 The graph below adds more details to the housing picture. Rents have been growing at almost 4% since 2014. Note that rent inflation has been rising consistently since 2010. Higher rent inflation could eliminate any effects from higher wages and put a lid on retail growth.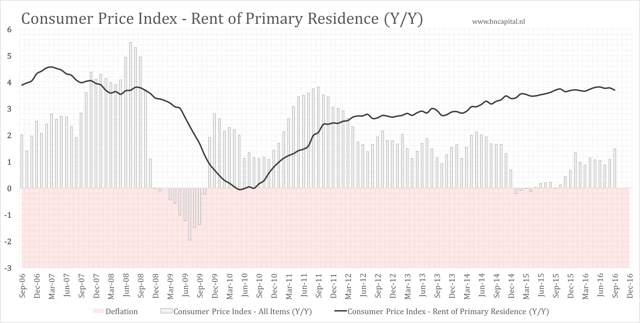 The last graph is really 'ugly'. At least from the standpoint of the consumer. Medical care inflation has exploded since 2015 and is at 5%. This is the same level as we saw during the 2007 peak.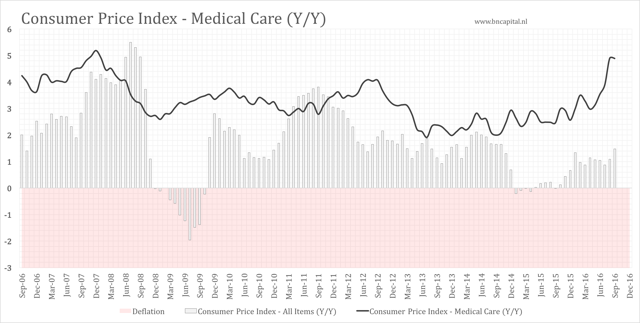 The fast rising medical and housing prices could be troubling for the economy. Especially if the economy keeps slowing. This will have an impact on retail sales rather sooner than later.
I will use today's inflation numbers to give more information about several industries in combination with retail sales, industrial production and leading indicators like the ISM index.
Many thanks for reading my article. Please leave a comment below if you have questions or remarks.
Disclosure: I/we have no positions in any stocks mentioned, and no plans to initiate any positions within the next 72 hours.
I wrote this article myself, and it expresses my own opinions. I am not receiving compensation for it (other than from Seeking Alpha). I have no business relationship with any company whose stock is mentioned in this article.