Being an avid reader of energy articles and reader comments on Seeking Alpha, I got the sense that energy investors felt in August that they were almost "out of the woods" in their wait for world oil supplies to balance with demand.
But, in early September, OPEC published its Monthly Oil Market Report (MOMR), which implied that its hopes had faded for a market balance in 2017. It was against that backdrop, and Saudi Arabia's hemorrhaging of around $200 billion in 2015 and 2016, that the Saudis agreed to ditch their ill-fated price war strategy for market share, announcing an agreement in Algiers to restrain OPEC production to a target of 32.5 to 33 million barrels per day.
Now, a large number of energy investors seem to believe once again in their long-term bull thesis. But as I previously wrote, "Peak Demand Is the New Peak Oil," and "Deconstructing the Oil Bull Thesis," conventional wisdom about oil supply and demand is likely to be wrong in the future.
Three unconventional scenarios have just been published by the World Energy Council (WEC), a UN-accredited global energy body, formed in 1923, now with over 3,000 member organizations in over 90 countries. Over a period of three years, the scenarios were built by a network of more than 70 members, from over 25 countries, and quantified with a global multi-regional energy system model.
The team also obtained feedback at the Council's Energy Leaders' Dialogues and at 14 workshops around the world, to include key insights from leaders of industry, politics, economics, environment, technology, and science.
My article highlights their conclusions about oil. Please refer to the study, World Energy Scenarios, for more detail.
The Grand Transition
The three scenarios they formulated for thinking about how the world may evolve are summarized as follows: (1) a "digitally disrupted," innovative, and market-driven world, (2) a world in which more "intelligent" and sustainable economic growth models emerge as the world drives to a low carbon future, and (3) a more fragmented scenario, which explores the consequences of weaker and unsustainable economic growth with inward-looking policies.
They conclude that the factors that shaped global energy from 1970-2015 are likely to change significantly from 2016-60. Since 1970, the world has seen a rapid growth in energy demand, primarily met by fossil fuels. But in the next 45 years, there will be lower population growth, radical new technologies, greater environmental challenges and a shift in economic and geopolitical power toward Asia.
New Technologies
As new technologies mature, combine and are deployed across the economy, they will bring major changes in the energy industry, including:
• Smart cities, in a world that is 70% urbanized by 2060.
• Automation, artificial intelligence and robotics.
• Workforce of the future and digital productivity.
• Energy efficiency and demand side behavior.
• Automated, zero carbon, mass transit innovation.
• Wind and solar, and integrated grid/storage.
• Electric vehicles (EVs).
Oil Use Peaks in 2030
While the study predicts that the oil market the will rebalance, it does not give a year. It also does not provide a price, but it expects oil prices will "settle at an affordable equilibrium."
Thereafter, it foresees oil demand growing at a 1.1% p.a. average, but in two of the scenarios, world oil use peaks in 2030, as a result of new technologies and competition from alternatives drive diversification. Beyond 2030, world oil consumption will drop.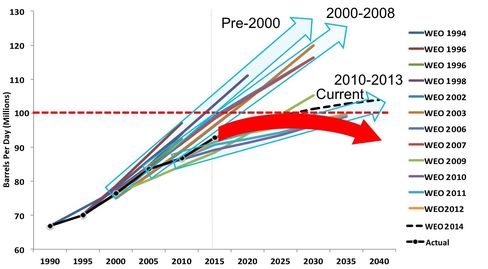 Source: IEA, Bloomberg Energy Finance.
The study warns:
"Demand peaks for coal and oil have the potential to take the world from stranded assets predominantly in the private sector to state-owned stranded resources and could cause significant stress to the current global economic equilibrium with unforeseen consequences on geopolitical agendas. Carefully weighed exit strategies spanning several decades need to come to the top of the political agenda, or the destruction of vast amounts of public and private shareholder value is unavoidable. Economic diversification and employment strategies for growing populations will be a critical element of navigating the challenges of peak demand."
Conclusion
One recommendation made in the study is to "reassess capital allocations and strategies." That sounds like good advice to long-term investors in oil companies.
The price of oil in 1983, when crude oil futures commenced trading on NYMEX, was $30 per barrel. If oil prices had kept up with the Consumer Price index, it would be priced about $72 today.
At the $50, the commodity has not kept up with inflation. And I doubt it will over the next 30+ years.
Disclosure: I/we have no positions in any stocks mentioned, and no plans to initiate any positions within the next 72 hours.
I wrote this article myself, and it expresses my own opinions. I am not receiving compensation for it (other than from Seeking Alpha). I have no business relationship with any company whose stock is mentioned in this article.