I have been trading precious metals and the miners for almost ten years now. Gold is a fascinating asset. The price action is influenced by moves in both interest rates and forex, Fed chatter, large hedge funds and commercial traders, inflation expectations, and of course, fear (as in war and terrorism).
After being long the miners for most of 2016, I am now on the sidelines, with a bearish bias, and my reasons can be laid out in 4 charts: gold miners, the Dollar, 10-year yields and long-term Treasuries.
As can be seen in the VanEck Vectors Gold Miners ETF (NYSEARCA:GDX) chart below, we are in day nine of chopping along the 200-day simple moving average (sma) and just above the 50% retracement of the move from the lows in January to the highs in August. Gap resistance sits at 25 and gap support at 20.50. GDX is potentially putting in a rounded top, as can be seen by the black line. The MACD has broken down on this move lower, and there was massive volume (for GDX) on the break lower. GDX could pop higher and bounce off the 200sma, and the MACD turn up to give a buy signal. On the other hand, GDX can break lower and head to either the gap at 20.50 or the 61.8% Fib retracement at 19.66.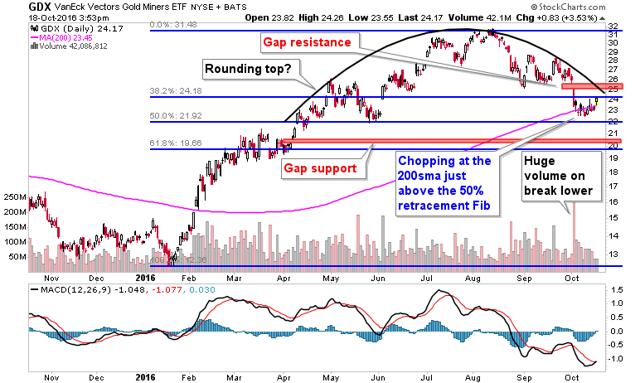 The reason that I am leaning toward the bearish, breakdown scenario is that one "tell" as to how GDX might trade is the GDX put/call ratio. The put/call can act as a contrary indicator, with too many call buyers hoping to catch the turn higher. During this selloff, call buyers have outweighed put buyers since Aug. 31, leading me to think that GDX needs to take another leg lower to shake out the bulls: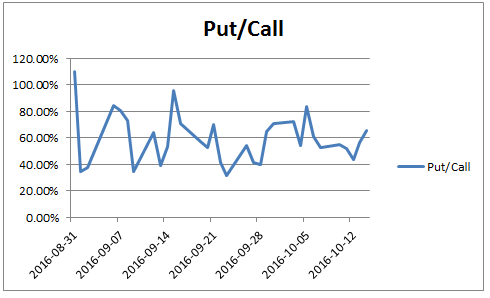 Looking at the U.S. Dollar Index ($USD), which often moves contra gold, we can see that USD has broken out of a wedge and above a 10-month long downtrend line as well as horizontal resistance. The potential move on this wedge break is close to 103, a move that would probably pressure gold and the miners.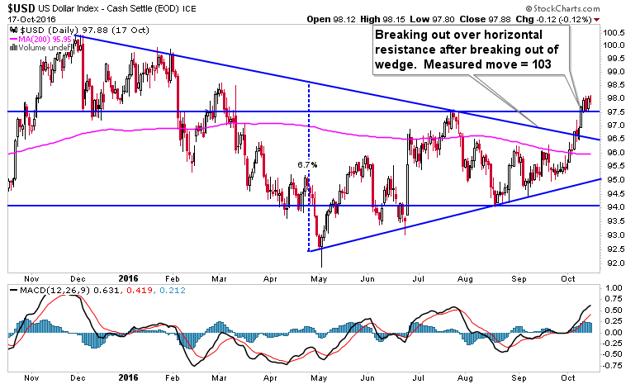 The 10-year Treasury Yield ($TNX), like the USD, has broken out a wedge and looks to be headed higher. Rising rates are USD supportive and will probably pressure both gold and miners.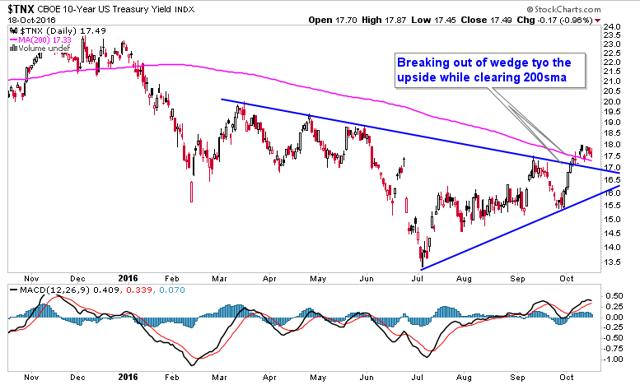 Finally, iShares 20+ Year Treasury Bond ETF (NYSEARCA:TLT) shows almost a mirror image, as you would expect, of the 10-year interest rate chart above. Long-term bonds are breaking down, and like GDX, are sitting at critical 200-sma support.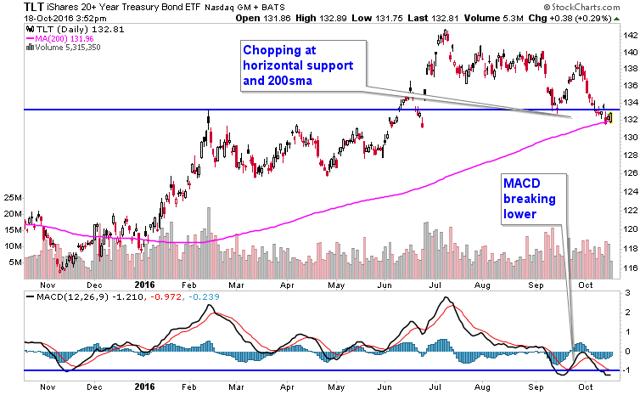 The bottom line, for me, is that all four of these assets can go either way. A break higher in the dollar and interest rates while gold and bonds sell off. Or the dollar and rates reverse, putting in bull traps, and bonds and miners rally. Sadly, as much as I like the charts, and actual asset class fundamentals, all that matters these days is what the central banks say and how various markets react. So, the chart (table in this case) that is probably the most important to everything in the charts above, is this one: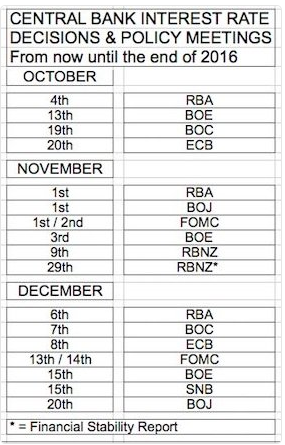 Disclosure: I am/we are short GDX.
I wrote this article myself, and it expresses my own opinions. I am not receiving compensation for it. I have no business relationship with any company whose stock is mentioned in this article.