Tesoro Corporation (TSO) is an independent refiner and marketer of petroleum products. They currently own and operate six petroleum refineries in the western United States. Additionally, Tesoro Corporation owns a 34% interest in Tesoro Logistics, L.P. (TLLP).
TSO stock has recently been hit hard by volatile fluctuations in oil prices and increased regulation of the oil and gas industry. However, I believe these macro factors are poor indicators of underlying company health. Under further scrutiny, I believe Tesoro Corporation is a fundamentally sound and undervalued company.
Future price growth for TSO will be driven by improvements in firm specific diversification, increased availability of discounted crude oil, improved capital efficiency through TSO's Master Limited Partnership Tesoro Logistics, and increased cost synergies. Through increased yields and improved utilization rates, Tesoro stock should experience significant price appreciation.
Tesoro's EBITDA Composition
In 2015, the company reported 3.583 Billion in EBITDA and refining capacity of 875 Mbd. Tesoro also claims over 2,440 branded retail stations. From 2010-15 Tesoro, has made significant changes to the composition/source of their cash flows in order to expand operations and limit risk. I believe they will continue to grow their logistics and marketing divisions going forward.

Source: UGA SMIF Presentation
Revenue by Refined Product
Tesoro generates the majority of its revenues from "Gasoline and Gasoline Blendstocks." It may initially seem disconcerting that such a high percentage of revenue comes from a singular petroleum product; however, I would like to note two realities. Gasoline and gasoline blendstocks is an extremely broad definition to a highly complex category that includes countless hydrocarbon blends. Second, their product mix is in line with the industry average, and Tesoro is capable of altering its operations to reflect changes in demand for other refined products.
Asset Map
Tesoro primarily operates in the western United States. One major concern of mine is that they seem to be too regionally concentrated. The map below shows where they operate and/or own assets. It is immediately apparent that their primary focus is on California.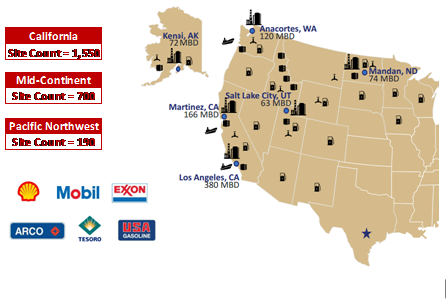 Source: UGA SMIF Presentation and TSOcorp.com
Industry Drivers
There are several notable industry drivers at play. U.S. oil and gas production has begun to decrease, which is a natural response to lower profit margins. Low prices are forcing oil and gas companies to locate operational efficiencies through technological improvements. Many oil and gas companies have been acquiring high margin assets to improve their bottom lines. Hard hit oil and gas operators have been forced to divest assets at sharp discounts and draw on debt revolvers. On the regulatory front, many believe the Jones Act is on the brink of being repealed. If the Jones Act is repealed, I believe it will lead to efficiency increases across the oil and gas industry.
The main takeaway here is that oil and gas companies have abandoned their "acquire and drill at any cost" mentality in favor of intelligent investing, improved managerial wisdom, and high operational efficiency.
Brent Vs. WTI Convergence
The relatively sour and internationally tracked mix Brent Crude has historically traded at a premium to sweet West Texas Intermediate oil. However, the price differential has begun to shrink as U.S. E&P operators continue grow their presence as world players. Midstream infrastructure improvements, driven by expanding utilization of the tax-friendly Master Limited Partnership structure, have allowed for increased production and usage of homegrown petroleum hydrocarbons. In prior years, oil and gas operators lacked efficient means for transporting extracted hydrocarbons. In many cases, they were forced to pay large premiums which impacted their bottom line. Pipeline, terminalling, and refining improvements have allowed for a higher volume of market supply.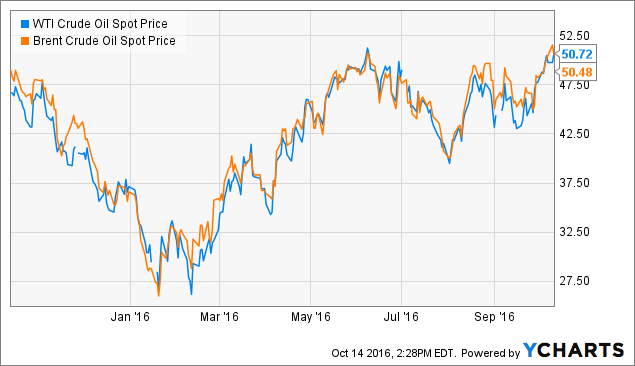 Source: Ycharts
Historical Stock Price Comparison
Historically, Tesoro has outperformed its competition while maintaining attractive yields. The chart below simply illustrates their tradition of market dominance.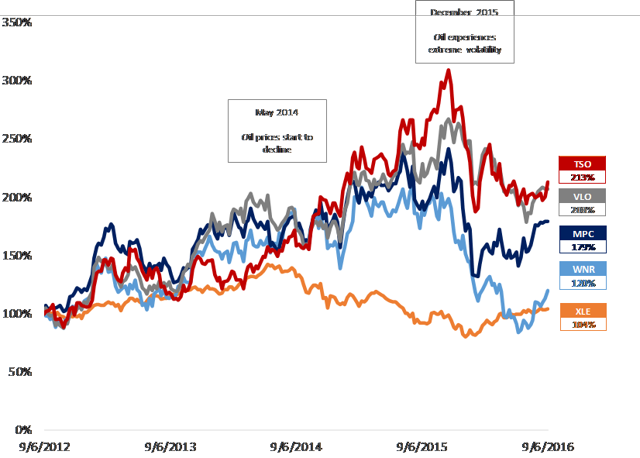 Source: UGA SMIF Presentation
EV/2016E EBITDA
Tesoro has a 7.3x EV/EBITDA multiple compared to the industry median of 8.5x. This useful metric is a quick and easy tool for comparing companies. However, oil and gas companies are highly capital intensive. The exclusion of depreciation can lead to significant differences, so I would not recommend relying solely on their impressive EV/EBITDA multiple. With that being said, TSO (at least on the surface) appear to be undervalued.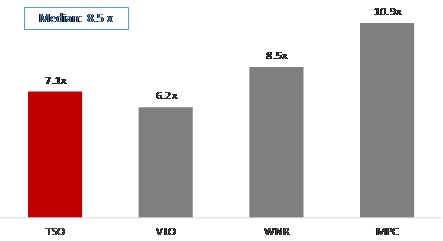 Source: UGA SMIF Presentation
P/FFO LTM
Price to funds from operations is a multiple that is generally used when comparing real estate investment trusts (REITs). Since TSO is heavily real estate and asset focused, I felt this multiple was relevant. TSO has a 4.5x multiple relative to the industry average of 5.7x. This seems to indicate that Tesoro is undervalued relative to its competitors. As you'll soon discover, Tesoro is quite impressive when valued with market multiples.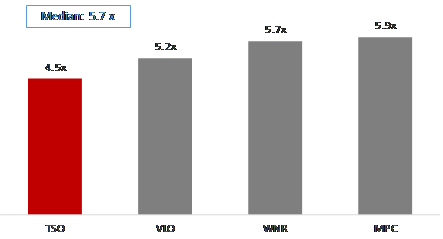 Source: UGA SMIF Presentation
P/2016E Earning per Share
TSO's price to earnings ratio tells the same story. They have a 7.1x multiple relative to the industry median at 8.5x.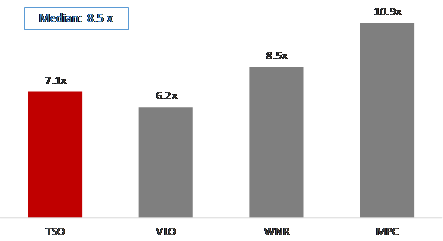 Source: UGA SMIF Presentation
Return on Invested Capital
A higher ROIC is generally considered to be attractive. Tesoro boasts an impressive 12.3% ROIC which is significantly higher than the industry median at 9.7%. TSO's ability to generate cash with capital on hand is one of the primary reasons I like this stock.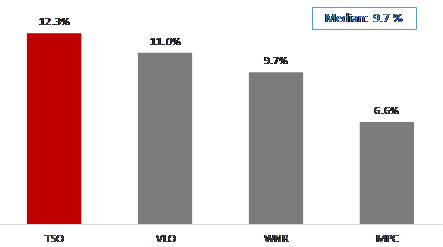 Source: UGA SMIF Presentation
Discounted Cash Flow Implied Valuation
In order to find Tesoro's intrinsic value, I used discounted cash flows analysis. Using management and analyst guidance, this valuation discounts Tesoro's projected future cash flows back to present value. Below I included my assumptions and sensitivity analysis.

Source: UGA SMIF Presentation
Intrinsically Tesoro is trading around a 42%-44% discount. Based on their DCF, I believe their stock is fairly valued at $117.
Implied Equity Value per Share
The chart below shows how implied equity value per share could change with variations in assumptions for perpetuity growth rate and weighted average cost of capital. Tesoro is intrinsically undervalued even when using conservative assumptions.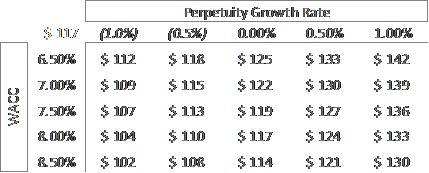 Source: UGA SMIF Presentation
Implied EBITDA Exit Multiple
The chart below shows how TSO's implied EBITDA exit multiple can change with alterations to perpetuity growth rate and terminal margin. Even small changes can yield dramatic changes.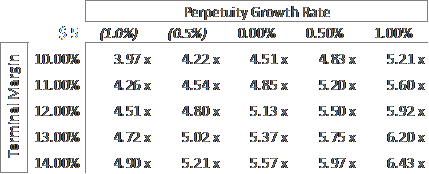 Source: UGA SMIF Presentation
WACC Analysis
I broke out the calculations used to come up with the weighted average cost of capital. WACC is used as the discount rate in the DCF shown earlier. Again, I believe I was fairly conservative, but feel free to disagree.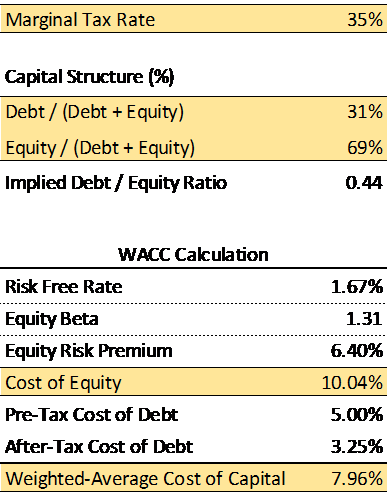 Source: UGA SMIF Presentation
Regression Beta
Tesoro Corporation has a relatively low regression beta in comparison to its peers. A low regression beta generally means a stock displays less systematic risk. In my opinion, less systematic risk regarding an energy focused company is a definite positive.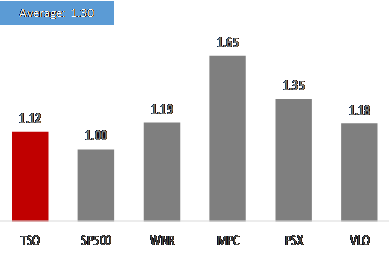 Source: UGA SMIF Presentation
Debt Sensitivity
For those interested, here is analysis based on variations in assumptions used to calculate debt sensitivity.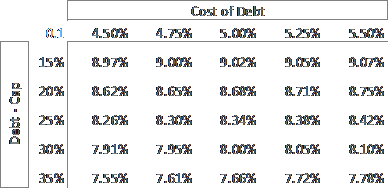 Source: UGA SMIF Presentation
Current Valuation
The chart below averages together each valuation methodology to create a bottom line fair value for Tesoro Corporation.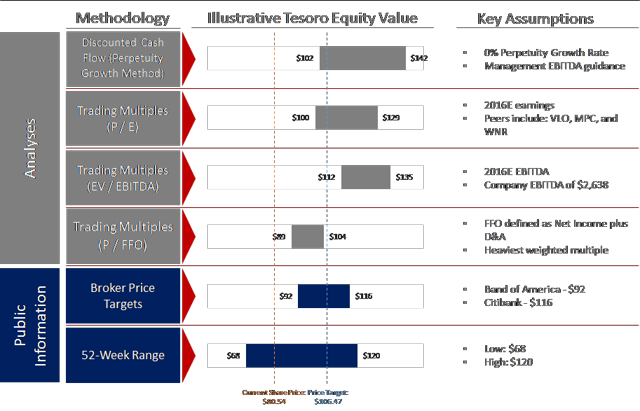 Source: UGA SMIF Presentation
Conclusion
After averaging together all valuation methodologies, Tesoro's fair value came out to $106.47. Currently, Tesoro is trading around $80-$83 a share. I believe Tesoro should experience price appreciation of ~31%. A ~31% discount is uncanny in today's overpriced stock market.
It should be recognized that there are several significant risks at play. The largest risk is Tesoro's single region exposure. Sadly, Tesoro also has historically been (somewhat illogically) intertwined with the overall successes and failures of the oil and gas industry as a whole. It is fair to expect that volatile shifts in the wider energy market will directly impact Tesoro's stock price.
Ultimately, I believe the upside potential in this situation certainly outweighs the risks. Therefore, I recommend Tesoro Corporation as a strong buy.
Disclosure: I/we have no positions in any stocks mentioned, and no plans to initiate any positions within the next 72 hours.
I wrote this article myself, and it expresses my own opinions. I am not receiving compensation for it (other than from Seeking Alpha). I have no business relationship with any company whose stock is mentioned in this article.