This morning, CorEnergy Infrastructure Trust Inc. (NYSE:CORR) was downgraded by analysts at Royal Bank Of Canada from a "sector perform" rating to an "underperform" rating. RBC threw a $23.00 target price on the stock (down from their prior target price of $30.00 and 20% lower than Friday's close). Apparently there is renewed concern regarding one of the leases, specifically the Pinedale lease (with an Ultra Petroleum subsidiary).
The result: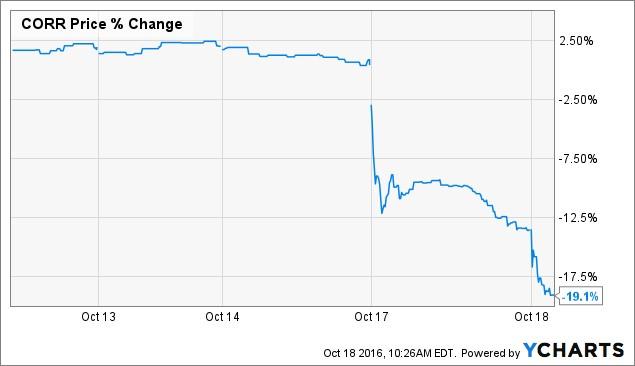 The common and preferred got hammered on the downgrade and we thought it might help to review what has led to this. The best place to start is with the Ultra Petroleum (UPLMQ) bankruptcy docket.
On Sept. 20, 2016, CorEnergy (through its Pinedale sub) filed the following (docket #559 and 560), as it stated that the bankruptcy case for Wyoming LGS (the Ultra Petroleum sub which holds the Pinedale lease):
Pinedale owns a pipeline and facility for the gathering and separation of natural gas and condensate (the "Facility"), which it leases to Wyoming LGS under a long-term real estate lease (the "Lease"). Pinedale seeks dismissal of the Wyoming LGS bankruptcy case because it was filed and is maintained with a lack of good faith.

Wyoming LGS is, and was at the time of filing its petition, a solvent entity with no creditors other than Pinedale, no assets other than its leasehold interest and receivables from its parent and/or affiliates for use of the Facility, no operations or employees, and no purpose to be in bankruptcy other than to benefit its equity owners at the expense of its only creditor, Pinedale.

Wyoming LGS' bankruptcy can only serve one purpose: to allow Wyoming LGS to breach its lease obligations with Pinedale and avoid paying most of the damages caused by such breach which is to the sole and exclusive benefit of its equity holder and to the detriment of its only creditor, Pinedale.

Under Section 1112 of the Bankruptcy Code and the applicable case law, this constitutes a lack of good faith and is cause for dismissal, or alternatively, for the appointment of a trustee or examiner.

As reflected by its bankruptcy schedules filed in June, Wyoming LGS was solvent when it filed bankruptcy. It had more than $67,000,000 in receivables due from its affiliates (presumably payments due for use of the Facility) and no liabilities. Wyoming LGS listed no creditors on its schedules.2

As it appears from its schedules and Statement of Financial Affairs ("SOFA"), Wyoming LGS has no ongoing operations or employees. Wyoming LGS' apparent function in UPL's overall integrated business operation is to own the leasehold interest of the Facility which other UPL entities use to gather and process condensate resulting from the production of natural gas at wells in the Pinedale vicinity.

Pinedale contends that, based on the foregoing factual and legal analysis, this Court should, and urges the Court to, dismiss this case on the basis of Wyoming LGS' lack of good faith. Alternatively, the Court should appoint a trustee or examiner pursuant to § 1104 as cause for dismissal under § 1112 exists.
To which Ultra/Wyoming LGS responded (same link, but docket #610):
The Motion appears to be a thinly veiled litigation tactic filed in an effort to gain an advantage in the parties' commercial discussions. Corridor participated in these chapter 11 cases for months without once suggesting that UWLGS's bankruptcy was filed in bad faith.

Recently, however, the Debtors demonstrated to Corridor that they have a commercial alternative to replace the parties' long-term lease (the "Lease") and that, if the Debtors ultimately choose that approach and reject the Lease, Corridor will be left with unsecured claims subject to 11 U.S.C. § 502(NYSE:B)(6).

Accordingly, Corridor is trying to pressure the Debtors into assuming the Lease now-whether or not doing so is in the long-term best interests of the Debtors' estates.

The Motion has no merit. UWLGS had no alternative to being in bankruptcy. UWLGS is in default under the Lease because certain of the other Debtors' bankruptcy filings were cross-defaults under the Lease.

Moreover, UWLGS does not have the funds-or access to funds-to pay the ongoing rent it is obligated to pay under the Lease. In fact, UWLGS has no assets other than intercompany claims, which exist only if, and to the extent, UWLGS's Debtor affiliates choose (in their discretion) to continue providing oil and water to UWLGS for transport in the Corridor pipeline system.

Thus, even if its bankruptcy case was dismissed, UWLGS would have no ability to pay rent to Corridor unless Debtor Ultra Resources, Inc. ("OpCo") chose to do so.

And unless the use of Corridor's liquid gathering pipeline system is the most efficient way for the Debtors to collect oil and water from their Pinedale field (which the Debtors are still evaluating), then: (NYSE:A) the Lease will be rejected; the Debtors will choose an alternative; and (NYSE:C) Corridor will have whatever rights it can assert in these chapter 11 cases, which may be no better or worse than its rights outside of bankruptcy.

Thus, Corridor must deal with the same commercial reality facing UWLGS- the existence of an alternative liquid gathering pipeline system in the Pinedale field. The ideal result would be for Corridor and the Debtors to reach a commercial settlement acceptable to Corridor and the Debtors before the Debtors' deadline to assume or reject leases (which is November 28, 2016).

But if that does not occur, UWLGS may have no choice but to reject (or simply breach) the Lease, and Corridor will have whatever rights it has under the Bankruptcy Code.
The alternative system is the system created by Shell Exploration & Production system ("SWEPI"). In September 2014, as part of a transaction in which the Debtors acquired all of SWEPI's oil and gas reserves in the Pinedale field, the Debtors acquired the liquids gathering pipeline system that had previously been constructed by SWEPI. The system map (from the filing) is: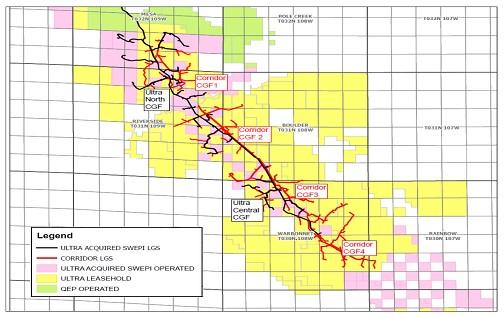 The motion continues:
With a relatively small capital investment to upgrade the SWEPI-constructed system and connect it to the wells currently connected to the Corridor pipeline system, the system constructed by SWEPI (and now owned by the Debtors) would be capable of handling up to 100,000 barrels of liquids per day.

In other words, the pipeline system Debtors acquired from SWEPI in 2014 has capacity far in excess of what is required to collect all of the liquids currently produced by Debtors in the Pinedale field, including the liquids that the Debtors currently gather with Corridor's pipeline system.

Upon completion of the upgrades and other work to make the connections, Debtors would no longer need access to or the ability to use the pipeline system leased to UWLGS by Corridor.

Although OpCo has historically funded (and currently funds) UWLGS's rent payments to Corridor, OpCo has no obligations to do so. Moreover, if OpCo were not gathering liquids produced from wells it operates into the Corridor pipeline system, OpCo would have no reason to fund such payments on UWLGS's behalf. Likely for that reason, the OpCo and Ultra Petroleum Corp. ("HoldCo") bankruptcy filings were events of default pursuant to Article 23.1 of the Lease.

While participating in these chapter 11 cases, Corridor also continued to engage in commercial discussions with the Debtors. Most recently, the Debtors described to Corridor their alternative, including providing Corridor a project plan with scope and costs prepared by Debtors, holding meetings with Corridor and a third-party engineering firm engaged by Corridor to evaluate the viability of the SWEPI pipeline as an alternative to the Corridor pipeline, and hosting a tour of the respective facilities to demonstrate to Corridor the feasibility of Debtors using the SWEPI system to handle all of their liquids volumes in the Pinedale field.
Recall that in CORR's August 10, 2016 conference call, the following was stated (emphasis ours):
Nick Brown: And then related not so much on the topic of acquisitions, but I guess do you think that give that they still do have in Ultra's case they still do have the option of rejecting your leases? Are you increasingly concerned that they might do that, because I know in both cases you issued the press releases right after the file for bankruptcy suggesting that there wasn't much of a chance of that?

David Schulte: Both bankruptcy files occurred in April, just prior to our last release. We did indicate what we knew at the time. And we've not changed our view as to the critical nature of our assets to either of these parties. However, during the time these companies are reorganizing, we're just not privative very much information. So, reporting only what is public seems the most prudent course to us. But we're not indicating a change in our view as to the critical nature of our assets. What we have done is take trips to CR assets. We believe they continue to be maintained in good working order. And when there is something further disclosable, we're promptly report it.
Critical does not mean only option. When there are options available, the creditor (Pinedale) loses significant leverage if they are not necessary. That said, one must realize that the estate would have to get approval to build out the system and that is contingent upon having the funds to do so. A potential alternative is just that -- potential. What would the lost revenues be after the rejection and before the system build out could be finished? What would the cost of the build out be and where would the funds come from? This is normal course jockeying within bankruptcy, but it appears that CORR is not the only game in town.
In response to the pounding the stock took yesterday, CORR put out an 8-K stating (emphasis ours):
As previously disclosed, we filed a motion to dismiss the bankruptcy case of our tenant, Ultra Wyoming LGS LLC, in the Ultra Petroleum bankruptcies. We filed the motion to dismiss because we believe that our debtor is solvent, and we do not believe a debtor is entitled to use bankruptcy solely to reject a lease with its only creditor.

The responsive bankruptcy court filing by Ultra Petroleum Corp has created uncertainty in the market regarding CorEnergy's Pinedale LGS Lease (the "Lease").

In its filing, Ultra has disclosed it believes the construction costs to require a relatively small capital investment to move production off our system to a system that it acquired when it bought upstream reserves from Shell in 2014.

We disagree with the analysis of the cost to divert production to the alternative system because it ignores the cost of rejection to the estate.

There is a court hearing scheduled for October 20, 2016, on our motion to dismiss, after which the court and all parties may have more information as to the full cost to the estate of lease rejection. We will promptly update our disclosure to share any such information.

We are confident that the estate will have a net economic benefit from retaining access to our LGS, and we continue to think there are good reasons for Ultra to reach that conclusion by November 28, 2016, which is the date by which Ultra must make a decision to accept or reject the Lease.

In any event, to protect the interests of our stockholders, we filed certain claims based on rights granted to us by two guarantees and by the indemnification provisions of the Lease.
Reading between the lines, we are somewhat concerned that CORR did not dispute the cost to transition to SWEPI, but merely stated that it ignored the cost of the lease rejection. Here is our issue with that -- the cost to the debtor to transition to a new/existing/secondary system could be offset by the reduction in lease payments. The hit to CORR will be significant. A rejection will create an unsecured claim, the recovery of which could take some time and be satisfied by another obligation/equity interest in UPL. Which way is the risk tilted?
Recall the magnitude of the Pinedale lease to CorEnergy:

At 30% of their lease revenues, any weakening of their hand will have an effect on their cash flow and therefore, their dividend.
Keep in mind that management fees are based on assets, not performing or cash producing assets. Should this lease be rejected, one would hope (or rather, insist) that management fees be scaled back to the market value of the business (which could rapidly approach zero). As of Dec. 31, 2015, the value of the Pinedale assets was carried at $203MM with $10.3mm in debt.
Recall that on Aug. 11, 2016, we stated:
While the 10% yield is compelling, we are somewhat cautious on the name, as it has outperformed most expectations so far this year without a clear resolution as to the status of the leases of its two largest tenants and continued volatility in energy prices.

That said, we underestimated the performance of the shares since June when we stated: Bottom Line: At over $25 and without further clarification on the UPL and EXXI bankruptcies, we have a hard time moving beyond "hold" on the common shares (Rubicon has a $23 stop on his shares) and are somewhat cautious on the preferred shares. This is not because we believe that the REIT will not emerge from these troubling times, but rather we are cautious that negative news could surface and lower the price of the common and preferred shares.

Rather than try to compensate for our caution and slap a BUY on the shares, we reiterate our HOLD rating until we get resolution on the leases.
We continue to feel that the company has a strong hand, but the current lease payment is not guaranteed and could possibly (will) be renegotiated lower. We have tried to curb the enthusiasm investors have shown towards this REIT and continue to believe that until there is more clarity on the leases, the stock (common and preferred) should continue to trade at a discount to full value.
This could get worse, much worse: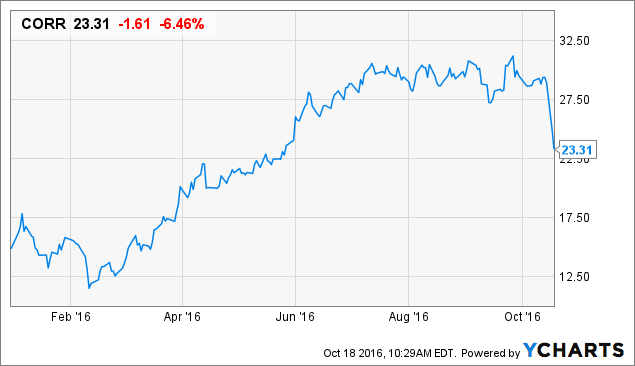 A rejection of their motion on the 20th (we are not lawyers, but judge this to be likely) could send shares below $20.
Some "back of the envelope" math: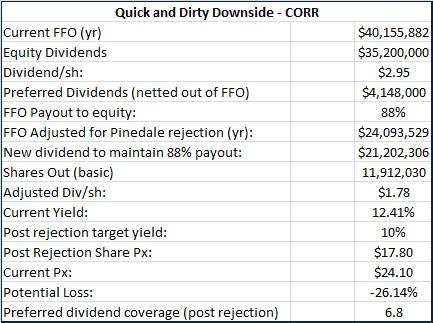 Stripped yield on preferred stock (at $23.24) is 8.04%. Worth considering as it is nearly $1.50 cheaper this week.
Rubicon owns shares ($23 stop for a 60% gain) and is considering re-entering the preferred shares. The iREIT preferred portfolio contains CORRpA shares. Brad Thomas does not own shares in CORR at this time.
Author Note: Brad Thomas is a Wall Street writer and that means that he is not always right with his predictions or recommendations. That also applies to his grammar. Please excuse any typos and be assured that he will do his best to correct any errors if they are overlooked. Finally, this article is free, and the sole purpose for writing it is to assist with research (Thomas is the editor of a newsletter, Forbes Real Estate Investor) while also providing a forum for second-level thinking. If you have not followed him, please take five seconds and click his name above (top of the page).
Disclaimer: This article is intended to provide information to interested parties. As I have no knowledge of individual investor circumstances, goals, and/or portfolio concentration or diversification, readers are expected to complete their own due diligence before purchasing any stocks mentioned or recommended.
Disclosure: I am/we are long O, DLR, VTR, HTA , STAG, GPT, ROIC, HCN, OHI, LXP, KIM, WPC, DOC, EXR, MYCC, TCO, SKT, UBA, STWD, CONE, BRX, CLDT, HST, APTS, FPI, CORR, NHI, CCP, CTRE, WPG, KRG, SNR, LADR, PEB, BXMT, IRM, CIO, LTC, DEA, NSA, HASI.
I wrote this article myself, and it expresses my own opinions. I am not receiving compensation for it (other than from Seeking Alpha). I have no business relationship with any company whose stock is mentioned in this article.