I am going to value Target (NYSE:TGT). In order to give my expert opinion, I surely have to make a careful assessment and be as accurate as possible. Even at this stage, when I have not started to evaluate anything, the bias issue has to be raised, even if I am aware of it and want to fight against it.
There are many valuation methods among which are included popular metrics that have little use because they look only to the past. And an assessment - to have merit - has to be objective and build up a credible future forecast. It is not easy to be unbiased here because there is a natural tendency to consider the future as a mere continuation of the past.
It is best to start and see where are the difficulties along the way. As it is the future trend that interests me, it is essential to consider the Target's potential long-term development and if it's moving in the right direction. Currently, there are those who say that the model of physical stores is outdated and has no basis for a sustainable future. Even in this particular industry it is believed that the Amazon (NASDAQ:AMZN) model is the next course line. My immediate response would be that there is room for everyone. But is there really? And what about the danger to see Target's margins withering to a fragile market position in a long-term agony with its business on a sustained fall? Therefore, I will carefully analyze whether the threat is real.
The role of the internet is increasingly important and Target is taking the necessary steps to have in the future all its stores with a fully integrated online system. Conversely, it is the intention of Amazon and other online retail players who started this business on the internet to complement it with physical stores. Communication with customers will become the cornerstone of business success. For now, Target's digital channel sales increased 22% representing 3.4% of total sales.
In assessing Target I will calculate EPS and see which is the most appropriate multiple. This will only serve as an evaluation check. By company's guidance expected EPS is $4.56 on average for full-year 2016. As the company states, the new $5 billion share buyback program will be completed in 2017. Let's suppose that with the indicated amount Target will buyback ~71,500,000 shares at an average price of $70 per share - accounting for 12.4% of the outstanding shares. All other things equal - and with no growth - we arrive at EPS of $5.20 for full-year 2017. If we take P/E of 13 (way lower than peers) we arrive at a price of ~$67.60.
To calculate the intrinsic value we may use a basic discounted cash flow (NYSE:DCF) analysis with conservative assumptions:
Adjusted FCF at 1% CAGR reaching ~$3.15B in 5 years
A 20x multiple against FCF in 5 years gives Terminal Value
WACC (Discount Rate): 8%
Cash minus debt: -$11.23B
Thus, with a total market value of ~$44B and supposing that there will be a lower number of fully diluted shares outstanding in late 2017 (~503M), we arrive at a value of $87.40 per share.
With a reasonable margin of safety (~$87 against current price of ~$67), the company shows relevant upside potential for 2017. It has to be noted that the annual growth rate considered (1%) is very conservative. It is far from analysts expectations (6%) but much closer to the company's 2016 guidance of -2% to 0%. On the other hand, if we don't consider the 2017 buyback we arrive at a value of only $76.50 for 2016.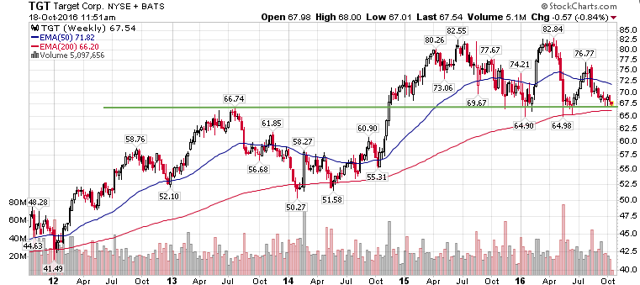 Charts courtesy of StockCharts.com
Note: The chart is in semi-logarithmic scale
Just for a technical note, let's see the 5-year weekly chart above. Two points may be highlighted:
1. The company is on a clear uptrend with some volatility;
2. The support/resistance at $67 is extremely relevant and affects share price movements as it's happening now.
Conclusion
It seems that Target is trading below its fair value. In fact, even with no growth the company has significant earnings and generates strong cash flow. Target is also working to meet the challenge of modern times where online sales and customer satisfaction are crucial issues. With a strong dividend yield of 3.55% - the dividend has been increased every year since 1971 - and a management team quick to change course when necessary investors should feel that Target is battling consistently for its future.
Disclosure: I/we have no positions in any stocks mentioned, and no plans to initiate any positions within the next 72 hours.
I wrote this article myself, and it expresses my own opinions. I am not receiving compensation for it (other than from Seeking Alpha). I have no business relationship with any company whose stock is mentioned in this article.
Additional disclosure: The author of this article is not an investment adviser and gives only his personal view and opinion, never making any investment advice or recommendation to buy or sell specific securities. Investors in financial assets must do so at their own responsibility and with due caution as they involve a significant degree of risk. Before investing in financial assets, investors should do their own research and consult a professional investment adviser.