Investors benchmark their portfolios against the S&P 500 or the Nasdaq 100 to assess their performance. How you allot your assets can be the difference between a winning and losing hand. Do you have enough of the industrials? A smattering of pharmaceuticals? Too much financial? Enough oil? A big utility position? Hold too much or too little of a sector can skew your results. The right mix and you trounce your benchmark.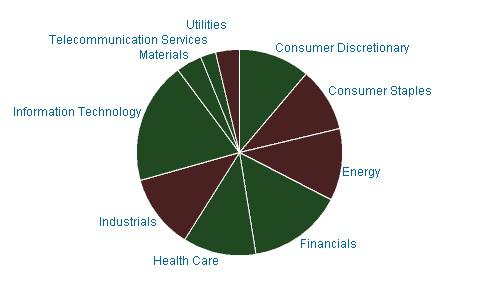 (U.S. equity markets, courtesy of Fidelity.com)
More and more, investors should be asking themselves: Do I own enough Apple (NASDAQ:AAPL)?
Why? It's become that big a part of the market. At a $500 billion market capitalization, it has become a mini-sector to itself. Recently, the S&P 500 was reported to be 3.8% Apple. Bloomberg disclosed that Apple is an astounding 17.1% of the Nasdaq 100 index. (The Nasdaq 100 rebalanced in 2011 when Apple comprised 21% of the index!)
If you're comparing yourself to the Nasdaq 100 index, you better redraw the pie above to include a giant slice of Apple. If you're like most investors and use the S&P 500, 3.8% is still a substantial share. At 3.8%, it's of similar size to real estate, telecommunications, utilities or basic communications.
Perhaps, investors should be asking themselves: Am I underweight Apple? Unless they hold the QQQ or Apple itself, the answer is probably "Yes".
If Apple represents 4% of the S&P 500 and 17% of the Nasdaq 100, most portfolios should include at least that percentage in their holdings to at least meet those benchmarks.
Disclosure: I am long AAPL.
Additional disclosure: The opinions in this document are for informational and educational purposes only and should not be construed as a recommendation to buy or sell the stocks mentioned. Past performance of the companies discussed may not continue and the companies may not achieve the earnings growth as predicted. The information in this document is believed to be accurate, but under no circumstances should a person act upon the information contained within. We do not recommend that anyone act upon any investment information without first consulting an investment advisor as to the suitability of such investments for his specific situation.