Central European Media Enterprises (NASDAQ:CETV) operates local TV channels in Eastern and Central Europe. Revenues of 600+ million USD are geographically segmented between Czech Republic (30% of revenues), Romania (25.9%), Slovakia (13.9%), Bulgaria (12%), Croatia (9.2%) and Slovenia (8.9%).
CETV is partially owned by Time Warner (NYSE:TWX) (43.1%), but its financial dependence on Time Warner is much stronger due to loans provided by TWX. Total debt is ca 1,063 millions USD, of which $520 million were provided by TWX. This "TWX" debt currently bears interest rate of 10% (depending on leverage ratio, interest rate can be from 7% to 10.5% p.a.) Time Warner also has right to convert debt to shares of CETV, which would lead to dilution of other shareholders, and Time Warner would own 76% of CETV.
The share price of CETV stays in the range between 2 USD and 3 USD for last 12 months. Even positive news about financial restructuring did not lead to a substantial rise in the share price. Dependence on Time Warner is too strong, and therefore, limits any potential long-term upside without any extraordinary news such as a potential acquisition of CETV.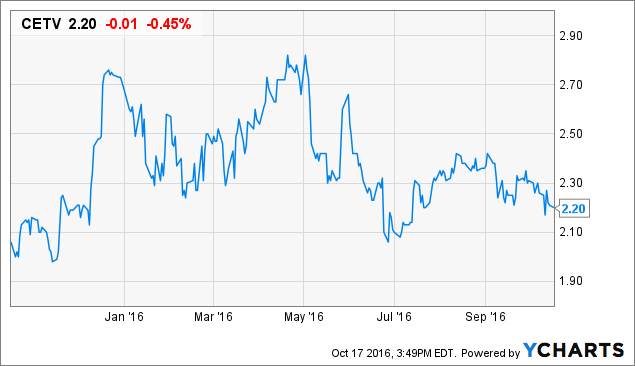 Consolidation in CEE media sector makes CETV an acquisition target
I believe that due to consolidation process in Czech and Slovak media sector, CETV can be bought by one of local investment groups.
Broad consolidation process took place in Czech and Slovak media sector in last three years. Media predominantly owned by international publishing houses were sold to local investment groups.
Just to explain, owning a media in Central and Eastern Europe is not just about financial results, but mainly about influence. As one of the local financial tycoons, Marek Dospiva from Penta Investments, declared in 2015:
Owning the media, gives us a confidence that nobody will irrationally attack us."
Therefore, local investors were willing to pay extra premiums to international owners also for financially non-performing media assets.
However, CETV, operating biggest local TV channels in Czech republic (TV Nova) and Slovakia (TV Markiza), stayed independent. As a result, Central European Media is the last influential media company in Czech and Slovak republic which does not belong to any of local financial groups.
That could easily change as local investors are still looking at CETV. Speculation in local media (subscription required) suggests Penta Investment is negotiating with CETV.
Penta already owns a net of local Czech newspapers and the second biggest newspaper publishing house in Slovakia, but it does not have any TV station. And that is its substantial weakness against its biggest local competitor J&T.
Therefore, I believe that Penta is interested in buying CETV.
Acquisition Price
Penta is predominantly active in Czech Republic, Poland, and Slovakia, with small business interests also in Germany and Hungary. Penta is primarily interested in CETV Czech and Slovakia operations. It makes ca 44% of CETV overall revenues. However, I see just small possibility that Time Warner would agree with the sale of just half of CETV and keep the rest. So let me assume that Penta would try to buy out all Time Warner shares.
As I already stated above, local financial groups are interested not just in the asset, but also in influence, therefore, they are able and willing to pay premium prices for media assets. There was a comparable acquisition of TV media assets in Poland completed in June 2015. Scripps Networks (NYSE:SNI) bought majority stake (52.7%) in Polish TVN (OTCPK:TVNWY) for 584 million Euro (615 million USD) and assumed also the debt of 856 million Euro (901 million USD). Price offered for minority shareholders was 11.57% above market price at that time, however, multiples of revenues and EBITDA were 4.4 and 10.15 respectively.
Such multiples would lead to an astonishing rise in share price of CETV; however, I would stick to the scenario in which Penta offers price with premium between 15% and 30% over actual share price. That could bring the share price of CETV close to 3.00 USD.
Positive future after acquisition
Penta has an impressive record in restructuring of companies it bought. I see at least two easily reachable areas where Penta can show its competence.
First is the total debt of CETV.
Indebtedness of CETV:

Total debt of CETV stands at 1,063.5 million USD, weighted average borrowing cost of gross debt is 9.21%. 2021 Euro Term Loan is provided directly by Time Warner. The current situation when the main shareholder is also the main creditor does not lead to optimal interest costs structure. Restructuring of debt will be inevitable after the acquisition. Low-interest rate environment in Europe, where CETV operates, would lead to lower interest rate costs. This will immediately mirror in CETV's financial statements.
Secondly, Penta, as the new major shareholder, would have to make a decision about Romania, Bulgaria, Slovenia and Croatia markets. These countries are not its home field, and disposal of local TV channels there can bring another substantial financial inflow to CETV and its shareholders.
Conclusion
I see big upside potential in CETV in short and long term.
The potential acquisition of CETV by local financial group Penta will boost the share price of CETV at least by 15%+ in short term. I assume, that Penta will buy Time Warner shares and will own 43.1% of CETV. Penta will take over management control, but will not pursue a buyout of other shareholders and delisting of CETV. Acquisition of controlling stake in CETV from TWX will be followed by debt restructuring and a potential sale of TV channels in non-core countries. That could lead to another substantial rise of the share price in long-term horizon.
Disclosure: I/we have no positions in any stocks mentioned, and no plans to initiate any positions within the next 72 hours.
I wrote this article myself, and it expresses my own opinions. I am not receiving compensation for it (other than from Seeking Alpha). I have no business relationship with any company whose stock is mentioned in this article.