Ctrip (NASDAQ:CTRP), China's largest online tourism service group, confirmed on Monday (October 17) a strategic co-operation agreement with Travelling Bestone, the largest offline travel agency chain in China. Ctrip is believed to invest at least $2 billion in Bestone. Together with the stakes owned by its associate company Qunar, Ctrip now has complete control of Bestone shares, according to Chinese technology website tech.qq.com.
Both sides did not disclose the exact scale and nature of Ctrip's investment. However, Tencent Technology reported that after signing this agreement, "(Ctrip) will achieve complete control of Bestone's shares."
Ctrip Raises $2.2 Billion Last Month Apparently For Investing In Bestone
Ctrip announced last month the issuance of $1.3 billion ADS and $900 million senior convertible bonds, amassing a war chest of $2.2 billion. Since then several tourism service companies like hotel reservation site Meituan.com and even Tuniu, Ctrip's smaller direct competitor, were mentioned by Chinese press as possible takeover targets. However, Ctrip co-founder, chairman and CEO James Liang denied it all. With the announcement of Ctrip partnering Bestone on Monday, the answer was clear.
It is not clear if Ctrip used all $2.2 billion it raised to buy the Bestone shares Qunar has not owned. There is also a possibility that Ctrip may invest $2.2 billion plus some of its cash on hand.
It is also not clear how much stake of Bestone Qunar has been holding after it invested 500 million yuan two years ago. But judging from Bestone's rapid expansion in recent years, Qunar's investment may have a very good return. When Qunar invested in Bestone, the latter had more than 3,000 shops and now grows to 5,000. Besides, Bestone enjoys continuous high business growth - it predicts to have a more than 50% growth in transaction value this year.
Bestone Evaluated At Least $2.15B As Qunar's Investment Doubled In Value In 2 Years
It is thus safe to estimate that Qunar's 500 million yuan investment had an annual return of at least 40% for the last two years, making its worth at least 1 billion yuan ($148 million) now. With Ctrip's at least $2 billion investment reported Monday, Bestone is worth at least $2.15 billion.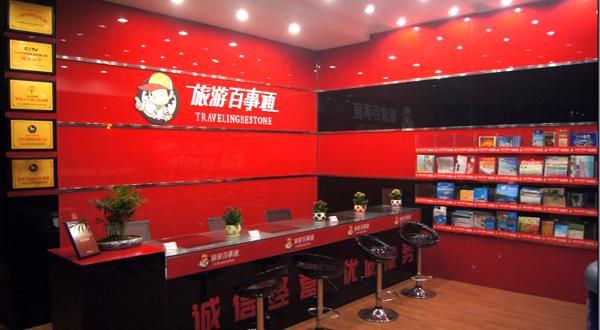 With Ctrip injecting at least $2 billion, Bestone is valued at $2.15 billion. Ctrip is particularly interested at Bestone's 5,000 shops mostly located at second-tier cities. (Source:ctoutiao.com)
Since Baidu (NASDAQ:BIDU) sold the 45% stake of Qunar it held to exchange for 25% stake of Ctrip, the latter has become the single largest shareholder and has actual control of Qunar. That is why Chinese press described that share swap as a "merger between Ctrip and Qunar." But, technically speaking, Qunar is an associate company of Ctrip. Therefore, Ctrip and Qunar are considered separate investors of Bestone.
That explains why Bestone CEO Zhang Li described Qunar as "an important shareholder" while Ctrip was a "very important shareholder." This also explains why Bestone and Ctrip announced they signed a strategic co-operation agreement rather than a merger or an acquisition.
But one thing is clear: Ctrip paid at least $2 billion to become a major shareholder of Bestone. Together with the stakes held by Qunar, Ctrip managed to control all shares of Bestone, according to Chinese press.
Bestone deserves an evaluation of at least $2.15 billion because it is China's largest offline travel agency chain, both in number of shops it runs and the tours it organizes. The more than 5,000 shops it operates are distributed across 30 provinces, municipals and special regions. Its presence is particularly strong in second- and third-tier cities.
Bestone Foresees 50% Jump In Transaction Value This Year
Last year the transaction value of vacation tours booked through Bestone amounted to 5 billion yuan. The company projects to have a growth rate of more than 50% in transaction value this year, making itself China's largest offline tourism product booking channel. It also has a web presence at 517best.com. In addition, Bestone has built up a pool of several thousand service providers.
Qunar, the online travel agency which Ctrip took over a year ago, invested 500 million yuan in Bestone at the end of 2014. Since then Qunar and Bestone shared online and offline channels, resources and clients. After merging with Qunar in October 2015, further integrating Bestone's business has become a top investment priority for Ctrip's travel business.
Ctrip's move conforms with the O2O (online to offline) trend in China's e-commerce space. Online companies are now looking at ways to connect their digital platform with an offline presence.
Bestone CEO Zhang Li was quoted as saying that with Ctrip's rich product portfolio and technology supports, Bestone aims to become the strongest travel product distribution channel in China.
Ctrip Senior VP Yang Tao, who is in charge of the group's travel business, said Ctrip, through its partnership with Bestone, will make a comprehensive development of the out-going travel markets in China's second- and third-tier cities. Ctrip will distribute its products through Bestone's offline shops, with advice of travel consultants, to customers in these cities who are not familiar with the internet and vacation travel.
Zuoyu Capital, a Chinese investment bank, acts as the sole financial advisor for Bestone. Its founding partner Hu Weidong pointed out that most vacation product bookings were made offline. In addition, offline bookings have lower costs than online ones. He said that Ctrip is interested in the travel industry ecosystem and management system formed by Bestone's fast expanding shop network.
Conclusion: Ctrip's Investment in Bestone is a Thoughtful Act
Ctrip has taken a long-standing strategy of turning competitors into partners by investing in them. For example, last year alone, it bought 37% stake of eLong (NASDAQ:LONG) from Expedia (NASDAQ:EXPE) in May, and then acquired 45% stake of Qunar in October. It also invested in another two competitors LY.com and Tuniu. Earlier this year, Ctrip invested in China Eastern Airlines, thereby strengthening its monopoly in China's air ticket booking market.
But Ctrip's investment in Bestone is of a different nature - it aims to strengthen its bridgehead in China's O2O travel service market. It is also a thoughtful action as it already knew Bestone very well. After its own investment in Qunar, Ctrip had one whole year to observe how Qunar and Bestone integrated their systems and business and had internal information before making such a major investment decision and integrated its own system with that of Bestone.
Hence, Ctrip's more than $2 billion investment in Bestone has a high chance of success. Besides, the synergy between Ctrip and Bestone does not end at travel products. Bestone's 5,000 shops in second- and third-tier cities around China will also sell Ctrip's hotel, flight, train and other booking services.
Disclosure: I/we have no positions in any stocks mentioned, and no plans to initiate any positions within the next 72 hours.
I wrote this article myself, and it expresses my own opinions. I am not receiving compensation for it (other than from Seeking Alpha). I have no business relationship with any company whose stock is mentioned in this article.