I've been a vocal Twitter (NYSE:TWTR) naysayer. Many smart people I follow have been finding TWTR "interesting," however, I've come to the opposite conclusion, choosing to stay far away. I've been a previous TWTR owner, and through that realized that management was rather incapable. Their path to monetization is severely lacking.
Now, that's not to say they won't ever make money, they just need the right management team. Jack Dorsey needs to step down, and there needs to be some fresh blood brought onto the board.
The problem is, everyone wants TWTR to be a tech company. Yet, it's a media company. Thinking of it as such, and valuing it that way, would take out much of the volatility we've seen in the stock price.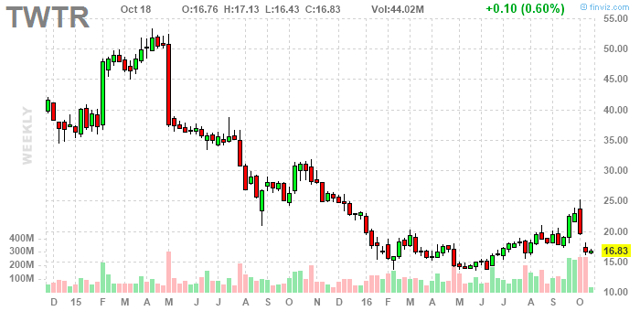 However, the problem, deep down, might be that TWTR isn't ready to admit it. That would involve abandoning plans to aggressively grow the top line and users, and figure out an actual monetization strategy. That's not to say that licensing isn't a worthwhile strategy, with deals for streaming content from the NBA, NFL, Wimbledon, Presidential debates, etc. Yet, it needs to play to its audience making its 300 million users "happy." In comparison, Facebook (NASDAQ:FB) has some 1.7 billion users. What TWTR needs to do is figure out how to make more ad revenue per user - that includes delivering more relevant and useful ads.
Now, what gets us there? I would argue it's upper management - here's looking at you @jack (TWTR CEO Jack Dorsey). From there, it would be a fairly easy strategy to execute on. Notably, the TWTR worker bees could put in place changes and tech updates fairly easily. Which, brings me to, why does TWTR have the second highest amount of stock grants of tech companies with $1B+ in revenues? They don't need to be spending a quarter of its annual revenues on stock grants when they're a media company. Balancing the need for employee cuts against further crippling morale is delicate.
About that sale
The last two bidders for TWTR, Salesforce (NYSE:CRM) and Disney (NYSE:DIS), backed out, in part because of the TWTR trolls and cyber bullying. The other issue is that many of the CRM and DIS investors voiced their displeasure for their respective companies buying TWTR. This, in itself, says a lot about TWTR.
Yahoo (YHOO) ran its own botched sale process, and struggling for years after rejecting mega-overtures from the likes of Microsoft (NASDAQ:MSFT). Yahoo was once growing its top line by double digits and boasted growing margins, now it barely grows and is hemorrhaging users. However, TWTR doesn't even appear to be able to garner an offer. And there's no 'easy' answer to the trolls.
Enter the activist
Possibly, the big remaining catalyst could be an activist investor, who could help refocus TWTR, force job cuts (including Dorsey's). Or they could help push TWTR (and again, Dorsey) to actually sell.
I'd genuinely be interested in being a TWTR owner around $13 a share and only if @jack is gone. At $13 a share, TWTR is valued closer to a media company, which then, could really get a media giant like DIS interested. In the meantime, they can easily continue on their path to becoming the next YHOO.
Disclosure: I/we have no positions in any stocks mentioned, and no plans to initiate any positions within the next 72 hours.
I wrote this article myself, and it expresses my own opinions. I am not receiving compensation for it (other than from Seeking Alpha). I have no business relationship with any company whose stock is mentioned in this article.