This is part 1 in a series on global food, water and beverage companies.
Food is an essential product for human survival.
With the world's population set to reach 9.7 billion people by around 2050, there will be an ever-increasing demand placed on sourcing clean energy, water and food.
The growing appetite for food
A combination of a growing global population and a rising middle class will make for a nice "tailwind" for the food sector. As wealth and urbanisation rises, then consumption of protein rich food (especially dairy and meat) rises too.
The Asian middle class is rising - from 600 million in 2015 on its way to 3 billion by 2030, or around 438,000 new entrants a day to the middle class. Most of the rise will be in China and India. China continues to be the world's largest consumer market for food and beverage (F&B) products, surpassing the United States in 2011. According to Euromonitor, "the Chinese food service sector is now the largest in the world, with a EUR 440 billion turnover in 2014 and 7.3 million outlets. China is unable to produce enough to feed its population and is therefore obliged to import F&B products. China' s F&B import market is expected to increase more than 15% annually."
The main regions supplying China (in 2014) with food are shown below. Of note is that the US is the fourth-largest supplier, with the EU as number one. Also, ASEAN, NZ and Australia are prominent. This is considered when making the stock selections below.
Chinese F&B import sources by country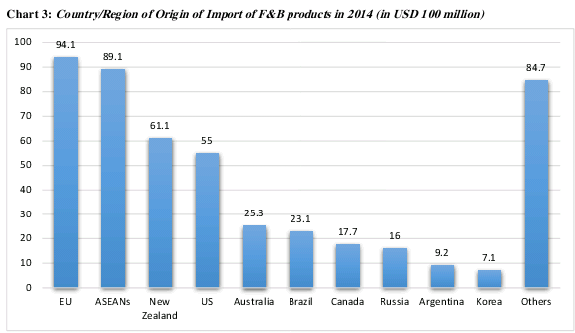 (Source)
The expanding world middle class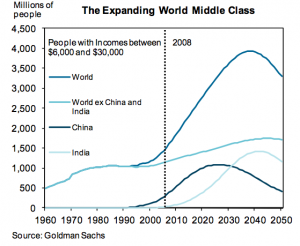 (Source: Goldman Sachs)
You can see from the graph above that most of the world middle class growth will initially come from China (2005-2025), followed by India (2015-2040).
DBS states regarding food demand in Asia, "With more people able to afford a good meal, demand for food is expected to hit nearly USD3 trillion per year - double of what it was a decade ago. China will account for almost half of this, and Indonesia, more than half the Southeast Asian market. Grocery retailing, in particular, looks set to continue its spectacular growth."
The trend is clear. The harder part is what food companies to buy. These companies will need to be selling successfully into Asia (especially China) in order to benefit from demographic trends.
This tells investors the importance of selecting companies that can capitalise on this trend by having strong exposure to China from now until 2030, and to India from around 2020-2045. Or by converse, if companies cannot crack China and India, they will miss the two greatest areas for customer growth.
Several ways to invest in the food sector (ideally with a focus on Asia to get the best growth prospects)
1) The seed companies - The 3 majors have been involved this past year in takeovers. As the Washington Post reports, "Germany based Bayer AG has bid to buy Monsanto Co (NYSE:MON), the world's biggest seed company, for $66 billion. DuPont Co. and Dow Chemical Co. plan a $59 billion merger. China National Chemical Corp. waits to complete its $43 billion takeover of Swiss seed maker Syngenta AG." Going forward, this makes it harder for investors to buy the top 3 players in this sector as a pure play.
Top 10 global seed companies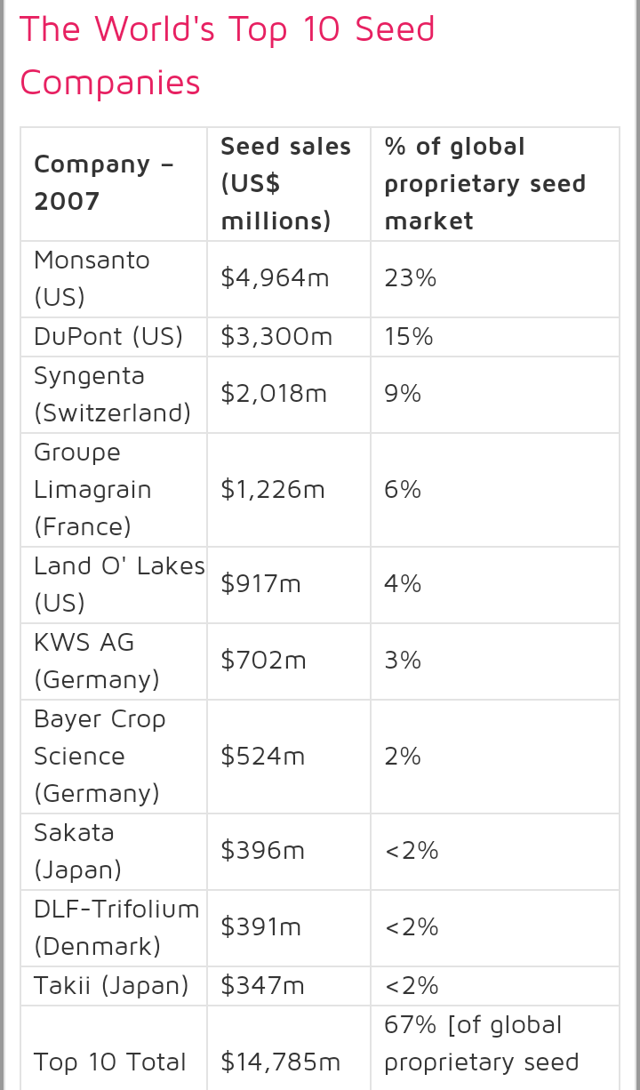 (Source)
Investors could consider buying one of the seed companies below the top three, but their market shares are fairly small.
2) The fertiliser companies - I have chosen not to discuss these, as I have concerns that the potash market will be saturated as a by-product of lithium production, causing prices to fall further.
3) The dairy or meat (fish, pork, beef, chicken) producers - Some major dairy producers are Nestle SA (OTCPK:NSRGY, VTX:NESN), Danone (OTCQX:DANOY), Fonterra (OTC:FTRRF, FCG:NZX), Natural Dairy (NZ) Holdings Ltd. (HK:462). You can view the world's top 20 dairy producers here. I like the diary industry, especially with China now officially lifting the one-child policy, thereby boosting baby milk powder demand. Investors could also look into the meat producers considering pork is very popular in China, and beef is not yet so popular in Asia as it is often more expensive, but could certainly rise in the future. Investors could also consider the animal feed companies. The top 20 are listed here.
4) The Supermarket chains - Sun Art Retail Group (OTCPK:SURRY, HK:6808), China Resources (Holdings) Co. Ltd. (private), Beijing Hualian Group (BHG), Lianhua Supermarket Holdings (OTCPK:LHUAF, HK:980), Yonghui, Tsingtao (OTCPK:TSGTY), Park'n'shop, Dairy Farm (OTCPK:DFILF, SP:DFI), Sheng Siong Group (NYSEARCA:SSG), NTUC FairPrice, Carrefour S.A. (OTCPK:CRRFY), Tesco Lotus (LON:TSCO) (OTCPK:TSCDY), Costco (NASDAQ:COST), Big C Supercentre, Tops, Robinsons Retail (OTC:RBNTF, PS:RRHI), SM Supermarket (SM:PSE), Econsave Cash & Carry, P.T Lion Super Indo (private), Woolworths (OTCPK:WOLWF, ASX:WOW), Aldi (private)), convenience stores (CP All Public (OTCPK:CPPCY), Seven Eleven, Family Mart), wholesalers, or online grocery sellers (Alibaba (NYSE:BABA), JD.com (NASDAQ:JD)). You can read more here.
NB: According to DBS research, Asian modern grocery (supermarkets) growth from 2009-2014 had a CAGR of 12%. I would expect this to continue, helped along by the rising middle class consumer. According to Daxue Consulting, convenience store growth in Chinese major cities is now "saturated", so investors should be aware of that.
China's top 10 supermarkets by market share as of February 2015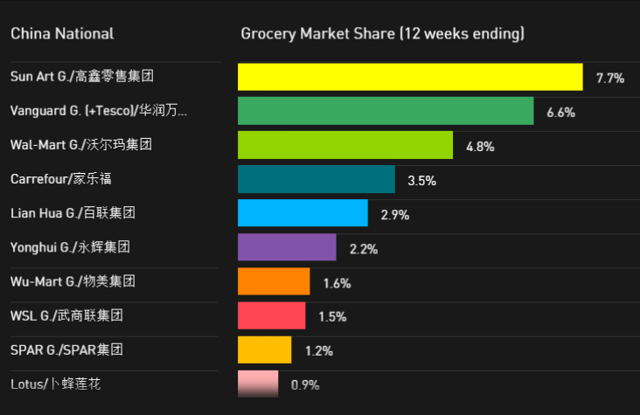 (Source)
Chinese supermarkets, in recent years, have seen fierce competition, oversupply, as well as competition from online retailers. Added to this has been rising rents and wages. This has caused margins to be eroded and stores to be closed. The question going forward will be: Can the Chinese supermarkets fight back and gain greater share and margin? The macro tailwind is very strong; however, the operating environment is super-competitive.
5) The global food multinationals - Nestle, JBS S.A. (OTCQX:JBSAY), Archer Daniels (NYSE:ADM), Tyson Foods (NYSE:TSN), Mondelez (NASDAQ:MDLZ), Cargill (private) and Unilever (UL, LON:ULVR) are some of the top global food producers. I have not chosen to include the beverage companies such as Coca-Cola (NYSE:KO), PepsiCo (NYSE:PEP) or Anheuser-Busch InBev (NYSE:BUD) in my 5 food sector stocks section, below as they are more beverage companies than food.
World's top 15 food companies by food sales in 2014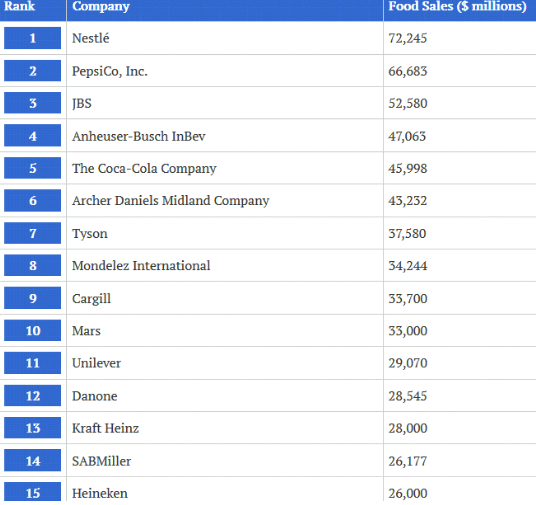 (Source)
NB: The 2015 rankings can be viewed here.
5 food sector stocks to consider
Nestle SA - Price = CHF 74.5
Nestlé SA is a Swiss nutrition, health and wellness company which manufactures, supplies and produces prepared dishes and cooking aids, milk-based products, pharmaceuticals and ophthalmic goods, baby foods and cereals.
The company's products portfolio includes powdered and liquid beverages, water, milk products and ice cream, nutrition and health science, prepared dishes and cooking aids, confectionery and pet care. Some of its brands include Lean Cuisine, Stouffer's, Coffeemate and Nescafe. According to Rabobank, Nestle is the world's largest dairy company by market cap and the world's largest food company by food sales revenue.
Nestle currently trades at a P/E of 22.5, or a 2017 P/E of 20.6. Not cheap, but it is a high-quality top-tier global food distributor well known for its high-quality dairy products. Net profit margins are good at around 10%, however revenues have been rather flat the past 5 years. Debt levels of 45% of net worth are a little higher than I would like to see. I view the stock as a low-risk solid global food play with a reasonable 2.99% dividend, which can be accumulated on dips (price weakness greater than 10% fall).
Analysts' consensus is a Buy rating with a target price of CHF 84.43.
Nestle's financials graph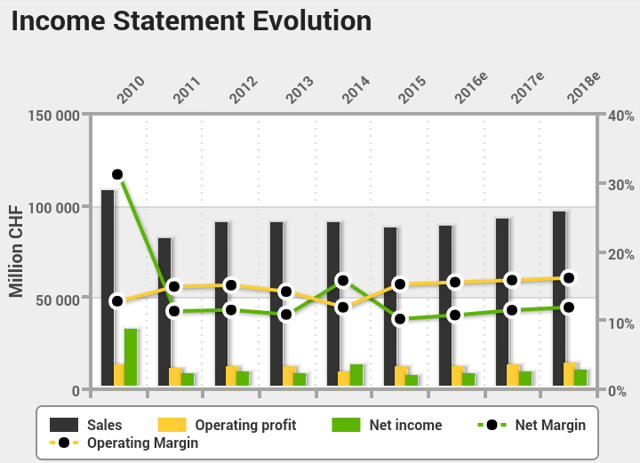 (Source: 4-traders)
JBS S.A. - Price = BRL 12.70
JBS S.A. is a Brazilian company that is the largest (by sales) meat processing company in the world, producing factory-processed beef, chicken, pork and lamb, and also selling by-products from the processing of these meats. It is ranked as number 3 in the global food producers list. The name JBS comes from the founder Jose Batista Sobrinho's initials.
After a poor period in 2016, where net profit (and margins) are forecast to fall, it looks like JBS will bounce back in 2017. Net profit margins are forecast to still be very slim at 2.5%; however, revenue has been growing consistently and is forecast to continue growing. 2017 P/E is a very reasonable 8.3. Analysts' consensus is a Buy rating with a target price of BRL 16.19.
JBS S.A.'s financials graph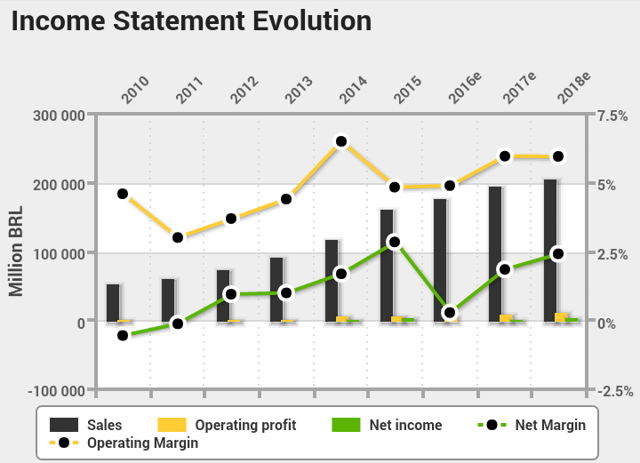 (Source)
Unilever - Price = GBP 3,504
Unilever is an English company that sells over 400 brands globally, but focuses on 14 brands with sales of over 1 billion euros. The brands include Axe/Lynx, Dove, Omo, Becel/Flora, Heartbrand ice creams, Hellmann's, Knorr, Lipton tea, Lux, Magnum, Rama, Rexona, Sunsilk and Surf.
Unilever is a safer way to play the rising global demand for food, as the company is so well diversified across product lines (includes non-food items such as personal care) as well as by country. I don't expect spectacular returns, but just slow and steady growth as the global middle class and population consume its products.
Current 2016 P/E is at 22, and 2017 P/E is 20.5. The PEG ratio looks high at 3.8; however, Unilever is a quality company that should be able to withstand market downturns better than most. Its net profit margins look stable around a very respectable 10%.
Analysts' consensus is a Buy rating with a target price of GBP 3,587.
Unilever's financials graph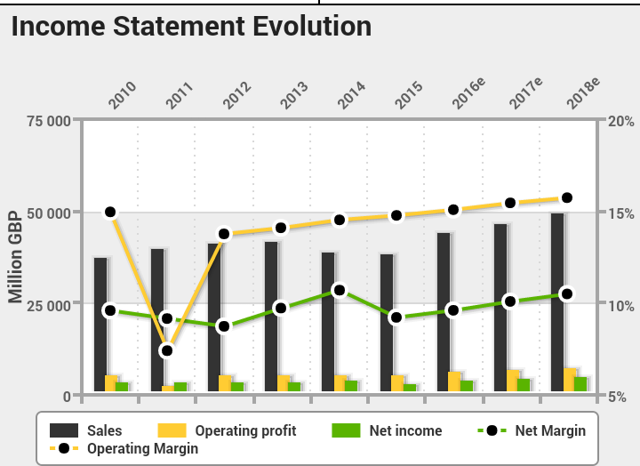 (Source: 4-traders)
Sun Art Retail Group - Price = HKD 5.42
Sun Art operates as an investment holding which engages in the operation of hypermarket stores and e-commerce platforms in China. It offers hypermarket and retail gallery of food and non-food merchandise. The stock has fallen around 50% over the past 3 years with a slowdown in Chinese consumer spending and fierce competition.
Currently, the HK listing trades at a P/E of 18.34 and a 2017 P/E of 18.29. The graph below shows revenue is rising nicely and is forecast to continue. The main concern is that the operating profit (yellow line) and net profit margin (green line) are reducing, thereby cutting back profits. This has been partly due to the company's losses in online retailing and intense competition during the China slowdown. If it can improve margins back to 2014 levels, then the current price at P/E will have been a good entry point. Certainly, the tailwind of the rising China middle class should also help.
Analysts' consensus is a Hold rating with a target price of HKD 4.35, which is well below the current price of HKD 5.42. The stock is one to watch.
Sun Art's financials graph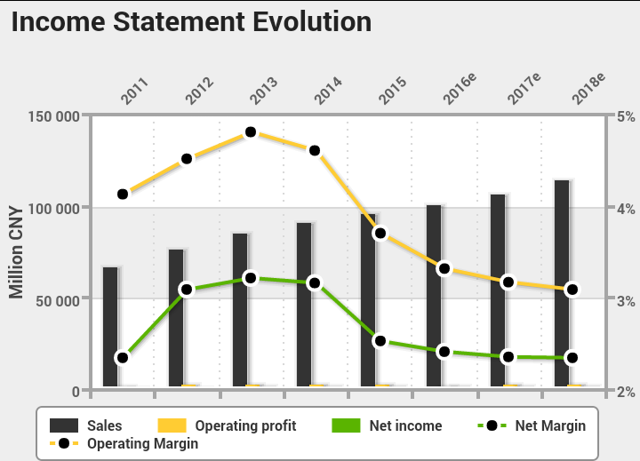 (Source: 4-traders)
Robinsons Retail Holdings Inc. - Price = PHP 72.0
Philippines-owned Robinsons Retail Holdings Inc. operates various retail outlets. The company owns and operates supermarkets, department stores, home improvement stores, convenience stores, drug stores and other specialty stores in the Philippines.
The stock has recently sold off along with the PSEI. I expect Robinsons to do well by expanding within the Philippines and possibly further into Asia later on. With a rising Filipino middle class, there exists a very strong demographic tailwind.
Recently, I enjoyed a coffee in Manila at the UK coffee chain Costa Coffee. I was pleasantly surprised to learn that Robinsons is the owner, and that the company appears to be expanding into the coffee shop business, which has proven to be very lucrative for Starbucks (NASDAQ:SBUX) and others. The company recently purchased 51% of The Generics Pharmacy, a network of over 1,800 lower bracket pharmacies in the Philippines. Robinsons also owns budget airline Cebu (Pacific) Air and the Go hotel chain, as well as its very popular Robinsons shopping centres, Robinsons Supermarkets and Robinsons Bank.
The stock trades at a 2016 P/E of 21.2 and a 2017 P/E of 18.42. Net profit margins look reasonable around 4.5%.
Analysts consensus is a Buy rating with a target price of PHP 87.43.
Robinsons' financials graph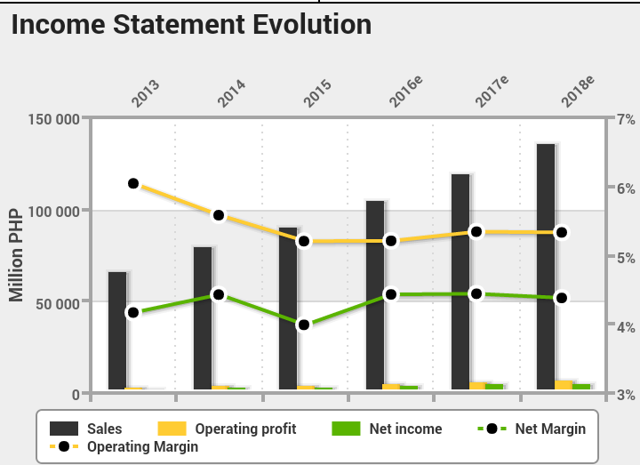 (Source: 4-traders)
An alternative to Robinsons Retail would be SM Retail (SM:PSE), as it is also growing fast, with plans to open 40-50 new stores this year.
Speculative food company
Australian Agricultural Company (OTC:AAYYY, ASX:AAC) - Price = AUD 1.94
AAC is Australia's largest listed producer of beef. It has extensive pastoral assets, a massive cattle herd, feedlot and abattoir facilities.
In the past financial year, AAC reported a 96% rise in total kilograms sold of beef and by-products. This should hopefully help the company to be more profitable soon. For now, the stock is considered still speculative, and it trades at a 2017 P/E of 43.
You can read here about the top ten global food giants.
Food ETFs and Funds
iShares MSCI Global Agricultural Producers ETF (NYSEARCA:VEGI) - Price = USD 23.58
The iShares MSCI Global Agricultural Producers ETF is exposed to companies that produce fertilisers and agricultural chemicals, farm machinery, packaged foods and meats. The fund offers targeted access to global agricultural stocks. Its top holdings are Monsanto (NYSE:MON) (a major seed producer), Syngenta (NYSEMKT:SYN), Archer Daniels Midland, Deere & Co. (NYSE:DE) and Potash Corporation of Saskatchewan (NYSE:POT).
The fund is up 12.33% in the past year, has a P/E of 17.24 and an expense ratio of 0.39%.
Risks to the food stocks mentioned above
Online retailers (such as Alibaba) are very popular in China and are a threat to some traditional bricks-and-mortar food outlets.
The food business is often fiercely competitive, and margins can be low.
Food contamination issues exist.
Liquidity risk can occur, so it is best to buy on local exchanges, if possible.
Conclusion
Food companies come in many varieties. In this article, I have focused on the major global players with very well established businesses, strong brand names and recurring profits. These stocks should benefit from the macro tailwind of the rising middle class, especially in Asia. They should also be quite stable during any market downturns, therefore adding some safety to an overall portfolio. For those preferring an ETF, I would suggest VEGI as a good starting point.
I thank Simplywall.st for allowing me access to their excellent infographics and analytics, which I plan to feature in future articles.
As usual, all comments are welcome, including any suggested global food companies you favor and why.
Disclosure: I/we have no positions in any stocks mentioned, and no plans to initiate any positions within the next 72 hours.
I wrote this article myself, and it expresses my own opinions. I am not receiving compensation for it (other than from Seeking Alpha). I have no business relationship with any company whose stock is mentioned in this article.
Additional disclosure: The information in this article is general in nature and should not be relied upon as personal financial advice.
Editor's Note: This article covers one or more stocks trading at less than $1 per share and/or with less than a $100 million market cap. Please be aware of the risks associated with these stocks.