Mylan (NASDAQ:MYL) is down 13% (and as much as 17%) since I argued the company was "out of tune" with an angry chorus that promised to place a lot of short-term pressure on the stock. As bad as Mylan's posturing looked back then, there was at least one other note to the chorus that I missed - a note that completely solidifies my poor opinion of the company.
A week ago, the Annals of Internal Medicine published an article extremely critical of Mylan's attempt to classify the EpiPen as a preventive service. In "Is It Time for the USPSTF to Inform-But Not Determine-Coverage?," authors Virginia A. Moyer, MD, MPH, Michael LeFevre, MD, MSPH, and Ned Calonge, MD, MPH delivered a rebuttal to a Mylan-sponsored article in The American Journal of Medicine titled "Prevention of anaphylaxis: the role of the epinephrine auto-injector." The AJM piece was authored by Leonard Fromer, MD, FAAFP but written via the research of consultants from Ashfield Healthcare. And that setup starts the problems.
According to the AJM article, Mylan "provided funding for medical writing and editorial support in the development of this manuscript." In other words, Mylan paid Ashfield Healthcare for getting the AJM article published. Ashfield Healthcare is a diversified healthcare consulting company. One of its many specialties is in medical writing and review. According to Ashfield, this group specializes in "creating and maintaining standard and custom content" by "producing sharp, accurate content based on scientific research." Another specialty is crisis management (I am guessing Mylan is now a very good customer!). So what we have is a pharmaceutical company which paid a consulting company to write an opinion piece which was given a veneer of credibility through the authoring of a medical doctor. This setup alone is not particularly egregious given all the clear disclosures. However, the setup is troubling when combined with the goal of convincing the U.S. Preventive Services Task Force (USPSTF) to grant the EpiPen a status which would eliminate patient co-pays, force health plans to cover 100% of the cost, and thus allow Mylan to continue sheltering much of its soaring price hikes away from public scrutiny.
To be clear, the article's intent was not hidden. The AJM piece specifically called out high deductibles and cost-sharing as reasons patients reduce or avoid purchases of EpiPens. In Mylan's language, these plans that shift substantial cost burdens back onto patients limit patient "access" to EpiPens. Mylan's solution: use provisions in the Affordable Care Act (ACA) that eliminate patient costs for preventive services to cover EpiPens. As the authors in the Annal piece pointed out in their rebuttal, Mylan's argument was extremely weak and effectively amounted to a very generous liberalization of the definition of a preventive service. For example, one look at USPSTF's list of currently approved preventive services demonstrates the EpiPen does not deserve the preventive label. This list is full of screenings and tests for asymptomatic patients. These services identify potential health problems early or prevent the onset of these health issues altogether. Mylan took great liberties in equating this notion of prevention to EpiPen's role in preventing a more severe anaphylactic reaction (and in many cases avoiding hospitalization). If Mylan's argument prevails, an appendectomy could be considered preventive because it avoids more serious issues if an appendicitis is allowed to go untreated (the Annals article made this point).
If Mylan's effort had won the day early enough, the EpiPen outcry may never have occurred or at least been delayed much further. Insurance plans would have been forced to eat Mylan's price hikes and look to transfer these costs in the forms of higher premiums and/or higher deductibles for other treatments. The public would see the higher cost, but Mylan's culpability would go largely unnoticed. Mylan's "labeling strategy" is even more significant when juxtaposed with the recent contention over Mylan's misclassification of the EpiPen under the Medicaid Drug Rebate Program.
In an October 5, 2016 letter to Senator Ron Wyden, Acting Administrator Andrew M. Slavitt described how Mylan failed to take action after the Centers for Medicare & Medicaid Services (CMS) identified the issue. At stake was the amount of rebates Mylan had to pay for the EpiPen:
"This incorrect classification has financial consequences for the amount that federal and state governments spend because it reduces the amount of quarterly rebates Mylan owes for EpiPen. As you indicated in your letter, under the Medicaid Drug Rebate Program, single source or brand drugs pay a rebate of the greater of 23.1 percent of average manufacturer price (AMP) or the difference between AMP and the drug's best price, increased by an additional rebate if the AMP of the drug increased faster than the rate of inflation. In contrast, the rebate for generic products is 13 percent of AMP."
Granted, the change in EpiPen's classification from a single source, or brand drug to a non-innovator multiple source, or generic drug happened in 1997, 10 years before Mylan acquired the rights to market the EpiPen from Merck (NYSE:MRK). However, Slavitt claimed that CMS "…on multiple occasions, provided guidance to the industry and Mylan on the proper classification of drugs and has expressly told Mylan that the product is incorrectly classified." Likely having learned its lesson from the simmering controversy over EpiPen pricing, MYL took swift and decisive action once the CMS issue became widely public. In just two days after Slavitt's letter, Mylan settled for $465M (but of course admitted to no wrongdoing).
Mylan's press release announcing the settlement included earnings guidance. Mylan reduced 2016 guidance for adjusted diluted earnings per ordinary share from $4.85 to $5.15 down to $4.70 to $4.90. This reduction probably caught no one by surprise given the hits the company has taken on EpiPen. The big surprise was the reiteration of $6.00 EPS guidance for fiscal 2018 (the announcement did not include guidance for 2017). This 2018 target is an extremely important milestone because it is directly tied to executive compensation. It is no accident or coincidence that MYL made a point to reiterate its commitment to the 2018 $6 number. I pointed out in my last Mylan post that this target provides a reason for sticking by MYL over the longer term. At this point, belief in management's substantial incentive to hit this target forms the fundamental or core thesis for investing in the company.
The reaction in Mylan's stock to the settlement and guidance has been revealing. MYL soared at first with a one-day gain of 8.2%. MYL at first gapped up to a 12.5% gain. The subsequent selling formed a technical pattern called a "gap and crap" where over-eager buyers (or market makers) open the stock so high that sellers are motivated to rush to cash in. MYL has been mostly downhill since then and even filled the gap. This move recognizes that nothing fundamental about MYL has changed for the short term. I strongly suspect MYL will be stuck in a trading range (say between the recent low around $36 and the high of the premature settlement celebration around $40.50) until the company reports earnings on November 9th. That report and discussion with analysts will be a critical opportunity for the company to prove convincingly it can hit the $6.00 EPS target for 2018. MYL will also need to reassure the audience that its standing plans to reduce its dependence on EpiPen revenues are proceeding effectively.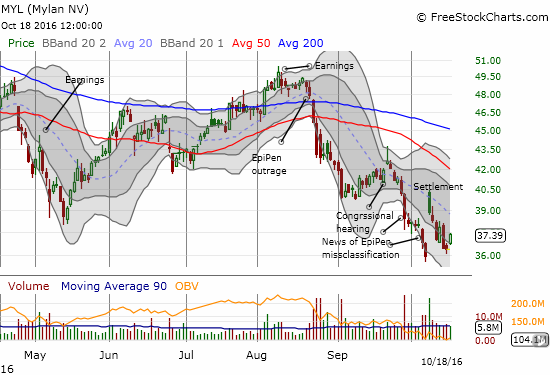 Mylan has lost about 24% of its value ever since the EpiPen outrage began in earnest.
Mylan is a cheap stock getting even cheaper - the forward P/E is down to 6.5. The stock peaked at an all-time high in 2015 at roughly double its current price. When Teva Pharmaceutical Industries (NYSE:TEVA) announced on July 27, 2015 it had dropped plans to acquire MYL, the subsequent sell-off locked in the all-time high). So the EpiPen is just Mylan's latest trouble.
Mylan also suffers from industry-wide overhang. MYL is one of the top 10 holdings in iShares Nasdaq Biotechnology (NASDAQ:IBB). IBB is down 20.4% year-to-date and has yet to recover from two Hillary "Clinton bashes." Bash One was September, 2015, and I originally considered the sell-off to be a buying opportunity. Bash Two was August, 2016. As I pointed out in a recent post, Senator Bernie Sanders delivered a fresh technical blow to the ETF. If IBB is on its way to retesting recent lows, it will surely drag MYL down with it. If IBB manages to overcome the latest bash with a close above its 200DMA support, the event could mark the first sign that the industry is healthy enough to start a sustainable recovery from all the political pressures currently bearing down. (As the chart below shows, IBB ALMOST delivered such a breakout last month).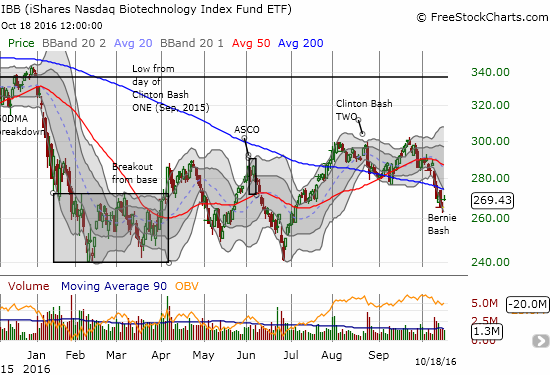 The iShares Nasdaq Biotechnology is breaking down again.
Source for charts: FreeStockCharts.com
Having said all this, I think MYL's quick settlement with the government is the first positive sign in this EpiPen mess. As a result, I changed my trading strategy in the wake of the mess. I closed out my last short positions (put options in this case) and initiated a call option as a first speculative test on the longer-term thesis. I have added bi-directional bets on IBB to the mix. I explained the IBB trade in "A Fresh Breakdown for iShares Nasdaq Biotechnology (IBB)" - I closed out call options after the profits paid for the put options I am still holding. The market's response to Mylan's November's earnings report will likely guide any additional changes to my trading strategy.
Be careful out there!
Disclosure: I am/we are short IBB.
I wrote this article myself, and it expresses my own opinions. I am not receiving compensation for it (other than from Seeking Alpha). I have no business relationship with any company whose stock is mentioned in this article.
Additional disclosure: Short IBB via put options as part of trading strategy described in this piece. Also long MYL call options per a separate trading strategy.