Background
On the evening of September 19th Tobira Therapeutics (NASDAQ:TBRA), two months removed from its lead asset flunking a Phase 2b trial, closed at four dollars and seventy-four cents per share. The next morning Allergan (NYSE:AGN) announced it was purchasing Tobira for a whopping premium of at least 500%, with the potential to reach approximately 1,600% if all future milestones are met. The justification behind the deal was to gain access to Tobira's investigational therapy Cenicriviroc, CVC for short, with the ultimate goal of entering the race to a very lucrative market in the treatment of non-alcoholic steatohepatitis, commonly referred to as NASH. NASH is a condition in which fat accumulates in the liver and over time inhibits proper liver function, causing inflammation. Eventually the inflammation leads to liver fibrosis and left untreated can ultimately prove fatal. Allergan further solidified their position in NASH by purchasing privately held Akarna Therapeutics and its FXR Agonist the very same day. But the real interesting dynamic is what drove Allergan to pay such a hefty multiple for CVC, on the surface an asset that had just missed the primary endpoint in a Phase II trial. According to Tobira's 14D-9 filed 10/3/16, the outrageous premium was partially the result of a bidding war between Allergan and an unnamed second suitor dubbed "Party A". Numerous signs point to Gilead Sciences (NASDAQ:GILD) being the firm masquerading as "Party A", however to appreciate why both Gilead and Allergan may have been willing to bid up Tobira we must first understand the dynamics of treating NASH.
Fighting NASH: A Three Tiered Approach
"So we look at NASH as a complex biological disease and you know there is a fibrotic component and inflammatory component and a metabolic component and we have now mechanisms that address all three of these."
That is Norbert Bischofberger, Chief Scientific Officer at Gilead, breaking down the dynamics of treating NASH at the recent Wells Fargo Healthcare Conference (Full Transcript). At the Citi Biotech Conference he reiterated similar sentiment. (Full Transcript)
Fundamentally what Bischofberger is trying to convey is that to effectively treat NASH a cocktail approach must be employed. One or more compounds must attack the disease simultaneously to counteract its inflammatory and metabolic aspects, and to reverse fibrosis, or tissue scarring, associated with a fatty liver. Unsurprisingly, the cocktail approach is a technique that Gilead has experienced broad success in utilizing for its HCV and HIV therapies.
The NASH market has been estimated north of $35 billion annually at its peak, and Gilead themselves have stated the F3 and F4 levels of fibrosis, which they assume to be the treatable base, could be up to 25% of the NASH population. The below is what Kevin Young, Gilead's COO, had to say at the Wells Fargo Conference referenced above.
"This might surprise you but the median survival for a NASH F4 patient is five years. So they are pretty sick and so we would see that as the obvious kind of entry points F3, F4 from a clinical need point of view and I think from an affordability point of view with the right pharmacoeconomic data to really say, these are high need patients and they are worthy of funding."
Young went on to say:
"If you take the U.S., our estimates of the sort of NASH population which is considerable, multimillions of people is about 16% at F4. If you add in the F3s, it's about 25%; it's about a quarter of the population."
A quick back of the envelope calculation: a quarter of the NASH population comes out to about 12.5 million people if common estimates of about 50 million total US patients living with NASH are to be believed. Assuming Gilead/Allergan prices combination therapy in the realm of Harvoni we come to a total US market upwards of $680 billion using a conservative gross to net of 65%. That is an enormous opportunity even while omitting OUS lives. If chronic therapy is needed, which I believe it will be, the opportunity becomes even larger.
Why Battle Over A Failed Asset?
As earlier stated Tobira's CVC failed to meet the primary endpoint of its Phase 2b trial (Source): the improvement of NAFLD Activity Score. As a result the stock plummeted 60% on July 25th. However, investors largely dismissed a much over-looked secondary endpoint of the trial which was in fact met. CVC showed a statistically significant improvement in liver fibrosis without the worsening of NASH. Bhavneesh Sharma did a good job of breaking down the details of the trial in his July 26th article.
What this means is that Tobira has clinically documented evidence that CVC is successful against one of the three key components of NASH: Fibrosis. Therefore CVC could potentially be one piece of a future cocktail treatment. This thesis is further bolstered by Allergan's subsequent purchase of Akarna and the company's FXR Agonist, which would target the metabolic aspect of the disease. It's likely Allergan's intention to utilize the two compounds in tandem going forward.
Why Would Gilead be a Buyer of Tobira?
While every analyst in the world honed in on declining HCV revenues, earlier this year Gilead made two under the radar acquisitions in the NASH space. The first was to acquire privately held Phenex Pharmaceuticals and their FXR Agonist (now called GS-9674) (Source), which much like Akarna's compound would target the metabolic aspect of NASH.
The second was to acquire privately held Nimbus Apollo and their ACC inhibitor (now called GS-0976), which targets the inflammatory and metabolic aspects of the disease. Interestingly the terms of the Nimbus deal were similar to Tobira's buyout in that Gilead offered $400 million upfront with the potential for up to $800 million in additional milestone payments. (Press Release)
Gilead's approach is likely to include adding some combination of the acquired compounds to two in-house pipeline candidates: GS-4997 and Simtuzumab.
GS-4997, an ASK-1 Inhibitor, is already in Phase 2 trials with and without Simtuzumab. Gilead has indicated that 4997 will attempt to combat the inflammatory aspect of NASH.
Simtuzumab is a monoclonal antibody, which in Gilead's potential cocktail would be the agent most responsible for battling fibrosis. Simtuzumab owns a somewhat embattled history and has already failed one Phase 2 trial in IPF, or fibrosis of the lungs (Press Release), and pancreatic cancer (Press Release). Bischofberger had this to say at the Wells Fargo Conference:
"but you know the simtuzumab, you know all the, looking at the biology, the mechanism of action, the preclinical data this compound should be an antifibrotic. Now having that said, we had disappointing data on the same compound previously in IPF. We stopped the study because there was no evidence of any efficacy and it also didn't show any efficacy in two oncology application. So that somewhat dampens my enthusiasm honestly for simtuzumab but we will learn later in the year what it really does."
So while Gilead has publicly stated that they possess all the agents they need in order to bring to market a best in class NASH therapy, they simultaneously cast doubt on the main anti-fibrotic in their portfolio. Cue Tobira. As stated previously, CVC demonstrated a clinically meaningful improvement in liver fibrosis, and theoretically could be combined with any of Gilead's current compounds. This would alleviate the reliance on the unreliable Simtuzumab and the uncertainty regarding the anti-fibrotic potential of Gilead's current pipeline.
In addition, if we dig through the details of "Party A's" 9/19 final bid for Tobira (seen in the chart below), we see that 5 of the CVRs offered are related to "Combo" therapy, a strategy we know Gilead is targeting and has used successfully in the past. Furthermore, this shows Party A had no intention of progressing CVC as a standalone asset. Therefore I believe that based on Gilead's need for a proven anti-fibrotic, the similarity of the 9/19 Tobira offer to the buyout Nimbus received, and the CVR's linked to combination therapy Gilead was likely the second bidder for Tobira Therapeutics.

Intercept - The Elephant and (Current) Leader in the NASH Room
I would be remiss in speaking on NASH and specifically FXR Agonists without at least mentioning Intercept Pharmaceuticals (NASDAQ:ICPT) and their drug, OCALIVA (obeticholic acid), which is already approved for PBC and is furthest along in the clinic as far as NASH is concerned; currently in Phase 3 trials (see below). Many analysts, traders, and tweeters have long married big pharma, including Gilead, to Intercept, hoping for an acquisition.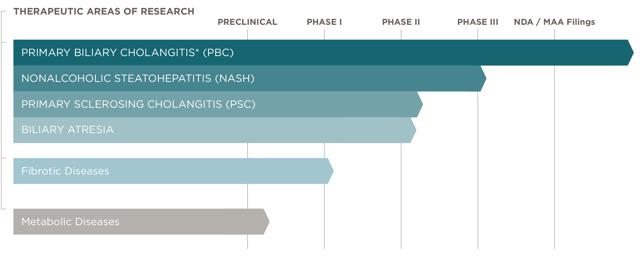 (Source)
The reason that I feel that an acquisition is an unlikely outcome is that 1) Gilead (and now Allergan) has already acquired non-bile acid FXR Agonists and 2) Obeticholic Acid is considered a bile acid analog, which Gilead's team has expressed concern over both the safety profile and unpredictable nature of. From the same Citi Biotech Conference referenced above:
"So, our philosophy with FXR always was that we don't want a bile acid analog for the simple reason bile acids do a lot of other things besides what you want them to do."
And here is Bischofberger speaking specifically about GS-9674 vs. OCALIVA at the Goldman Sachs Global Healthcare Conference. (Full Transcript)
"So let's talk about diverse on differentiation from OCA so both are FXR agonists, so they have the same mechanism, but OCA is a bile acid and bile acids do many things in your body and side effects that we're seeing the rash.
There was also a side effect of reducing HDL fairly substantially and we have the philosophy instead of dealing with an orally absorbed systemically active bile acid analog we have an FXR agonist that's minimally, orally absorbed that simply works into GI and releases FGF19.
The FGF systematically it's created FGF19 then goes to deliver and does all the beneficial its takes that are needed in NASH. So this is hypothetical, but I think it's a good reason to believe that we could have something that is equally active without any of the side effects. So that's the differentiation."
It is important to note this is not the first time the safety profile of OCA has been brought up. Investigators questioned the safety of the drug post Phase 2 results (Source). Although Intercept's drug has shown efficacy, I doubt that it will become the long-term standard of care for NASH on its own; however its safety profile will also make it difficult to pair with other compounds. I believe that Ocaliva will be the first approved NASH drug to market and will sell quite well, but the ultimate showdown will be between Gilead and Allergan and their respective combination therapies.
Conclusion
It is likely that Gilead Sciences lost out in the bidding war for Tobira Therapeutics, missing the opportunity to acquire an asset with proven anti-fibrotic potential and allowing Allergan to burst on to the scene in NASH. If approved Intercept's OCA will have first mover advantage, but in the years to come I expect it to be displaced by combination therapy. If current estimates for the NASH market hold there will be plenty of room for both Allergan and Gilead to carve out significant market share, as I believe both companies will eventually secure FDA approval for a cocktail treatment, whether it be through assets owned or further M&A. With the current Presidential Election and seemingly constant scrutiny over drug pricing serving to depress the biotech & healthcare industry I recommend looking into some of the larger cap names such as Allergan and Gilead, which have both solid cash flow and the potential to break into future lucrative indications such as NASH.
As always biotechnology is a risky area of the investment universe and is not suitable for all investors. Each individual should perform their own due diligence and decide whether it is appropriate for their personal situation.
Disclosure: I am/we are long GILD.
I wrote this article myself, and it expresses my own opinions. I am not receiving compensation for it (other than from Seeking Alpha). I have no business relationship with any company whose stock is mentioned in this article.